UPDATE (2-15-2021)
I, like other conservative outlets, believed this story. I linked to RIGHT SCOOP regarding the story and agreed (and still do — if the story was true — not just in this situation):
I hope they have on video exactly who hit this brave officer with a fire extinguisher and prosecute them for murder. This cannot go unpunished.
*ANOTHER REASON WHY NO WITNESSES CALLED
RPT NOTE: As well as the first witness called would have been Nancy Pelosi, who was IN CHARGE of Capitol Hill security… the Buck didn't stop with her apparently…. the DEMS couldn't afford the narrative to break!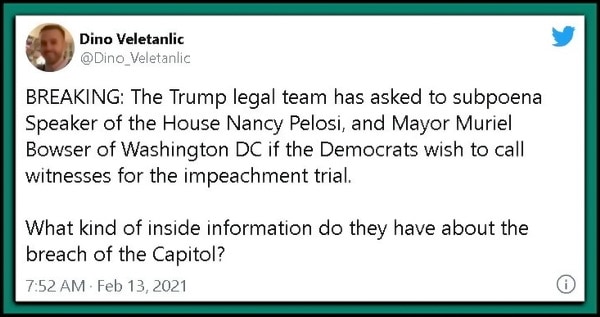 GATEWAY PUNDIT notes the "moving on" timeline:
REMEMBER AS WELL
Mark Levin discusses Mark Meadows revelation from February 7th (TRUMP WAR ROOM). I do not listen to Mark all that much, but this is the maddest I have heard him (at the end: 6:03 to 6:15 mark).
What is not known by the typical cable news watcher, probably, is that both the Capital Police and the mayor of D.C. turned down offers to help secure the government areas before and as the mob of crazed Lefties and Righties descended on the Capital: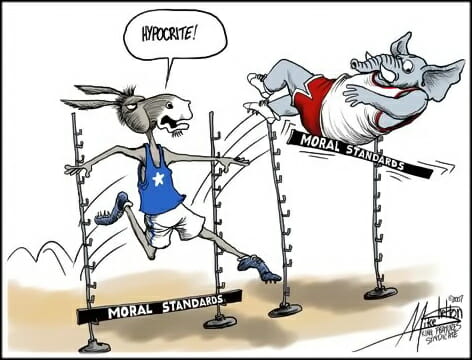 …Three days before the riot, the Pentagon offered National Guard manpower. And as the mob descended on the building Wednesday, Justice Department leaders reached out to offer up FBI agents. Capitol Police turned them down both times, according to senior defense officials and two people familiar with the matter. Despite plenty of warnings of a possible insurrection and ample resources and time to prepare, police planned only for a free speech demonstration. (WASHINGTON TIMES)
Washington, D.C. Mayor Muriel Bowser told federal law enforcement to stand down just one day before a mob of Trump supporters breached the U.S. Capitol on Wednesday, smashing windows, entering the chambers, and forcing lawmakers and congressional staff inside into lockdown. "To be clear, the District of Columbia is not requesting other federal law enforcement personnel and discourages any additional deployment without immediate notification to, and consultation with, MPD if such plans are underway," Bowser wrote in a letter to acting U.S. Attorney General Jeffrey Rosen, acting Secretary of Defense Chris Miller, and Secretary of the Army Ryan D. McCarthy. According to Bowser, D.C.'s Metropolitan Police Department in coordination with the U.S. Park Police, Capitol Police, and Secret Sevice were well-equipped to handle whatever problems could come up during the Trump rallies planned for Wednesday. (THE FEDERALIST)
FIRST POST (2-10-2021)
(BTW, I hope every rioter in these scenes is arrested. But this is the only fire extinguisher video [1:40 mark] I could find)
This is not the entire article… and I suggest reading the entire thing… however, I wish to post part of it here as i think it important (AMERICAN GREATNESS):