A Tradition/Tribute since 2007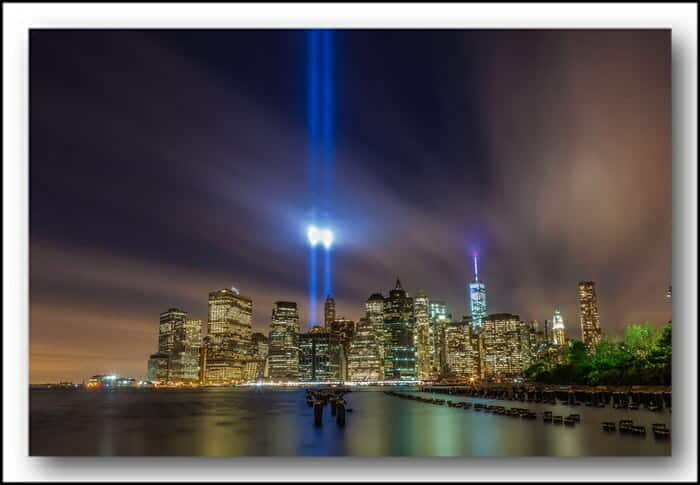 "There will even come a time when anyone who kills you
will think he's doing God a favor"
(John 16:2 – The Message)

Remember … Meditate … Pray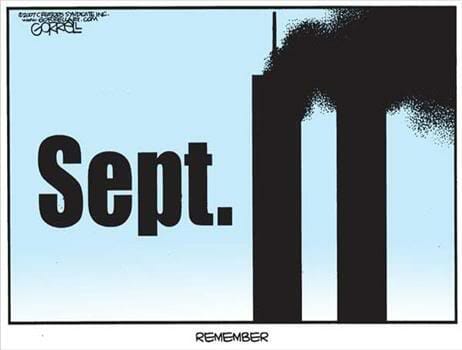 Throughout the day on 911, but typically the following Sunday, I will add political cartoons as they are released.
I am splitting the post into sections: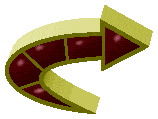 I am a BIG fan of editorial cartoons/cartoonists and will let these talented people memorialize this solemn day ~ their talent to catch a big-idea in one image is unrivaled. New frames will be added under the GOLD moniker just below. The newer cartoons will be larger than the older ones. The parameters of the old blog did not allow for bigger. [Note: this does not mean the newer cartoons directly below are themselves "new," it just means that I recently found them… they in fact may be old.]
~ with love and remembrance, PapaGiorgio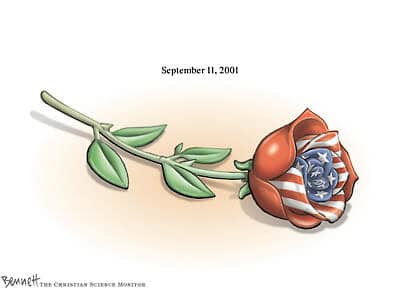 ~~~~~~~~~~~~~~~~~
Newer Tributes Below
~~~~~~~~~~~~~~~~~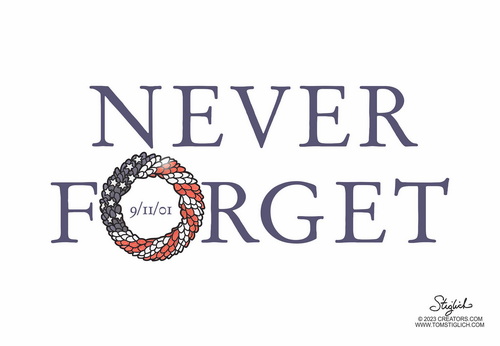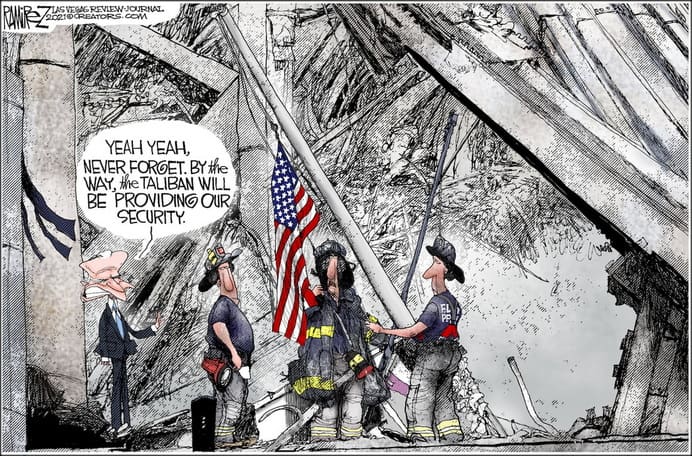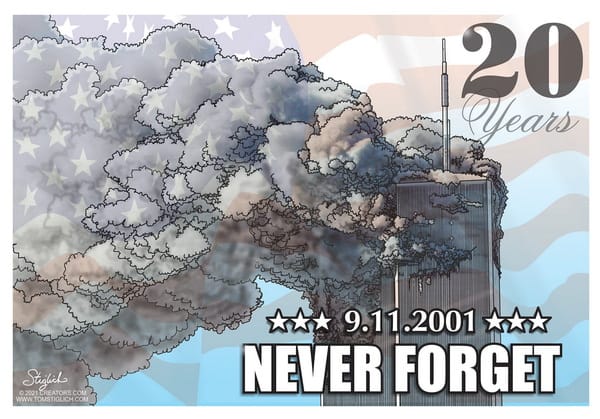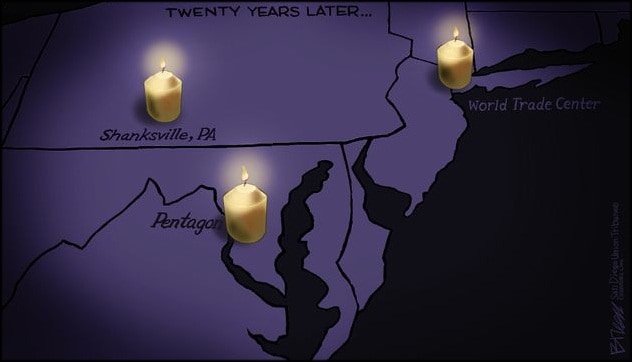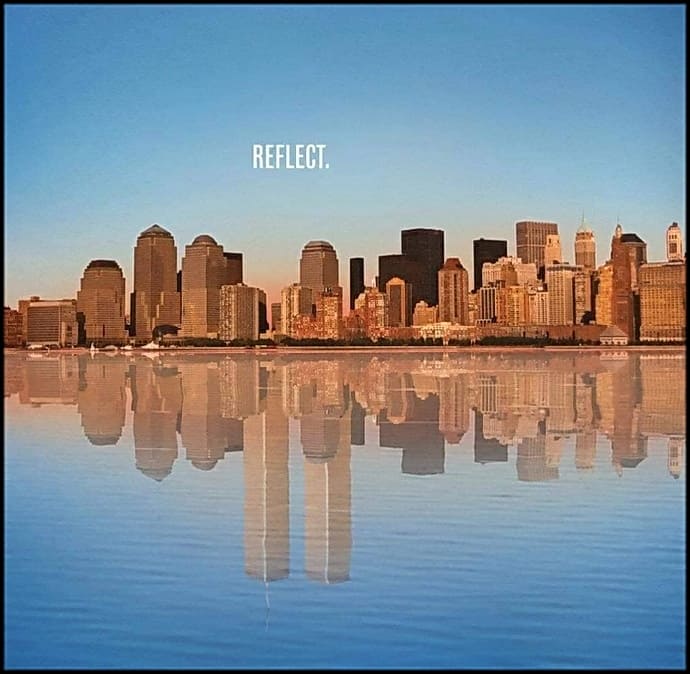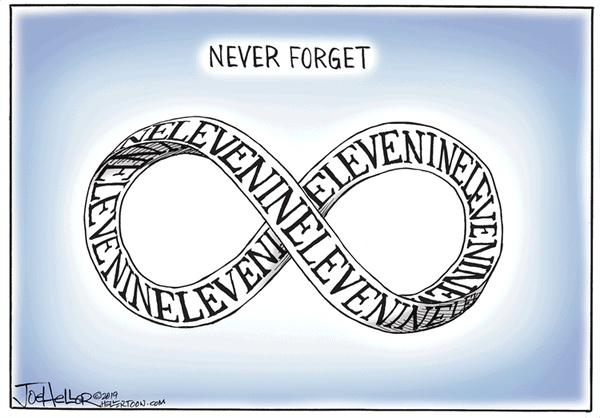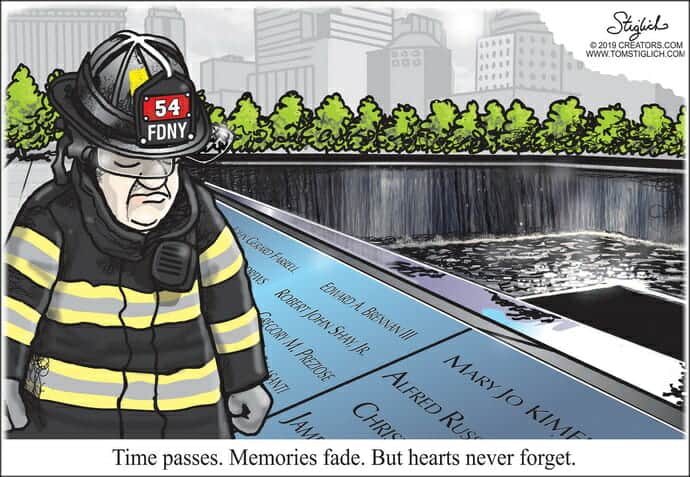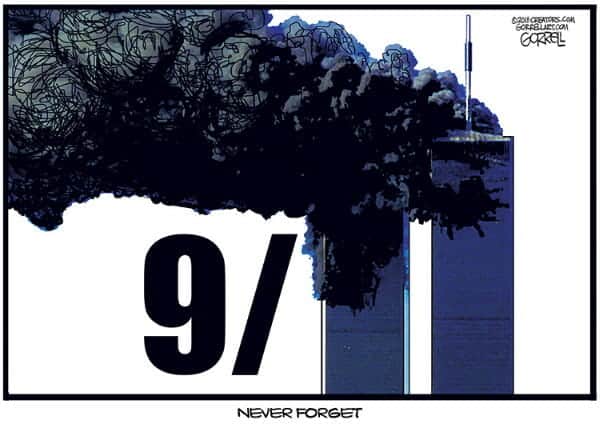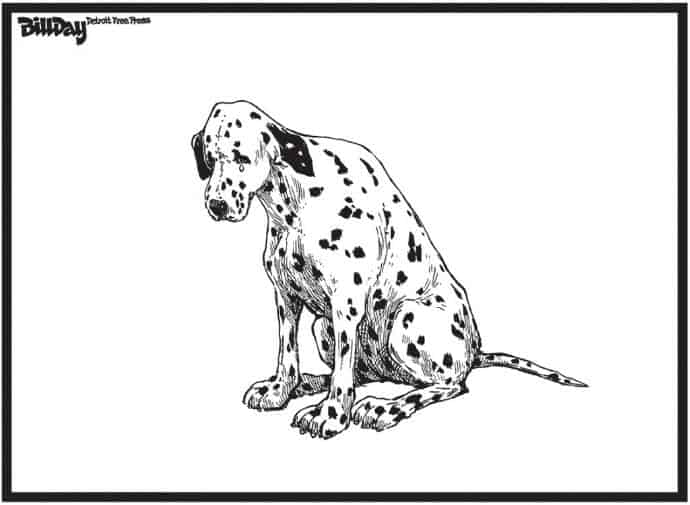 Click to ENLARGE the Below (see original on FB)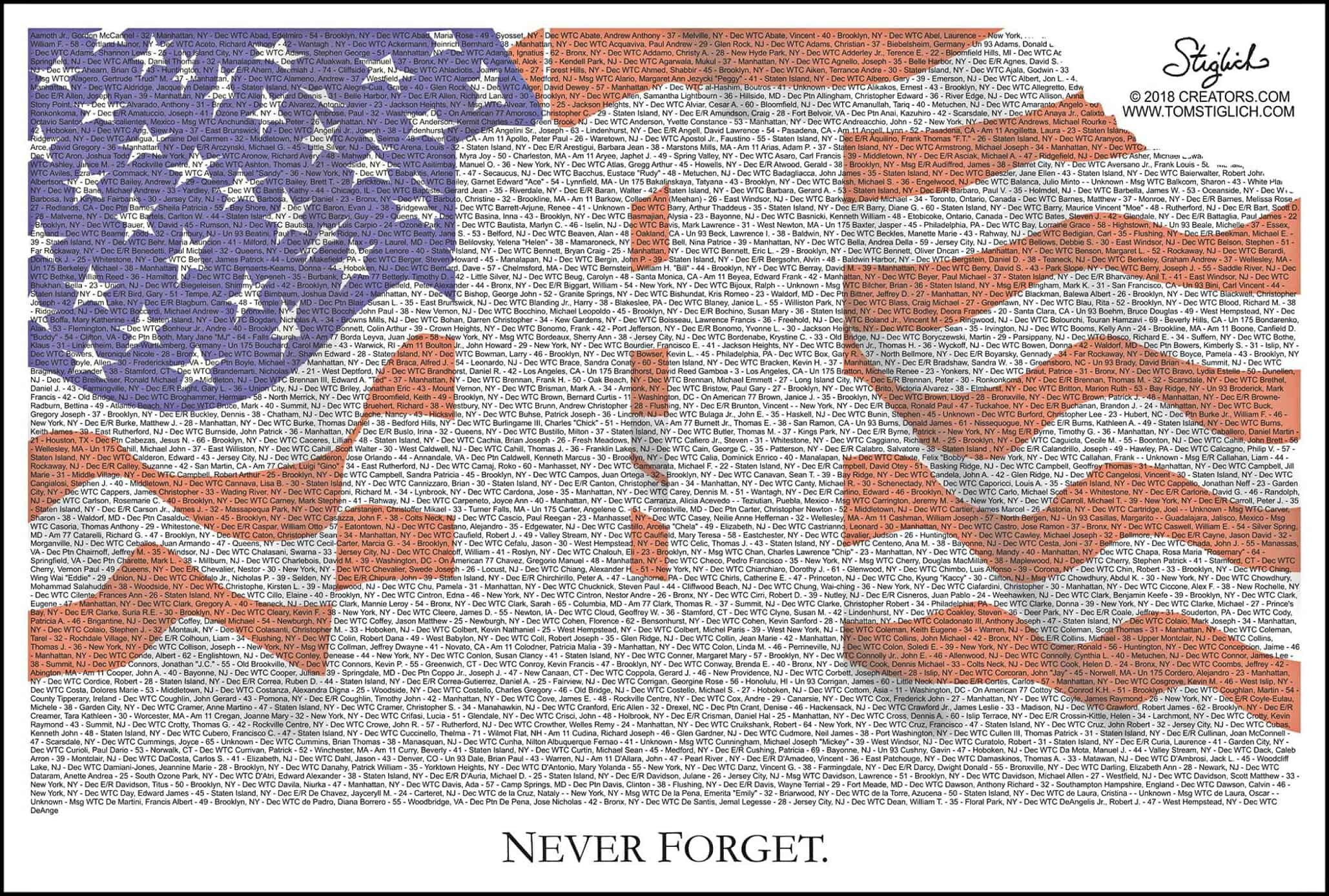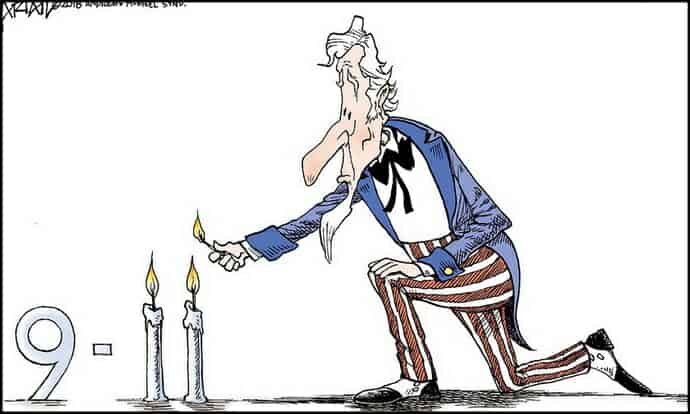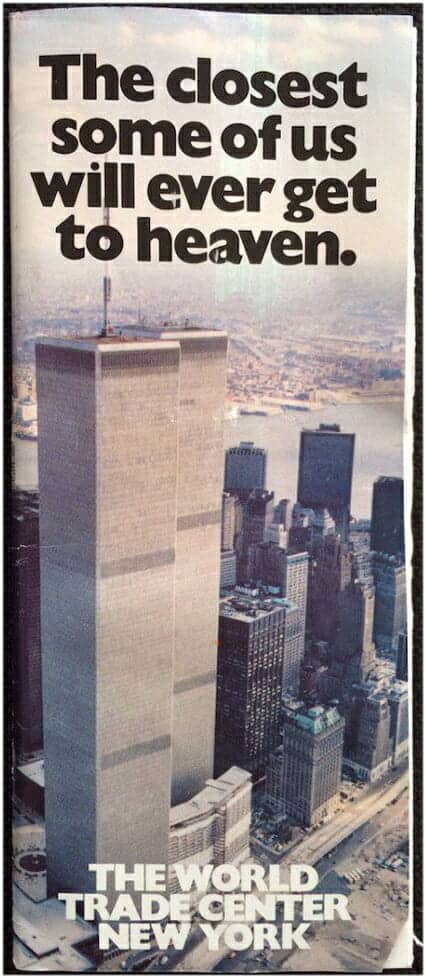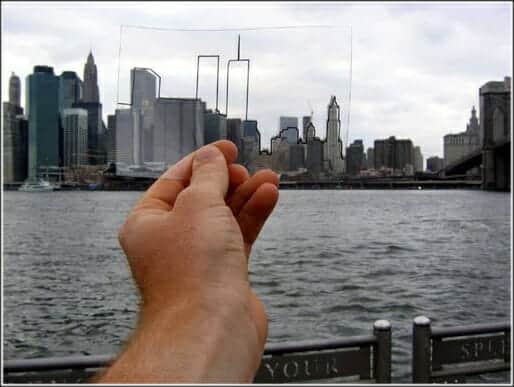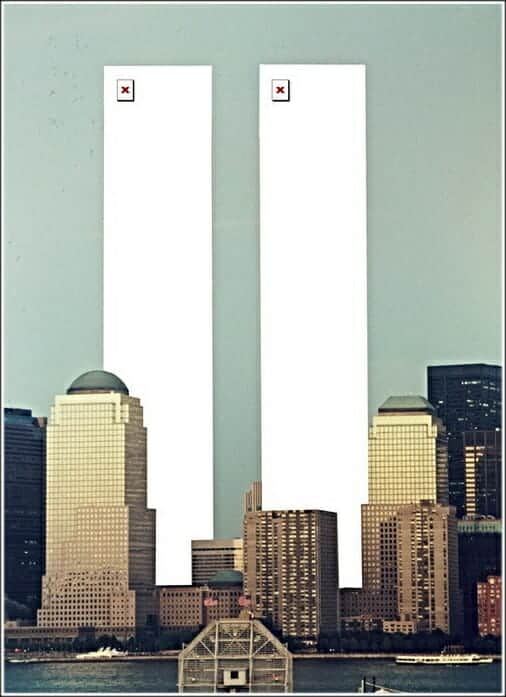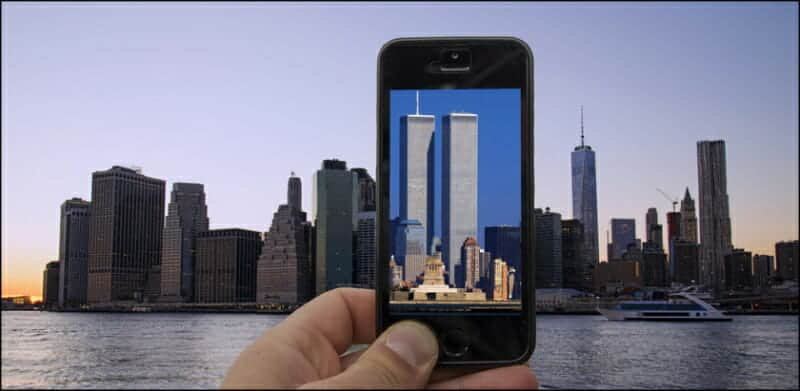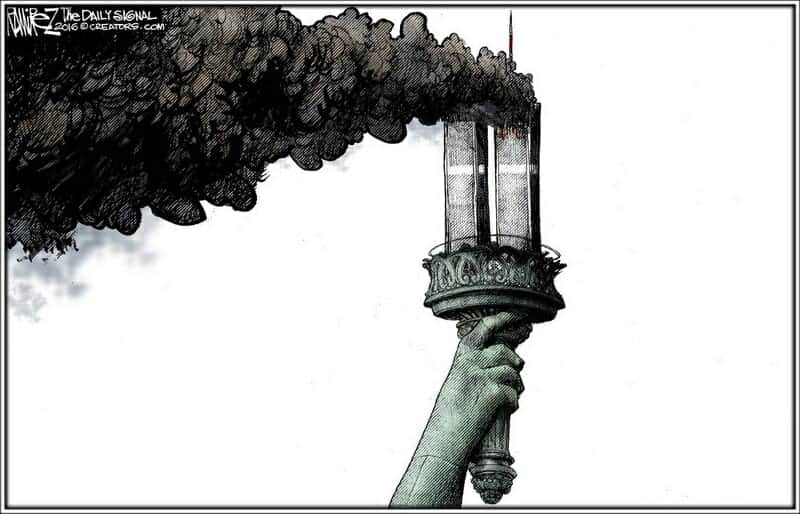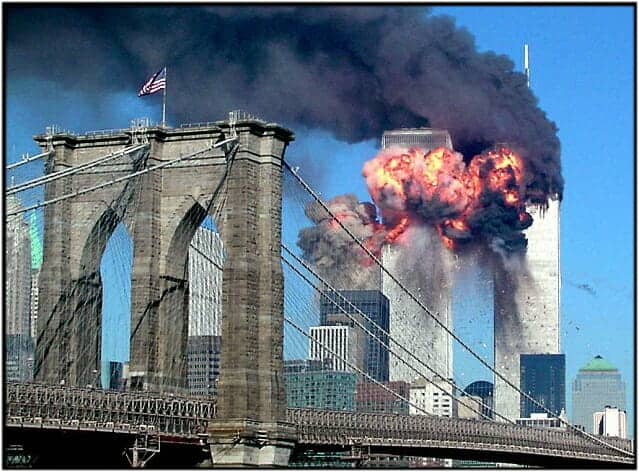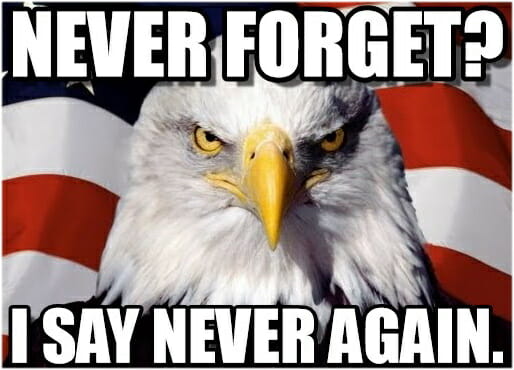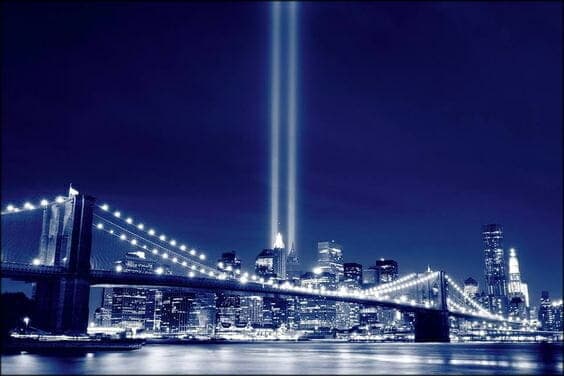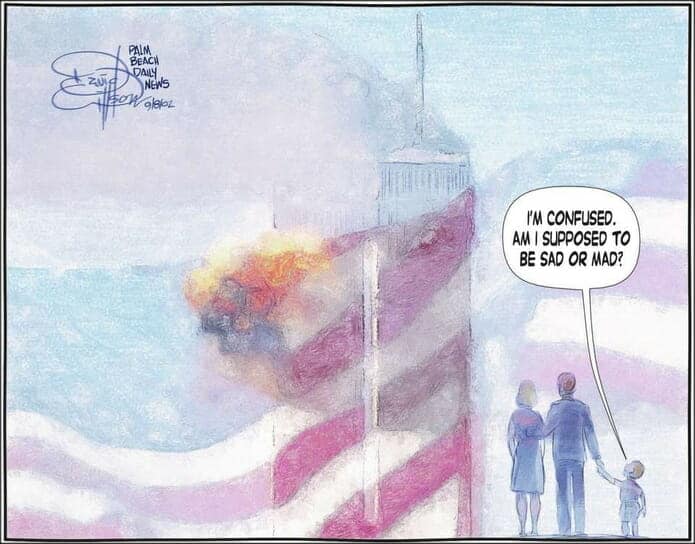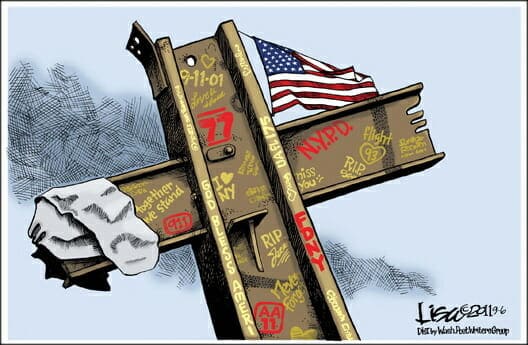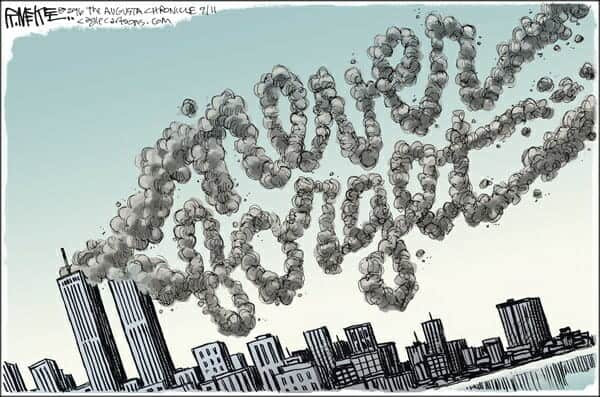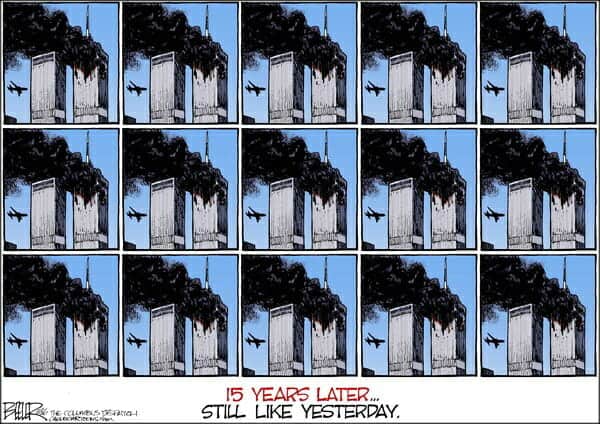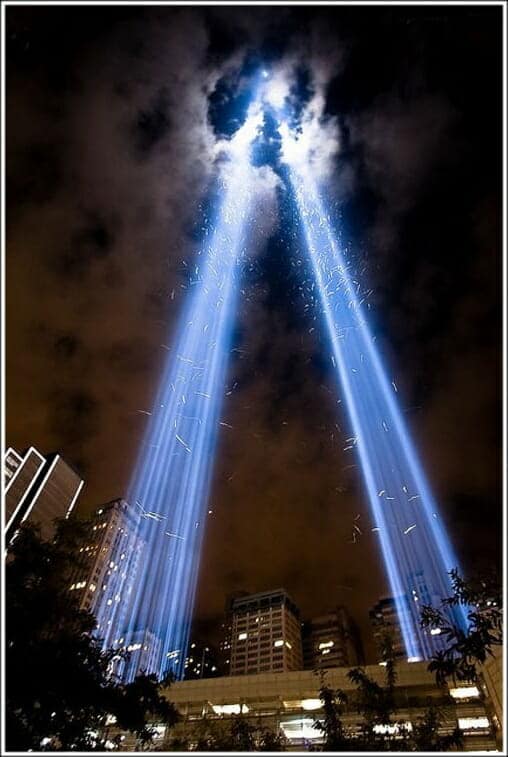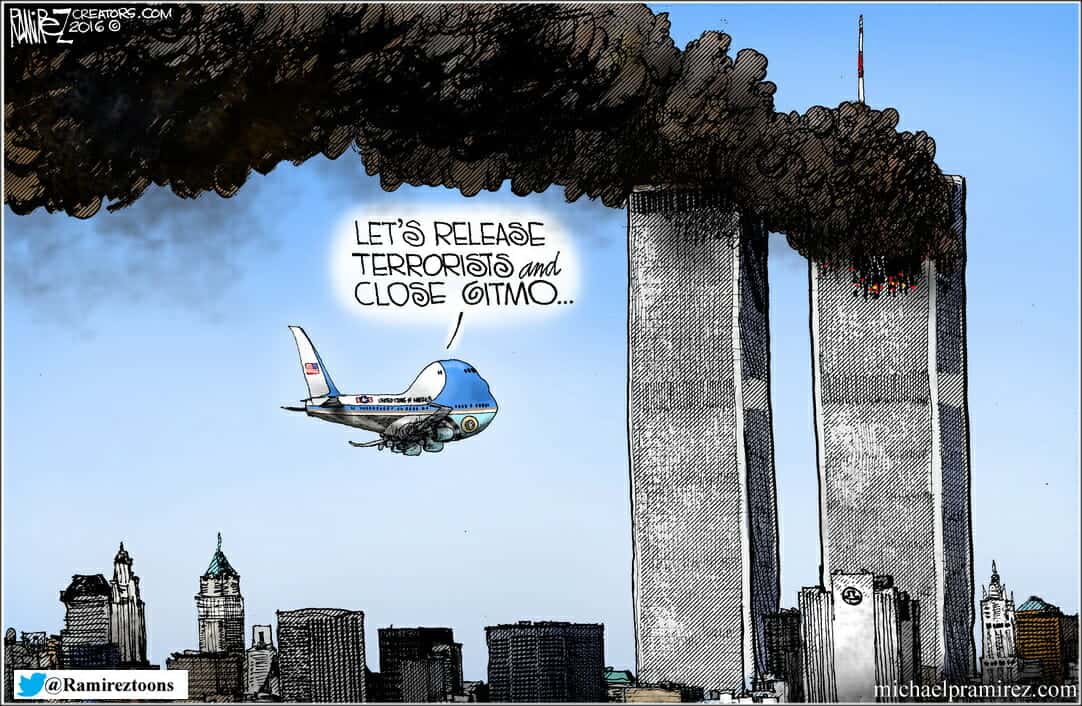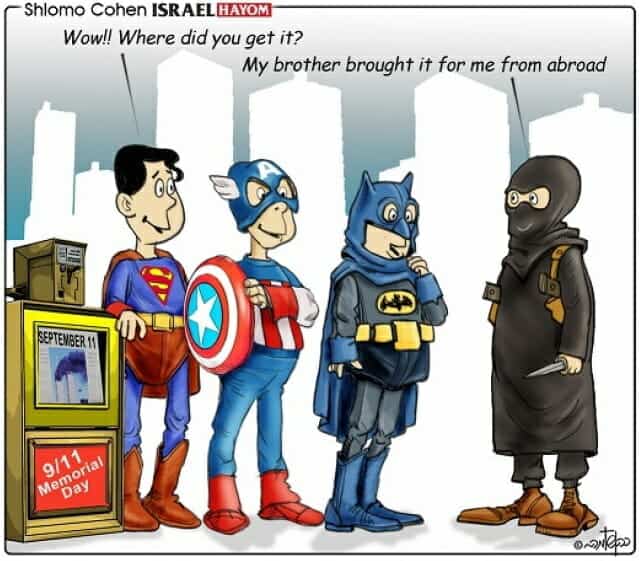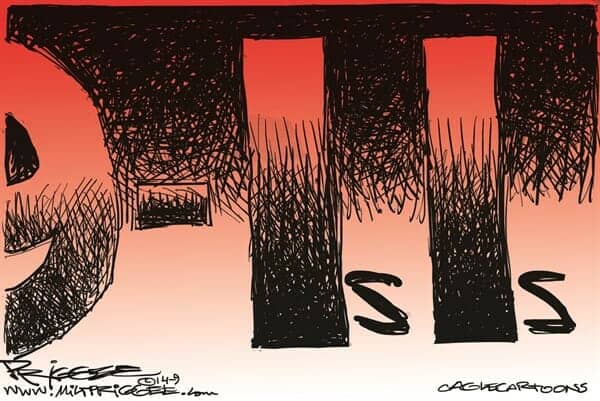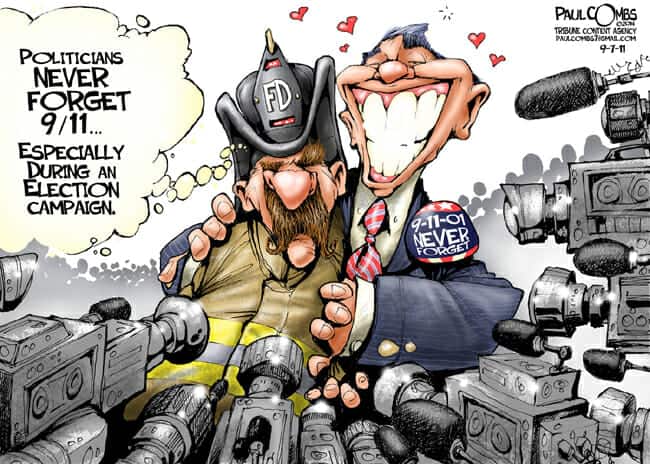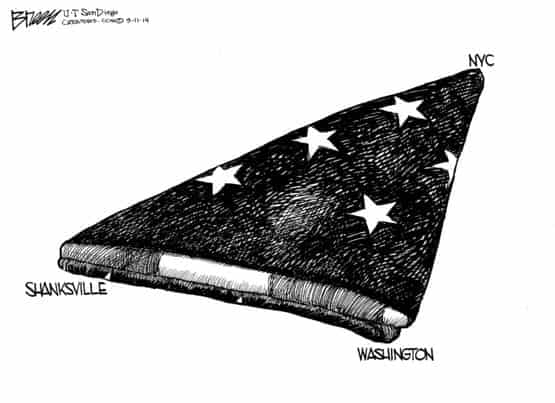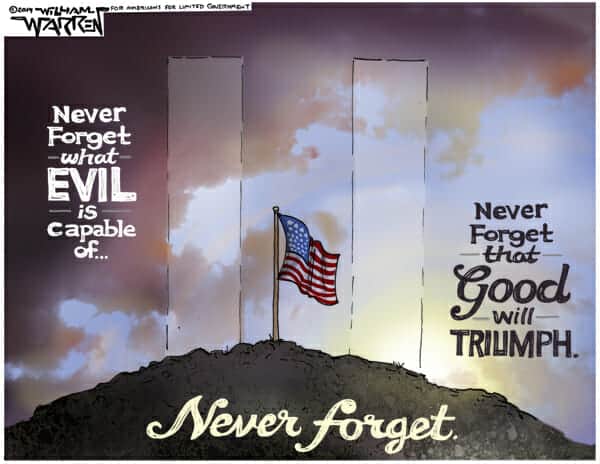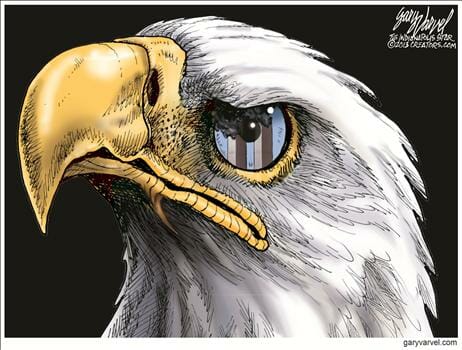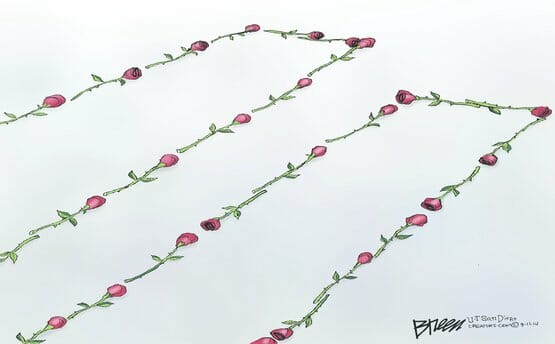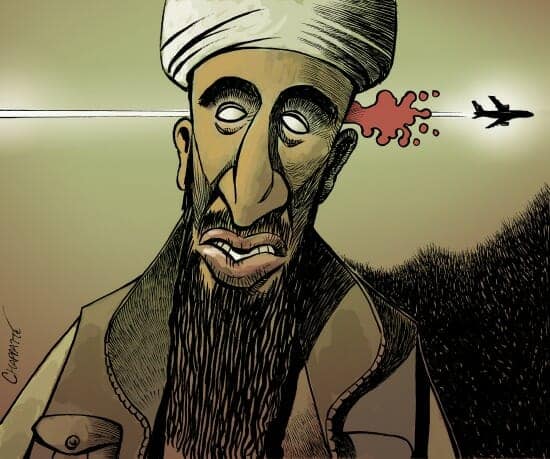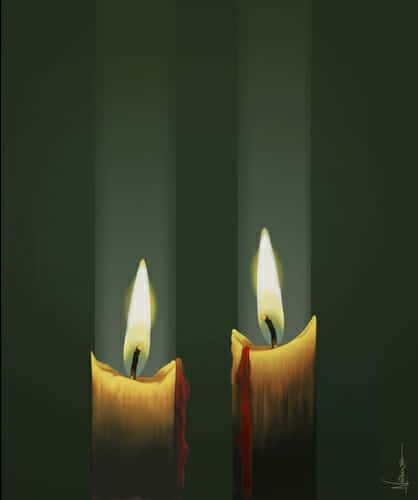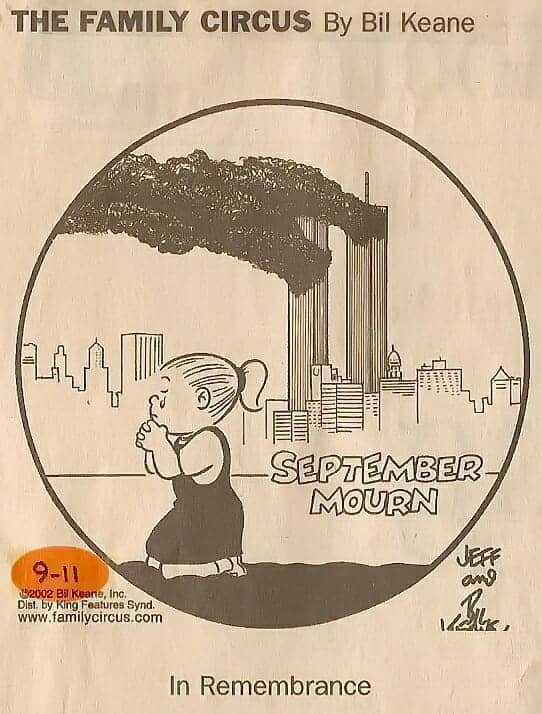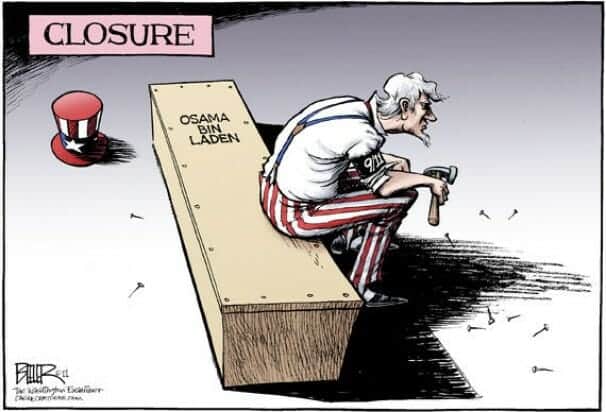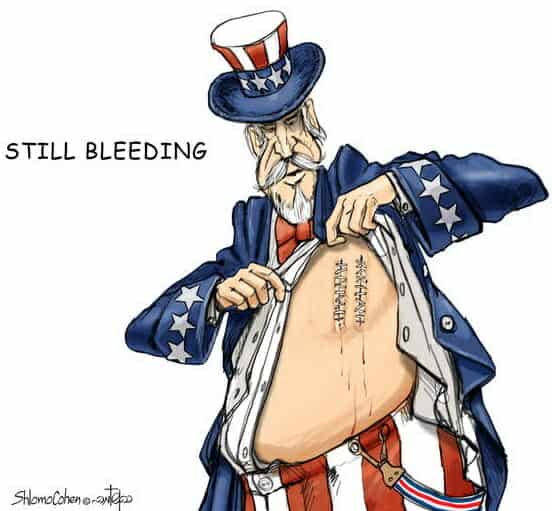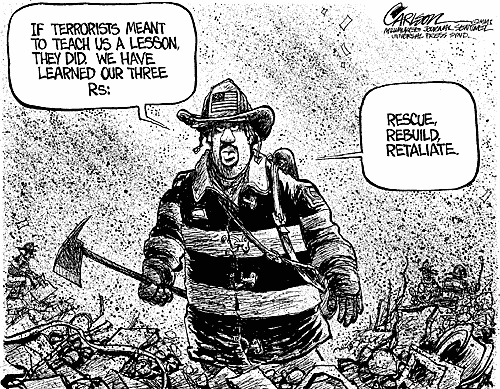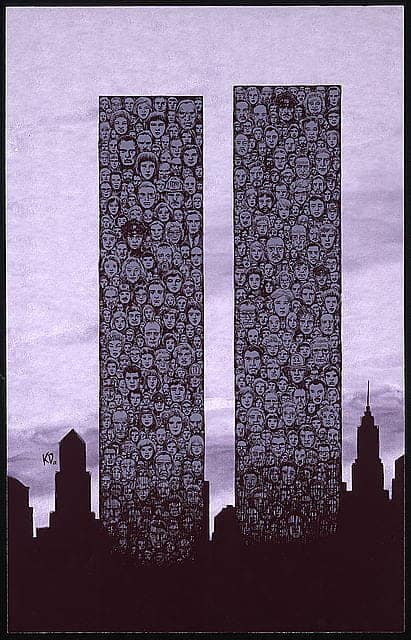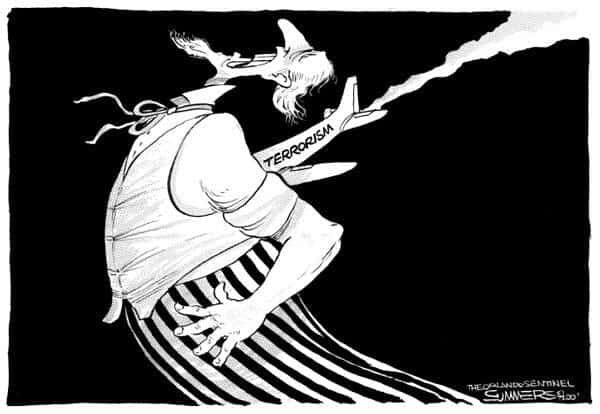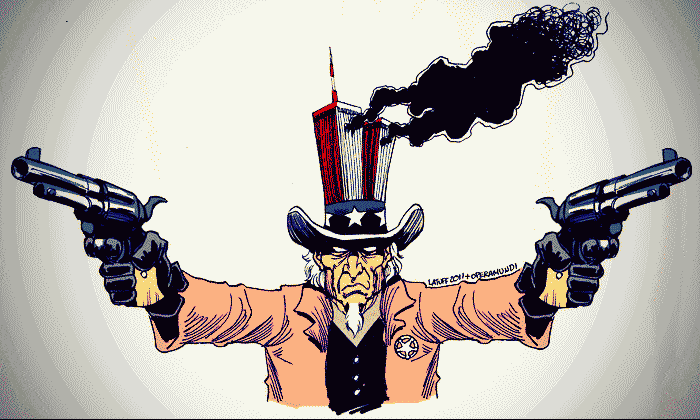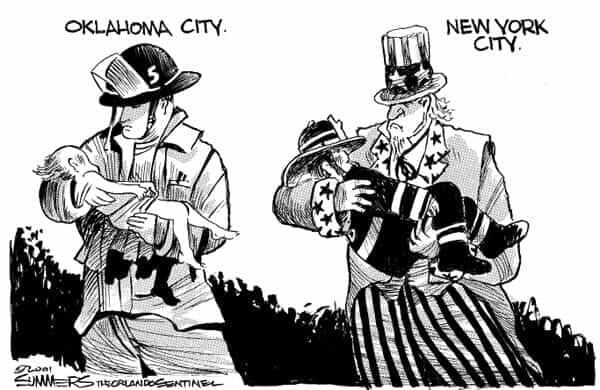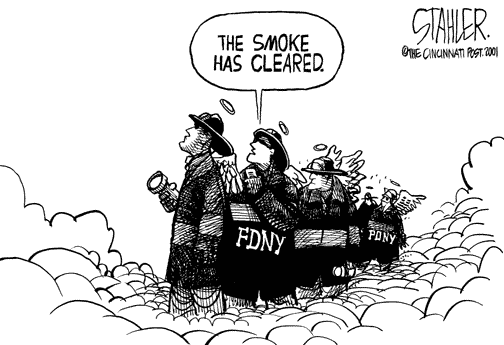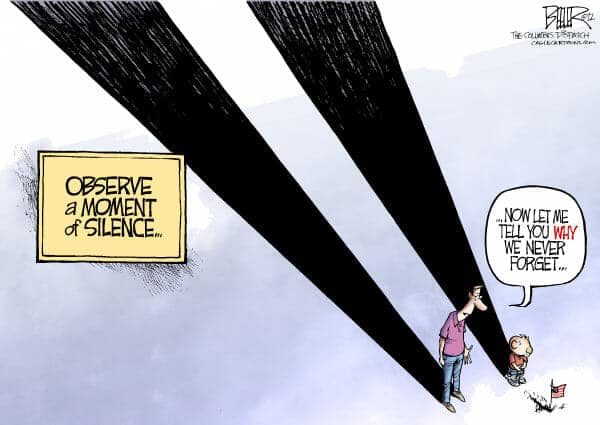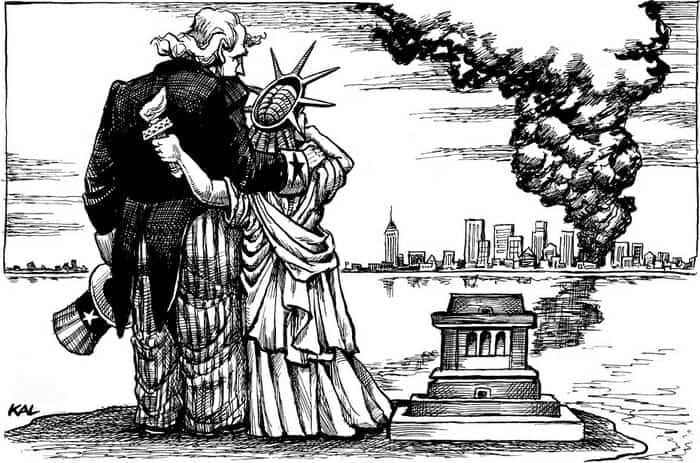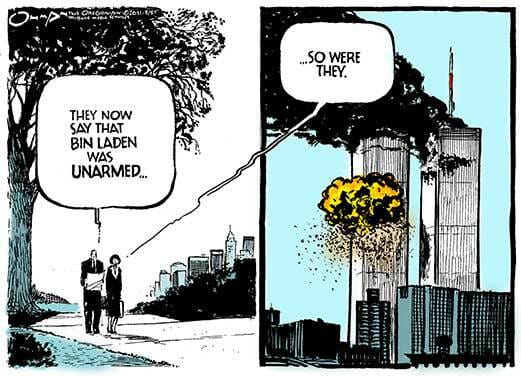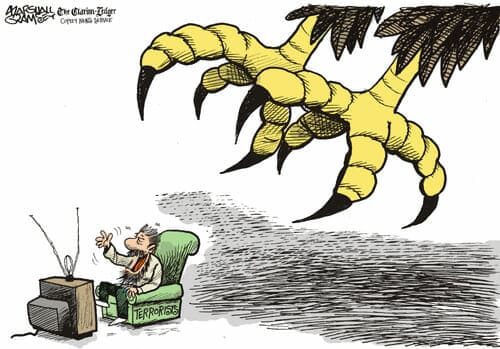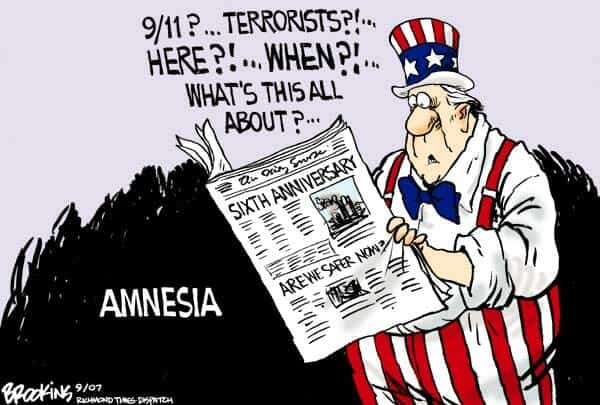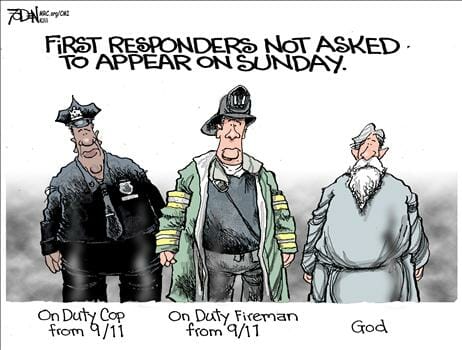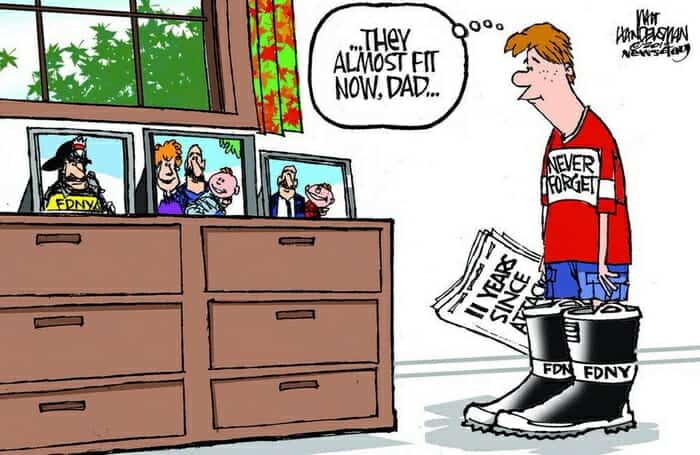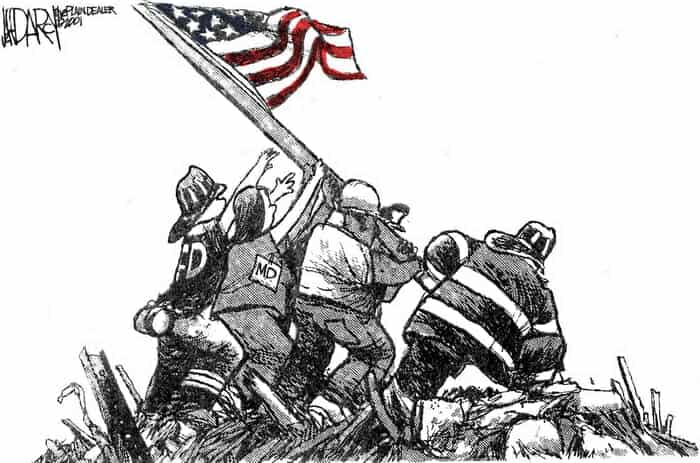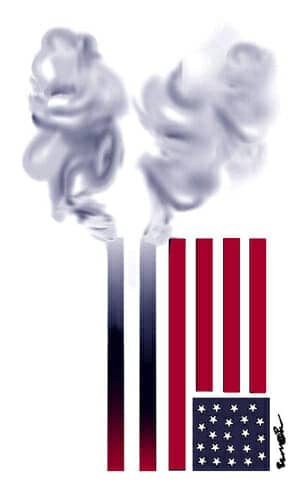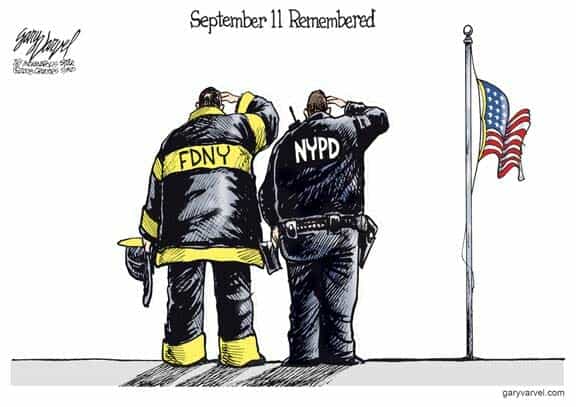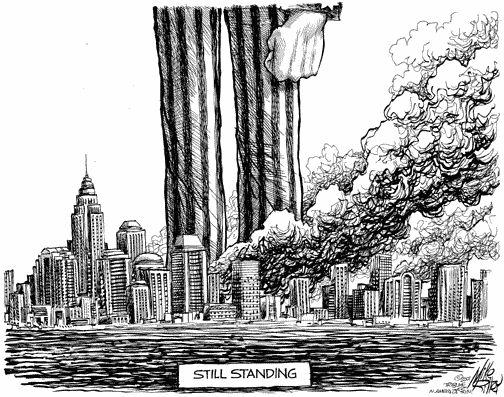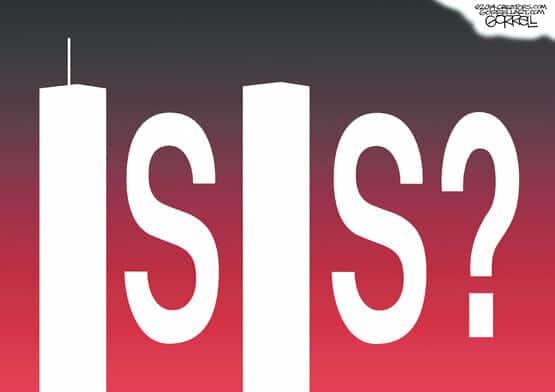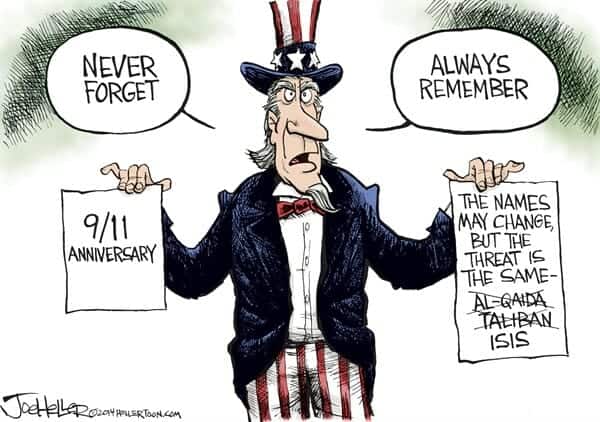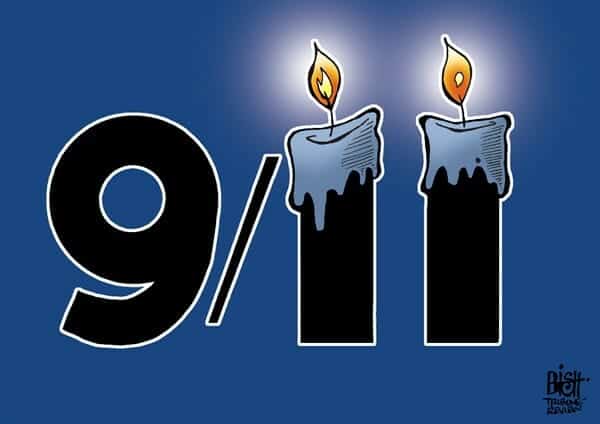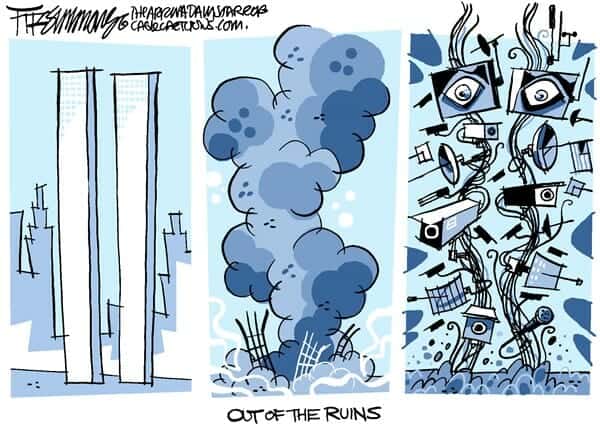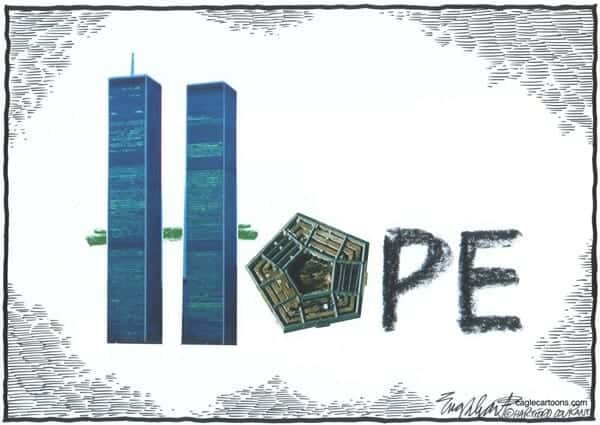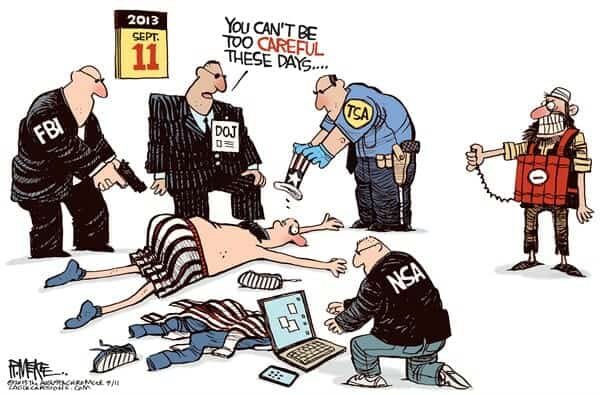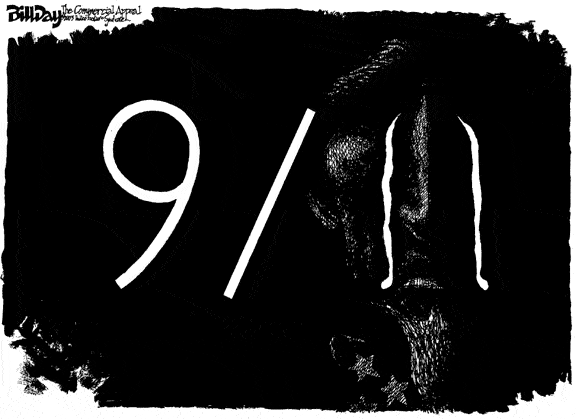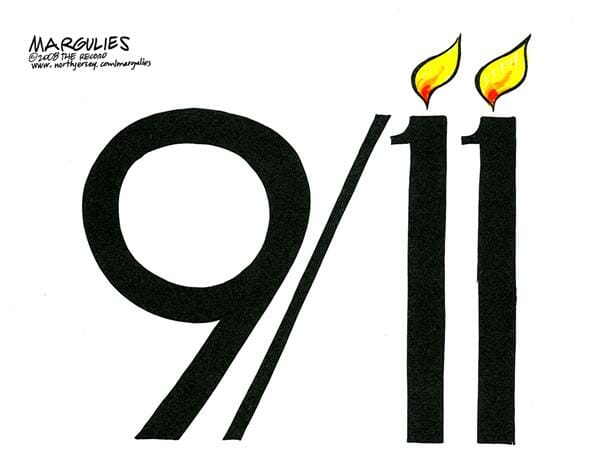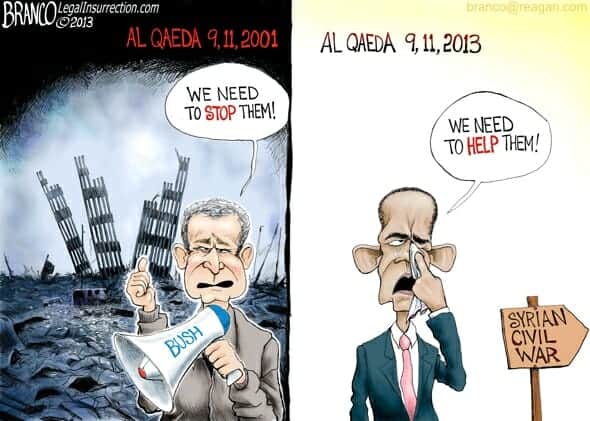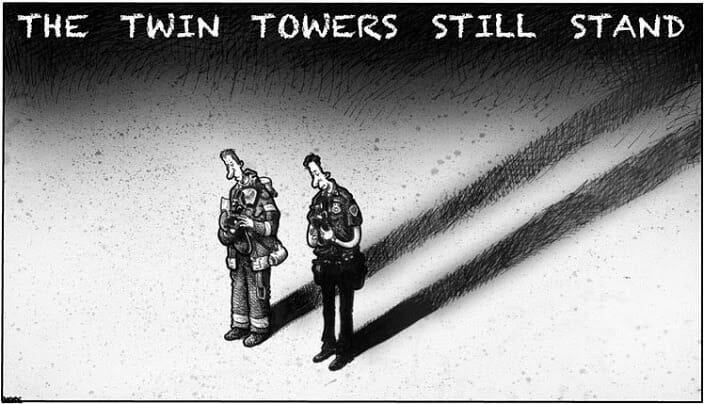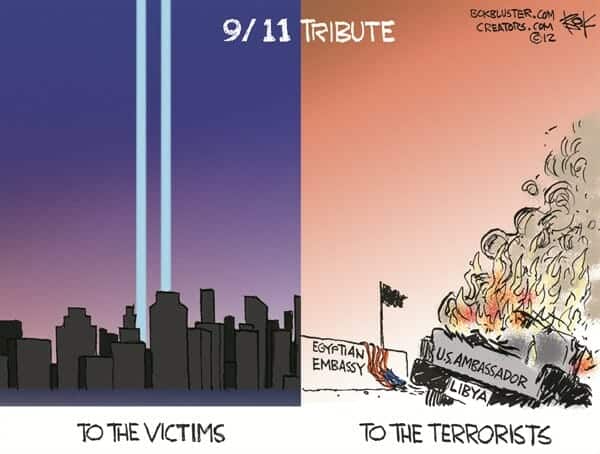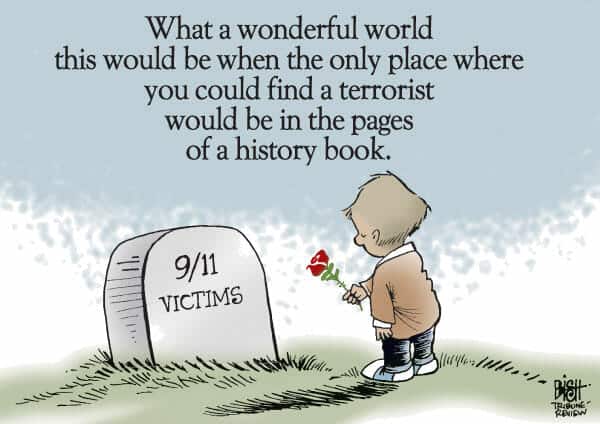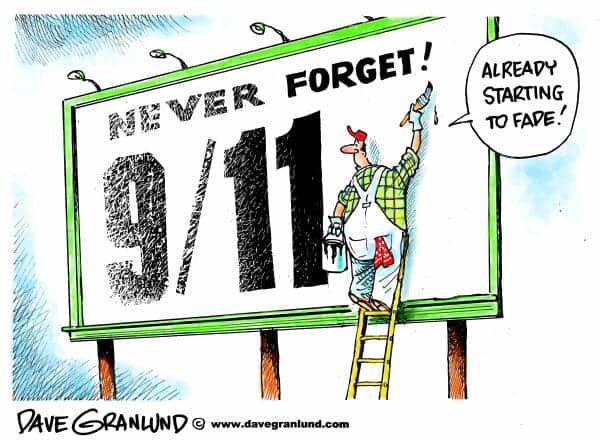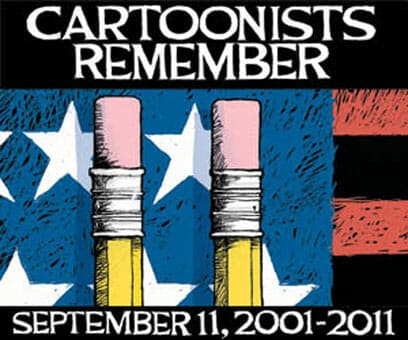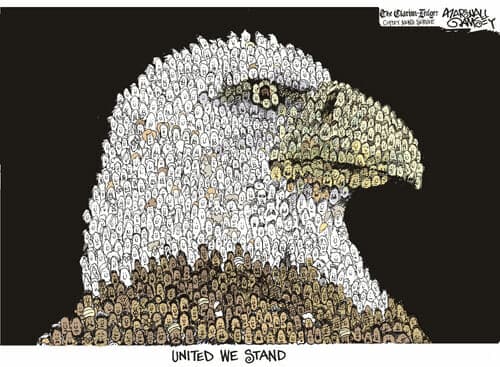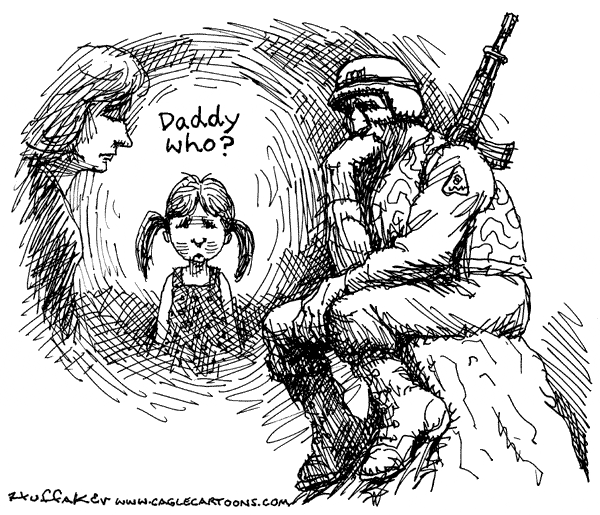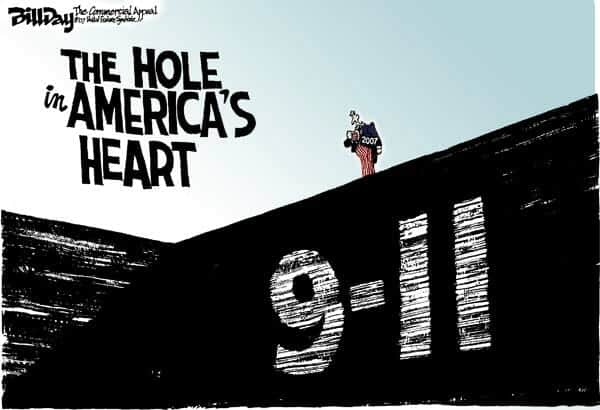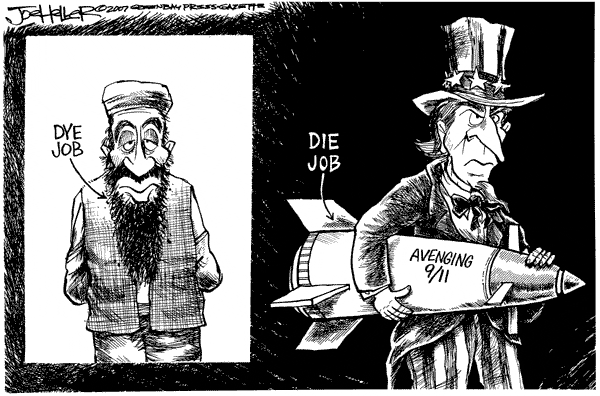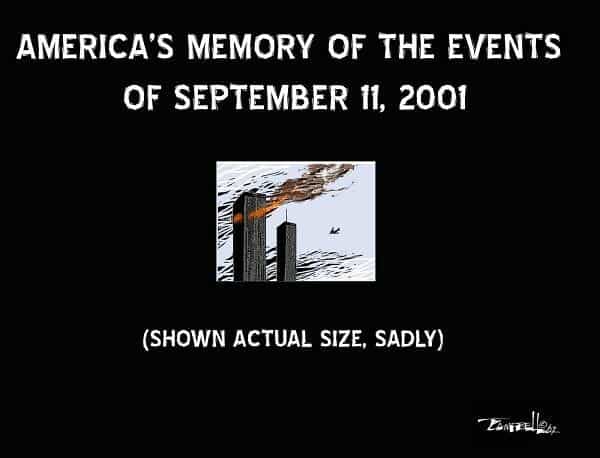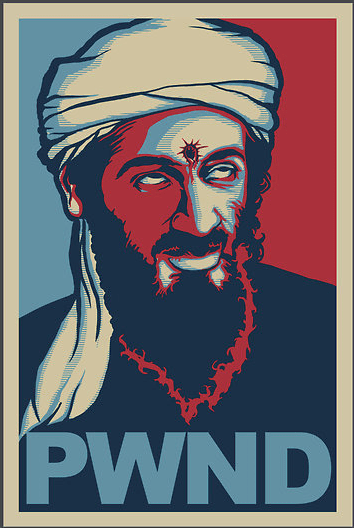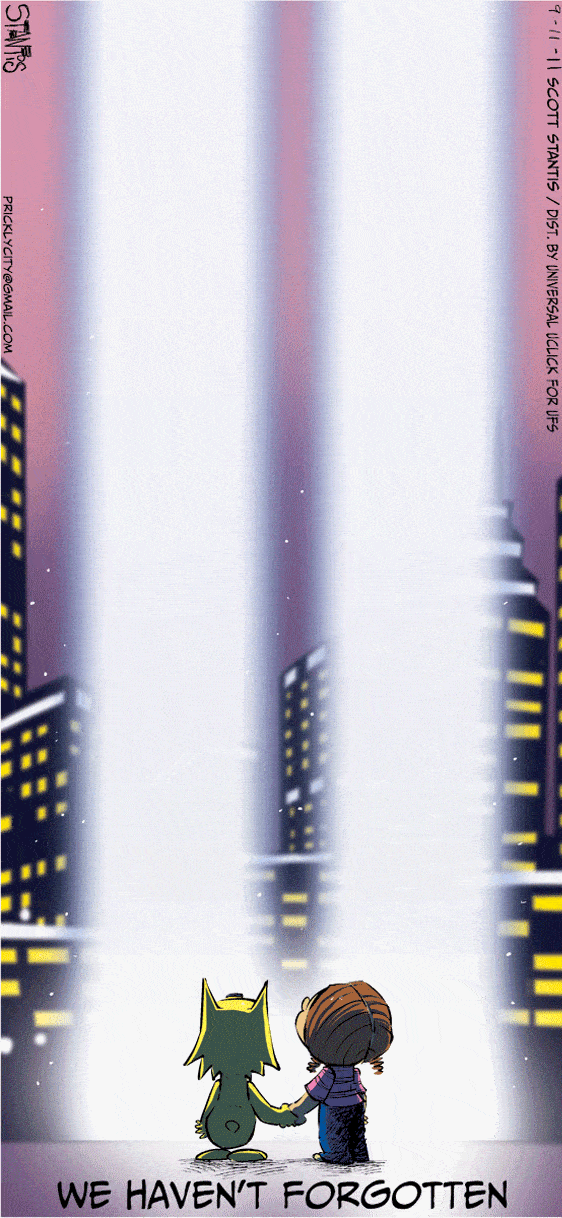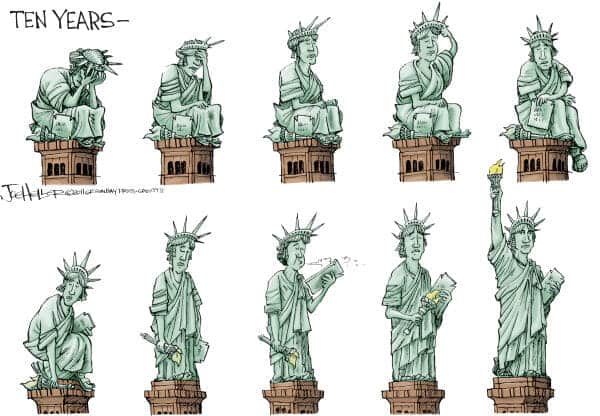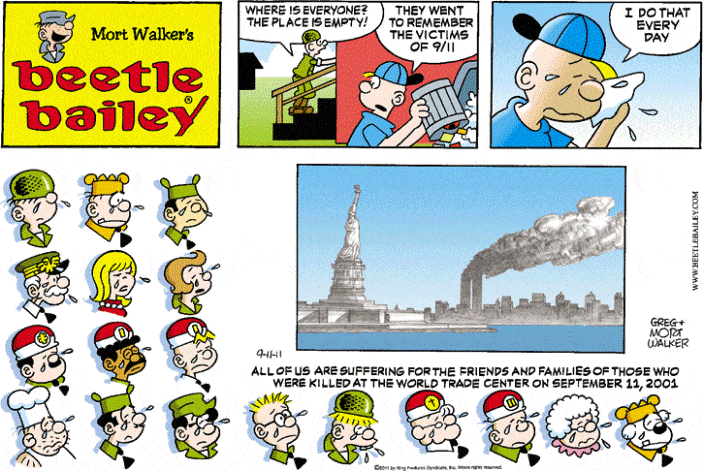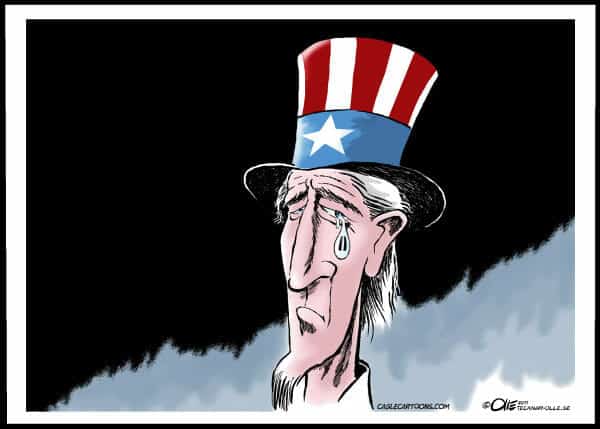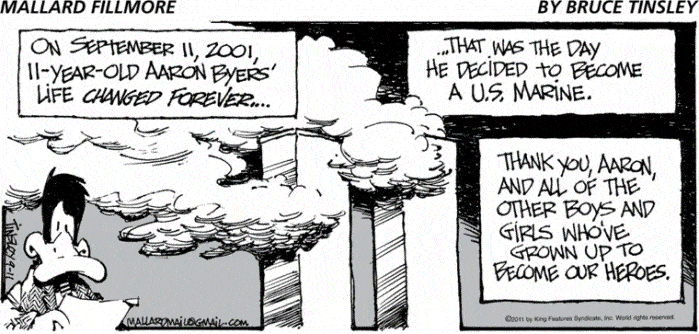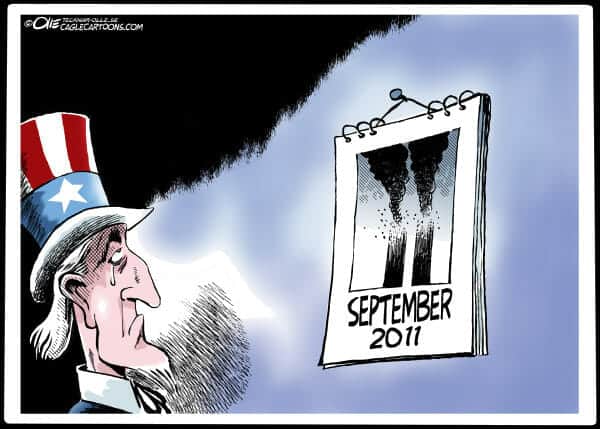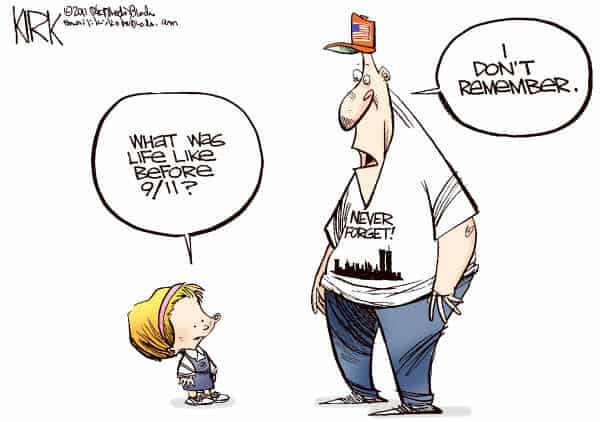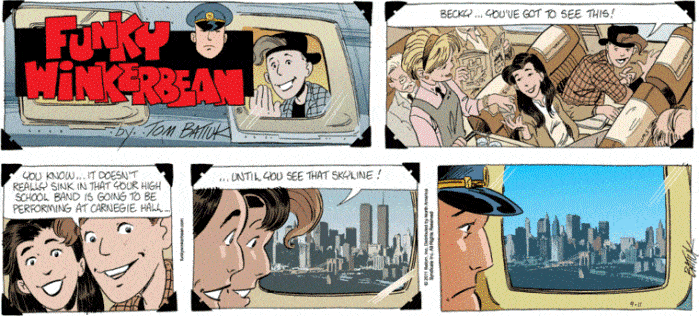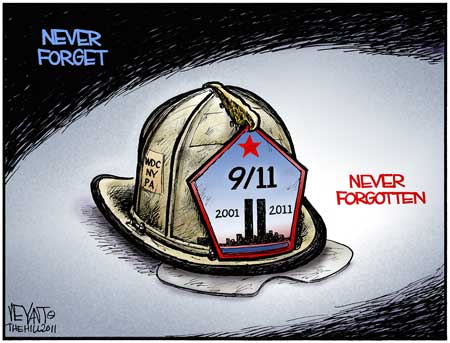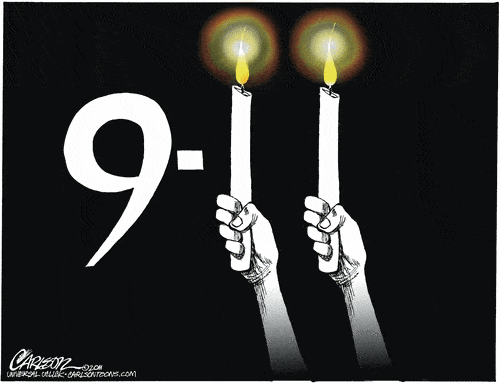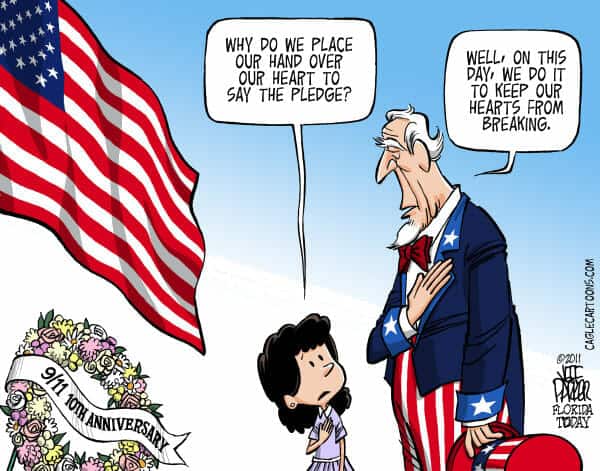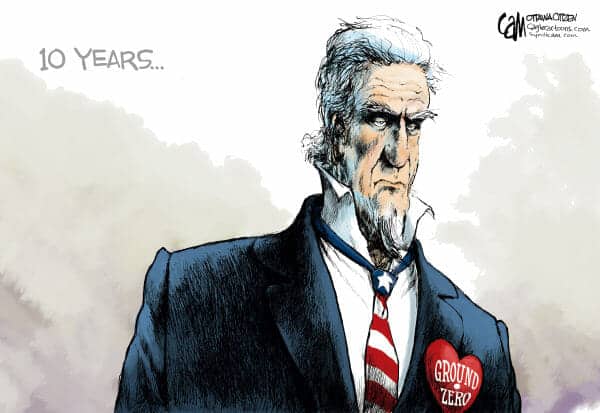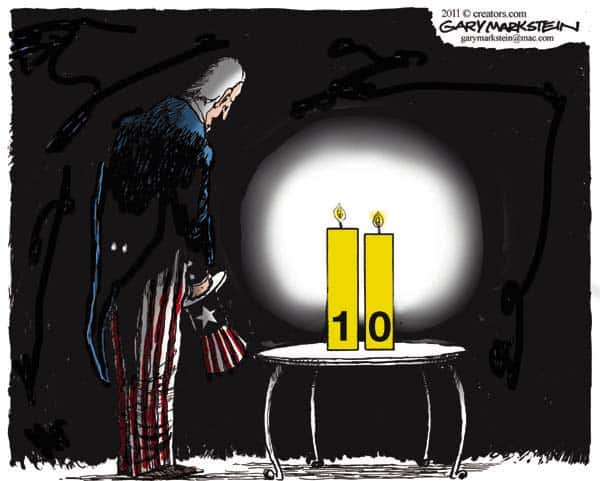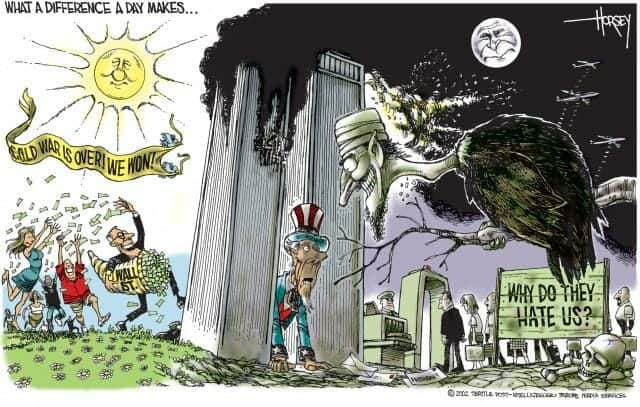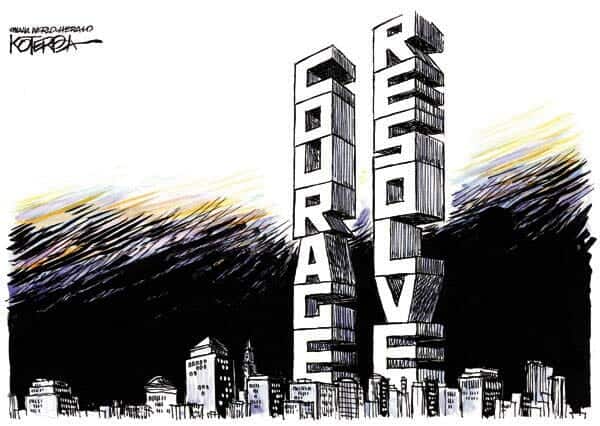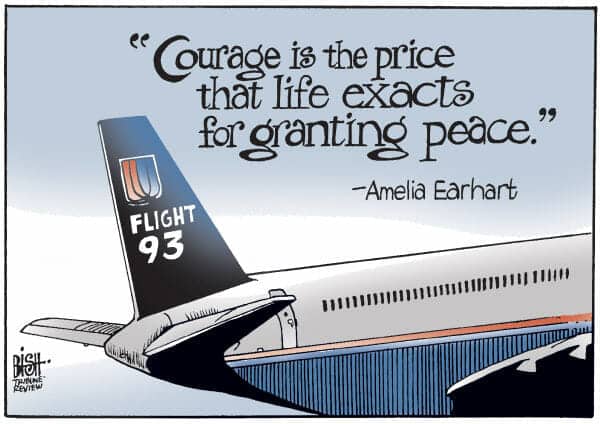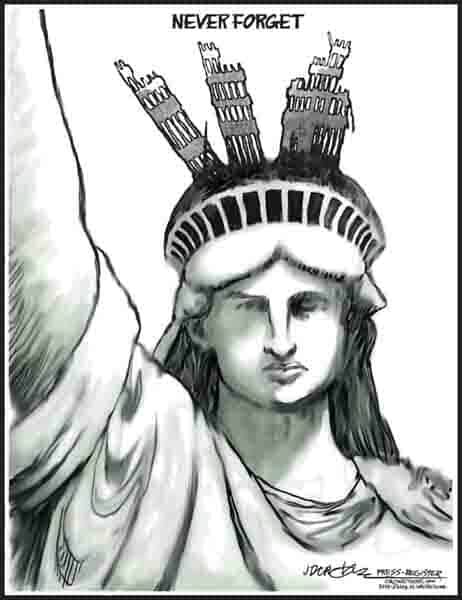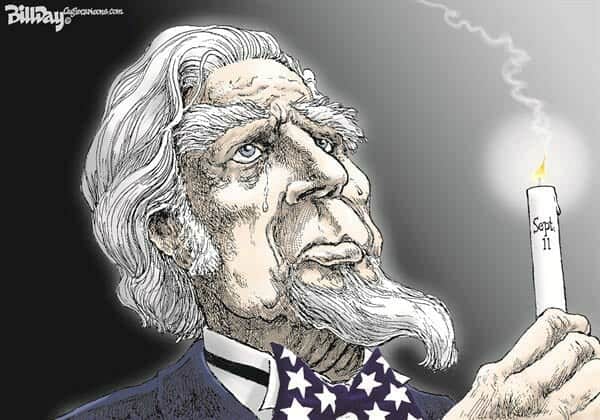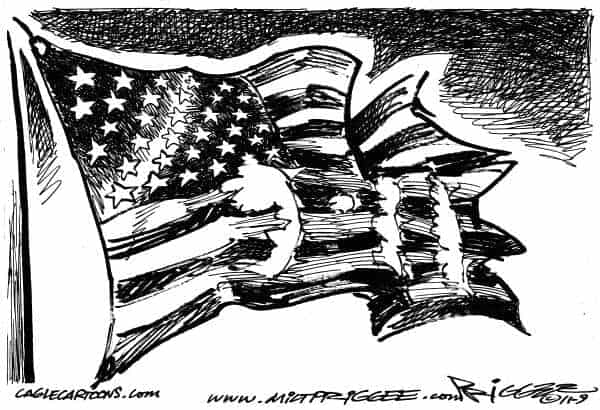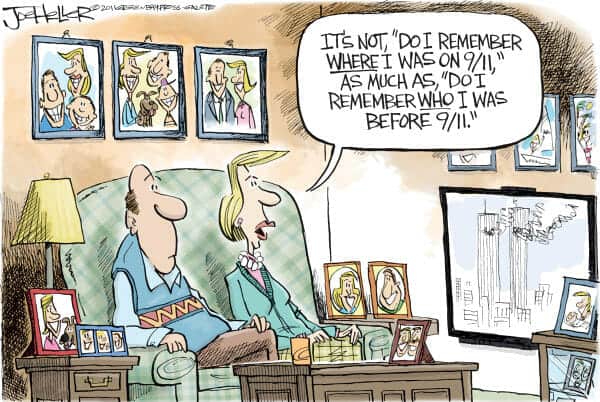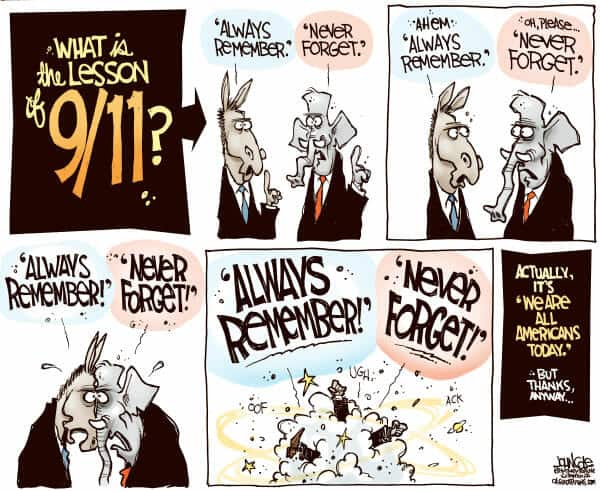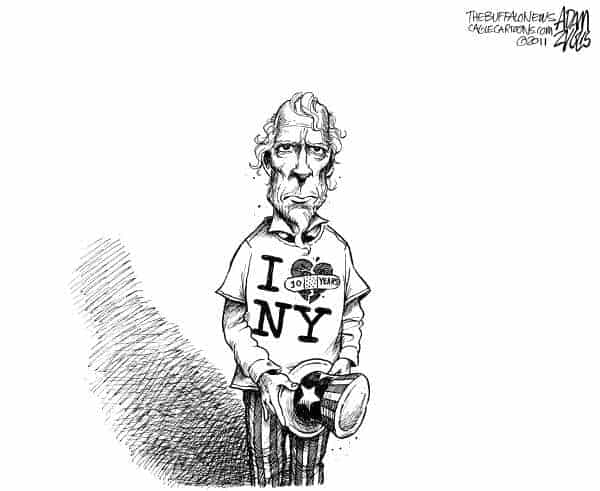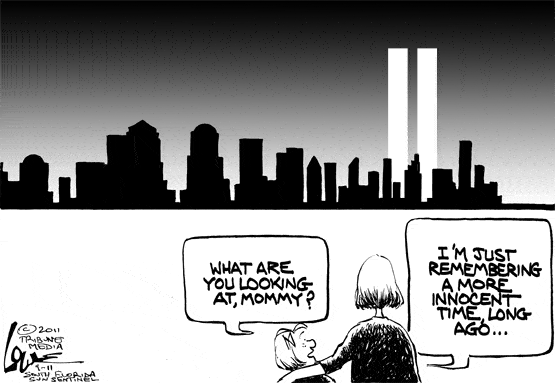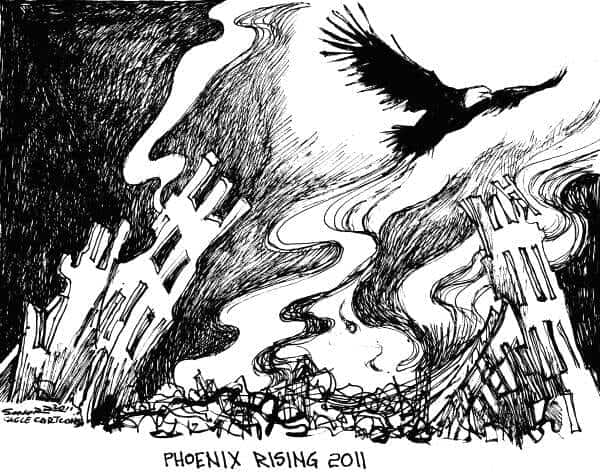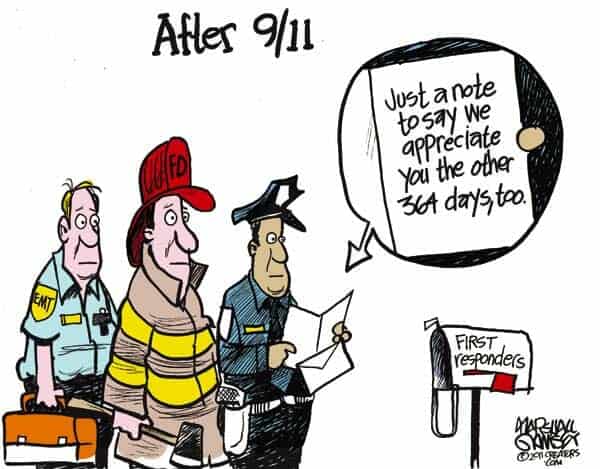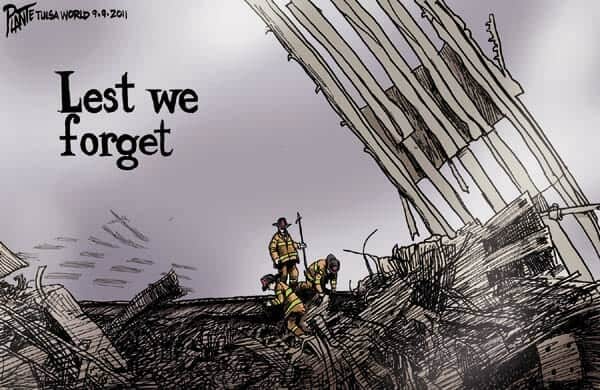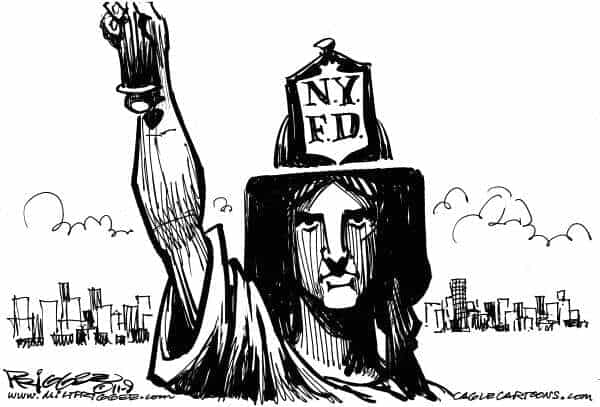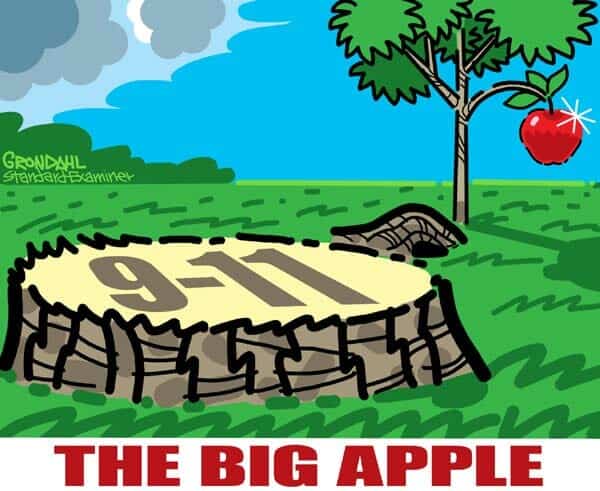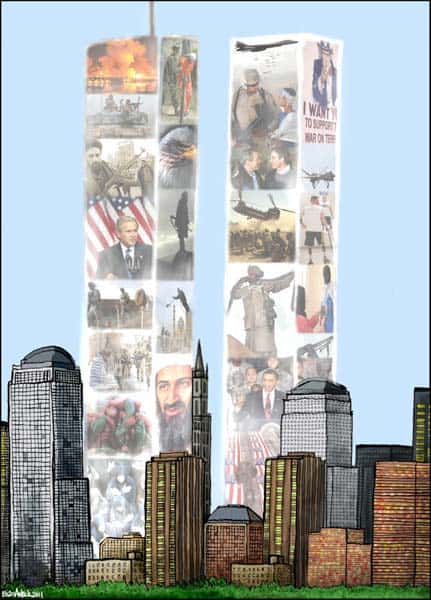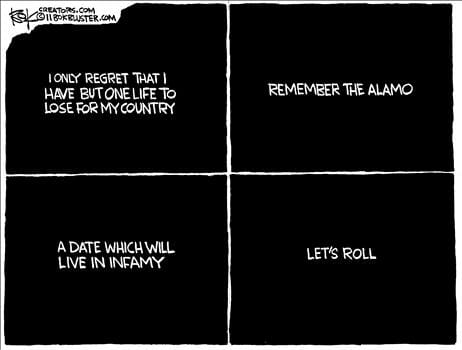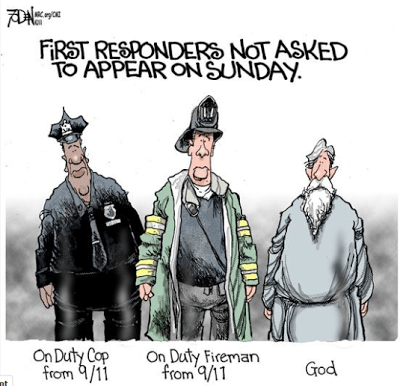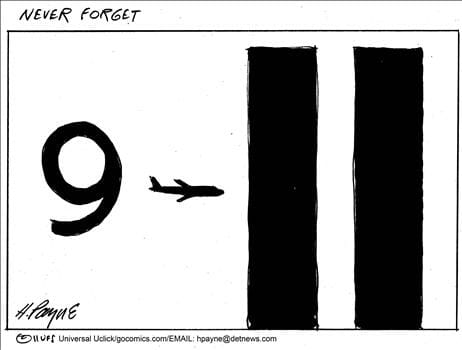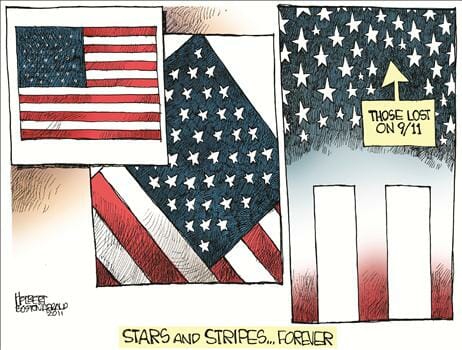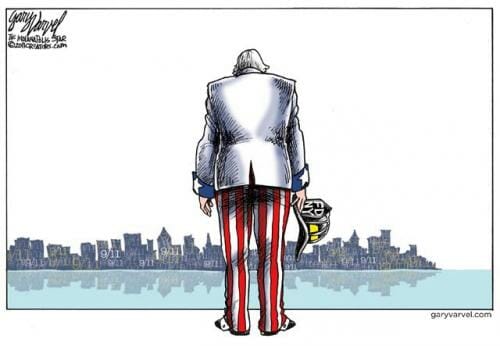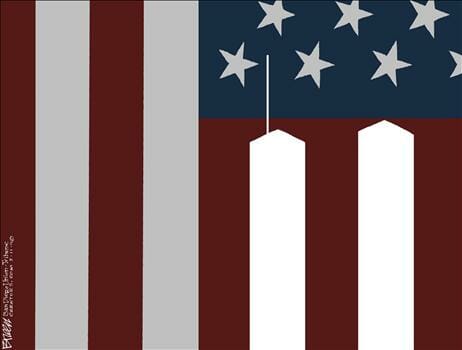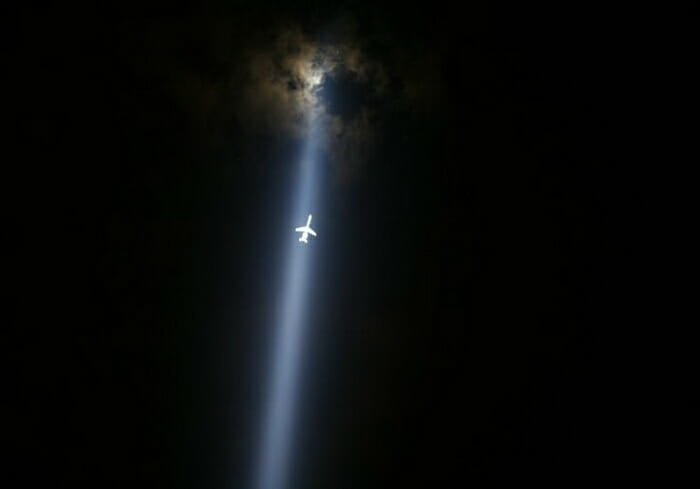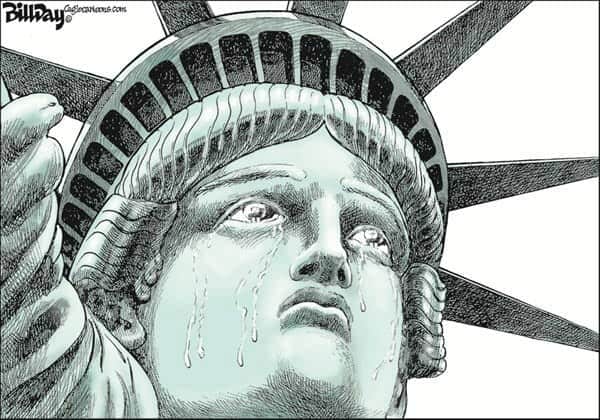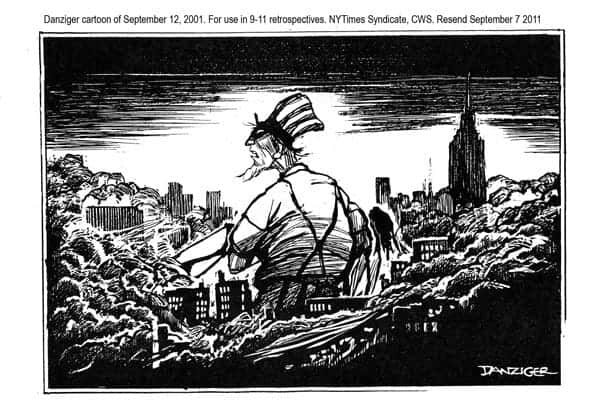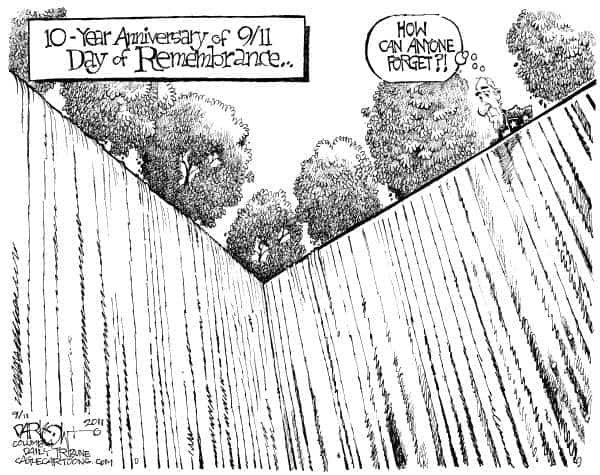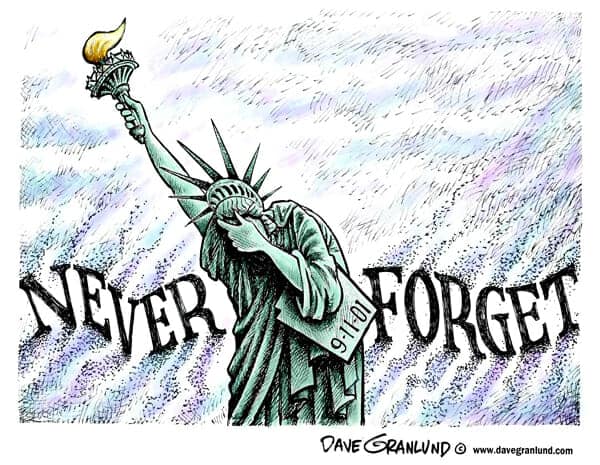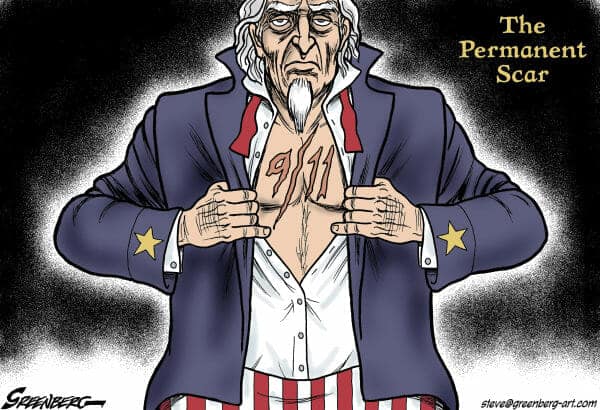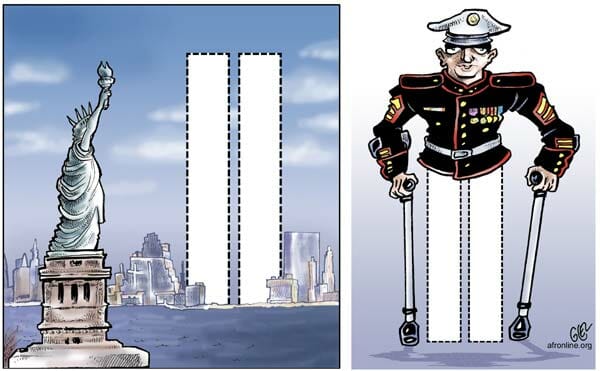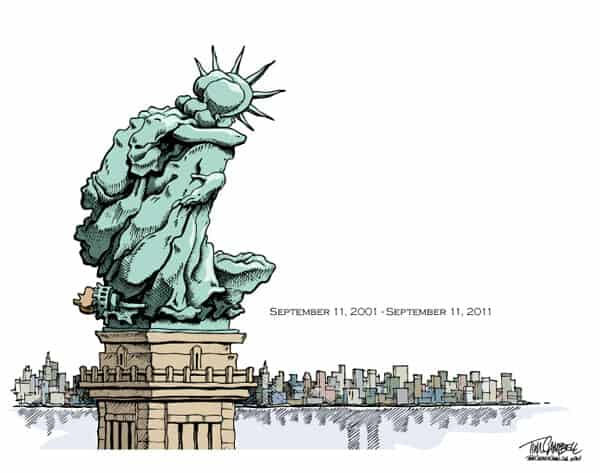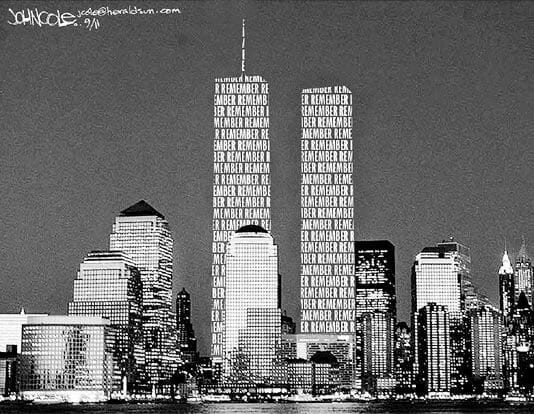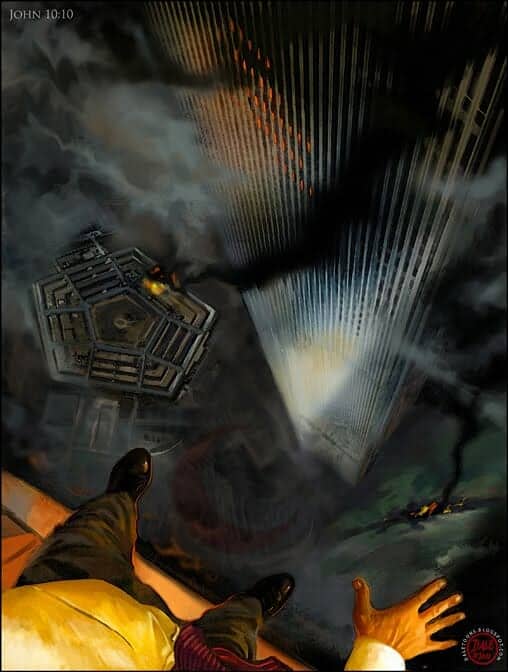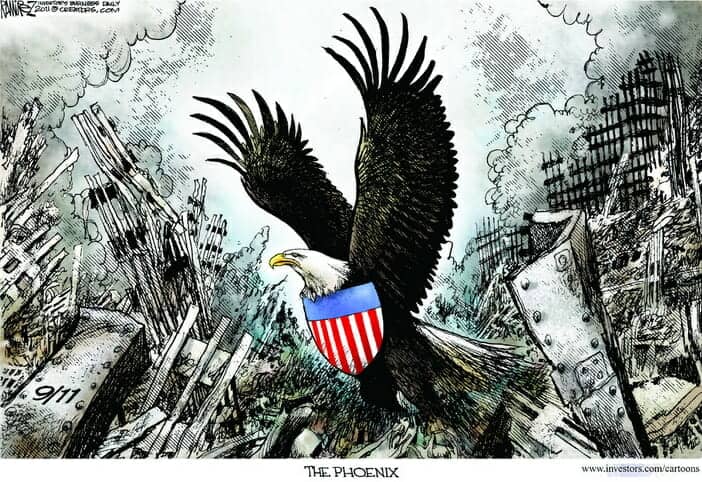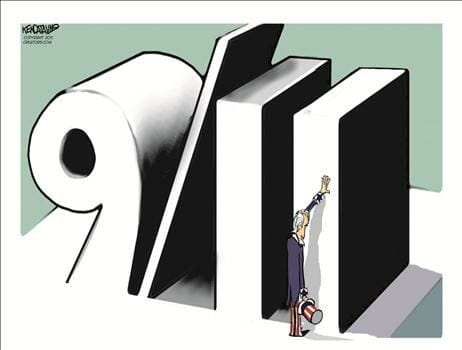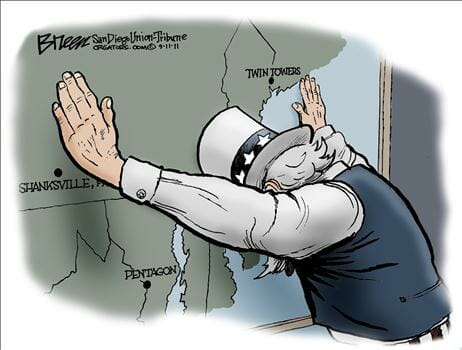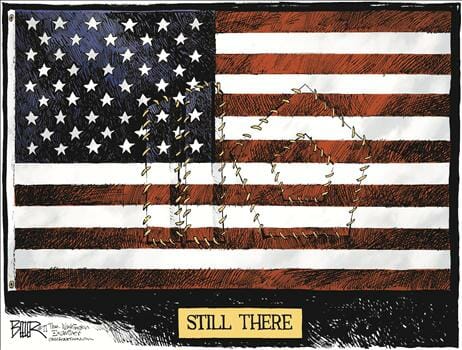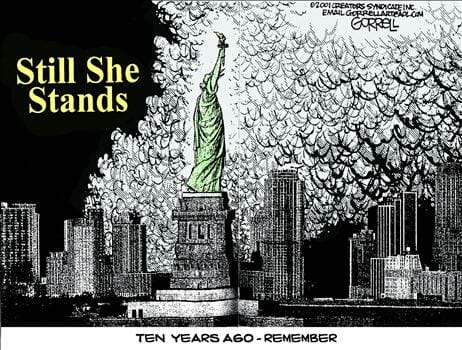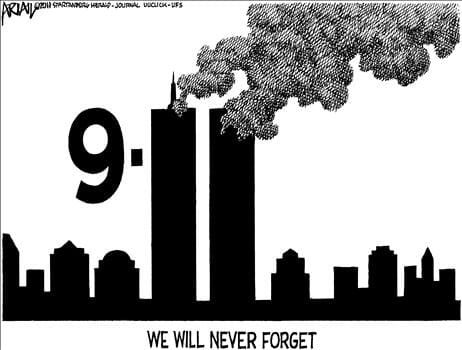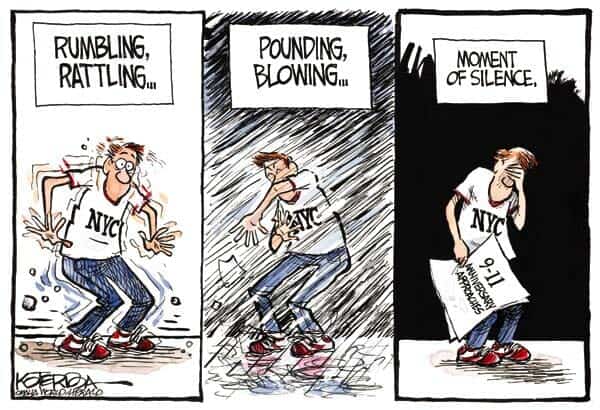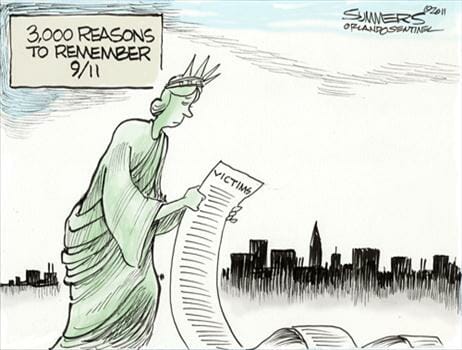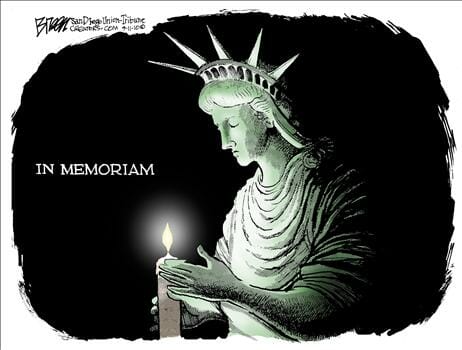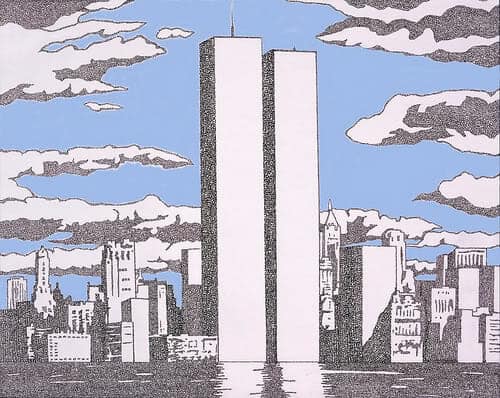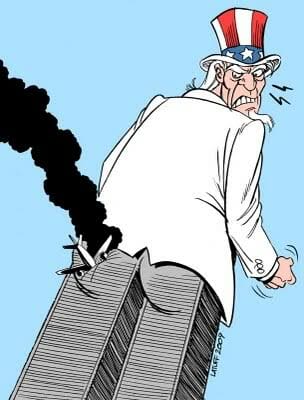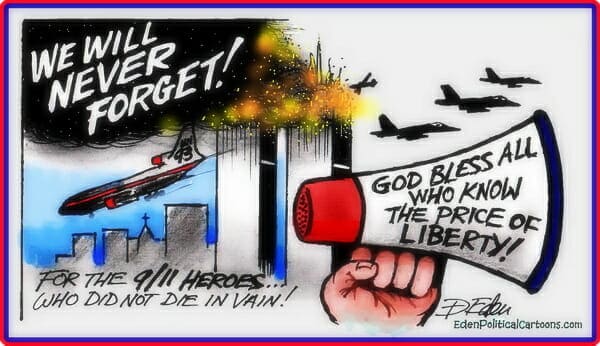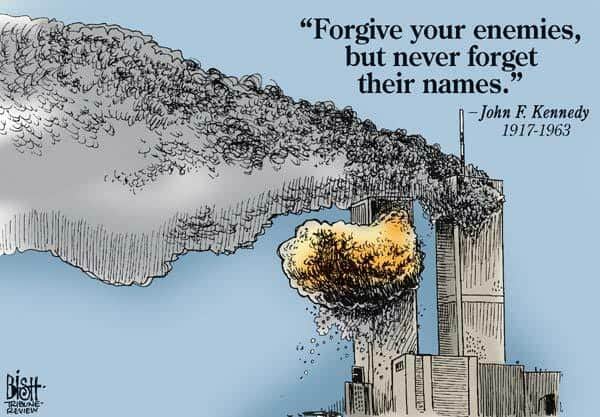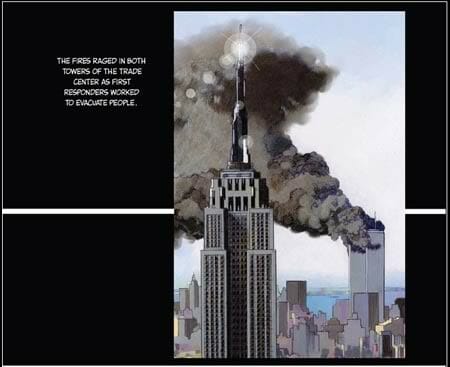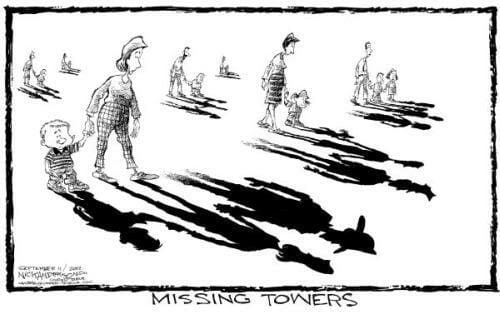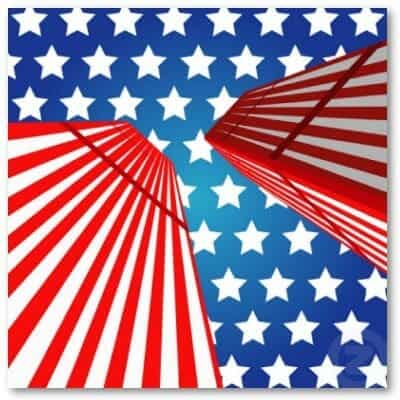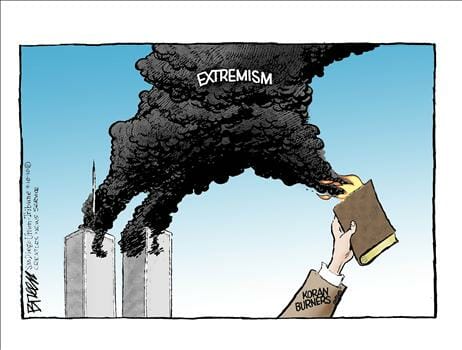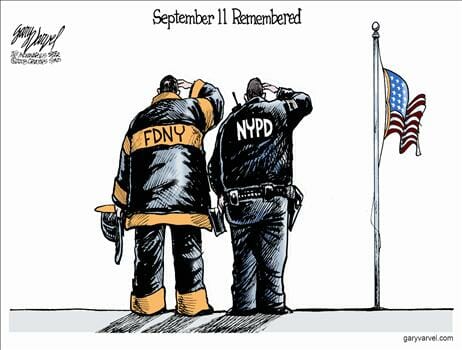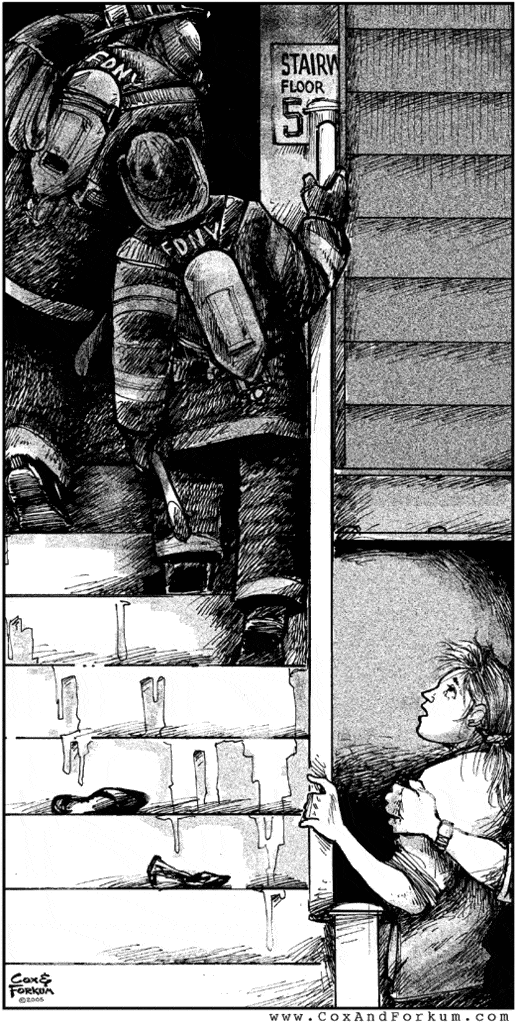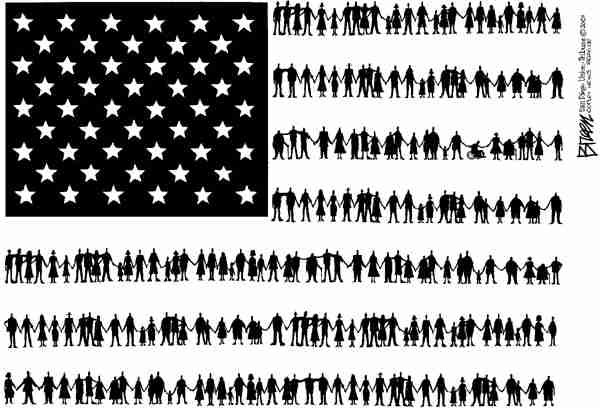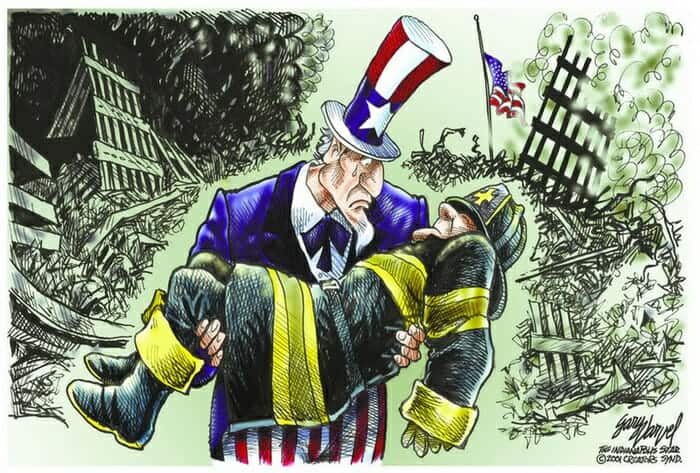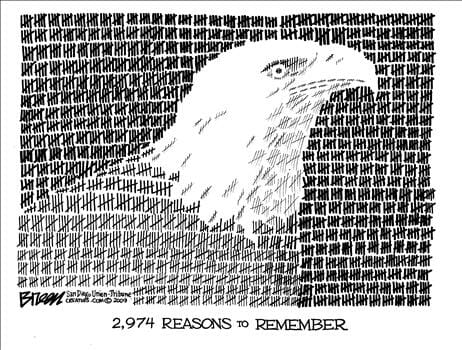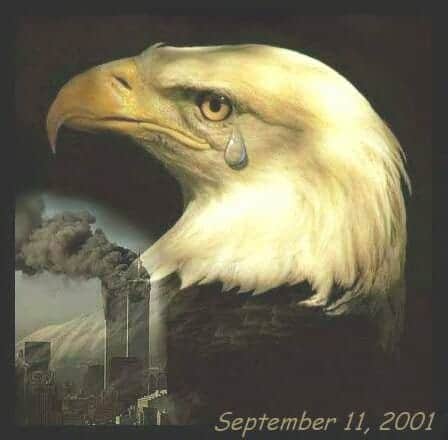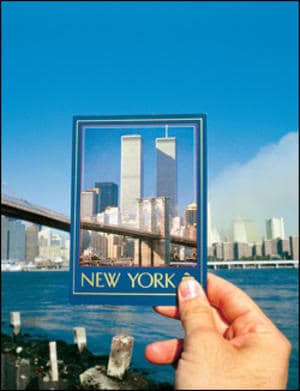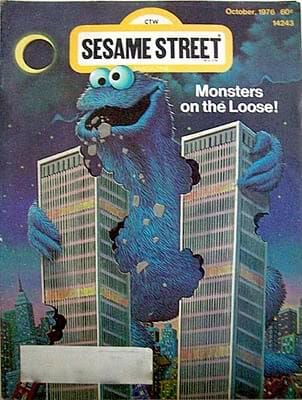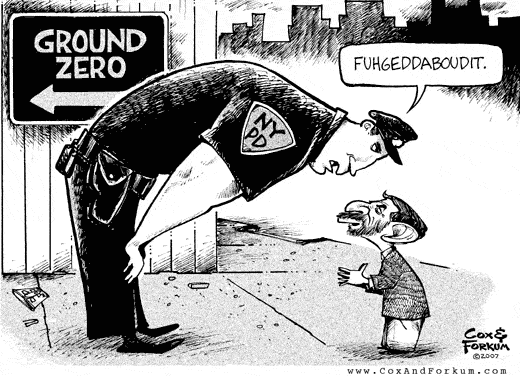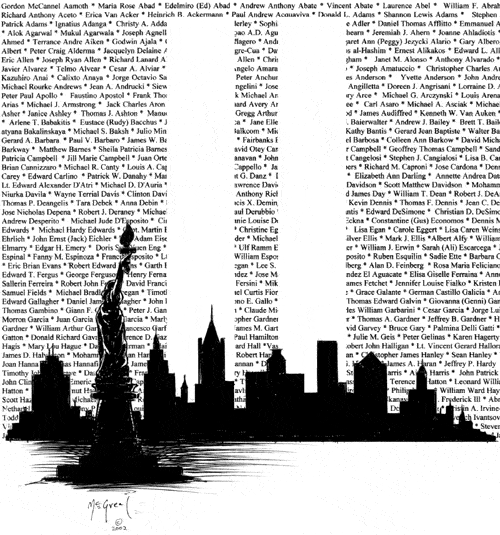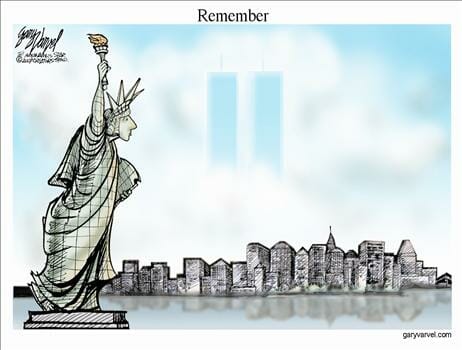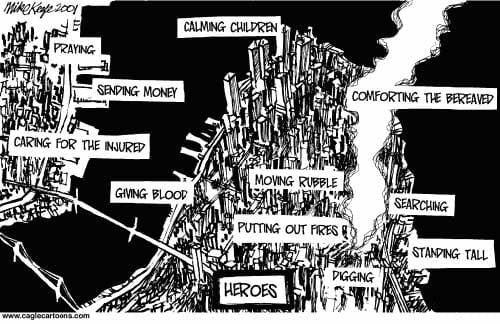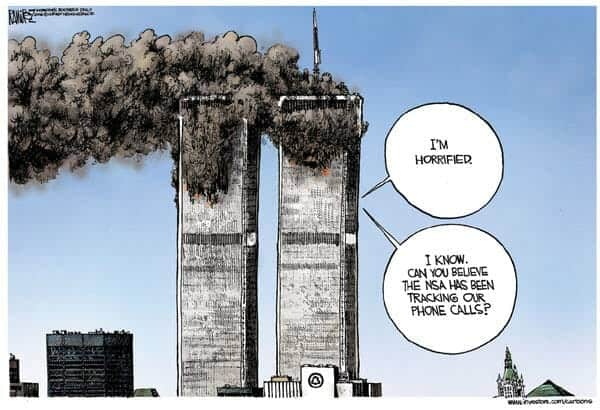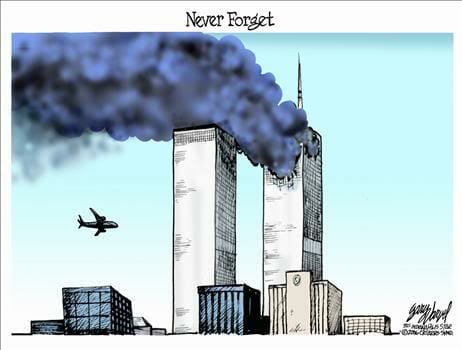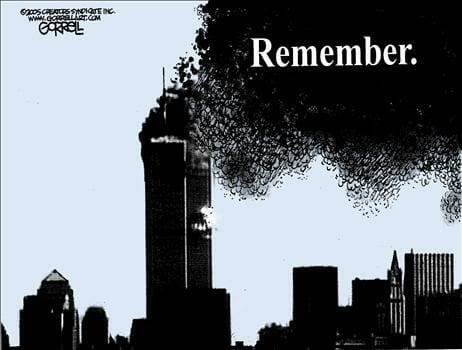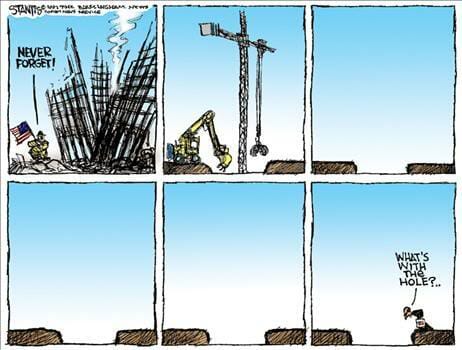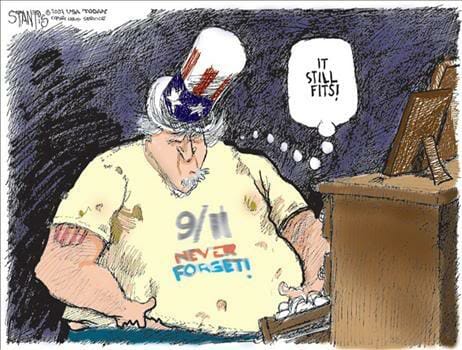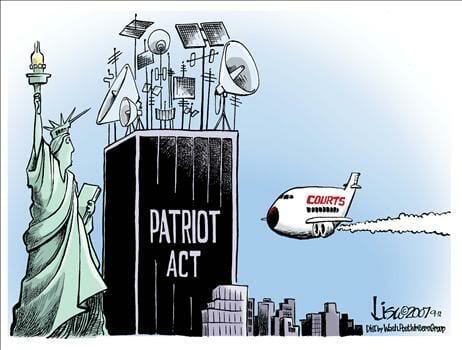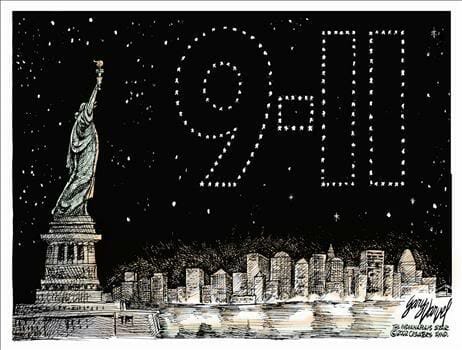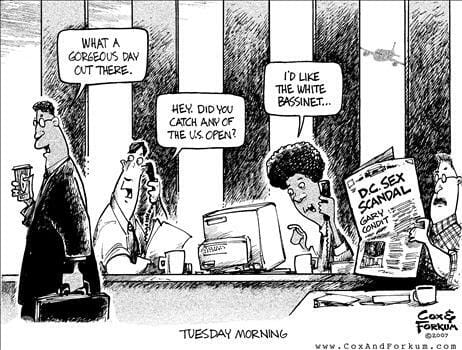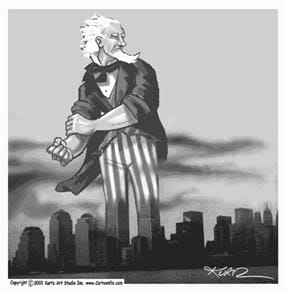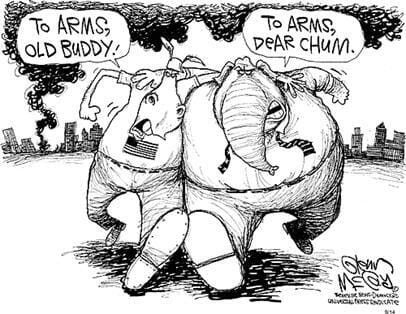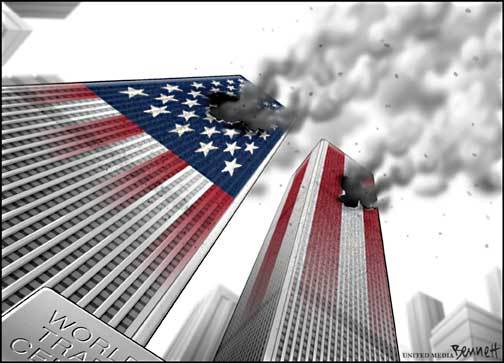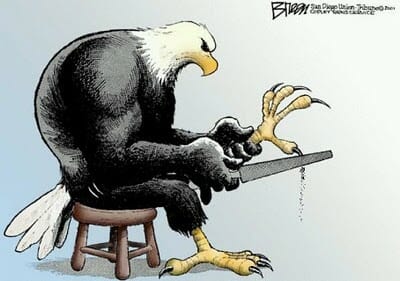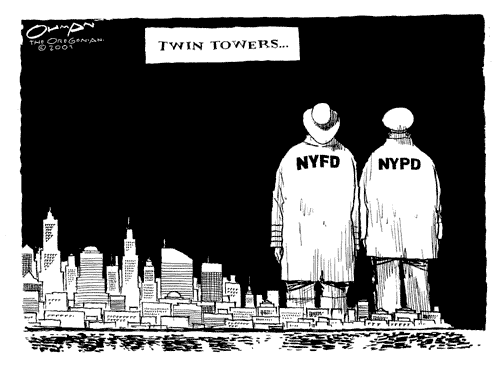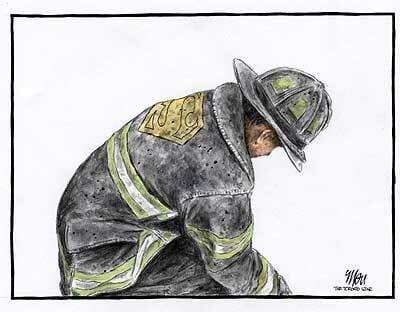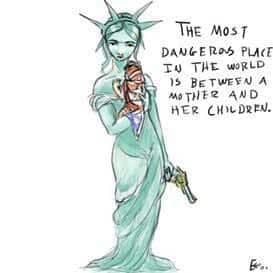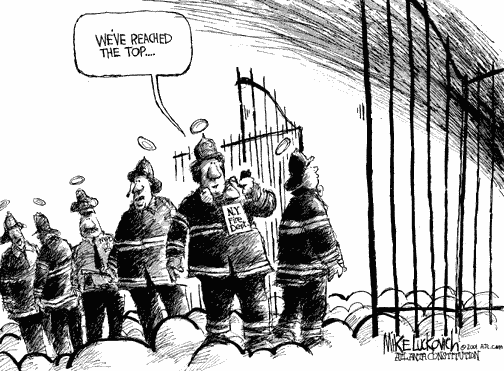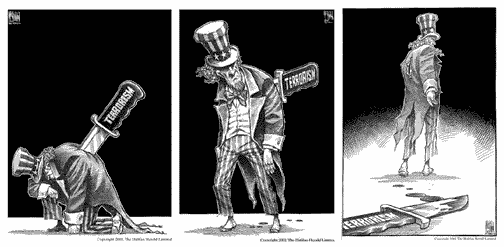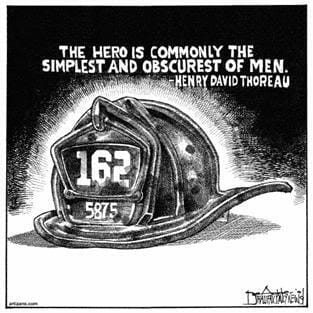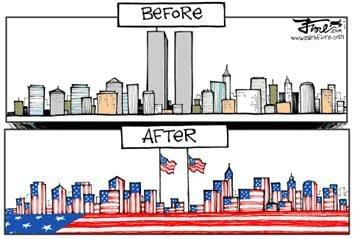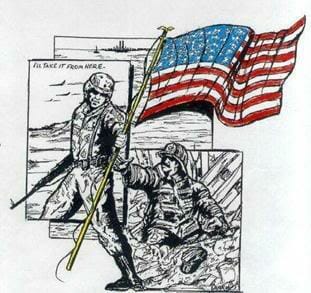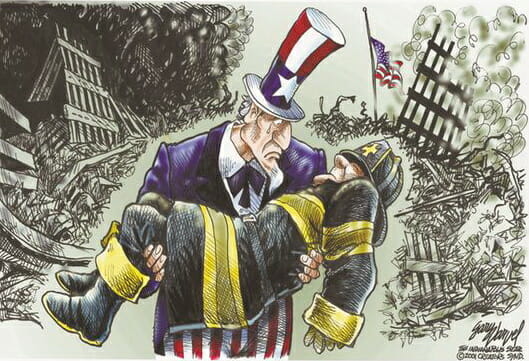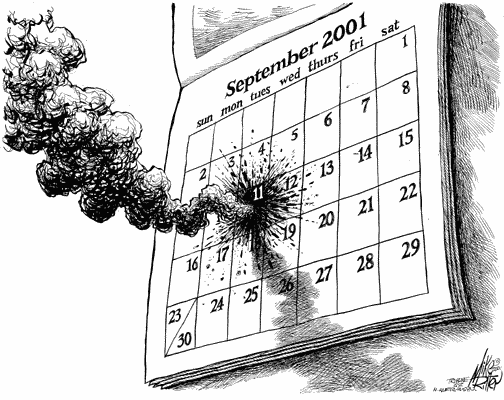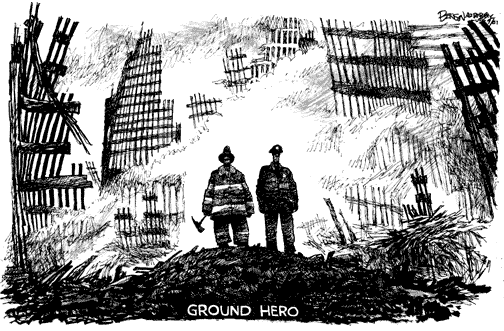 If there is indeed a social revolution under way, it shouldn't stop with women's choice to honor their [own] nature. It must also include a newfound respect for men. It was New York City's firemen who dared to charge up the stairs of the burning Twin Towers on September 11, 2001. The death tally of New York City's firefighters was: men 343, women 0. Can anyone honestly say you would have wanted a woman coming to your rescue on that fateful day?
Suzanne Venker & Phyllis Schlafly, The Flipside of Feminism: What Conservative Women Know — and Men Can't Say (Washington, D.C.: WND Books, 2011), 181-182.
---
These are mainly by fireman/port authority guys in remembrance of those lost
---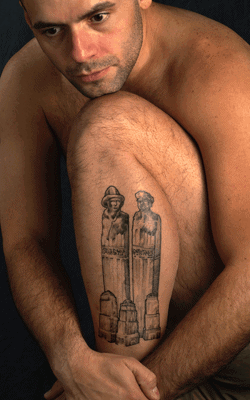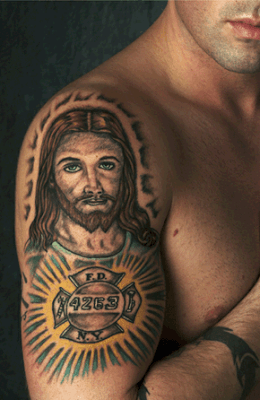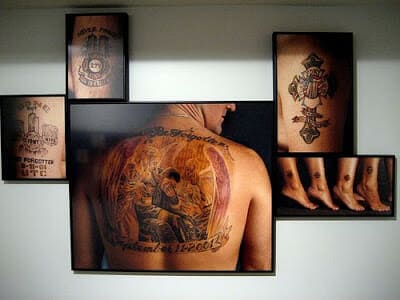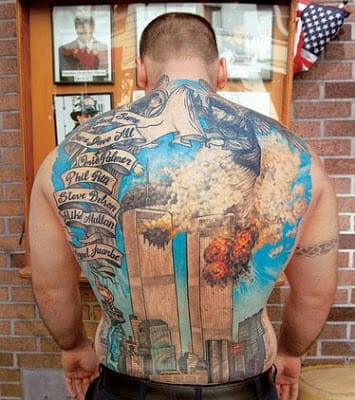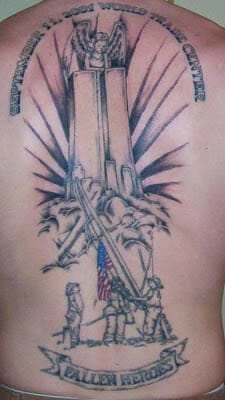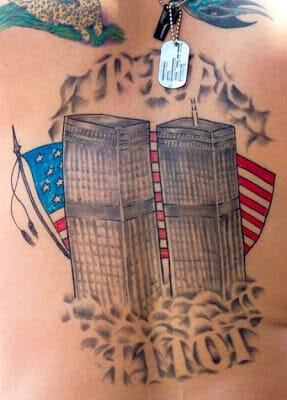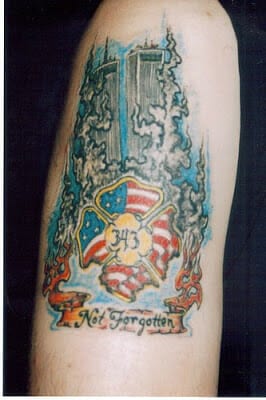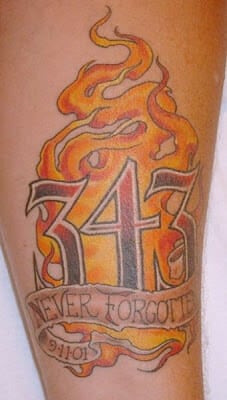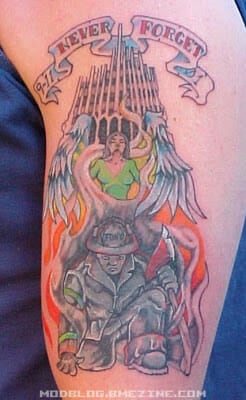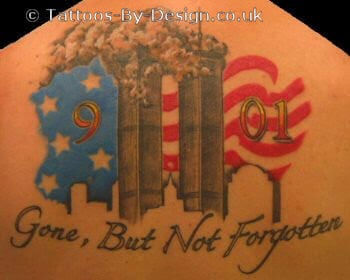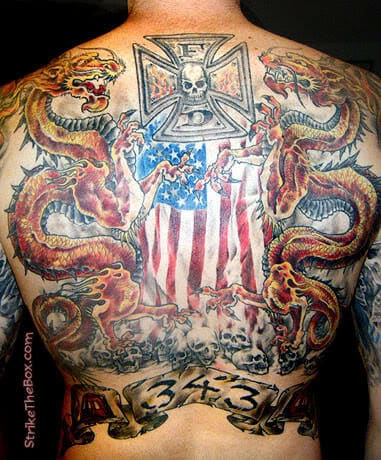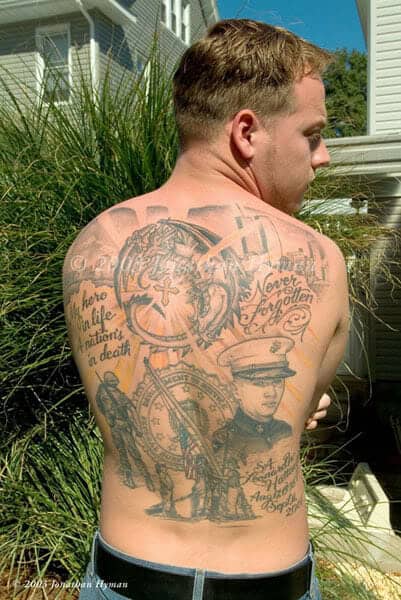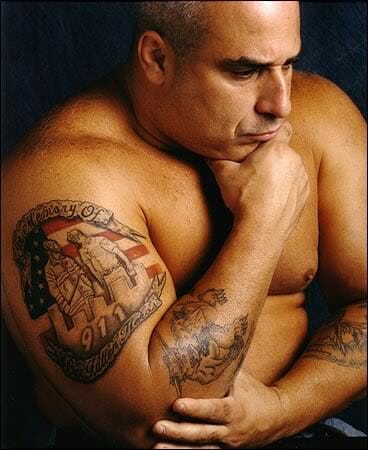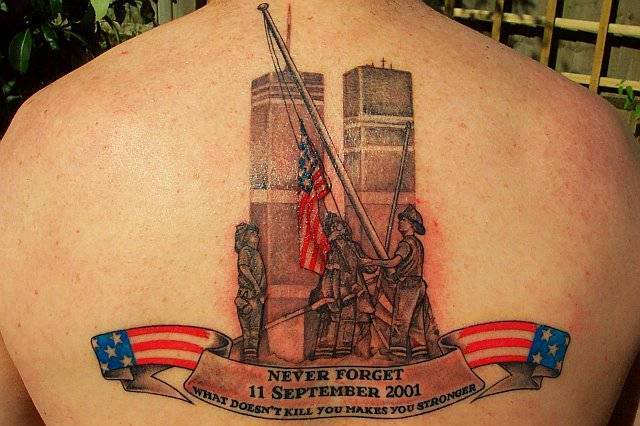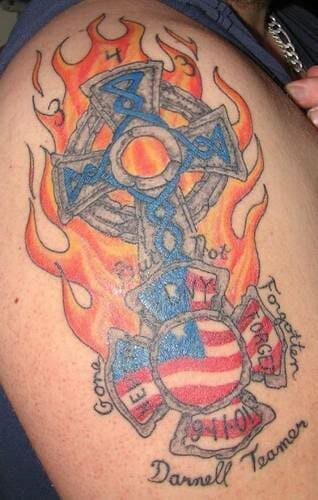 ---
Just a few pictures of steel beams and info
---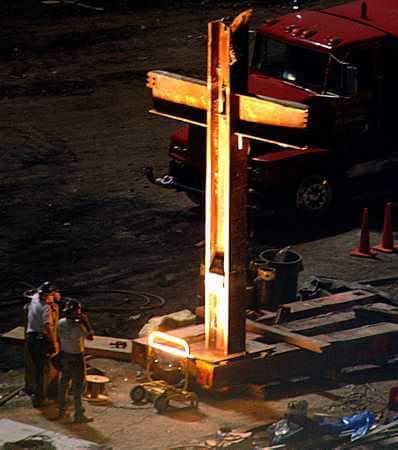 You are looking at what some people believe is a miracle.
Two days after the disaster, a construction worker found several perfectly formed crosses planted upright in a pit in the rubble of the heavily damaged 6 World Trade Center.
The large, cross-shaped metal beams just happened to fall that way when one of the towers collapsed. An FBI chaplain who has spent days at ground zero says he has not seen anything like it on the vast site.
As word of the find has spread at ground zero, exhausted and emotionally overwhelmed rescue workers have been flocking to the site to pray and meditate.
"People have a very emotional reaction when they see it," says the Rev. Carl Bassett, an FBI chaplain. "They are amazed to see something like that in all the disarray. There's no symmetry to anything down there, except those crosses."
This is the Ground Zero cross seen Friday, October 4, 2002, in New York. Father Brian Jordan and a group representing construction workers and victims of the World Trade Center are asking the governor to preserve the ground zero cross and use it as part of the eventual memorial that will be erected at Ground Zero.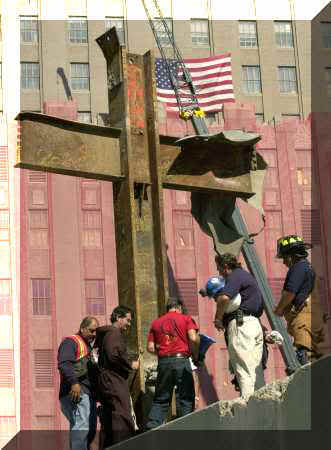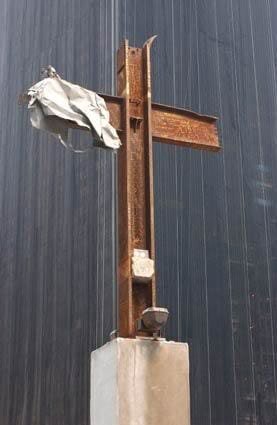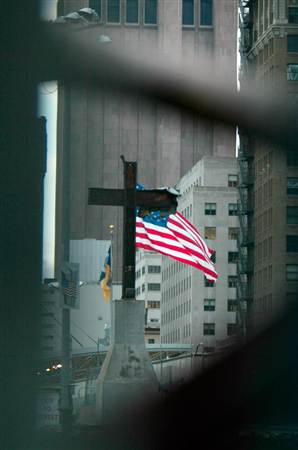 ---
---
From Cox & Forkum's Site (cartoonists):
In the excellent book Never Forget: An Oral History of September 11, 2001, authors Mitchell Fink and Lois Mathias collected stories from eyewitnesses. Here's an excerpt from what David Kravette, a Cantor Fitzgerald broker, told the authors about his experience at the World Trade Center:
On the morning of September 11, I was on floor 105, tower 1. I had an 8 a.m. meeting set up with a client. He was bringing by some tech people to do some due diligence on our technology company called E-Speed. I get to work usually around seven, seven-fifteen. At eight, the client called to tell me they were running late. And I said fine. But I reminded him to bring photo ID downstairs. Ever since the last terrorist attack in '93, the building requires photo ID downstairs. He's been there before, so he knew the drill. He said, "Fine. No problem."
At 8:40, I get a phone call from the security desk downstairs, asking me if I'm expecting visitors. I said yes. "Well, they're here," they said. "But one of them forgot their ID."
I'm 105 flights up. The commute to get downstairs takes about five minutes, especially around that time. So I'm annoyed, obviously, because I have to go down now to sign these people in after I just told them to bring ID. I look at this desk assistant across from me, thinking maybe she'll help out and go down, but she's on the phone. She's also about eight months pregnant. She's a few weeks from maternity leave and she's on the phone talking to a friend and she's on a website looking at bassinets and cribs. A very nice girl expecting her first child. So how lazy am I? I decide to go myself. …
… I take these two elevator rides down. I take the elevator from 105 to 78, change, and take the express down to the ground. I got down to the lobby. Our elevator banks actually face the visitors' gallery. And I started walking over to the visitors' gallery, I'd say it's about thirty yards, and they're standing there waiting for me. And I remember yelling, "Which one of you knuckleheads forgot your ID?"
And as I say this, you hear this really loud screeching sound. I turn around and it's kind of coming from the elevators. So I run away from it, like ten steps, and look back. And the elevators are free-falling. Then, from the middle elevator bank, not the one I came down on, but from the middle one, a huge fireball explodes in the lobby. This huge fireball is coming right toward me. People got incinerated. And I remember just looking at this thing, not feeling scared, but just sad because I knew I was going to die. But as quickly as it came toward me, it actually sucked back in on itself, and it was gone. It left a lot of smoke and everything was blown out, all the glass and revolving doors leading into the shopping area. All I felt was a big wave of heat come over me, like when you put your face too close to a fireplace. My customer and my general counsel and I just ran out. The three of us ran over the overpass to where the Financial Center is. We went down to where the marina is, where the yachts are. And that's when we found out what happened, that a plane had hit the building.
I looked up and saw this big gaping hole. I said, "What's that falling out of the window?"
My general counsel looks at me like I'm nuts. And he says, "That's people jumping out." …
Cantor Fitzgerald had four floors in the North Tower — 101, 103, 104, and 105. Nobody got out on those floors. Everyone who was upstairs perished. There were a lot of phone calls to wives and husbands at around nine o'clock saying good-bye, as though they knew they were going to die.
---
Remembering The Jumpers
---
On another note, there is an old SNL skit where, coincidentally, John Belushi explains how the Twin Towers will come down via SkyLab:
This Marine joined the Corps to honor his father, who died in the 9/11 attacks. He's now stationed aboard the USS New York — a ship made with 24 tons of steel from the World Trade Center.

How do you honor the memory of those lost that fateful day? #NeverForget pic.twitter.com/VZUFwy4T2d

— U.S. Marines (@USMC) September 11, 2018
---
WHERE WAS GOD?
---
Where was God at 9/11? Columbia asks the tough questions to an Oxford scholar on 9/11 at a Veritas event:
---
---
.