"One of the great non sequiturs of the left is that, if the free market doesn't work perfectly, then it doesn't work at all-and the government should step in." — Thomas Sowell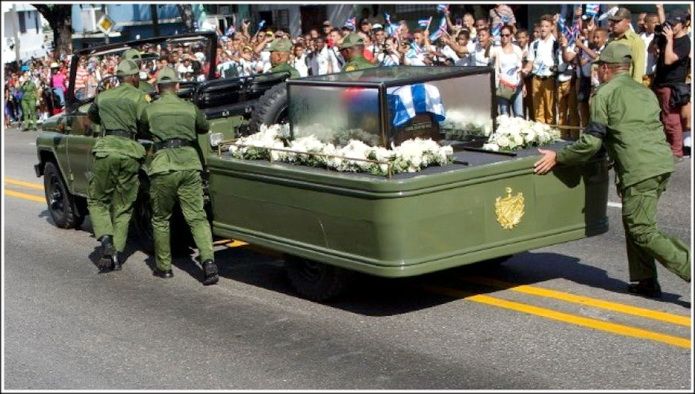 No really! The Russian jeep carrying the ashes of the late Cuban leader
Fidel Castro broke down and had to be pushed for a period on Saturday.
SOCIALISM
Dennis Prager Series – Left vs. Right:
---
MINIMUM WAGE (>>> Main Page <<<)
---
What happens when politicians decide they are in a better position than business owners to know how much workers should be paid? We don't have to guess. Cities like Seattle and New York have already done so with their $15/hour minimum wage mandates. Simone Barron, a lifelong restaurant worker, recounts how "helping" her impacted her wallet, her career, and her life.
"Any Econ 101 student can tell you the answer: 'The higher wage reduces
the quantity of labor demanded, and hence leads to unemployment'."
(Larry Elder)
See more on their website, HERE.
Economists aren't certain about many things, but on the minimum wage, nearly all of them (90 percent, according to one survey) believe that the case is open and shut. All else being equal, if you raise the price of something (for instance, labor), then the demand for it (for instance, by employers) will decline. That's not just a theory; it's a law.
---
A majority of professional economists surveyed in Britain, Germany, Canada, Switzerland, and the United States agreed that minimum wage laws increase unemployment among low-skilled workers. Economists in France and Austria did not. However, the majority among Canadian economists was 85 percent and among American economists was 90 percent. Dozens of studies of the effects of minimum wages in the United States and dozens more studies of the effects of minimum wages in various countries in Europe, Latin America, the Caribbean, Indonesia, Canada, Australia, and New Zealand were reviewed in 2006 by two economists at the National Bureau of Economic Research. They concluded that, despite the various approaches and methods used in these studies, this literature as a whole was one "largely solidifying the conventional view that minimum wages reduce employment among low-skilled workers."
---
…

percentage of economists who agree…. A minimum wage increases unemployment among young and unskilled workers. (79%)
---
Economically, minimum wages may not make sense. But morally, socially, and politically they make every sense…
---
Last Friday, I wrote about how 81% of economists agree that rent controls are bad policy. In a field so renowned for its fractiousness, this degree of consensus might seem rather surprising.
The same is true with minimum wages. In 2015 the Employment Policies Institute surveyed 166 economists based in the United States on the subject. They found that
Nearly three-quarters of these US-based economists oppose a federal minimum wage of $15.00 per hour.

The majority of surveyed economists believe a $15.00 per hour minimum wage will have negative effects on youth employment levels (83%), adult employment levels (52%), and the number of jobs available (76%).

When economists were asked what effect a $15.00 per hour minimum wage will have on the skill level of entry-level positions, 8 out of 10 economists (80%) believe employers will hire entry-level positions with greater skills.

When economists were asked what effect a $15.00 per hour minimum wage will have on small businesses with fewer than 50 employees, nearly 7 out of 10 economists (67%) believe it would make it harder for them to stay in business.

A majority of surveyed economists (71%) believe that the Earned Income Tax Credit (EITC) is a very efficient way to address the income needs of poor families; only five percent believe a $15.00 per hour minimum wage would be very efficient.

The economists surveyed are divided on the impact of a $15.00 per hour minimum wage will have on poverty rates, as well as the impact it would have on the spending level for public programs such as the EITC, TANF, or others.

At lower levels (under $11.00 per hour) of proposed federal minimum wages, economists are divided largely by self-identified party identification as to an acceptable rate with a majority of Republicans and Independents who responded favoring lower minimum wages ($7.50 per hour or less) and a plurality of Democrats who responded preferring a minimum wage between $10.00 and $10.50 per hour.
This isn't surprising. After all, as I've written before, the balance of empirical evidence suggests these things to be true…..

---
TeXaS vs CaLiFORNia
---