New Introduction (5-2015)
Why this post? Originally this was a debate in a forum involving a professor of history from the University of Michigan during the beginning years of the Iraq War. The forum this particular debate took place in shut down and so I lost a bulk of my responses to the professor. No matter, what i did save has transformed into a continuing response to the many past [and still popular] mantras from the left regarding Weapons of Mass Destruction (WMDs).
While I have updated this post recently, there shouldn't be too many more updates needed for it. You see, when the New York Times (NYTs) caves on the issue, the Left is then forced — yes forced — to reason through the issue. Voltaire said "once the people begin to reason, all is lost." And it is because the progressive democrat lives by emotion… simple, rudimentary, brutish responses to their environment. Deep thinking is a hand in cards they will never get.
Enjoy this rework of one of my most classic posts. It looks NOTHING like the previous version.
The NYTs
The NYT's has written two major articles on the Iraq war in the past couple years. (See also Yahoo News.) The only reason they would ever consider going back on their previous position that Bush lied, people died, is for the simple reason they can still blame the Bush administration for improperly handling the WMDs they did find. I happen to agree with the NYTs on this… in the rush to secretly dispose of these weapons, safety was not an issue, and many of our troops that handled and disposed of them have fallen ill.
Simply put, the State Department/Department of Defense had insurgents streaming into the country with deep terrorist ties. And they did not want these "questionable" characters getting their hands on and smuggling out of the country very dangerouse ordinance. So the Defense Department had the top brass (from Bush down) play dumb on WMDs so there wasn't a mad-rush on these weapons.
The operation code name was "Avarice." Here is a snippet from the article (h/t The Blaze) showing that there were in fact WMDs in Iraq… as does the rest of this in-depth post!
NewsMax comments on the above and below NYT's articles:
When the NYT's eats crow… the case is made!
Larry Elder & the NYTs
Larry Elder reads from the NYT's article, mentioned above and below, and he really gives this issue a thorough going through. Following Larry Elder is a Breitbart snippet on the topic:
Here is BREITBART'S excerpt:
Below is the New York Times short documentary detailing many of these soldiers talking about improperly disposing of these chemical weapons.
NYTs Video
I only have a few issues with the video worth mentioning. The video asserts that the U.S. supplied biological and major munitions to Iraq… A chart near the end of this post shows the amount of weaponry sold to Iraq from 1973-to-1990 by country.
(This and other mantras can be quickly linked to in the "Contents" area above.)
The dislike for Rumsfeld came out as the video was talking about this arming of Iraq while showing even Rumsfeld's "hand shake" with Saddam Hussein. In other words, the impression given in the short documentary was that the U.S.A. sold Saddam these weapons because Rumsfeld shook hands with Saddam. That's their evidence. I deal with the "active" portion of Saddam's program below. While high volume production may not have been going on, a continued hiding of both active programs as well as active weapons never ceased.
Islamic State Aquisitions
The below includes some pictures of sites and weapons caches that have recently been acquired by the Islamic State (I.S.). The following picture is a picture of the four main WMD manufacturing sites captured by I.S. in Iraq:
Libertarian Republican emboldens the above evidence with the newest report that undermines many of the characters he deals with on his site and political world:
Did You Catch That?
A "vast former chemical weapons facility."
Not a small chemical weapons facility.
Not a medium-sized weapons facility.
But a vast chemical weapons facility.
I will ask again, for LR's sake, Did You Catch That?
WikiLeaks!
This comes mainly by way of Wired Magazine, However, the picture they show in their article I have had for YEARS! And the cunundrum is this for the left. WIKI Leaks is loved by the left, mainly, because "the WikiLeaks cables because they make America look bad" (Daily Caller).
THAT BEING SAID, the Left is now having to admit that there were WMDs in Iraq if they believe Wiki Leaks. It is a double edged sword in other words. This is a thorn in the side of the activist Left! They support Julian Assange releasing classified, United States [and other government] information ~ B-U-T ~ at the same time it refutes their long-held position on the reasons behind the Iraq war:
Newsbusters explains how the "WikiLeaks" massive dump of classified documents show that WMDs were found.
I want to comment on the picture Wired Magazine used in their article. This is a picture of some viles. In reading the CIA report on them from years ago these were recovered from a safehouse in the initial months of sweeping homes in the suburbs of the capital. I used "it" in concert with a Daily News article found in their Sunday Viewpoint entitled, "Altered Reality:
Picture Used
Shells
May I can also add here that 750 shells with sarin gas were found. As well as 500 shells with mustard gas in them. Some say that these were old and abandoned. This doesn't mean, however, that they were harmless. One sites discussion about this topic has a commentator astutely noting: "These are 500 shells, 15 shells like this killed 5,000 Kurds. There is a difference between degraded and harmless." Only in the Left's vernacular does this equal no WMDs. Scurrilous politics on display if there ever were. Two things come to my mind, and they are two slogans I heard all the time.
More on this later.
Intelligence & First Hand Knowledge
This next section will have subheading and deal with some solid information dealing with or adding to the already water-tight screed above. It will deal with those with first hand knowledge of operations of hiding and smuggling out of Iraq WMDs. Or intelligence known through reporters from the area.
Senior Syrian Journalist
A senior Syrian journalist reports Iraq's WMD located in three Syrian sites: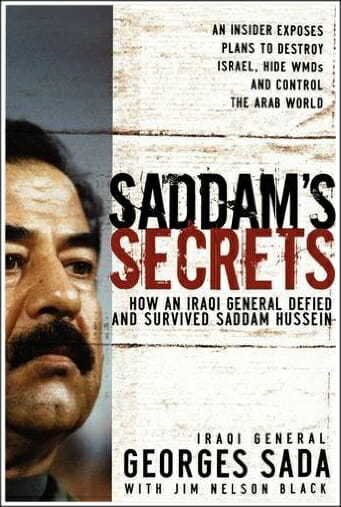 #2 Man –  Georges Sada
The man who served as the no. 2 official in Saddam Hussein's air force says Iraq moved weapons of mass destruction into Syria before the war by loading the weapons into civilian aircraft in which the passenger seats were removed.
(See also AMERICAN SPECTATOR'S story) Below is Larry Elder interviewing General Sada (3-31-2011). Don't you see this is information that undermines heavily the idea that WMDs didn't exist? They were being moved to Syria… what was being moved?
Ali Ibrahim al-Tikriti
Lies? Myths?
Jordan
Quite a few years ago Jordanian officials thwarted a chemical attack on their soil. In fact, it would have been successful minus faulty equipment giving authorities time enough to discover the plot. (AMMAN, Jordan [CNN]) ~ Jordanian authorities said Monday they have broken up an alleged al Qaeda plot that would have unleashed a deadly cloud of chemicals in the heart of Jordan's capital, Amman.
20 Plane Loads
Relief Web is the global hub for time-critical humanitarian information on Complex Emergencies and Natural Disasters connected with the United Nations Office for the Coordination of Humanitarian Affairs. They reported in an article, "Iraq sends 20 planeloads of aid to Syrian victims of dam collapse," the following on June 9th, 2002:
Twenty planeloads containing "humanitarian aid" while he [Saddam] was under U.N. Sanctions and he didn't have enough food for his own people who dies of malnutrition and lack of medical assistance. How gullible are we ~ well, the Left is VERY gullible. Come on. We know from the previous three stories that these plane loads were likely something else.
Defining WMDs
Question: what was Faisal Shahzad (the "Time-Square Bomber") and Umar Farouk AbdulMutallab (the "Dingaling Bomber") charged with?
(CBS Source) A Pakistani-born U.S. citizen admitted involvement in the failed Times Square car bombing and will face terrorism and weapons of mass destruction charges, Attorney General Eric Holder said.
(CNN Source) The seven-page indictment charges AbdulMutallab with attempted use of a weapon of mass destruction

.
They were charged with attempted use of a weapon of mass destruction! If we found WMDs in New York and Detroit… surely we found them in Iraq. What I have attempted above is a pretty airtight case that WMDs did exist, maybe not in the form found in the movie Spies Like Us, with a Iraqi standing over a mobile ICBM control panel with a nuclear warhead… about to press the launch button. WMDs nonetheless.
I believe the Bush administration could have made a better case in arguing that one of the reason we were going in were for Agents of Mass Destruction (AMDs). But this is neither here-nor-there since I feel the case above is sound for there being WMDs as well as AMDs. I will also point out a reason or two for us to enter Iraq even if WMDs were not part of the argument.
This next portion is taken from a series I do in responding to a local writer in a small journal. The original post is entitled, "Concepts: Are We Insane? Nope, Just You Van Huizum."
U.N Resolutions
Regime Change
This next audio is a challenging call into the Michael Medved Show when his guest, Paul Wolfowitz, gets into some of the history that started with Bush Sr., was ignored by Bill Clinton, and finally considered reasonable by "Dubya's" team:
This next section deals with the idea that we heard a lot of during the war, and it is this: "there were no connections with Al Qaeda and Saddam." Alternatively, there is a weaker version of this, "there were no support [state sponsored terrorism] given to terrorism/terrorists by Saddam/Iraq."
This next section will deal with these mantras from the Left. The first example being very simple.
Al-Zarqawi
Here is a WIKI bio excerpt explaining who Al-Zarqawi is to catch the younger generation up with history:
Again, he was hiding out in and training terrorist fighters in, and eventually killed in… wait for it… in Iraq!
CONNECTIONS
These news items show that Saddam was very busy on the Syrian border, and that some chemical weapons made it into Jordan from Syria via a network of Al Qaeda that led right to Iraq. The Telegraph explains in a bit more detail:
A Conversation
In one forum a detractor starts out a thread with the following:
But another responded with this to again, set the historical record straight:
Abu Nadil's "hit" list from the same forum:
Stephen Hayes
Stephen Hayes compiled much of the above connections in his book, The Connection: How al Qaeda's Collaboration with Saddam Hussein Has Endangered America.
Almost two years after his writing it, some more information came out that supported his position.
(Arrggh! I will first post here the appearance of Stephen Hayes from Hannity and Colmes <<This video is gone.)
Replacements for the above missing video can be found at a C-SPAN has an extended book interview where Stephen Hayes takes calls. There is also a full manuscript of this missing video which was Stephen Hayes appearance on Hannity and Colmes at Fox News one can read. Hayes was also on Special Report with Brit Hume.
Here is an excellent interview of Stephen Hayes by National Review (or, a portion thereof) reagrding his book:
From this we can see that the typical bumper sticker statements/mantras we heard projected from street corners in close proximity to the Whole Foods market I worked at just never took into account much of anything, except, that is, these persons almost crazed dislike of Cheney, Rumsfeld, and Bush (BDS: Bush Derangement Syndrome).
Impeachment
An example comes from an almost elated exclamation about Kucinich's "attempt" to start impeachment of Bush and friends, via a friend of mine on the opposite side of the political spectrum. Actually, this comes from a friend who is a local blogger and "political nemesis." (Every good guy [me] has to have a villain [Kimba] in his life.):
Often times people don't follow their logic to the end… for instance, on MSNBC's Morning Joe, Mika Brzezinski reads from a NYT's op-ed that slams the Bush-Iraq war. The problem is, as Joe Scarborough points out, that every intelligence agency and a well-respected CIA head (not to mention leading Democrats) — and even Saddam himself… said they had WMDs. And they did, as this extensive post clearly shows. Unfortunately the file was corrupted near the end so when Joe was making his best points there is a bit of audio missing (around the 13:37 mark). This video segues into the next section nicely to support the points Joe Scarborough was making :
Bush Lied/People Died
LIE: to make an untrue statement with intent to deceive. [So the person knows what they are stating is false, and say it to deceive.]
One thing I have heard and gave an example of is the Left saying and truly believing that Bush lied about WMDs. If this is the case, what about these other politicians?
If Bush lied about WMDs, then what did President Bill Clinton do when he said: "If Saddam rejects peace and we have to use force, our purpose is clear. We want to seriously diminish the threat posed by Iraq's weapons of mass destruction program" (Feb. 17, 1998).
Or how about Madeline Albright, John F. Kerry, Ted Kennedy, and the like? Here is an article via the L.A. Daily News (2-21-2004)
Democrats Lied
So now these Democrats say President Bush lied about Iraq and about Saddam having weapons of mass destruction, that there never were any such weapons and that he took us to war for his own political interests?
Restated
(The above Prager U video) A recent release by Prager U, is by Judith Miller, a Pulitzer Prize-winning journalist, who covered the lead up to the Iraq War for The New York Times, and settles once and for all the big lie about the war in Iraq. She discusses the proposition of whether or not George W. Bush lied to the American people about Saddam Hussein having weapons of mass destruction?
Bob Woodward
Here is Bob Woodward, a legend in investigative reporting, pointing out that while one can argue if going to ware in Iraq intially was a bad idea, one could not say that Bush lied:
This next section will reintroduce some more information on WMDs being found in Iraq as a support for my point to be found about Bush lying… and it will show just how bad the logic of the Left is. Again, these positions the Left holds to are emotional in there basis, and so, are not typically drawn out to their logical conclusion. I will do that.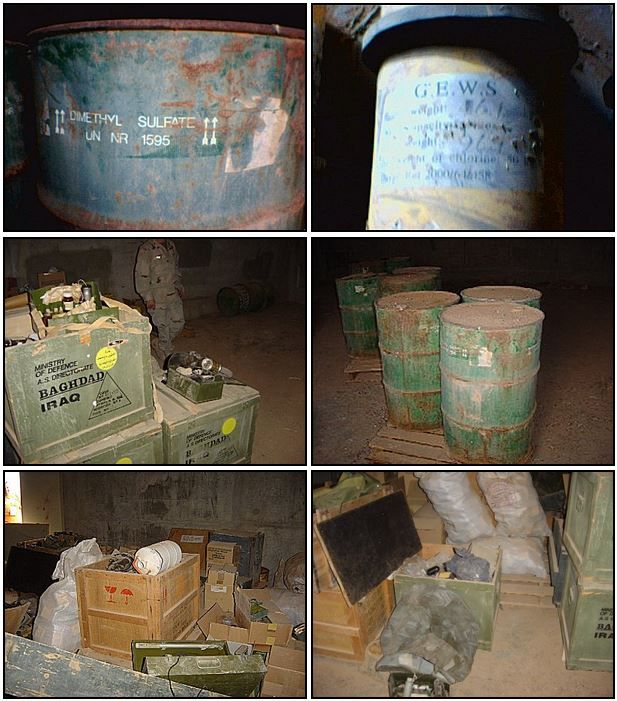 WMDs II
So what are some of the examples that counter the Left's claims and bolster the Bush administration as well as the intelligence agencies from Germany, Russia, France, Israel, Britain, China, Jordan, as well as others showing that Saddam had weapons of mass destruction (Saddam even saying he had them)? Well let's see… the following short list below is from the book, Disinformation: 22 Media Myths that Undermine the War on Terror, by Richard Miniter:
Found: 1.77 metric tons of enriched uranium;
Found: 1,500 gallons of chemical weapons;
Found: Roadside bomb loaded with sarin gas;
Found: 17 chemical warheads–some containing cyclosarin, a nerve agent five times more powerful than sarin.
Found: 1,000 radioactive materials–ideal for radioactive dirty bombs;
Mahdi Obeidi
How about the fact that Mahdi Obeidi (Saddam's head nuclear scientist) buried a prototype of his gas centrifuge, the most direct and efficient route to enriching uranium, in his backyard in Baghdad. Hence the name of his book, The Bomb in My Garden: The Secrets of Saddam's Nuclear Mastermind. You can see a two part presentation from Dr. Obeidi in PART 1, there are many more that follow.
So the question becomes, if the belief is that Bush knowingly mislead the American public in order to get us into war. First, lets revisit what a lie is:
LIE: to make an untrue statement with intent to deceive. [So the person knows what they are stating is false, and say it to deceive.]
Which Is It?
But this poses a problem for the Left. Why? Well, because the Left repeatedly says that Bush is dumb. But wait. Was Bush and his administration soo clever as to trick/deceive Democrat leaders, Western and Middle-East based intelligence agencies, Saddam Hussein, and the like?
So:
a) IS BUSH AN IDIOT?
b) OR DID HE LIE?
AGAIN, Bush, while being called a dunce or ignoramus by the left is s-o-o-o-o intelligently diabolical that he got every United States intelligence agency and every major intelligence agency in the world ~ not to mention every Democrat ~ to lie for him as well. So is Bush still the "dunce of the class," as the Left paints him; or is he so intelligent that he fooled the world, as the Left paints him. Which is it? Or are both views partisan?
If Bush was as diabolical as the some of the Left made him out to be… why don't we have evidence of him "planting" evidence in Iraq so he could go out and point to the examples to tell the Media and Democrats to "speak to the hand"? Instead, as the NYTs points out, he kept his mouth shut in the onslaught of his detractors so that the Defense Department could destroy WMDs as they found them so they wouldn't fall into the wrong hands.
Instead of being diabolical, or dumb, or of questionable character… Bush sounds pretty damn noble! However, I have shown there was no mistake. I have yet for someone to show me that this cumulative case can be taken from its lofty place here at my blog. And may I say that I have not seen such a case made yet on this World Wide Web.
#2 Man ~ a Second Time
Let's hear how the above issues play out in real conversation, and I would entreat the reader to listen to the entire call. One may not like the term "little girl," but this gets explained near the end.
Satellite Photo + James Clapper
For more on the below, see:
Again:
James Clapper, America's #1 Spy ~ and ~ General Georges Sada (Saddam's #2 Airforce General) agree… WMDs were shipped and flown to Syria. Gen. Sada personally, on command by Saddam, hallowed out two passenger jets (747s) for the mission.
Iraq is Not Bush's Fault
Larry Elder gives "10 Reasons Why Iraq's Bloodbath Is Not 'W's' Fault." In this article he goes through some of the convoluted thinking that Voltaire preferred. I only import over a few of his points, however, I also import one of Elder's videos that compliment his article well. This video can be found over at his blog, The Elder Statement:
Conclusion
What was discovered in Iraq were dozens of WMD-related program activities and significant amounts of equipment, chemicals, and specialists to make it happen that Iraqi concealed from the United Nations during the inspections that began in late 2002 and was the final straw in the U.S. military's back. The discovery of these deliberate concealment efforts have come about both through the admissions of Iraqi scientists and officials concerning information they deliberately withheld and through physical evidence of equipment and activities that ISG (Iraq Survey Group) has discovered that should have been declared to the UN.
There are other peripheral issues that I have already dealt with that touch this issue in some way, like yellow cake uranium, or the cost of the war and contracts given to Halliburton. However, these issues are easily dismissed, at least for those that do not project their psychoses onto Bush and Cheney.
A Facebook Postscript
This was a confrontation via my Facebook. Enjoy the conversation:
HIM
ME
HIM
ME
HIM (3-responses)
ME
HIM
ME
HIM
ME
That was it… these guys paint themselves into a corner with motivations that they think was behind the war and none of it is true… so you end up with them fantasizing positions and they bow out of the conversation because there is no evidence to back up their slogans.
Afterword