Of course the Left charges us (the United States)with quite a few provably false, or at most, inflated charges in regards to the the United States arming Iraq.
Weaponry
A quick refutation of another familiar "mantra" we hear connected to this topic, and one most at the rally in the video above most assuredly accept, is that the U.S. supplied the bulk of weapons that Iraq has and used. This just isn't the case, the the graphic below points out (click it to enlarge it for better viewing):
Agents of Mass Destruction
The story goes that the United States provided chemical weapons to Iraq. The proof is the photo of Rumsfeld shaking hands with Saddam Hussein in 1983. In an excellent Yahoo Answers question:
Did we really sell or give Iraq chemical or biological weapons, or is that something the liberals made up?
Some reasonable parameters were added to this original question. Here they are:
Update: If you're going to tell me that we did, show me some proof of it. Don't just make more baseless accusations and repeating what you heard from other ignorant people and bogus sources.
Update 2: Shaking hands with our allies does not mean we provided them with biological or chemical weapons! Iraq was our ally back before the gulf war.
Update 3: If you're going to include links to your research, make sure somewhere on there it says that we gave or sold Iraq the WMDs. I'm not even going to bother looking at the "propaganda" websites. Show me something from a legitimate source.
Update 4: Connie G, I don't see anything relevant to my question on your links. Did you not understand the question?
Update 5: The Iran Chamber Society is not as far as I'm concerned a legitamate source. This is a country that hates the United States and isn't known for their honesty and fairness. Is this where you get your info, Connie G.?
Update 6: How about citing some legitimate sources like CNN, 60 minutes, or FoxNews. I don't trust obscure websites that I've never heard of before. Who knows what their agenda is
When these requests are added, the best answer certainly is the best answer: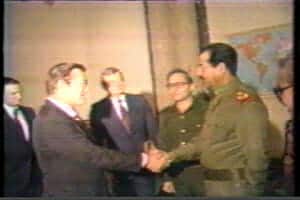 I have never seen one present any sort of proof what so ever. They just parrot it. Notice how they just declare it true but offer nothing of proof at all.
This comes from my afterword of my WMD Page:
Here is some on-depth info on the hand-shake: