(A GOOD PORTION OF THIS DATES FROM 2010)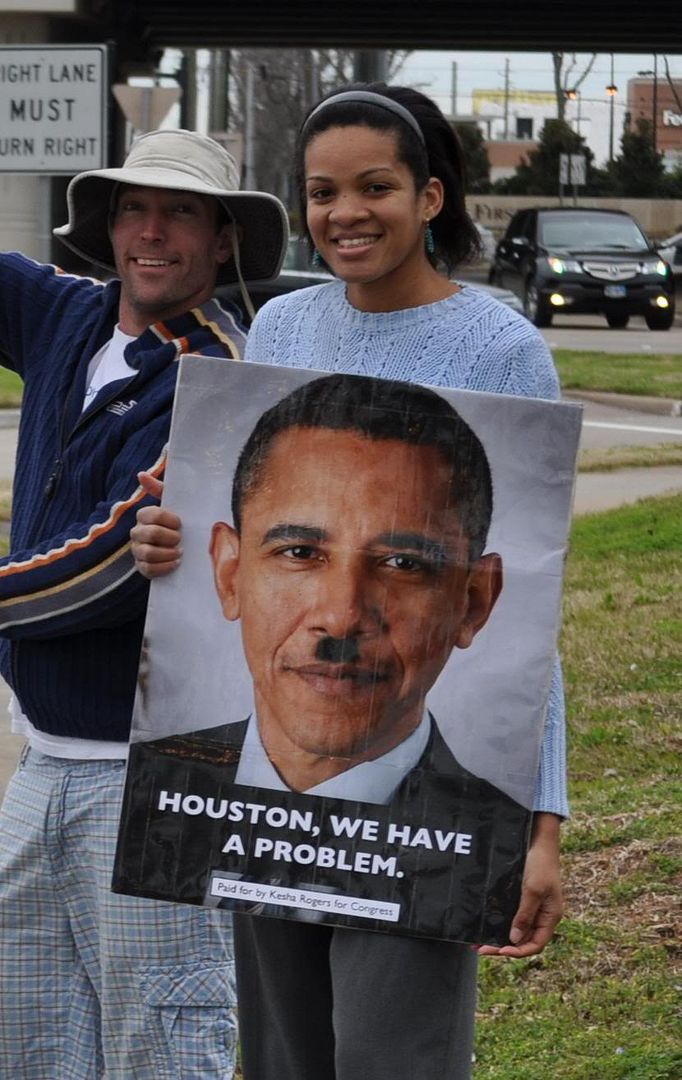 (BTW, Lyndon LaRouche died in February 2019 at 96-years old.) This is the political cult I always forget about, Lyndon LaRouche (pronounced le-ru). She won her candidacy even with the fact that "during the campaign, she was photographed carrying an oversized portrait of the President with a Hitler-style mustache penciled on his lip." Remember the news broadcasts on the poster with Obama and a Hitler mustache? Well, all the posters that say this on them:
OBAMA NAZI SIGNS
Life is truly stranger than fiction. Not only does this picture show Kesha Rogers holding the Obama/Hitler sign, but it even says it is paid for by her campaign on the bottom (click to enlarge):

"Houston, We Have A Problem"
is so appropriate
This story (the LaRouche movement and recent political activity) is an old one… one that I commented on quite a while ago. These person's even visited my old job once (Whole Foods). 
NAZI OBAMA @DEMOCRAT CAMPAIGN
Here is the BREITBART post on her:
Could you imagine the outrage if this was at a Tea Party? And if it is, it is because of a LaRouchite! Do you not know who Lyndon Lerouche is, there is a good WIKI ARTICLE on him. Here is the HOTAIR's dig on this story:
Here is Kesha being interviewed by "LaRouche TV."
MORE EXAMPLES OF SIGNS
The below signs are from the Democratic Linden LaRouche camp. There was one photo that made it into the mainstream media that was at times cropped so you wouldn't see the race of the young man, but as you can see, the guy holding this sign up is a young black man:
Kesha is in a political cult, and putting a LaRouchite into office, considering their across the board acceptance of just about every conspiracy theory available, is an option I will campaign against. There is also concerted cultish aspects of brainwashing as well. The reason you here this push to support NASA is that the LaRouchite's want to (or wanted to) have a permanent colony on Mars by 2025, this is now pushed back to 2027. 
One thing I wish to supplant is the idea that this is some sort of "Right Wing" group.
LAROUCHE PRESIDENTIAL RUNS
NEWSBUSTERS "busted" this liberal myth when they pointed out the following:
CROOKS & LIARS
I think the mainstream media and bloggers who think themselves erudite enough to broadly claim political affiliation of this movement, should think twice. For instance, CROOKS & LIARS (a Leftist site) said this after showing Bill O'Reilly's comments on it (sorry for the cuss word, typical though of the Left) [I combined this old Bill O'Reilly with two other videos]:
Crooks & Liars "did an interesting thing the day after last night," they lied about the LaRouche'ites!
AGAIN:
He completely omitted the fact that the woman who Frank was castigating was in fact a member of the FAR-RIGHT Lyndon Larouche cult.
(*Annoying Buzzer Noise*) Nope, this needs a rewrite. 

The medias lack of care for the LaRouchites showing up at meetings with Obama/Hitler signs is pointed out by the WEEKLY STANDARD as well:
AGAIN, RAN 8-TIMES AS LEFTY
Lyndon LaRouche Presidential/political runs:
LaRouche was a presidential candidate from 1976 to 2004. He campaigned for one such election while serving his sentence for fraudulence. He had run once for his 'US Labor Party' and seven times for the 'Democratic Party.' (THE FAMOUS PEOPLE)
Some "Right-Wing" guy? Ran first for a self made Marxist Organization, then seven more times as a Democrat.
FASCIST? OR SOCIALIST?
Ideological Swings:
SOME HISTORY ON WHO JOINED FASCIST MOVEMENT