(Foden Toons: https://www.facebook.com/groups/Fodentoons/)
"Fear is the most powerful enemy of reason. Both fear and reasoning are essential to human survival, but the relationship between them is unbalanced. Reason may sometimes dissipate fear, but fear frequently shuts down reason. As Edmund Burke wrote in England 20 years before the American Revolution," no passion so effectually robs the mind of all its powers of acting and reasoning past fear." …. "Facts no longer matter. We simply decide how we want to see the world and then go out and find experts and evidence to back our beliefs." (WUWT)
The above cartoon notes this recent story (h/t to Climate Depot) from a Senate Judiciary Committee hearing where Democrat Senator (RI) Sheldon Whitehouse asked Attorney General Loretta Lynch if there "are there other circumstances in which a civil matter under the authority of the Department of Justice has been referred to the FBI?"To which the AG responded,
In a poll of 1,000 likely voters, Rasmussen Reports asked if the "government [should] investigate and prosecute scientists and others including major corporations who question global warming?" A full 27% of Democrats replied in the affirmative, as did 12% of Republicans. (Breitbart)
This is an update to my very frightening post about where Democrats are headed in this country. And that is, where every other leftist government has ventured into… fascism. Except this time, it is "eco-fascism."
More in this UPDATE from IBD (hat-tip to GAYPATRIOT):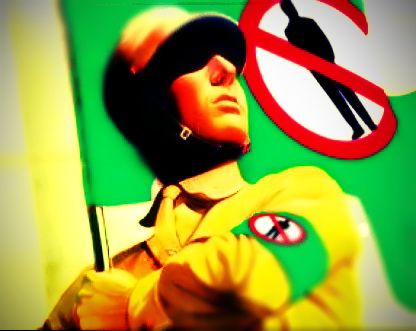 AL GORE
Bill Nye
Via Moonbattery (more at: Climate Depot):
Various Democrats
Also note that Democrats are actively investigations into people who counter the anthropogenic global warming narrative:
Here are some of tha main Democrat Culprits:
Senator Bernie Sanders
No Dissent Allowed: U.S. Senators introduce amendment to muzzle climate 'denial apparatus' – Senator Bernie Sanders co-sponsors
Senator Sheldon Whitehouse
Hat-tip to Climate Depot. This comes from the Weekly Standard:
Who are the cigarette execs? Morano explains:
…it's the global warming scientists who are the ones fulfilling a narrative. I mean we have Michael Oppenheimer, one of the lead U.N. scientists, took an endowment from Barbra Streisand. Hollywood – he's the climatologists to the stars. It's so insulting to imply that somehow skeptical scientists are on the pay like tobacco companies. It's the height of arrogance when you look at the actual data, the global warming scientists, through government grants, foundations, through media empowerment, have the full advantages of government money, foundation money, university money. There's not even any comparison.'
Green News also notes proposed "jailing" of "deniers:
Sen. Sheldon Whitehouse (D-R.I.) has a new plan to combat climate change: sue fossil fuel companies for fraud. In a May 29 op-ed in The Washington Post , Whitehouse argued that the fossil fuel industry's efforts to discredit climate science and attack environmentalists may constitute deliberate deception of the kind the tobacco industry perpetrated in previous decades. In 2006, a federal judge found the tobacco industry guilty of fraud in a civil lawsuit brought under the Racketeer Influenced and Corrupt Organizations Act (RICO). Cigarette companies' efforts to hide the health effects of tobacco consumption included lying about the findings of…
ROBERT F. KENNEDY, Jr.
GayPatriot adds some commentary:
A not so surprising thing happened as they do at all large Democratic gatherings, a whole bunch of trash was left behind. Continuing with Breitbart:
Here, PJTV interviews the hypocrisy flowing from JFK Jr:
JOHN KERRY
John Kerry is blaming future calamities on those of us who deny the Left's main contention that man-made CO2 is the main driver behind our planet's weather system. Here is the WaPo article via Climate Depot:
Various DEMOCRAT Leaning Person's
Professor Lawrence Torcello
This comes way of WUWT, and highlights the tendency of the Left towards totalitarian thinking in order to make their vision "work.
DAVID SUZUKI
Here is David Suzuki calling for jail, and the PBS host more worried that there isn't enough space [yet?] for us to be jailed:
Reason.org ends with a great commentary on this freedom restricting idea of the above lunatic:
20-Scientists Write Obama
In a recent article, 20-leading scientists have come out to recommend legal action (jail) for those of us who use science to counter AGW types:
World Court
One law professor is calling for the World Court to "rule on climate science to quash skeptics" ~ leading one writer to say:
If this thinks that the World Court or any other court is remotely qualified to "settle the scientific dispute," he is a total fracking moron advocating a crime against humanity on a scale not seen since the trial of Galileo. (WUWT)
Indeed.
Its "funny" how the left HATES profit.