Hamas's 10/7 attack is something like Israel's 9/11, only worse. Israel's death toll has hit more than 350. Adjusting for population and measuring by the deaths inflicted so far, Israel has suffered (is suffering) an attack that is something like three times more damaging than 9/11.

Hamas is a genocidal terrorist organization. It is waging war by atrocity, as it always does. The fire this time should be its last.

As I write on 10/8, Hamas's attack continues and deaths mount. Israel seems not yet to have concluded the fighting on its own territory.

The Israeli intelligence, defense, and political establishments were caught napping. The complete failure of intelligence is comparable to the one that preceded the Yom Kippur War 50 years ago.

Speaking of the Yom Kippur war, we can infer that the attack was timed to coincide with its 50th anniversary. Given the planning and preparation that preceded the attack, disruption of Israel's possible peace with Saudi Arabia must constitute an added benefit rather than its immediate object.

By comparison with the Yom Kippur War, it seems to me that the consequences of this war are more dire and the effects more difficult to contemplate. Last night Prime Minister Netanyahu declared that Hamas would be destroy Hamas's military and governmental capabilities. What happens next?

Hamas has taken numerous hostages and removed them to Gaza. The Israeli embassy to the United States is reporting that 100 soldiers and civilians have been kidnapped. So long as Hamas holds these hostages, it will necessarily constrain Israel's freedom of action to achieve its stated objectives, as does Israel's meticulous compliance with the laws of war. The IDF is not free to combat savagery with savagery.

As Elliott Abrams puts it at NRO: "There is no way around the fact that Hamas has new assets and that future negotiations over the captured Israelis will be excruciating. That is one reason a government of national unity is called for — to stop opposition parties from politicizing tough decisions by making them partly responsible for Israeli policy in the coming months."

Hezbollah aggravates Israel's military challenge at present. Their forces and their arsenal exceed Hamas and hold Lebanon in thrall.

The intelligence and readiness failures underlying Yom Kippur War brought down the government of Prime Minister Golda Meir. The government of Prime Minister Benjamin Netanyahu faces the same after a commission of inquiry does its work.

Iran is of course behind this war: Hamas spokesman Ghazi Hamad tells the BBC that Iran gave its support to the Palestinian terror group to launch its surprise multi-front attack on Israel on Saturday. Yet the Biden administration remains in doubt about that.

Which raises the question of our own failure of intelligence. Thus spake National Security Advisor Jake Sullivan only a few days ago. This didn't age well. Unfortunately, these people are incapable of shame.
Like POWERLINE….
When a country is attacked, the only appropriate course is to respond with massively disproportionate force, as we did against the Japanese in World War II. Israel should treat Gaza as the Allies treated Dresden and other German and Japanese cities to end that war. Israel made a mistake in withdrawing from Gaza, and Gaza has been a thorn in its side ever since. This should be the last time.
…. the FEDERALIST discusses overwhelming power to unconditional surrender. Here is a good addition by them:
What does unconditional surrender look like? Let history be our guide. As Allied forces swept into Germany in 1945, tin plates bearing this proclamation from Gen. Eisenhower were nailed to posts and walls in both English and German:
Not only that, but you know there are non-thinking Lefties in the Biden administration's Office of Palestinian Affairs when they deleted a post advising Israel not to retaliate after Saturday's massive attack by the Islamist group Hamas, according to multiple reports.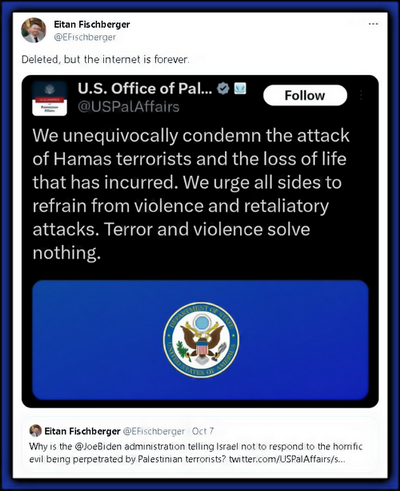 Of course the anti-Israel schills on the media (MSNBC, CNN) are saying the quite part out load. But the DEMOCRAT SOCIALISTS OF AMERICA take the cake (BREITBART):
THE NEW YORK POST notes that the organizers are telling people "Wear a mask so you're not recognized." Kinda like the KKK. They go on to rightly note that "The DSA is the party of Ilhan Omar, Cori Bush, Rashida Talib — and oh yes, New York's very own Alexandria Ocasio-Cortez and Jamaal 'Fire Alarm' Bowman." RED STATE has a good post on this, and put the onus on these far-Left Democrats in office:
Some worthwhile links over at LEGAL INSURRECTION on this war.
Democrat and Obama supporting Code Pink joins the Wall Of Shame designation as well: