Here is the video of the  truck hitting the barricade.
Now, here is video of the NAZI flag being "undisplayed" for the "media" [suckers with weak minds].
A very funny [I thought] comment about this is the following.

And then this edited photo that got a laugh outta me: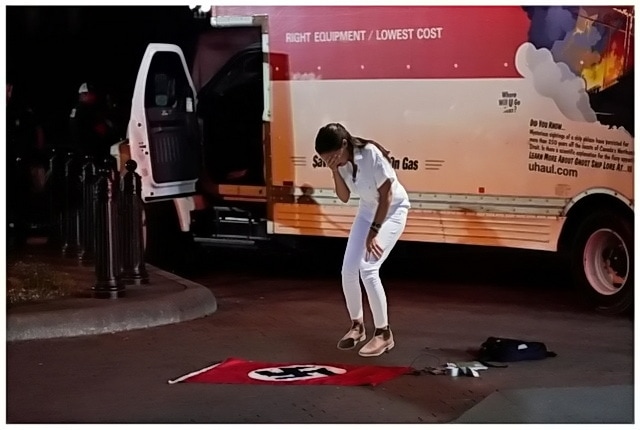 And this from a commenter via ACE OF SPADES post:

WHO WAS THIS RACIST???
PJ-MEDIA notes the following:
Earlier this morning I grabbed this from TWEET: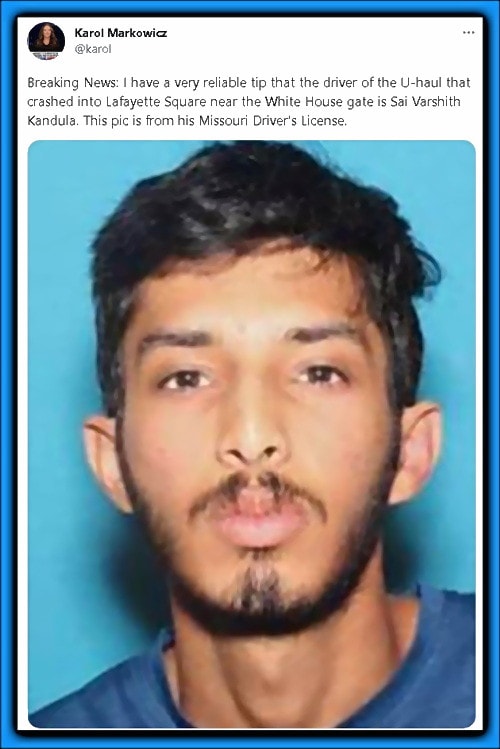 TIME FOR ME TO OPINE.
As an aside, there is some news related to box-trucks ability to destroy stuff…
About 30 tons — or 60,000 pounds — of ammonium nitrate went missing from a rail car during transit. (RED STATE)
Which brings back this recent story… just a few weeks ago I posted this on another indecent:
---
"FLASHBACK"
---
Another gun-related tragedy hit America over the weekend, this time outside a mall in Allen, Texas. And, unsurprisingly, the reaction from politicians and media pundits turned political almost immediately. In fact, despite not presenting evidence to the public, some are now reporting the killer was a white supremacist. But can we trust what the government and the media tell us? And if the gun is to blame me for this shooting, then what about the car that took just as many lives in Brownsville? And why is the media already releasing information about the Allen, TX shooter, but we still know very little about the ones in Las Vegas and Nashville? Glenn and Stu discuss all this, plus more…
UPDATE
PJ-MEDIA adds to the questioning of the "evidence" in this post:
Meanwhile, the NARRATIVE continues:
This is nonsense. Meanwhile there are literally hundreds of subway videos from reality and none look like this. Notice why? pic.twitter.com/3aXxsAsB3J

— iamyesyouareno (@iamyesyouareno) May 23, 2023