This is a large "Sploosh" as a Part Three to the question of Trump's ability to be on the ballot for the 2024 election. In my Part Two  dated Sept 7th, based on a great couple readings that: "I see nothing in the 14th Amendment including the President or Vice President in the outcome. In fact, I see language excluding them." (Also Part One is worth reading through as well.)
The guy who popularized the article noted by the #NeverTrumpers and the Left is the co-founder of The Federalist Society, Steven Calabresi. And when he came out in support of by a couple Federalist legal scholars [as well as some Leftist scholars], the Left and said #NeverTrumpers were quick to memorialize it: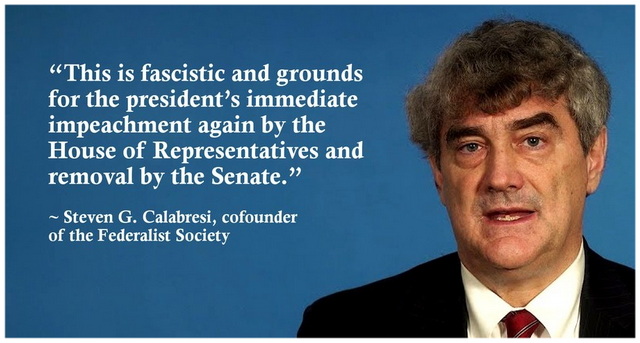 THE NATIONAL PULSE nails it with this link fested post!
The VOLOKH CONSPIRACY notes the change of mind: "Calabresi now agrees with Tillman that the President is not an "Officer of the United States." And YAHOO NEWS also notes that last week professor Calabresi made an about-face
In a letter to The Wall Street Journal, he said he had been persuaded by an opinion article in that newspaper that the provision — Section 3 of the 14th Amendment — did not apply to Trump.
So I wanted to help out the #NeverTrumpers and pre-empt their correcting themselves: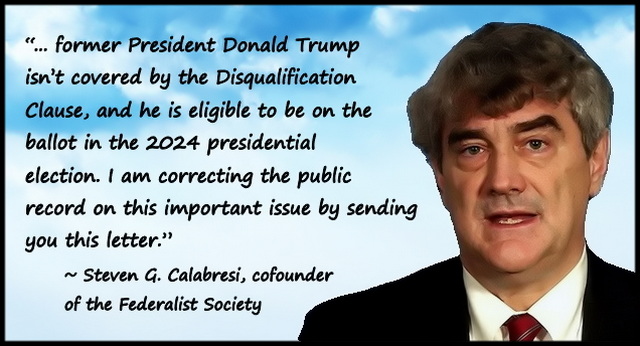 Here is the WALL STREET JOURNAL "quick clip" by Professor Calabresi:
VOLOKH continues:
Last week, former Attorney General Michael Mukasey wrote an op-ed in the Wall Street Journal. He contended that the President is not an "Officer of the United States." Many of Mukasey's arguments track a 2021 article that Seth and I wrote in the NYU Journal of Law & Liberty. Long-time readers may remember that Tillman persuaded Mukasey on this issue back in 2015. (This issue also came up with the Mar-A-Lago raid.)
Here is key point from that WALL STREET JOURNAL article: