JIM G. said this:
"I see nothing in the Constitution that requires there be a conviction in order to disqualify a person from running."
To which I MERELY SAY:
"I see nothing in the 14th Amendment including the President or Vice President in the outcome. In fact, I see language excluding them."
Let "me" explain.
AN UPDATE
Before continuing however I wish to update a previous news piece noted in a connected post from YAHOO NEWS, which said:
A Florida lawyer is challenging former President Trump's ability to run for president in 2024 under the U.S. Constitution's 14th Amendment, citing the Jan. 6, 2021, Capitol attack. Lawrence Caplan, a tax attorney in Palm Beach County, filed the challenge in federal court Thursday, pointing to a clause in the amendment that says those who "have engaged in insurrection or rebellion" against the government cannot hold office.
The update ends like all the other attempts at this novel legal theory and misreading of the 14th Amendment – failure. The update to this story is this JUST THE NEWS:
A federal judge dismissed a lawsuit brought by a Florida tax attorney that claimed former President Donald Trump could not run for office on the basis of fomenting an insurrection.
… CONTINUING
BREITBART has a good short article discussing the idea a bit when they say: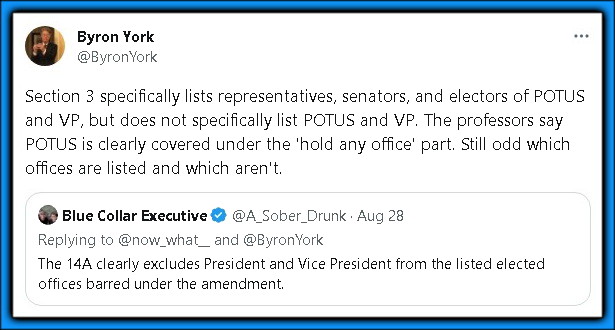 Again, another source likewise notes the idea:
Expressio unius est exclusio alterius | A Latin term literally meaning "the expression of one thing is the exclusion of the other". This is a common law principle for construing legislation which holds that a syntactical presumption may be made that an express reference to one matter excludes other matters. (THOMPSON REUTERS PRACTICAL LAW)
Section 3 specifically lists representatives, senators, and electors of POTUS and VP, but does not specifically list POTUS and VP. Clearly the 14th excludes the President and Vice President from the listed elected offices barred under the amendment.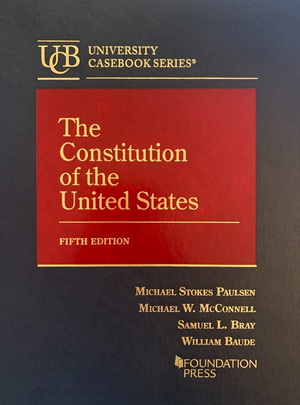 Byron York in his WASHINGTON EXAMINER post shows the recent arguments from those that wish to remove Trump — then goes on to explain how these arguments fail. (Michael McConnell is a contributing author to the book on the right)
Again, the widely accepted and understood legal convention is "if a list omits something, it is presumed to have done so deliberately." Another TWEET I liked was this one:
 this shortened video of Crossroads (EPOCH-TV):