The POSTMILLENNIAL has a bit on what follows:
….According to POLITICO, Gadde got teary-eyed on Monday when discussing Elon Musk's takeover of Twitter. Gadde is said to have played a crucial role in the negotiations between Musk and Twitter's board for finalizing the deal.
In her briefing with staffers, Gadde had a similar message to what CEO Parag Agrawal told employees when it came to uncertainty for the company's future.
"Gadde cried during the meeting as she expressed concerns about how the company could change, according to three people familiar with the meeting. She acknowledged that there are significant uncertainties about what the company will look like under Musk's leadership," POLITICO described.
[….]
In late 2020, Gadde had Twitter "change course" after initially blocking the bombshell story from the New York Post about Hunter Biden's laptop. Her team also oversaw the permanent banning of former President Donald Trump in January 2021, following the Capitol riot on Jan. 6 of that year.
In that case, CNN credits Gadde for taking the main lead on the Trump-ban matter as Dorsey was away on vacation during that time.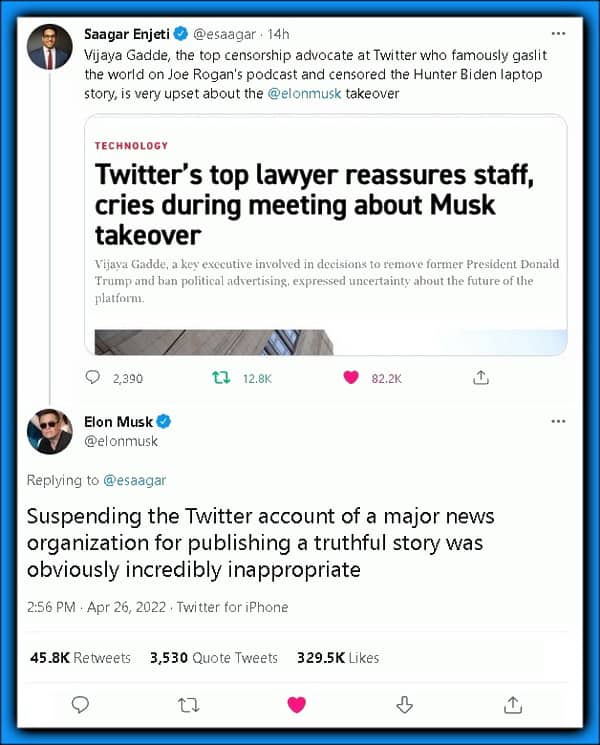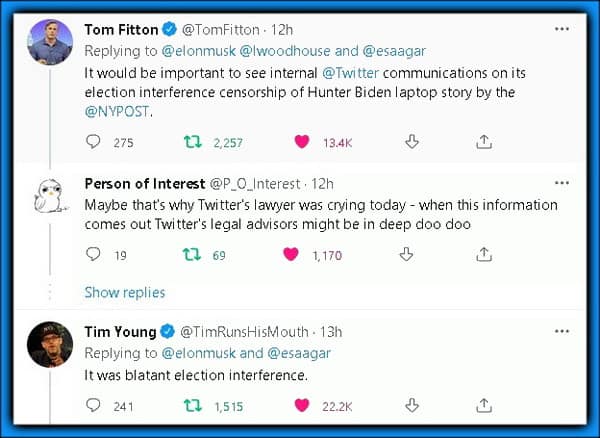 ---
Projection
---
Yet the Left Wing Media is accusing you of wanting to do exactly what they did by simply advocating for Free Speech. Projection at its finest. https://t.co/KvgxFC7o9J

— Benny Johnson (@bennyjohnson) April 26, 2022