Okay… two main themes came to my mind at the most recent Bible study at church… the first is the theme, "COURAGE." The second is the idea of the "HOUNDS OF HEAVEN"
BTW, there is a sermon rolling around in here somewhere for you pastors/speakers
(Skip my linked contents to start reading)
JUMP DOWN TO:
COURAGE
In Christian circles you often hear the term "confirmation" used. Not as in being confirmed in your salvation, or baptized…. but as in I had something I was thinking or praying for, and it was confirmed by the Lord. I would say my "tri-fecta," or "hat-trick" to put it in hockey terms, was just that. It may have been merely coincidence, but even if not "divinely planned," it was "divinely" applied to my walk by the Holy Spirit stirring in me Biblical truths.
On October 12th I went to a Shelby Steele event, he spoke often of "courage" and "moral courage" (I uploaded my take on it on the 19th)

This past Sunday (the 22nd) my Pastor ended his sermon speaking about courage.
(1) SHELBY STEELE
On October 12th, I went to go see Dr. Shelby Steele at our local college… I wrote about my thoughts HERE. I have a section in that post on COURAGE.
Courage was a theme of Dr. Steele's because he spoke of (A) the black culture not acting on their freedom, which takes courage; rather than the easy way out of the grievance culture where they receive handouts (emotional and/or monetary).
To communicate the following, publicly, but more importantly to act on it — takes courage:
A woman in the below video says she is on the fence when it comes to society allowing black folks freedom like the kind Shelby Steele was talking about. Her question relates to being held back… Shelby says whatever you feel like you are being held back in, do it (roughly adapted). He was saying, I think, test your theory.
To put yourself out like that and stand up to the narrative takes — courage.
(B) When one confronts the current laissez-faire use of pronouns and distortion of language, whites are labeled as racist, blacks as uncle Toms. One of the tactics of the Left is to silence the opposition by labeling them as: sexist, intolerant, xenophobic, homophobic, Islamophobic, racist, bigoted (S.I.X.H.I.R.B.). Overcoming the fear of being accused of these things, and confronting the lies of this "WOKE" culture takes what? COURAGE.
(2) MY PASTOR
I wrote a bit on Courage; Even though I saw Doc Steele on the 12th, I uploaded my post on it on the 19th. Sunday church service was on the 22nd, so "courage" was fresh in my mind. At the beginning of the service Pastor Todd spoke about a historical trip he went on during his sabbatical. He opened with touring the "behind the scenes war rooms, planning bunkers" Winston Churchill and others used to make battle plans…. Then at the end of the service he picked up the story again and tied is into the sermon.
The Apostle Paul was traveling on essentially unpoliced and dangerous roads for thousands of miles, having Jewish and Roman authorities looking for him ta' boot — all to spread the Good News of Jesus — took courage.
So, in the below video I cobbled together a bit of a montage:
However, these are two of the three connecting themes….
Enter…
(3) MEN'S BIBLE STUDY
At the recent men's Bible study this past Monday, we went over 1st Samuel 16 and 17… Courage was part of the theme:
…When Saul and all Israel heard these words from the Philistine, they lost their courage and were terrified (17:11)….David said to Saul, "Don't let anyone be discouraged by him; your servant will go and fight this Philistine!" (17:32).
David's courage in battle against Goliath spread to his fellow Israelites who were infected with it.
I was then drawn to Hebrews 10:35-39 (HCSB)
So the speaker at the Men's group had our tables discuss topics from the passages… using health or other trials as maybe needing some courage to survive, address, and the like. I shared with the men my "tri-fecta" culminating with this battle, and related it to the battle we currently face as Christians in this increasingly pagan and secular America.
We need courage to enter battle with it. To be able to withstand accusations, or the [as already noted] laissez-faire use of pronouns and distortion of language. (To get a taste of this "extent of language distortion" explained well, I excerpted a few pages from Mark Goldblatt's book (PDF), "I Feel, Therefore I Am" — it is a must read I think.)
To stand up to all this takes courage.
Okay, pivot to my next topic….
During Monday's Bible study, as we got to this portion of 1st Samuel 16:14-23,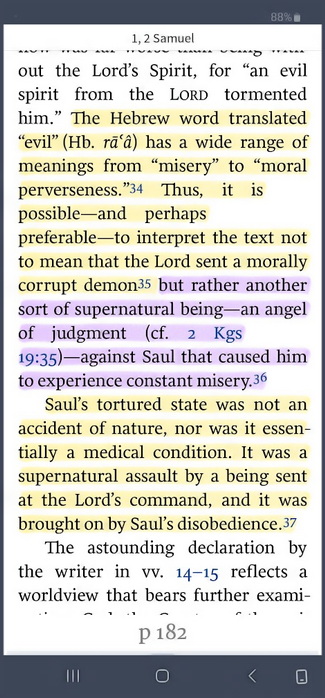 I camped out a bit in the text using some commentaries I had open in my LOGOS APP. I include the extended section of the commentary below. (JUMP TO IT IF YOU WISH.) The part that I camped on was this: "Now the Spirit of the Lord had left Saul, and an evil spirit sent from the Lord began to torment him."
---
I have already covered the larger topic at hand a bit: "Conversations with Lemmings: Did God "Create" Evil (Isaiah 45:7)"
---
However, the commentary reminded me of "The Hounds of Heaven" and how often they can feel lie the "hounds of hell." God sent an Angel of Judgement (as I see it) to Saul… this is what troubled him to the point of agony. In those who are God's elect, this Angel "The Hound of Heaven" chases us to Calvary. Was God — who wishes all to come to saving knowledge of Him — wanting the same for Saul? Giving him the opportunity to repent, but knowing [in His foreknowledge] he wouldn't, opening the door to a man after His own heart.
I previously posted a well-known poem about the Hounds of Heaven by Francis Thompson in 1893, after comedian Jeff Allen's testimony that I isolated. C.S. Lewis was surely familiar with this 1893 poem as he intimated God chasing him into the Kingdom of Heaven.
However, if you are unfamiliar with this poem, here is a more in-depth dealing with the grace that exudes from it, followed by a slight dive into the mention of The Lion, the Witch, and the Wardrobe:
J. VERNON MCGEE
GOD'S "WOODSHED"
This excellent short treatise by J.D. GREEAR, of the idea of God having His claws in us via C.S. Lewis and his The Chronicles of Narnia: The Voyage of the Dawn Treader:
All this resonates with me as I was chased into an L.A. County super-max jail facility by my Savior. God's Holy Spirit chased and judged righteously my actions and rejection of God. I responded only by the grace of God. I love because He first [and miraculously — through the Miracle of Calvary] loved me, 1st John 4:13-19,
Which continues the above in thankfulness that God saw in me something to be desired. Sought after. Brought to "the wood shed" over.
Amen?
In some sense, we all have been brought into the Kingdom of God kicking and screaming.
WHAT TO NOTE: I add as many of the references found in the footnotes of The New American Commentary on Samuel as I can. So while the main commentary excerpt is just one, I provide the reader with access he or she may not have that I do, including a few PDFs. Enjoy:
---
COMMENTARY
---
---
---