On my Facebook a friend mentioned the following: "…and whenever we can pour money into schools and education… shouldn't we?" He was saying this as if there is a correlation between spending on education and educational outcome. This will be a quick summary of where I see a failing in this correlation, but I will link some sources as I go along that expand on the portion I am quoting. The first up to bat is WINTERY KNIGHT… who makes the point well that spending money has no real world outcome:
In another WINTERY KNIGHT and FEDERALIST article, CATO INSTITUTE is quoted from…
As Figure 1 illustrates, on a per-pupil basis inflation-adjusted federal spending on K-12 education has grown immensely over the last several decades, ballooning to 375 percent of its 1970 value by 2010. And this increase did not just compensate for funding losses in at the state and local levels. As Figure 2 shows, overall per-pupil expenditures through high school graduation have nearly tripled since 1970. Meanwhile, mathematics, reading, and science scores on the National Assessment of Educational Progress — the federal testing regime often called "The Nation's Report Card" — have been almost completely stagnant for 17-year-olds, the "final products" of our elementary and secondary education system.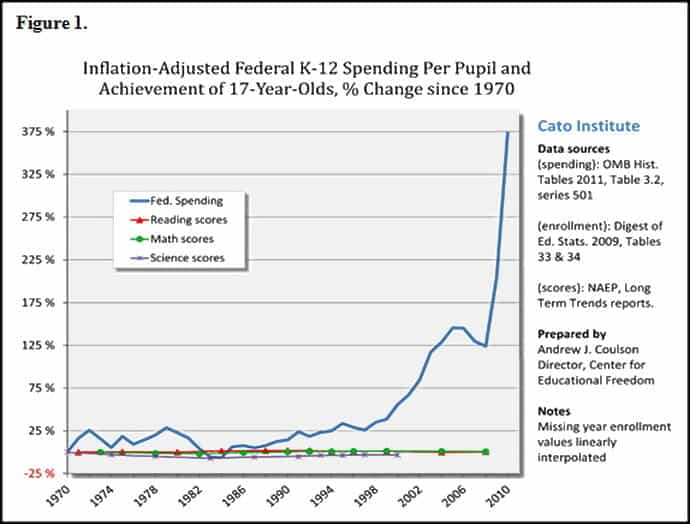 In fact, with the Department of Education, schooling was promised to improve… it has not. The Foundation For Economic Education lists 7 Ways the Department of Education Made College Worse…. not to mention the Department forces boys into girls locker-rooms. But these issue are not in our purview today… money is. Besides noting the lackluster outcomes of the states that get the most money for education, when comparing per-pupil spending by country, America spends the most: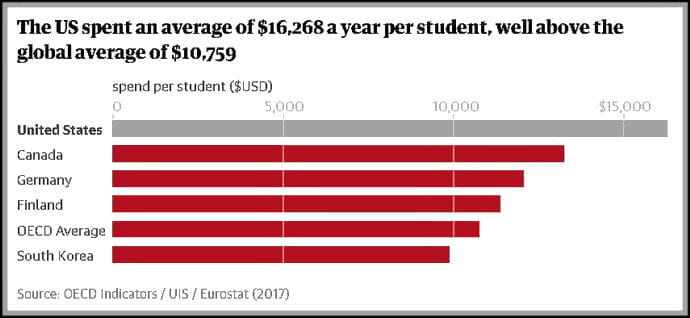 And really, you could throw all the money in the world at these schools and because of policies. For instance, a new law in California makes it impossible to have order in the classroom… HOT AIR:
In a post of my own discussing classroom size, I note the difference in today's students and the ones of the measurable past, and if the Dept of Education and other laws tying the hands of educators is helping or hurting this stark example:
One can get another myth somewhat dislodged in the famous Matt Damon "schooling" of a reporter — see my post: "Did Matt Damon "School" This Reporter?" But here is another excerpt I noted by an outing after work one-day a few years back:
And all the money will not fix stupidity in the teacher unions and how they are destroying education: