Here is a quick run-down of the issue before getting to the earlier post, as the following is an update of sorts from WINTERY KNIGHT:
War/Conquest Texts (as a genre) Include Hyperbole And Exaggeration
I did not put the footnotes into this excerpt… you will have to purchase the book to follow through. I left out a few pages (104-107) that are titled three implications of this reading. Very interesting and again the book is worth a read. Chapter 9 is titled "Objections from the Biblical Text to the Hyperbolic Interpretation." So for the skeptical, again, the entire book is worth your attention. This is posted for a pastor and for a professor I know… enjoy. (BTW, here is a quick synopsis of Jericho referencing Copan's great book, Is God a Moral Monster, at Tough Questions Answered.)
---
A Hyperbolic Reading of Joshua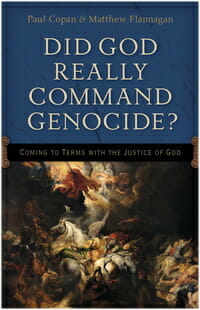 ---
Paul Copan and Matthew Flannagan, Did God Really Command Genocide? Coming to Terms with the Justice of God (Grand Rapids, MI: Baker Books, 2014), 84-104, 107-108.
7 ~ The Question of Genocide and the Hyperbolic Interpretation of Joshua
Earlier, we noted philosopher Raymond Bradley's quoting from Joshua 6-12, in which we read that Joshua "utterly destroyed everything in the city, both man and woman, young and old," that "he utterly destroyed every person who was in it," "he left no survivor," and "there was no one left who breathed." We have cited Bradley's assessment of Israel's/God's "geno­cidal policies." We've also noted that thinkers such as philosopher Walter Sinnott-Armstrong and zoologist Richard Dawkins cite Joshua to make the same argument. Bradley, Sinnott-Armstrong, and Dawkins do have a point when they say that if we read such verses in isolation from the rest of the narrative and do so in a straightforward, literal way, it appears that Israel committed genocide at God's command, slaughtering every last inhabitant of the land of Canaan.
There are, however, good reasons why these passages should not be read in a straightforward, literal way. Nicholas Wolterstorff, who taught philosophi­cal theology at Yale, puts forward two strong arguments for rejecting the kind of literalistic reading that Bradley and his atheistic comrades-in-arms promote. First, it's quite implausible that those who authorized the final form of the text were affirming that all Canaanites were exterminated at God's command. Second, the accounts that appear to say otherwise are utilizing extensive hyperbole and are not intended to be taken literally. In this chapter and the next, we'll develop and defend these arguments. If Wolterstorff's arguments are correct—and there are a number of biblical scholars who take this view—then the author(s) of the biblical text aren't affirming that God commanded genocide.
An Argument against Literalism
Wolterstorff's first argument rejects a literalistic reading of these Joshua texts: "A careful reading of the text in its literary context makes it implausible to interpret it as claiming that Yahweh ordered extermination." What is this literary context? "Joshua as we have it today was intended as a component in the larger sequence consisting of Deuteronomy, Joshua, Judges, 1 and 2 Samuel, and 1 and 2 Kings…. I propose that we interpret the book of Joshua as a component within this larger sequence—in particular, that we interpret it as preceded by Deuteronomy and succeeded by Judges." Jews and Christians accept the final form of Joshua as part of a sequence in a larger canonical arrangement. When reading it this way, certain features of the narrative become apparent. The first feature is that a tension exists between early chapters of Joshua and the opening chapters of Judges, which is the literary sequel to Joshua: Joshua 6-11 summarizes several battles and concludes with, "So Joshua took the entire land, just as the LORD had directed Moses, and he gave it as an inheritance to Israel according to their tribal divisions. Then the land had rest from war" (11:23). Scholars readily agree that Judges is literately linked to Joshua. Yet the early chapters of Judges, which, incidentally, repeat the death and burial of Joshua, show a different picture:
After the death of Joshua, the Israelites inquired of the LORD, "Who shall go up first for us against the Canaanites, to fight against them?" The LORD said, "Judah shall go up. I hereby give the land into his hand." Judah said to his brother Simeon, "Come up with me into the territory allotted to me, that we may fight against the Canaanites; then I too will go with you into the territory allotted to you." So Simeon went with him. Then Judah went up and the LORD gave the Canaanites and the Perizzites into their hand; and they defeated ten thousand of them at Bezek. (Judg. 1:1-4)
On the surface Joshua appears to affirm that all the land was conquered, yet Judges proceeds on the assumption that it has not been and still needs to be.
Similarly, Joshua 10-11 appears to state that Joshua exterminated all the Canaanites in the land. Repeatedly, the text states that Joshua left "no survivors" and "destroyed everything that breathed" in "the entire land" and "put all the inhabitants to the sword." Alongside these general claims, the book of Joshua identifies several specific places and cities where Joshua exterminated "everyone" and left no survivors. These include Hebron (10:36), Debir (10:38), the hill country, the Negev, and the western foothills (10:40).
In contrast, the first chapter of Judges affirms eight times that the Israelites had failed to conquer the land or the cities; they could not drive the inhabi­tants out. The narrator states that the Canaanites lived in the Negev, in the hill country (v. 9), in Debir (v. 11), in Hebron (v. 10), and in the western foothills (v. 9). Moreover, they did so in such numbers and strength that they had to be driven out by force with great difficulty. These are the same cities noted in Joshua 10, which claims all inhabitants had been annihilated with no remaining survivors. The opening section of Judges finishes with the angel of the Lord at Bokim rebuking them for failing to drive out the inhabitants of these areas (Judg. 2:1-5).6 And further along in the text, the affirmation that Joshua did not destroy all the Canaanites in the land becomes even more explicit: "I will no longer drive out before them any of the nations that Joshua left when he died"; the text continues: "The LORD had left those nations, not driving them out at once, and had not handed them over to Joshua" (vv. 21,23 NRSV). Contrast this with the sweeping affirmation made in Joshua 11:23: "So Joshua took the whole land, according to all that the LORD had spoken to Moses, and Joshua gave it for an inheritance to Israel according to their divisions by their tribes. Thus the land had rest from war" (NASB).
We see other passages that seem to suggest extermination—only to be told shortly afterward that nothing of the sort happened: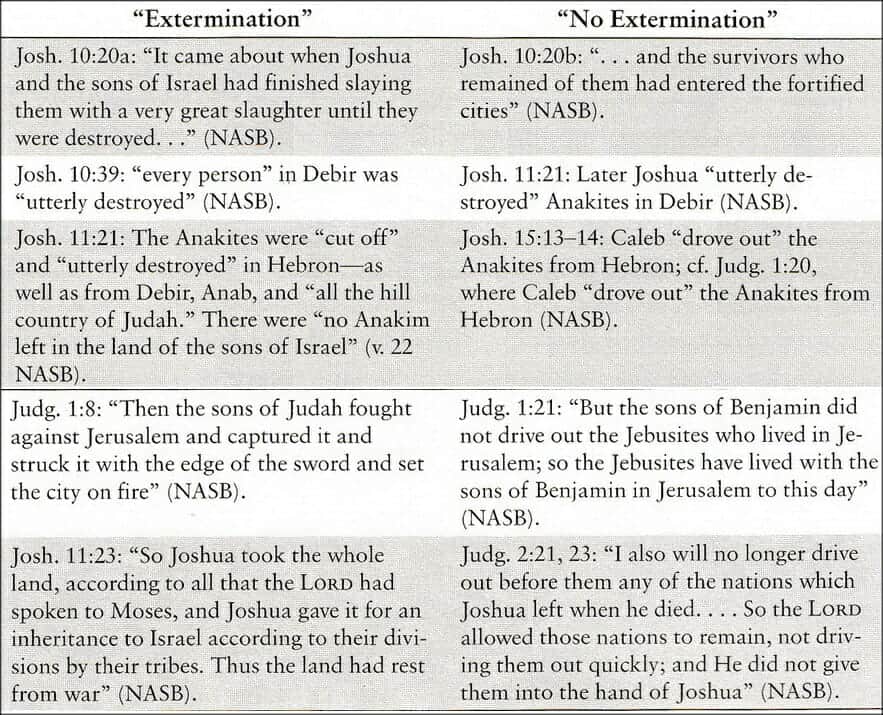 At the end of the book, Joshua refers to "these nations . . . which remain among you" (23:7 NASB), and he warns against clinging to "the rest of these nations" (v. 12 NASB).
So, on the surface, Joshua appears to affirm that these cities were conquered and their inhabitants completely exterminated. Judges proceeds, however, on the assumption that they are yet to be conquered and the Canaanites still live there in significant numbers, although Joshua gives indications of this as well. Yet Joshua and Judges sit side by side in the biblical canon, the latter being a continuation of the narrative of the former. Old Testament scholar John Goldingay makes this observation: "While Joshua does speak of Israel's utterly destroying the Canaanites, even these accounts can give a misleading impression. When a city is in danger of falling, people do not simply wait there to be killed; they get out. . . . That may be one reason why peoples that have been annihilated have no trouble reappearing later in the story; after Judah puts Jerusalem to the sword, its occupants are still living there 'to this day' (Judg. 1:8, 21)."
Finally, the account of what God commanded differs in the two narratives. Joshua states: "He left no survivors. He totally destroyed all who breathed, just as the LORD, the God of Israel, had commanded" (Josh. 10:40) and "exter­minating them without mercy, as the LORD had commanded Moses" (11:20). However, when this command is retroactively referred to in Judges 2:1, there is no mention of genocide or annihilation. Instead we read of how God had promised to drive them out and of God's commands not to make treaties with the Canaanites but to destroy their shrines. This silence is significant in the context. If God had commanded genocide, then it is odd that only instruc­tions concerning treaties and shrines were mentioned (a theme we also see in Deut. 7:1-6). So there are obvious tensions between a surface reading of Joshua and Judges (a sequel to Joshua). However, these tensions do not merely occur between Joshua and Judges. The same tension occurs within the book of Joshua itself. Chapter 11 finishes in this manner: "So Joshua took the entire land, just as the LORD had directed Moses, and he gave it as an inheritance to Israel according to their tribal divisions. Then the land had rest from war" (v. 23). Note that the conquered region is the same land that is later divided among the Israelite tribes.
However, when the text turns to giving an account of these tribal divisions only a chapter (or so) later, God says, "You are now very old, and there are still very large areas of land to be taken over" (13:1). Then, in the next five chapters, it is stressed repeatedly that the land was not yet conquered, and the Canaanites were, in fact, not literally wiped out. As we have seen, when we examine the allotment given to Judah, we see Caleb asking permission to drive the Anakim from the hill countries (14:12), describing how he has to defeat the Anakim living in Hebron, and, after this, marching against the people "living-in Debir" (15:13-19).
Similarly, it is evident with several of the other allotments that the people still had to drive out Canaanites entrenched in the area and were not al­ways successful in doing so. We read, for example, that the Ephraimites and Manassites "did not dislodge the Canaanites living in Gezer; to this day the Canaanites live among the people of Ephraim" (16:10). Similarly, chapter 17 states, "Yet the Manassites were not able to occupy these towns, for the Canaanites were determined to live in that region. However, when the Israelites grew stronger, they subjected the Canaanites to forced labor but did not drive them out completely" (vv. 12-13). We read that "when the territory of the Danites was lost to them, they went up and attacked Leshem, took it, put it to the sword and occupied it. They settled in Leshem and named it Dan after their ancestor" (19:47). Here we see the same land said to be subdued and conquered by Joshua in battles where he exterminated and left alive nothing that breathed. This land was yet to be occupied by the tribes of Israel and was still occupied by Canaanites, who were often heavily armed and deeply entrenched (17:16-18).
So a surface reading of the passages that Bradley and Sinnott-Armstrong cite not only seems to contradict Judges, but also the preceding chapters of the book of Joshua itself.
Biblical scholar Brevard Childs notes the apparent contradiction:
Critical scholars have long since pointed out the tension—it is usually called a contradiction—in the portrayal of the conquest of the land. On the one hand, the conquest is pictured in the main source of Josh. 1-12 as a unified assault against the inhabitants of the land under the leadership of Joshua which suc­ceeded in conquering the entire land (11.23; 18.1; 22.43). On the other hand, there is a conflicting view of the conquest represented by Judges 1 and its paral­lels in Joshua (15.13-19, 63; 16.10; 17.11-13; 19.47) which appears to picture the conquest as undertaken by individual tribes, extending over a long period beyond the age of Joshua, and unsuccessful in driving out the Canaanites from much of the land.
More recently, Kenneth Kitchen has taken issue with Childs's picture of Joshua 1-12. He notes that, when one takes into account the rhetorical flour­ishes common to ancient Near Eastern war accounts of this sort, a careful reading of Joshua 1-12 makes it clear that it does not portray Israel as actu­ally occupying or conquering the areas mentioned. Kitchen notes that after crossing the Jordan, the Israelites set up camp in Gilgal "on the east border of Jericho" (Josh. 4:19). He points out that after every battle in the next six chapters, the text explicitly states that they returned to Gilgal:
The conflict with Canaanite city-state rulers in the southern part of Canaan is worth close observation. After the battle for Gibeon, we see the Hebrews advance upon six towns in order, attacking and capturing them, killing their local kings and such of the inhabitants as had not gotten clear, and moving on, not holding on to these places. Twice over (10:15, 43), it is clearly stated that their strike force returned to base camp at Gilgal. So there was no sweeping takeover and occupation of this region at this point. And no total destruction of the towns attacked.
Kitchen continues:
What happened in the south was repeated up north. Hazor was both leader and famed center for the north Canaanite kinglets. Thus, as in the south, the Hebrew force defeated the opposition; captured their towns, killed rulers and less mobile inhabitants, and symbolically burned Hazor, and Hazor only, to emphasize its end to its local supremacy. Again Israel did not attempt to immediately hold on to Galilee; they remained based at Gilgal (cf. 14:6).
Kitchen notes that "the first indication of a real move in occupation outward beyond Gilgal comes in 18:4." This is "after the first allotment (14-17) of lands-to-be-occupied had been made," and as we saw above, the Israelites did not find occupying these allotments easy. He concludes, "These campaigns were essentially disabling raids: they were not territorial conquests with instant Hebrew occupation. The text is very clear about this."
Joshua as we have it today, then, occurs in a literary context in which the language of "killing all who breathed," "putting all inhabitants to the sword," and "leaving no survivors" is followed up by a narrative that affirms straight­forwardly that the Canaanites were not literally wiped out or exterminated in this manner. Moreover the text of Joshua itself mixes and juxtaposes these two pictures of the entrance into Canaan. If one reads the whole narrative as a sequence, these are not subtle contrasts; they are, in Wolterstorff's words, "flamboyant" ones.
It is worth emphasizing how "flamboyant" these tensions are. Joshua 6-11 rhythmically and repeatedly emphasizes that Joshua "put all the inhabitants to the sword" and "left no survivors." It additionally spells out specific places this occurred. The section finishes in this manner: "So Joshua took the entire land, just as the LORD had directed Moses, and he gave it as an inheritance to Israel according to their tribal divisions. Then the land had rest from war" (11:23). Yet, at the same time, after every battle it is stressed that Israel returned to base camp at Gilgal. So there was no sweeping takeover and occupation of this region at that point.
Then, in the next five chapters, it is stressed repeatedly that the land was not yet conquered, and the Canaanites were, in fact, not literally wiped out. Furthermore, the very same regions were still occupied by the Canaanites who remained heavily armed and deeply entrenched in the cities. This is then followed by the opening chapters of Judges, which affirm eight times (in a single chapter) that the Israelites had failed to conquer the land or the cities and had failed to drive the inhabitants out. As we noted earlier, the account finishes with the angel of the Lord at Bokim rebuking them for failing to drive the inhabitants out. While one might contend a human author could make an editorial error, it is unlikely that an intelligent editor or arranger would have missed something this blatant. Wolterstorff concludes: "Those whose occupation it is to try to determine the origins of these writings will suggest that the editors had contradictory records, oral traditions, and so forth to work with. No doubt this is correct. But those who edited the final version of these writings into one sequence were not mindless; they could see, as well as you and I can see, the tensions and contradictions—surface or real—that I have pointed to. So what is going on?" Wolterstorff's point is that regard­less of what sources or strata of tradition are alleged to be behind the final form of Joshua, those who edited the final version of these writings into one sequence would have been well aware of the obvious tensions in the passages mentioned above. Moreover, they were not mindless or stupid. Consequently, it is unlikely, when read in this context, that those who authorized the final form of Joshua were using the text to assert literally that Joshua carried out an extermination of all the inhabitants of Canaan at God's command. Evidently, something else is going on.
The Use of Sources and Not-So-Intelligent Editors
Some critics have objected that this argument from Wolterstorff relies on the uninformed claim that if an editor put two contradictory sources together, the editor was either truly intellectually challenged or not affirming both in a literal sense. These critics object that Wolterstorff offers an utterly false dichotomy.
Consider, though, what the objector is implying by this "false dichotomy" charge. The critic suggests that the final editors of the text could be affirming both that Israel killed every single person in Canaan and that Israel did not do this, which, of course, makes no sense.
To back up their claim that the final editors are including blatantly contra­dictory materials, critics may appeal to influential positions proposed from within the camp of "source criticism." The argument states that the ancient editors weren't bothered by such contradictions in the way we moderns are. The ancient editors' literary modus operandi—which included political or aesthetic considerations—was to faithfully preserve the source material despite its obviously contradictory nature when taken literally. Consider the political motivation: different groups of people with divergent traditions came together as one group, and so the traditions were woven together not for the sake of consistency but to reflect the unity of the group. The goal was to preserve the distinctiveness of the material and also to unite the people. Ancient editors cared about the material not because they thought it was "inerrant" but because it reflected the different traditions of the various peoples within that group.
Or maybe an editor would take a well-known tradition that was also sub­versive to establishment orthodoxy; he might add elements to it in order to make it conform to the official position. Ecclesiastes could be an example here, where the message of "the Teacher" contradicts long-standing orthodoxy, but a later editor deliberately contradicts its message by adding passages to subvert the original message (Eccles. 12:9-14).
The problem is that even if it is correct that genuine contradictions exist in the text, this charge fails to show that Wolterstorff's argument relies on a false dichotomy. For one thing, the editor isn't assuming that both affirmations—say, extermination and nonextermination—are literally true. The editor preserves them to show unity, which doesn't counter Wolterstorff's assumption; in fact, Wolterstorff would readily affirm this. The editor clearly has some­thing else in mind in preserving statements that affirm both extermination and nonextermination.
What about the even clearer example of Ecclesiastes, in which we find two "voices"; there is the cynical "Preacher/Teacher" and the godly editor, who in the end exhorts the reader to "fear God and keep His commandments" (12:9-14 NASB). The final editor is not assuming both positions are true. He repudiates the voice of the Preacher, who did say some provocative and even wise things (vv. 9-11). But the second voice stands to affirm a hope-filled stance that is quite distinct from the Preacher's message of cynicism, empti­ness, and despair.
How indeed could Wolterstorff argue that even a half-intelligent editor would knowingly affirm both that Joshua exterminated every person in Canaan and that after he did so, abundant numbers of Canaanites were still alive? Ancient standards of accuracy or aesthetics are relevant here. Whatever dif­ferences they had from us, it is clear that ancient Near Easterners knew that if an enemy left absolutely no survivor in a city, then the people of that city were dead. It doesn't make sense to affirm otherwise.
Wolterstorff's first argument, therefore, appears sound. When the passages Bradley cites are read in context, it seems quite implausible to affirm that the final editor and arranger of Joshua was using this text to assert that absolute (or something approximating) extermination took place at God's command. Something else is going on.
8 ~ Genocide and an Argument for "Hagiographic Hyperbole"
If those who edited the final version of these writings into one sequence were not using the text to affirm that genocide occurred at God's command, what then is going on? This brings us to Wolterstorff's second line of argu­ment. He uses the term hagiography ("holy writing")—which refers to certain idealized, sometimes exaggerated accounts of events. In the United States, for example, we have a hagiography of the Pilgrims interacting with noble sav­ages, Washington chopping down a cherry tree, and Washington crossing the Delaware—events that may reflect historical realities but are "sanitized" or "air-brushed" to remove any defect, messiness, or nuance. These might have the benefit of teaching a moral lesson, and the storytelling is not intended to tell us exactly what occurred historically. Some literary liberties are being taken.
Nicholas Wolterstorff suggests that hagiography—though properly clari­fied and qualified—serves as a helpful way of looking at Joshua's exploits:
The book of Joshua has to be read as a theologically oriented narration, stylized and hyperbolic at important points, of Israel's early skirmishes in the promised land, with the story of these battles being framed by descriptions of two great ritualized events. The story as a whole celebrates Joshua as the great leader of his people, faithful to Yahweh, worthy successor of Moses. If we strip the word "hagiography" of its negative connotations, we can call it a hagiographic ac­count of Joshua's exploits. The book is not to be read as claiming that Joshua conquered the entire promised land, nor is it to be read as claiming that Joshua exterminated with the edge of the sword the entire population of all the cities on the command of Yahweh to do so. The candor of the opening chapter of Judges, and of Yahweh's declaration to Joshua in his old age that "very much of the land still remains to be possessed," are closer to a literal statement of how things actually went.
Wolterstorff alludes to several features and literary figures of speech in the text to support this view. He notes that the early chapters of Judges, by and large, read like "down-to-earth history." However, he continues, anyone carefully reading the book of Joshua will recognize in it certain stylistic renderings—"formulaic phrasings" and "formulaic convention[s]" —and stylized language like "utterly destroy," "put to the edge of the sword," "leave alive nothing that breathes," and "man and woman, young and old," as well as "the highly ritualized character of some of the major events described." "The book is framed by its opening narration of the ritualized crossing of the Jordan and by its closing narration of the equally ritualized ceremony of blessing and cursing that took place at Shechem; and the conquest narrative begins with the ritualized destruction of Jericho." A related ritualistic feature is "the mysterious sacral category of being devoted to destruction." However, the most significant is the use of formulaic language:
Anyone who reads the book of Joshua in one sitting cannot fail to be struck by the prominent employment of formulaic phrasings…. Far more important is the formulaic clause, "struck down all the inhabitants with the edge of the sword."
The first time one reads that Joshua struck down all the inhabitants of a city with the edge of the sword, namely, in the story of the conquest of Jericho (6:21), one makes nothing of it. But the phrasing—or close variants thereon—gets re­peated, seven times in close succession in chapter 10, two more times in chapter 11, and several times in other chapters. The repetition makes it unmistakable that we are dealing here with a formulaic literary convention.
So while the accounts in Judges appear as "down-to-earth history," the pas­sages in Joshua referring to "leaving alive none that breathes" and "putting all inhabitants to the sword" appear in contexts full of ritualistic, stylized, formulaic language. It therefore looks like something other than a mere literal description of what occurred. In light of these facts, Wolterstorff argues that Judges should be taken literally whereas Joshua is hagiographic history, a highly stylized, exaggerated account of the events designed to teach theological and moral points rather than to describe in detail what literally happened.
Ancient Near Eastern Conquest Accounts
Wolterstorff's thesis has been substantially confirmed in a study he cites in a footnote. In a comprehensive comparative study of ancient Near Eastern conquest accounts, Lawson Younger Jr. documents that Joshua employs the same stylistic, rhetorical, and literary conventions of other war reports of the same period.' Three conclusions of Younger's research are pertinent.
The first is that comparisons between the book of Joshua and other an­cient Near Eastern conquest accounts demonstrate some important stylistic parallels. According to Ziony Zevit, "when the composition and rhetoric of the Joshua narratives in chapters 9-12 are compared to the conventions of writing about conquests in Egyptian, Hittite, Akkadian, Moabite, and Ara­maic texts, they are revealed to be very similar." Younger notes similarities in the preface, structure, and even the way the treaty with the Gibeonites is recorded in Joshua and various ancient Near Eastern accounts. Joshua fol­lows this convention in describing numerous battles occurring in a single day or within a single campaign. Like Joshua, ancient Near Eastern accounts also repeatedly make reference to the enemy "melting with fear." Even the way post-battle pursuits are set out and described shows similarities with comparable pursuits in ancient Near Eastern literature. Commenting on the structure of the campaigns mentioned in Joshua 9-12, Egyptologist Kenneth Kitchen reminds us:
This kind of report profile is familiar to readers of ancient Near Eastern military reports, not least in the second millennium. Most striking is the example of the campaign annals of Tuthmosis III of Egypt in his Years 22-42 (ca. 1458­1438)…. The pharaoh there gives a very full account of his initial victory at Megiddo, by contrast with the far more summary and stylized reports of the ensuing sixteen subsequent campaigns. Just like Joshua against up to seven kings in south Canaan and four-plus up north.
He adds, "The Ten Year Annals of the Hittite king Mursil II (later fourteenth century) are also instructive. Exactly like the 'prefaces' in the two Joshua war reports (10:1-4; 11:1-5), detailing hostility by a number of foreign rulers against Joshua and Israel as the reason for the wars, so in his annals Mursil II gives us a long "preface" on the hostility of neighboring rulers and people groups that lead to his campaigns." Kitchen offers other examples. He observes that the same formulaic style found in Joshua is also used in two of the Amarna letters—a correspondence written in Akkadian between Egyptian administra­tors in Canaan and Amurru and two particular pharaohs, Amenhotep III and Akhenaten (fifteenth and fourteenth centuries BC). Similarly, before his major campaigns, "Joshua is commissioned by YHWH not to fear (cf. 5:13-15; 10:8; 11:6). So also by Ptah and Amun were Merenptah in Egypt, and Tuthmosis IV long before him; and likewise Mursil II of the Hittites by his gods (Ten-Year Annals, etc.), all in the second millennium, besides such kings as Assurbanipal of Assyria down to the seventh century."
Second, Younger also notes that such accounts are "figurative" and utilize what he calls a "transmission code": a common, frequently stylized, stereo­typed, and frequently hyperbolic way of recording history. The literary motif of divine intervention is an example. Both The 10 Year Annals of Mursil (also known as "Mursili") and Sargon's Letter to the God record a divine interven­tion where the god sends hailstones on the enemy Tuthmosis III has a similar story regarding a meteor—or what appears to have been a meteor shower. Younger observes that these accounts are very similar to parallel accounts in Joshua 10 where God rains hailstones on Israel's enemies. Similarly, Younger points out that in many ancient Near Eastern texts, "one can discern a literary technique in which a deity is implored to maintain daylight long enough for there to be a victory," which has obvious parallels to Joshua 10:13-14. The numbers of armies and enemy casualties are rhetorically exaggerated. The fact that similar events are narrated in multiple different accounts suggests they are "a notable ingredient of the transmission code for conquest accounts" — that is, they are part of the common hyperbolic rhetoric of warfare rather than descriptions of what actually occurred.
Third and most significantly for this discussion, part of this "transmission code" is that victories are narrated in an exaggerated hyperbolic fashion in terms of total conquest, complete annihilation, and destruction of the enemy, killing everyone, leaving no survivors, etc. Kitchen offers illuminating examples:
The type of rhetoric in question was a regular feature of military reports in the second and first millennia, as others have made very clear…. In the later fifteenth century Tuthmosis III could boast "the numerous army of Mitanni, was over­thrown within the hour, annihilated totally, like those (now) non-existent" —whereas, in fact, the forces of Mitanni lived to fight many another day, in the fifteenth and fourteenth centuries. Some centuries later, about 840/830, Mesha king of Moab could boast that "Israel has utterly perished for always"—a rather premature judgment at that date, by over a century! And so on, ad libitum. It is in this frame of reference that the Joshua rhetoric must also be understood.
Younger offers numerous other examples. Merneptah's Stele (thirteenth cen­tury BC) describes a skirmish with Israel as follows, "Yanoam is nonexistent; Israel is wasted, his seed is not." Here a skirmish in which Egypt prevailed is described in terms of the total annihilation of Israel. Sennacherib uses similar hyperbole, "The soldiers of Hirimme, dangerous enemies, I cut down with the sword; and not one escaped." Mursil(i) II records making "Mt. Asharpaya empty (of humanity)" and the "mountains of Tarikarimu empty (of human­ity)." Mesha (whom Kitchen cited as stating "Israel has utterly perished for always") describes victories in terms of his fighting against a town, taking it, and then killing all the inhabitants of the town. Similarly, The Bulletin of Ramses II, a historical narrative of Egyptian military campaigns into Syria, narrates Egypt's considerably-less-than-decisive victory at the battle of Kadesh with the following rhetoric: "He took no note of the millions of foreigners; he regarded them as chaff…. His majesty slew the entire force of the wretched Foe from Hatti, together with his great chiefs and all his brothers, as well as all the chiefs of all the countries that had come with him, their infantry and their chariotry falling on their faces one upon the other. His majesty slaughtered and slew them in their places…; and his majesty was alone, none other with him." Numerous other examples could be provided. The hyperbolic use of language similar to that in Joshua is strikingly evident. Though instances could be multiplied, but the point is that such accounts contain extensive hyperbole and are not intended to be taken as literal descriptions of what occurred.
Rhetorical Function and Ideology
Some critics will disagree with this hyperbolic interpretation of Joshua, but we should consider the point of hyperbole itself in such contexts. One conclu­sion Younger draws from his study is that the transmission code employed in Joshua 9-12 reflects the same imperialistic ideology as other ancient Near Eastern conquest accounts. This ideology means "victory must be described in black and white terms since there is only a 'them' vs. 'us' relationship." Such rhetoric was used to inspire fear and obedience in those subjects who heard it. If the reader only heard such rhetoric as exaggeration, then the rhetoric would not have had the effect it was intended to have.
This inference is mistaken, firstly, because it is false that hyperbolic rhetoric must be taken literally in order to inspire fear and obedience. Suppose a boxer before a boxing match states that he is going to murder his opponent and make his children orphans. This sort of rhetoric is designed to inspire fear and intimidate. Does it follow that it is intended to be taken literally? Similarly, school bullies tell potential victims that if they "narc" on them, the bullies will "kill them and smash their heads in." Do the victims have to believe they will literally be killed and have their heads actually smashed in to get the message?
Secondly, this objection fails to grasp the reasons Younger proffers for Joshua 9-12 reflecting the same imperialistic ideology as other ancient Near Eastern conquest accounts. Younger states: "Can one conclude that since the text of Joshua 9-12 manifests the same transmission code as other texts of ancient Near Eastern history writing, it is the product of the same underly­ing ideology? The indications from this study seem to point to an affirmative answer." Younger concludes that Joshua 9-12 has the same ideology as other ancient Near Eastern accounts because it uses the same rhetorical transmission code—a code Younger documents as containing "extensive use of hyperbole." He concludes: "Israelite ideology had certain similarities with the 'Imperial­istic' ideologies of the ancient Near East," which included "a similar view of the enemy, the calculated terror, the high use of hyperbole . . . and the use of stereotyped syntagms [linguistic units in ordered words/phrases like "utterly destroyed"] to transmit the high-redundance message of the ideology.'
Younger is clear on his meaning of hyperbole—namely, using "exagger­ated terms for the purpose of emphasis and/or heightened effect," adding that "more is said than is literally meant." In fact, even when Younger talks of how victory must be described "in black and white terms," he cites an ex­ample of the "figurative aspect" of such accounts and part of the "extensive use of hyperbole."
Consequently, the critic cannot cite Younger's conclusions (about Joshua reflecting the same imperialistic ideology as other ancient Near Eastern con­quest accounts) as evidence that the rhetoric in these texts was intended to be taken literally. The whole reason Younger concludes that these texts reflect this ideology is because they follow the same rhetorical conventions common to such accounts, conventions that were not meant to be taken literally.
Younger's study shows quite conclusively that Joshua is written in accord with the rhetoric and conventions of ancient Near Eastern conquest accounts. Such accounts narrate history in a highly rhetorical, stereotyped, figurative fashion and utilize substantial hyperbole, narrating battles in terms of total annihilation of everyone. To read these accounts as though the author were literally affirming that total extermination had taken place is simply to misread them. Younger states, "It is evident that the syntagms… (they completely destroyed it and everyone in it,' he left no survivors'), etc. are to be under­stood as hyperbole. Just like other ancient Near Eastern conquest accounts, the biblical narrative utilizes hyperbolic, stereotyped syntagms to build up the account." Younger suggests this misreading has led scholars like Brevard Childs to mistakenly see contradictions between Joshua and the early chapters of the book of Judges. "Thus when the figurative nature of the account is considered there are really no grounds for concluding that Judges 1 presents a different view of the conquest from that of Joshua or that it must be an older account." And Kitchen states that Old Testament scholars have read into the book of Joshua "a whole myth of their own making, to the effect that the book of Joshua presents a sweeping, total conquest and occupation of Canaan by Joshua, which can then be falsely pitted against the narratives in Judges." This myth is "based on the failure to recognize and understand ancient use of rhetorical summations. The 'ails' are qualified in the Hebrew narrative itself."
Biblical Hyperbole
Several other considerations can be added to bolster this point. One is the fact that such hyperbolic language is clearly being used within the book of Joshua itself, which we noted earlier. In Joshua 10:20 (NASB), for example, we are told that Joshua and the sons of Israel had been "slaying them with a very great slaughter, until they were destroyed." Immediately, however, the text affirms that the "survivors who remained of them had entered the fortified cities." In this context, the language of total destruction is clearly hyperbolic.
A similar phenomenon seems to occur in the account of the battle of Ai. After Joshua's troops feign a retreat, the text states that "all the men of Ai" are pressed to chase them (Josh. 8:16). "Not a man remained in Ai or Bethel who did not go after Israel. hey left the city open and went in pursuit of Israel" (v. 17). Joshua lures the pursuers into a trap "so that they were caught in the middle, with Israelites on both sides. Israel cut them down, leaving them neither survivors nor fugitives" (v. 22). Then, after noting the capture of Ai's military ruler (v. 23), the text immediately states: "When Israel had finished killing all the men of Ai in the fields and in the wilderness where they had chased them, and when every one of them had been put to the sword…" (v. 24). Taken literally, this is patently absurd. If there were no survivors or fugitives, whom were the Israelites chasing?
The account of the battle of Ai ends with the summary, "Twelve thousand men and women fell that day—all the people of Ai" (v. 25), yet earlier in the same account it says, "Not all the army will have to go up against Ai. Send two or three thousand men to take it and do not weary the whole army, for only a few people live there" (7:3). The text also describes Israel being routed when the men of Ai "killed about thirty-six of them" (v. 5). Clearly the casualty figures cannot be literally correct here. However, they are quite consistent with the conclusions drawn by Daniel Fouts that exaggerated numbers are common forms of hyperbole in ancient Near Eastern battle accounts. Archaeology suggests smaller numbers as well. Old Testament scholar Richard Hess notes that as with the "city ['ir]" of Ai or other "cities" raided by the Israelites, Jericho was not a population center but a small, strategic military settlement or citadel. It was led by a commander or "king [melek]," also housing religious and political personnel. Jericho probably held a hundred or fewer men. This is why all of Israel could circle it seven times and then do battle against it on the same day!
Even if the numbers are not hyperbolic, matters seem complicated by the Hebrew term `eleph, commonly rendered "thousand." A possible interpreta­tion is that these numbers may not be as high as our translations indicate. This term can also mean "unit," "troop," or "squad," without specifying the exact number. However, the massive numbers in biblical war texts fit quite nicely within the genre of ancient Near Eastern war texts with many examples of extraordinarily high numbers; thus we consider the hyperbolic numbers to be more plausible.
Similar hyperbole occurs in other biblical books, using the same phraseol­ogy we find in Joshua of "utterly destroying [haram]" populations "with the sword." First Chronicles 4:41 states: "They attacked [nakah] the Hamites in their dwellings and also the Meunites who were there and completely de­stroyed [haram] them." But only a few verses later, we read that the survivors fled to Amalek where they were later all "destroyed [nakah]" a second time (v. 43 NASB)!
Later in 2 Chronicles 36:16-17, the author narrates the fall of –Jerusalem: "But they mocked God's messengers, despised his words and scoffed at his prophets until the wrath of the LORD was aroused against his people and there was no remedy. He brought up against them the king of the Babylonians, who killed their young men with the sword in the sanctuary, and did not spare young men or young women, the elderly or the infirm. God gave them all into the hands of Nebuchadnezzar." Only a few verses later, however, the narrator states, "He carried into exile to Babylon the remnant, who escaped from the sword, and they became servants to him and his successors until the kingdom of Persia came to power" (v. 20).
Similarly, compare verse 19: "They [the Babylonians] set fire to God's temple and broke down the wall of Jerusalem; they burned all the palaces and de­stroyed everything of value there." With verse 18, "He [king Nebuchadnezzar of Babylon] carried to Babylon all the articles from the temple of God, both large and small, and the treasures of the LORD'S temple and the treasures of the king and his officials." Taken literally this is absurd. How could they carry off all the treasure from the palaces and temple if everything of value had been destroyed? But this was not intended to be taken literally. This account was written to a post-exilic audience who knew full well that not every one of the Judahites had been killed. They, as the descendants of the survivors, knew that Judah had been exiled and was later restored under Cyrus: a fact pointed out only a few verses later (cf. vv. 21-23).
One finds the same language of killing all inhabitants with the sword also used hyperbolically in Judges. Judges 1:8 states, "The men of Judah attacked Jerusalem also and took it. They put the city to the sword and set it on fire." A few verses later, however, the text states: "The Benjamites, however, did not drive out the Jebusites, who were living in Jerusalem; to this day the Jebusites live there with the Benjamites" (v. 21).
Similar language is used hyperbolically in the prophetic writings. In the context of the Babylonian invasion and Judah's exile (sixth century BC), God said he would "lay waste the towns of Judah so no one can live there" (Jer. 9:11). Indeed, God said, "I will completely destroy them and make them an object of horror and scorn, and an everlasting ruin" (25:9). Note that this is the same verb (haram) used for "utterly destroying" the Canaanites. In Jeremiah, God threatened to "stretch out My hand against you and destroy you" (15:6 NASB; cf. Ezek. 5:16)—to bring "disaster" against Judah (Jer. 6:19). However, the biblical text suggests that while Judah's political and religious structures were ruined or disabled, and that Judahites died in the conflict, the "urban elite" were deported to Babylon while many "poor of the land" remained behind. Similarly, in Isaiah God says, "I consigned Jacob to destruction [herem] and Israel to scorn" (43:28). Then in the very next verse (44:1), God tells "Jacob," whom he has "chosen," that God will restore his people and bring them out of exile under a new covenant in which he will pour out his Spirit upon them.
As a final example, consider the "covenant curses" of Deuteronomy 28. Verse 20 warns: "The LORD will send on you curses, confusion and rebuke in everything you put your hand to, until you are destroyed and come to sudden ruin." But this is followed by the threat that "the LORD will plague you with diseases until he has destroyed you from the land" (v. 21). And once again we see the language of still further destruction: "The LORD will turn the rain of your country into dust and powder; it will come down from the skies until you are destroyed…. All these curses will come on you. They will pursue you and overtake you until you are destroyed" (v. 24, 45).
But the text goes on to state that though Israel has been "destroyed," they will face further perils in exile: "Then the LORD will scatter you among all nations, from one end of the earth to the other. There you will worship other gods—gods of wood and stone, which neither you nor your ancestors have known…. There the LORD will give you an anxious mind, eyes weary with longing, and a despairing heart. You will live in constant suspense, filled with dread both night and day, never sure of your life" (vv. 64-66). Those who were said to be destroyed are alive in exile.
The same kind of language used to describe the fate of the Canaanites is frequently used hyperbolically throughout the Bible. In all these cases, the language of destroying "all" is seen to be qualified by the fact that a significant number (in fact) fled, escaped, and survived. Kitchen notes that in ancient rhetorical summaries of this sort, "the 'ails' are qualified by the Hebrew nar­rative itself. In 10:20 we learn that Joshua and his forces massively slew their foes 'until they were finished off'…, but in the same breath the text states that 'the remnant that survived got away into their defended towns.' Thus the absolute wording is immediately qualified by exceptions — 'the quick and the dead,' as one might say of pedestrians trying to cross our busy highways!"
Preliminary Conclusions
When we study the evidence, three things emerge. First, Joshua 1-11 occurs in a context where the so-called genocidal language of exterminating all and leaving no survivors occurs alongside a narrative that affirms matter-of-factly that large numbers of people were not killed and many survived. Second, as Wolterstorff comments, "Those who edited the final version of these writings into one sequence were not mindless," and so it is unlikely they intended to affirm both these pictures as literally true. The biblical author clearly has something else in mind. Third, while Judges reads more like "down-to-earth history" (though not without mention of both destruction and many survivors [e.g., 1:8, 21]), a careful reading of Joshua reveals it to be full of ritualistic, stylized accounts and formulaic language. This third point is supported by research into ancient Near Eastern conquest accounts. Such studies show the following:
1 Such accounts are highly hyperbolic, hagiographic, and figurative, and follow a common transmission code;
2 Comparisons between these accounts and the early chapters of Joshua suggest Joshua is written according to the same literary conventions and transmission code;
3 Part of this transmission code is to hyperbolically portray a victory in absolute terms of totally destroying the enemy or in terms of miraculous divine intervention: "such statements are rhetoric indicative of military victory," not literal descriptions of what occurred;
4 The same language and phraseology has a well-attested hyperbolic use in Joshua and elsewhere throughout Scripture.
Taken together, these points give persuasive reasons for thinking that one should interpret the extermination language in Joshua 1-12 as offering a highly figurative and hyperbolic account of what occurred. It seems sensible to con­clude that the language of "leaving alive nothing that breathes," "leaving no survivors," and "put[ting] all inhabitants to the sword" is not meant to be taken literally.
After comparing the figures of speech and rhetoric used in numerous Hit­tite, Assyrian, and Egyptian conquest accounts with those of Joshua, Younger concludes, "The syntagms (…'they completely destroyed everyone in it') and (. . .'he left no survivors') are obvious hyperbole. This is also true for these: (…'Not sparing anyone who breathed'), and (…'until they exterminated them'). That these are figurative is clear from numerous ancient Near Eastern texts." (See such hyperbole in Mark 1:5: Is all Judea/Jerusalem emptied?)
[….]