(There are really two "apologetics" [streams of arguments] below. The first is a refutation of Chimp/Human similarities; the second is a dealing with the underlying presuppositions and the self-defeating aspects of them [Jump To This]. And this post spawned a "SISTER POST" of sorts. Enjoy.)
UPDATED MEDIA
Here I want to offer a somewhat short refutation [NOT] of the perpetual myth about human and chimpanzee DNA being 99% similar. One friend included it in a comment to me:
A cat shares 85 percent of our DNA along with dogs. Plants 15-20 percent . We share 90% of the genome with a banana. Chimpanzees 99% nearly

…
Here is my short response:
Even a recent 2006 TIME article continues the mantra when they say, "Scientists figured out decades ago that chimps are our nearest evolutionary cousins, roughly 98% to 99% identical to humans at the genetic level." So while science moves on and corrects itself, our culture is stuck in what was said to be a proof, and reject what ACTUALLY an evidence against the evolutionary proposition. Similar refutations of evolutionary positions that Richard Dawkins and "Junk DNA."
What do I mean by that? I mean that if something is said to be evidence and is used to promote [FOR] the evolutionary paradigm… and then it is shown not to be the case… wouldn't it then logically be an evidence AGAINST this said paradigm? I think so.
MOVING ON… SORTA
Before zeroing in on the Chimp issue, one other quick note regarding a recent discovery that undermines this "similarity" idea. That is this study:
Okay, back to the refutation of the 99% similarity. Here, Dr. Thomas Seiler, Ph.D., Physics, Technical University of Munich refutes compelingly this outdated TIME magazine article… and my friend:
Here is a visual of the varying studies (click to enlarge in another window):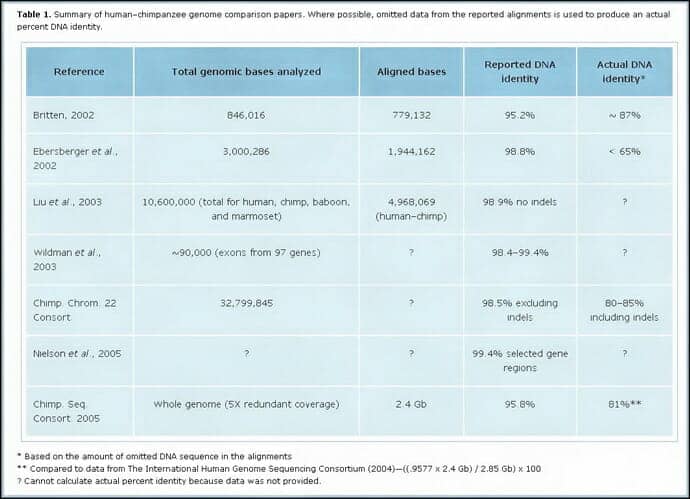 This video evaluates the claim that humans and chimps have 98% to 99% DNA similarity.
DR. JONATHAN SARFATI passed this on to me in conversation (click to enlarge):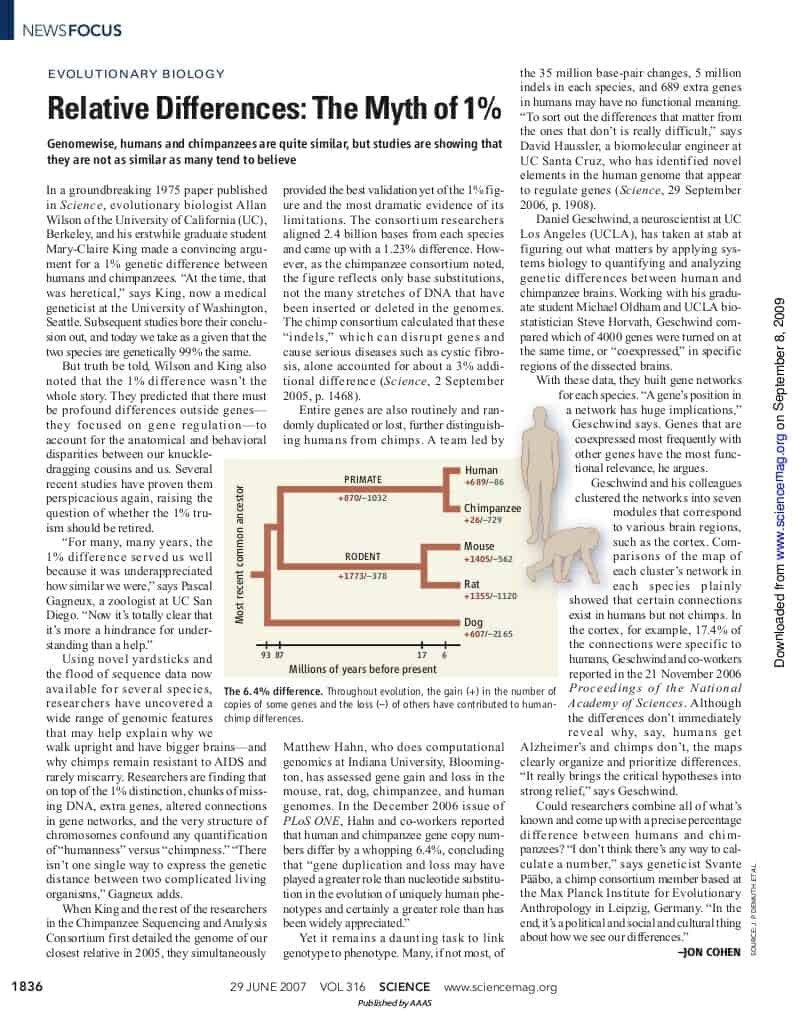 Wow. Enough said? Or will this myth still infect the brains of people wishing something to be true that continue to lose evidences for? One other noteworthy exchange from that conversation I wish to note here.
---
Switching Gears
---
My friend said many things, which is convenient… many skeptics of young earth creationism or Christianity for that matter have paragraphs of bumper sticker [what they think are] facts strung together… like a lullaby to prove to themselves they are right. (What they ironically they call the GISH GALLOP ["it's far easier to raise numerous unsubstantiated points than it is to refute them properly"] in referring to us.) Which is why I like to stop, and discuss one issue at a time. Which the above is.
When you do that, rarely does the position of the skeptic hold water.
Here is what my friend said:
I also see damage being done to children when you teach them things that are scientifically inaccurate. The earth is not 10000 years old…
To which Jonathan Sarfati responded (and reminded me of a larger quote I got from his commentary of Genesis I will post at the end):
While the main driver of the topic is a PSYCHOLOGY TODAY article that posits Christianity is harmful to children — just Christianity mind you…
It is a form a Christophobia – a fear of anything related to Christianity/Christ, A bias against one "particular" religious expression. A word I used in one of my first "conversation series" posts on my old blog (November of 2006): "theophobia" – a fear of "the belief in one God as the creator and ruler of the universe".
… is telling. The point that Doc Sarfati makes is Yuuuge. That is,
skeptics of the Faith like to use moral positions to refute the absolute morality of Christianity, or a position they attribute truth to and expect others to grasp said truth as, well, true — is not in fact the case if their worldview is reality. They pay no attention to the underlying aspect of where these laws or stated facts are reasoned from — mind or matter.
While the whole conversation is a bit drawn out, a refuting principle I used in it which is the same principle Dr. Sarfati taps into (i.e., the Laws of Logic), is this quote by J.B.S. Haldane
"If my mental processes are determined wholly by the motions of atoms in my brain, I have no reason to suppose that my beliefs are true…and hence I have no reason for supposing my brain to be composed of atoms."
It is the same as this reflection by Stephen Hawkings noted by Ravi Zacharias:
Here is Ravi again, but this time at a Q&A at Yale being challenged by a graduate student:
To be clear, my friend has no idea that what he has said is internally self-refuting. To show this working out with yet another skeptic of the Faith, here is apologist Frank Turek dispensing in similar fashion to Jonathan Sarfati (see below), Daniel Dennet:
Or when the same naturalistic position is used to make moral statements… it should be taken as illusory. Philosopher Roger Scruton drives this point home when he says, "A writer who says that there are no truths, or that all truth is 'merely negative,' is asking you not to believe him. So don't." I agree.
---
QUOTE[s]
---
Here is the promised longer quote[s] by Jonathan Sarfati: