The WASHINGTON FREE BEACON calls it like it is:
This story got me ranting in my head and now on my computer screen. Here is the story via THE DAILY CALLER:
Nice to see [/sarcasm] the official doctrine of these Leftist idealogues are so captured by cultural relativism and multiculturalism that all practices boil down to being just as beneficial as other cultures actions/understandings.
I guess all the past criticisms I have gotten as an armchair apologist serving some "sky god" that explained "lightning" is moot now. Having written and read the leading creationists and intelligent design authors throughout 3-decades…
as well as many leading evolutionary/atheists works – R. Dawkins, K. Nielsen, D. Dennett, Sartre, Camus, Nietzsche, S. Harris, M. Martin, L. Wolpert, D. Barker, W. Provine, C. Hitchens, E. Mayr, S.J. Gould, J. Coyne, E.O. Wilson, C. Darwin, C. Zimmer, K. Miller, J. Loftus, B. Forrest and early A. Flew, etc., etc. [to name a few]
…and debating and pushing back on philosophical naturalism and it's deleterious effects on science, I have been often accused of thinking that "god, or, gods," cause natural phenomenon like lightning. And then it is quickly followed with, "since we have given up 'sky gods' and 'superstitious' beliefs, science explains these natural wonders better that our past primitive and religious explanations ever could.
However, with the push for DEI (Diversity, Equity, and Inclusion) and the years of "cultural relativistic" position in multicultural pushes through the lens of Leftism, we have come to a place that not only destroys science but is reverting us back to what evolutionary atheists accuse [wrongly I might add] theists of.
So here we are… full circle right back to paganism. Rather than the scientific revolution started and led by theists… the Left takes us back to primitive animism.
Here are just some abstracts to exemplify this thinking creeping into science:
I argue that it is rational and appropriate for atheists to give thanks to deep impersonal agents for the benefits they give to us. These agents include our evolving biosphere, the sun, and our finely-tuned universe. Atheists can give thanks to evolution by sacrificially burning works of art. They can give thanks to the sun by performing rituals in solar calendars (like stone circles). They can give thanks to our finely-tuned universe, and to existence itself, by doing science and philosophy. But these linguistic types of thanks-giving are forms of non-theistic contemplative prayer. Since these behaviors resemble ancient pagan behaviors, it is fair to call them pagan. Atheistic paganism may be part of an emerging ecosystem of naturalistic religions.
— Eric Steinhart, William Paterson University, "Atheists Giving Thanks to the Sun," July 2021Philosophia 49(20150711): 1-14
The traditional common consent argument for the existence of God has largely been abandoned—and rightly so. In this paper, I attempt to salvage the strongest version of the argument. Surprisingly, the strongest version of the argument supports the proposition, not that a god exists, but that animism is probably true and that such things as mountain, river, and forest spirits probably exist. I consider some plausible debunking arguments, ultimately finding that it is trickier to debunk the animist's claims than it might first appear. I conclude that there exists one significant argument in favour of animism that has hitherto gone unstated in the philosophy of religion.
— Tiddy Smith, University of Otago, "The Common Consent Argument for the Existence of Nature Spirits," April 2020Australasian Journal of Philosophy 98(3) DOI:10.1080/00048402.2019.1621912
Animism has been defined in many ways. Tylor defines it as the "the theory which endows the phenomena of nature with personal life" (1866: 82). Bird-David lists several definitions of animism: "the attribution of life or divinity to such natural phenomena as trees, thunder, or celestial bodies"; "the belief that all life is produced by a spiritual force, or that all natural phenomena have souls"; the belief that "trees, mountains, rivers and other natural formations possess an animating power or spirit" (1999: S67). Brown and Walker say animism is "an ontology in which objects and other non-human beings possess souls, life-force, and qualities of personhood" (2008: 297). Coeckelbergh says, "For animists, objects have (individual) spirits" (2010: 965). According to Helander-Renvall, animism means that "there are no clear borders between spirit and matter…. all beings in nature are considered to have souls or spirit" (2010: 44). Smith says animism involves "belief in nature spirits, such as mountain spirits, animal spirits, and weather spirits" (2019: 2–3). Definitions like these are easily multiplied.
— Eric Steinhart, "Scientific Animism," Part of the Palgrave Frontiers in Philosophy of Religion book series (PFPR) | Animism and Philosophy of Religion
POWERLINE noted this regarding "indegenouse knowledge vs. scientific knowledge… unless our government is acknowledging the science they push is "scientism" just as "indegenouse science" is "scientism:
Often these are driven by not only the genuflection created by multicultural relativism, but a Marxian "anti-capitalist/anti-West drive.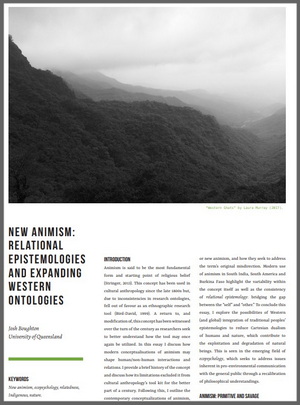 For example:
This is not the place to get into the topic… but, "the Western capitalist-driven, utilitarian ontology" via the Protestant work ethic and ethos imported agricultural practices and inventions actually saved indigenous cultures.
For instance, Vishal Mangalwadi notes just how missionaries carried these works to other cultures out of the Judeo-Christian worldview. (The entire chapter is a must read for the historian/economist):
Crop rotation, largely a Western improvement, combined with the inventiveness of the West helped the indigenous cultures as well. Even the Native Americans largely "practiced slash and burn agriculture. When soils became infertile, wood for fuel was exhausted, and game depleted, whole villages moved" (Shepard Krech III, The Ecological Indian: Myth and History, W.W. Norton & Company; New York: NY [1999], p. 76).
More on the history of this agricultural practice of "rotation" and top-soil.
Missionaries are still teaching people this today: