See also: Pseudogenes Predicted To Fail by Creationists (Vestigial Response Added)
Bottom Line:
Talk Origins in its 29+ Evidences for Macroevolution (written between 199 and 2004) quotes a 1999 study that purportedly proves their stance:
Well, the tables have turned on neo-Darminian claims yet once again and science (not "scientism") advances:
It is worth mentioning that this supposed truth for evolutionary theory is further along the wrong prediction mark than the proof of "Junk DNA" was along this path when I was debating in 97′ with people over at the Discover site.  (In fact, this "proof" is connected to the "junk DNA" position.) In 1997 people — in debate situation — said that evolution predicts junk DNA and that they have known of junk DNA for quite some time, thus proving evolutionary explanatory power. IN 2003, one of the first articles to hit the mainstream scientific press that this long held assumption was in jeopardy hit Discover and Scientific American magazines, two subscriptions I receive out of the many mags I get. Pictured is the first Discover magazine (yes, I have kept them) ruminations that this "proof" was disintegrating, like the vestigial organs "proof" did, cytochrome C differences, bacterial evolution, etc.
So debating a topic like this supposed proof is funny because it is much further along the scientific path than it was when I first debated the issue. Not to mention all the "evolutionary tree" models that are supposed to be factual when in fact their order is a topic of much debate. For instance, I posted a bit earlier a layman's article on the argument within the evolutionary camp about mankind coming from orangutans rather than a chimpanzee split in the family tree… (this earlier post mentions the belief within the evolutionary camp that man came from some aquatic ancestor rather than orangutans). A few people likewise believe that apes (Gorillas) are descended from mankind in some way. For instance, Dr. Aaron G. Filler:
He wrote a book entitled The Upright Ape: A New Origin of the Species, in which he follows the footsteps of another well respected scientist showing that apes are most likely a breakaway group from mankind. The other scientist I mention is Dr. Geoffrey H. Bourne: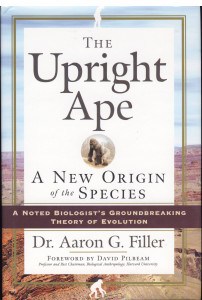 He said that apes are descended from man. Why would men of science believe such a thing? Because science has never seen any information being added to the evolutionary upward "slant" that is required by its theory (Darwinism, e.g., "scientism"). So since apes are less than us, Dr. Bourne says that science [not "scientism"] proves his theory due to observable facts. (SEE APPENDIX) All this though, junk DNA being disproved and a differing order of our family tree are other impediments to the Vitamin C Pseudogene argument. In order for this argument to work (and the subsequent predictions made to be coherent), he [the evolutionist] has to have all his ducks in order, this is something he does not have the luxury of (see image at top). One of the papers linked above (GULO pseudogenes have been intensively investigated) and its in-depth research led it two authors to say the following:
That last sentence really shows the assumptions made in this "proof" that steps away from true science and into the realm of historical science. And the historical sciences are fraught with bickering, changing branches of human lineage, and naturalistic philosophies that make the vitamin C pseudogene argument pretty vacuous.
The following is a good round-up of the problems seen in this line of argument, by Sean D. Pitman MD:
All this is to say, yet again, that this "evidence" is anything but!
AIG & PDF Sources [PDF source near top]:
UPDATE:
Conclusion Then
As was said before the known factors of the pentose phosphate pathways:
The failure to recognize the full implications of [non-protein–coding DNA] may well go down as one of the biggest mistakes in the history of molecular biology. (cited in: Gibbs, W.W., The unseen genome: gems among the junk, Scientific American 289[5]:26–33, November 2003.)

…even the staunchest critics of creation theory recognize that "[i]t is impossible to prove absence of function for any region of DNA." (Edward E. Max, "Plagiarized Errors and Molecular Genetics," Sec. 5.4 . From: A Critique of "29 Evidences for Macroevolution")
So, to sum up, at best this could be viewed as a theological argument: "what should have God done if he did create 'A'." At worst it is an argument that has not evolved with science correcting itself and is stuck in the 90's science and not the mid-to-late part of the first decade of the beginning of the 21st century — science. Science has evolved, have the evolutionists?
This is an excerpt from the much hated book, Of Pandas and People, pp 34-40 (click to enlarge):
Here is the continuation of the devolving of primates:
---
APPENDIX
---
1. It takes 6 million years for one mutation to arise in a DNA binding site.
2. 6 million years is how long, historically, one has to get from primates to humans.
3. Humans differ from primates in hundreds of ways, requiring probably thousands of different gene mutations.
4. What's more, many of the differences between primates and humans would require coordinated mutations. For example, the correct legs, feet, pelvis, spine, and neck to walk upright are differences which individually are useless by themselves.
5. Experiments with bacteria (i.e. with population sizes and mutation rates much higher than primates and humans) suggest that a single protein cannot mutate six or more times in a coordinated fashion in a timespan less than the known age of the universe.
6. Given these numbers, it is impossible for humans to have evolved from primates.