(Originally posted September 3rd – Updated Today)
This is really a continuation of a previous post titled, "More Straight Talk About Covid-19 Prophylactics," coupled with this convo as well: "Trying to Cut Through Bias To Talk Ivermectin (Didn't Work)." (I will of course add a few comments here-n-there in the [box] parenthesize.)
But the conversation pivoted to studies done on Ivermectin… to the point that I wondered about how the states in India handing out prophylactic's earlier this year were doing (Hydroxychloroquine and Ivermectin). I now set out to find out "what happened," and this is where that curiosity led to update the issue on my site — I think it's that important. I figured for the fans here that this continuing point[s] will be helpful in conversation regarding "prophylactic measures."
The conversation has taken place over a cartoon I was tagged in on Facebook, here is the graphic to the right. So let us pick up with and M.B. point:
there are no reputable studies that show ivermectin – no matter what Fox News tells you – is a good treatment for covid. ivermectin is a horse and cattle worm medicine. a parasite is way different than a virus. could it also have some properties that help against covid – everything is possible, but is doubtful. Caleb Wallace an anti-vaxxer took it early in the onset of covid – he still died. if you want to risk your life on horse wormer medicine if you get covid – go for it.
[So M.B. is still stuck on Ivermectin being used for horses… still influenced by Rachel Maddow as noted previously.]
I respond:
RPT:
(Lol) Mike Baxter says: "there are no reputable studies that show ivermectin" –113 studies, 73 peer reviewed, 63 with results comparing treatment and control groups.
I posted this as well – click to enlarge in another window: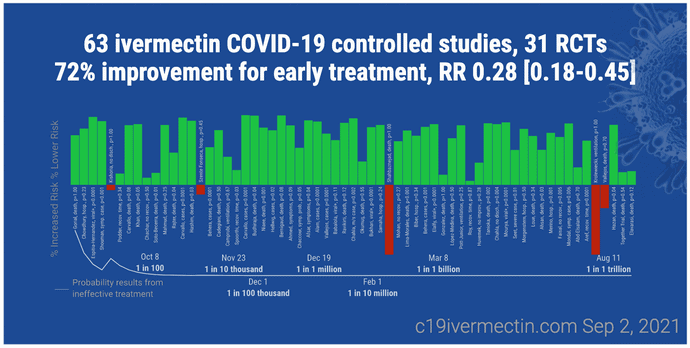 [I want the reader to be aware that the 63 Ivermectin trial groups were human trials regarding humans. All 113 may not be, but those are. If you go to the source and click on EARLY, LATE, or PROPHYLAXIS, the "bovine Study" that is in the "all" category are not in those human categories. So M.B. isn't just ranmdomly choosing" a study. He is selectively doing what the left does all the time. Obfuscate… which is why I said of M.B. in the previous convo, "Obfuscation is thy moniker."]
Here is M.B.'s next post:
Sean G. thanks for the link. I checked it out. these are a load of third world country studies in not name brand medical articles. I read one – picked randomly as the source sounds legit. This is the article: "Ivermectin also inhibits the replication of bovine respiratory viruses (BRSV, BPIV-3, BoHV-1, BCoV and BVDV) in vitro," it talks about how ivermectin appears to have a positive effect against respiratory viruses that effect sheep and cows – by studying the virus in a test tube. no mention of trial on an animal, on a human or specifically COVID-19. Again – if someone get COVID-19 and they want to take Ivermectin or Hydroxychloroquine – go for it. Maybe they are miracle cures that science just hasn't seen the light yet.
See the switch here? So my "right" that is to follow is commenting mainly on this portion of M.B.'s statement: "these are a load of third world country studies in not name brand medical articles." This statement jogged my memory of me wanting to see whats-what in India:
M.B. responds:
Sean G. the india data on Kerela vs. Delhi is not accurate. Delhi is in far worse shape than Kerela
My response, and I assume the silence after posting this is because he didn't realize he was not taking into account "when" Ivermectin/HCQ were introduced. It "sounded good" until more info was introduced. So I worked on grabbing some graphs (better than what the articles provided) and combined them all for affect. You can see that HERE, but below they are separated for ease of viewing. And again, it is similar to what I noted above — finding a "bovine test" and applying that to the whole, or calling Ivermectin a horse "dewormer" as if there is no application of it for humans:
It just so happened that this conversation happened just after some excellent article appeared, one of the best ones is by a favored columnist of mine, Daniel Horowitz. The article is titled, "The Unmistakable Ivermectin Miracle In The Indian State of Uttar Pradesh." Another "multi-part" set of posts I highly recommend are as follows — BTW, I use Delhi in my example above because M.B. mentioned it, however, the articles deal more with Uttar Pradesh.
THE DESERT REVIEW
So again, the effectiveness of the vaccines have dropped to under 40%, which is lower than Fauci's "scientists are hoping for a vaccine that is 75 percent effective — but even a 50 or 60 percent success rate would be considered a win." But we KNOW that HCQ and IVER have a 64% and 84% effective rate. But these not patented, cheap, safe drugs do not have a multi-national corporation[s] behind highly paid lobbyists  to ensure their product is taken. For instance, "fully vaccinated" in Israel use to mean both shots of the mRNA vaccines. Now, to be fully vaccinated means to have three shots [the booster].
What The Hell?
---
UPDATE On Uttar Pradesh
---
Keep in mind this state has an estimated population of 241 million people in 2021 and has the highest population in India.  This is almost two-thirds of the United States population in 2021 and yet it is now a COVID-19 free nation. Here is the story via HINDUSATAN TIMES (hat-tip to GATEWAY PUNDIT):
Back to GATEWAY PUNDIT: