Dennis Prager has Dr. Harvey Risch (MD, PhD , Professor of Epidemiology, Yale School of Public Health) on his program to discuss the issue of Hydroxychloroquine (HCQ), its use, and the seemingly political fallout from the media and the Left (Democrats in Congress and Democrat governors). There is also discussion of how or why there is pressure or push-back against it's use. I would say partly because of "TDS" (Trump Derangement Syndrome), but also BIG-PHARMA. Otherwise known as "Crony-Corporatism". Previously Dennis discussed his earlier NEWSWEEK article.
Dennis also mentions in passing the French United Nations official, who has served as Under-Secretary-General of the United Nations, Special Adviser on Innovative Financing for Development in the UN and chairman of UNITAID — PHILIPPE DOUSTE-BLAZY. But shortly after discussing the issue Dennis asks the $64,000 question, "has the ban on HCQ led to deaths?" [adapted]… that shorter response is isolated here:
(WOW!)
While Dr. Risch did not want to impugn motives, Robert Kennedy Jr. was not so coy:
Before moving on, I recommend the BANNON WAR ROOM video that discusses Dr. Risch's appearance on CNN (fuller CNN video HERE):
THE WASHINGTON TIMES notes the percentages of lives saved worldwide in their story entitled
AGAIN, besides the studies Dr. Risch mentions (12), the total worldwide that shows benefite to using Plaquinel are 68 studies (41 peer reviewed). One of the better posts on this topic comes from REAL CLIMATE SCIENCE — of which some of these graphs are from or updated from the MAIN SITE tallying all this: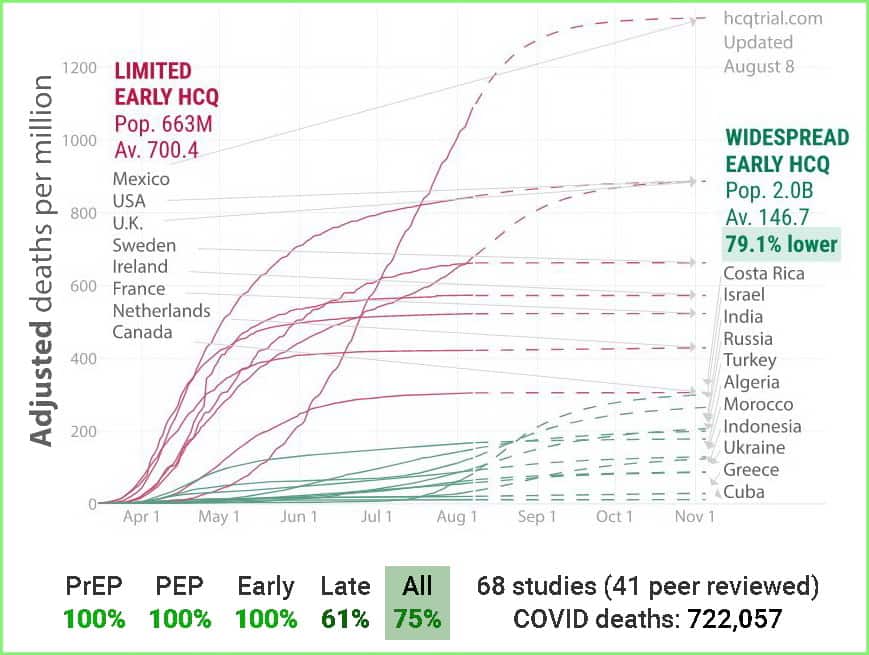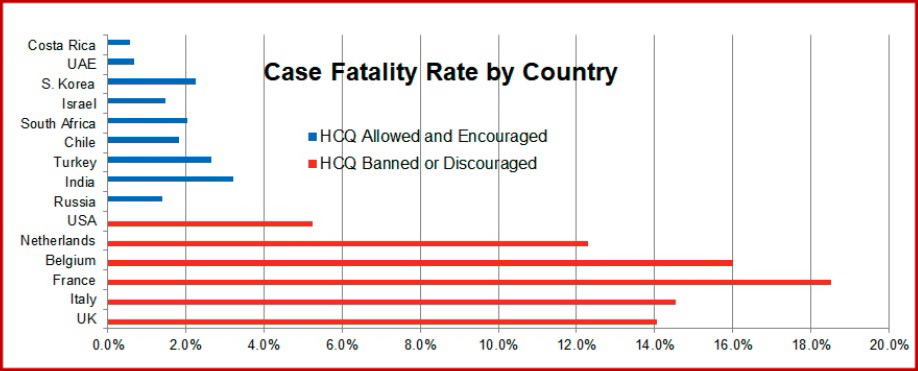 ---
Death Becomes the MSM
---
Okay, I just want to say that we have heard many media types and Democrat Lefties say that by the President touting Hydroxychloroquine he is killing people. My first example comes from Neil Cavuto: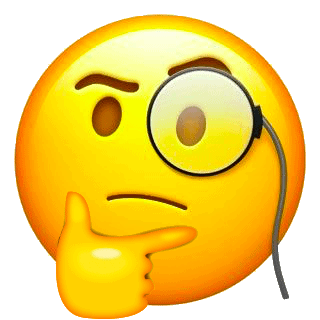 But all this is based on a Lancent study published May 22nd (that media heads caught wind of a couple days early)… the only problem? The entire study was faked — here is a fair dealing with it via MEDCRAM. (A previous post where the known issues with "peer review" is noted: Peer-Review Issues | Sharyl Attkinsson). Here is the indomitable Press Secretary tearing shit up:
So the above and below "concern" about a drug many-many millions of people have taken for decades, safely, ALL OF A SUDDEN is a health emergency. I wonder why? (I refer you to the already posted Washington Times article title above.) The "blood on the hands" argument is really more apt in the 70-100-thousand lives that very possibly could have been saved had our country done what other countries had… save the MSM Derangement with Trump.
Here is some more examples of what I am saying: