(Reason for the FLASHBACK) I was invited to a Facebook group regarding recalling George Gascon (SITE | Facebook Group). While I support that, enthusiastically, I have seen a passion for hate-crimes… which I do not support enthusiastically. And it was then that I realized I had no real discussion or presentation of hate-crime legislation that was pushed through by Harry Reid back in the day. So this post is a combination of stuff from my BLOGSPOT days.
I want to lead with some articles and excerpts, interrupted by some media. I realized I hadn't done much on "hate-crime" legislation on this .com — but I was posting on the issue on my old BLOGSPOT (hate-crimes posts) site because that is the time it was being put into law. This post is a FLASHBACK of sorts, and has to do with how hate-crimes are "interpreted," which makes them a weapon for the social-justice warriors whims. For some background, I was writing on this more in 2009 because this legislation was passed then. Here is Star Parker noting the change in law:
Here JOHN MCCAIN opines on the issue of Harry Reid shoving that bill into a defense act (VIDEO). You will in the words and media below see how this PC take on what is "equal" actually destroys the premise of "equal under the law." A good start is this short noting of "hyphenated justice" by Dennis Prager:
So… where do we start. Let us begin with a series of letters I made and put in the break-room at Whole Foods during a "summer session." It was a newsletter of sorts of ideas I knew my co-workers had never heard of. Here is an excerpt from July of 2003:
Many people have not heard of Jesse Dirkhising. The media was oddly silent at the death of this little boy. Before going further… it was thought that Sheparhd was killed due to an anti-gaye hatred by his killers… a narrative pushed by the media. However, through real journalism, Stephen Jimenez (a gay man himself) wrote an excellent book entitled: "The Book of Matt: The Real Story of the Murder of Matthew Shepard (Documentary Narratives)" So as you read some of the below, the assumption was that this was a hate crime.
In the month after Shepard's murder, LexisNexis Recorded 3,007 stories about his death. In the month after Dirkhising's murder, Nexis recorded 46 stories about his. … A LexisNexis search revealed only a few dozen articles that appeared only after The Washington Times story on the lack of coverage on October 22, 1999, a month after Dirkhising's death.(WIKI)
Other articles wroth your while:
Here is some media to show where we are headed, and why we have not zoomed towards it is only because of the First Amendment.
Where Does Freedom of Speech End, and a Hate-Crime Begin?
Placing a Qur'an in a toilet or burning it is not a hate crime, even though it is treated as such.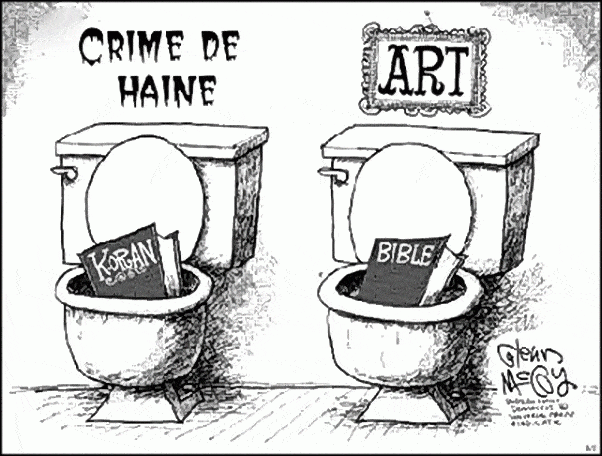 And crimes like the following… are not treated as hate-crimes when they should be: "Vent with Michelle Malkin covers the Christian-Newsom Murders. The mainstream media finds some crimes more useful than others. Michelle explains."
The entire "hate-crime" obfuscates justice rather than achieves it. There are reasons for this, and I will let ROMAN CATHOLIC BLOG from over a decade ago share their reasons why they think it is [or was] all the rage: