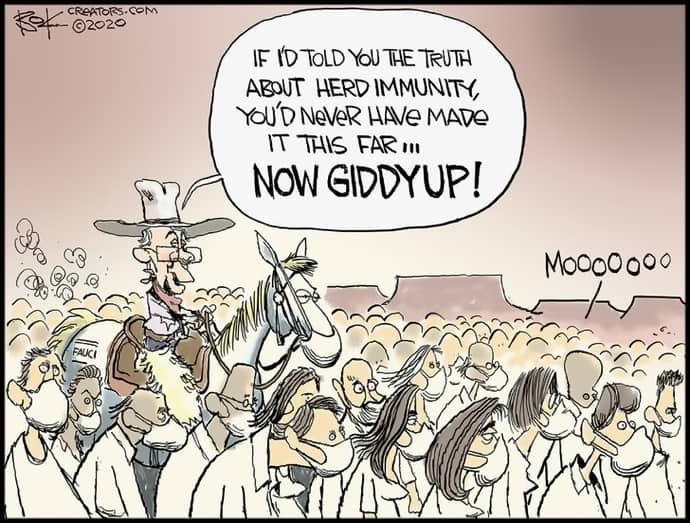 THE DAILY MAIL has something that crossed my path that I needed to comment on a bit:
THE NEW YORK POST also discusses the issue:
GATEWAY PUNDIT then rightfully notes from the above:
Crazy Dr. Fauci warned in October that early COVID-19 vaccines will only prevent symptoms from arising – not block infection. Then the early vaccines are NOT vaccines.

[GP continues with his thoughts]

It also means the "vaccine" is just a scheme by Big Pharma, and the globalist investors, to scam trillions out of the frightened peasants and the states.
So, my thoughts are this… it is literally just another flu-like-shot. Check.
While I have issues with how the high percentages of effectiveness were reached….
…let us assume for a moment the numbers touted early.
QUESTIONS:
Is it 95% effective on 50%?

What percentage of the 95% is effective on which part?

Eradicating it? or lessening symptoms, but you still get it?

Since it is NOT a vaccine, should restrictions (coming at some point considering the crazy level of society) on travel and work be in place?
I personally think the media and Fauci and other cogs and gears need to be held in contempt of societal norms in using fake stats and fear tactics to strip people of their livelihood and rights. (DOWLOADABLE PDF: "A Scientist's Plea: The World is Not a Safe Space" via AIER)