JUMP TO….
---
(These are articles and excerpts — with some additional edits here — from my SITE'S FACEBOOK PAGE)
Okay, I have been doing posts here-n-there with a montage of recent articles about the Covid-1984 gang and what I call "vaccine wars." In this edition I will start out with a fact check of Facebook's (FB) "fact check" of a linked article. This is the article with a slight excerpt, followed by my fact check (with a couple additional article links in it for my readers here). The article is titled, "COVID-19 Vaccines: Scientific Proof of Lethality," and all it is is links to journal articles or papers by specialists calling for caution in whatever aspect they studied of the vaccines. Some are mild observations, others are potentially lethal. But they link mainly to medical journal articles.
FACT-CHECKING FACEBOOK FACT-CHECKERS
Here is the "Fact Check" — on my site's wall they blurred the links graphic, and when you press "See Why" it brings you to a pop out window where you can link to the article refuting what you (I) put on your FB wall: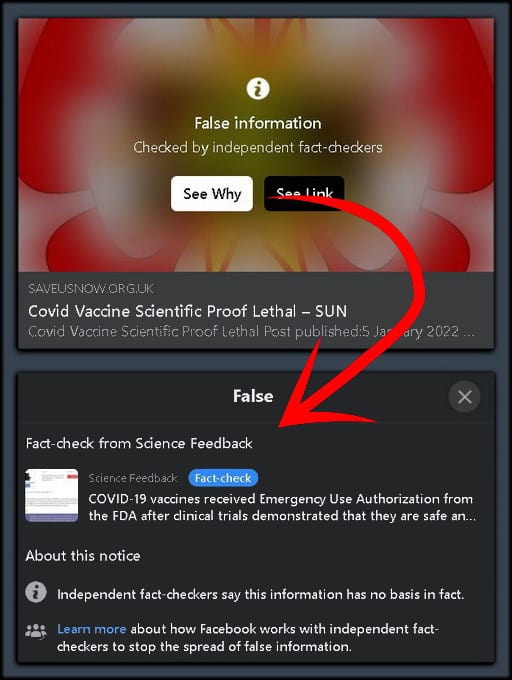 Here is my own fact/fact check" if you will. Again, I will add articles for my readers to have more resources:
JOHN STOSSEL
MORE EXAMPLES OF FB CHECKS:
(See more at REASON)
The 11 Worst Fact-Checks By Facebook's New Fact-Checkers (DAILY WIRE, December 2016)
Here's Where The 'Facts' About Me Lie — Facebook Bizarrely Claims Its 'Fact-Checks' Are 'Opinion' (NEW YORK POST, December 2021)
Facebook Fact-Checkers Caught Making Wrong Fact Checks, Exposing Liberal Bias (LIES.NEWS, July 2020)
Facebook's Lab-Leak Censors Owe The Post, And America, An Apology (NEW YORK POST, May 2021)
Facebook Fact Checkers Just Censored Peer Reviewed Science (WATTS UP WITH THAT, September 2021)
Candace Owens Sues Facebook Fact-Checkers For Defamation: 'I'm Sick Of The Censorship' (WASHINGTON EXAMINER, November 2020) ||| Candace Owens Challenges Fact-Checker, And Wins (DAILY WIRE, November 2020)
Covid-19: Researcher Blows The Whistle On Data Integrity Issues In Pfizer's Vaccine Trial — Open Letter From The BMJ To Mark Zuckerberg (BRITISH MEDICAL JOURNAL, Decmber 2021)
Medical Journal Blasts Facebook For Using Fake 'Fact Checks' To Justify Censorship (THE FEDERALIST, December 2021)
Facebook VP Concedes 'Fact Checkers' Have Own Agenda (

VISION TIMES

, June 2021)

et cetera, et cetera, et cetera
…MOVING ON…
I found this interesting… I came across info regarding FDA "approval" that shows the swarmy nature of government run procedures.
VACCINES ARE FDA APPROVED (LOL)
Here is the intro to the story via JUST THE NEWS:
SEN. RON JOHNSON
Here is Senator Ron Johnson's key claim from the above interview:
SEN. RON JOHNSON: We do not have an FDA-approved vaccine being administered in the U.S. The FDA played a bait and switch. They approved the Comirnaty version of Pfizer drugs. It's not available in the U.S. They even admit it. I sent them a letter three days later going "What are you doing?" What they did is they extended the emergency use authorization for the Pfizer drug vaccine that's available in the U.S., here that's more than 30 days later, they haven't asked that very simple question. If you're saying that the Pfizer drug is the same as the Comirnaty, why didn't you provide FDA approval on that? So, there's not an FDA-approved drug and, of course, they announced it so they could push through these mandates so that people actually think, "Oh, OK now these things are FDA approved." They are not and again, maybe they should be, but the FDA isn't telling me why. 
Another posting on this notes the BAIT-N-SWITCH aspect of this whole thing via Jordan Schachtel at his SUBSTACK: Shell Game? There remains no FDA approved COVID vaccine in the United States
There is this story as well that I posted on my site's Facebook that caught my eye, and it starts out by noting "There is a tectonic shift underway in the medico-scientific establishment: they are starting to walk back boosters."
BACKING AWAY FROM BOOSTERS?
AMERICAN THINKER continues:
If true, then this IS BIG NEWS. Maybe this is why??
…TO WIT: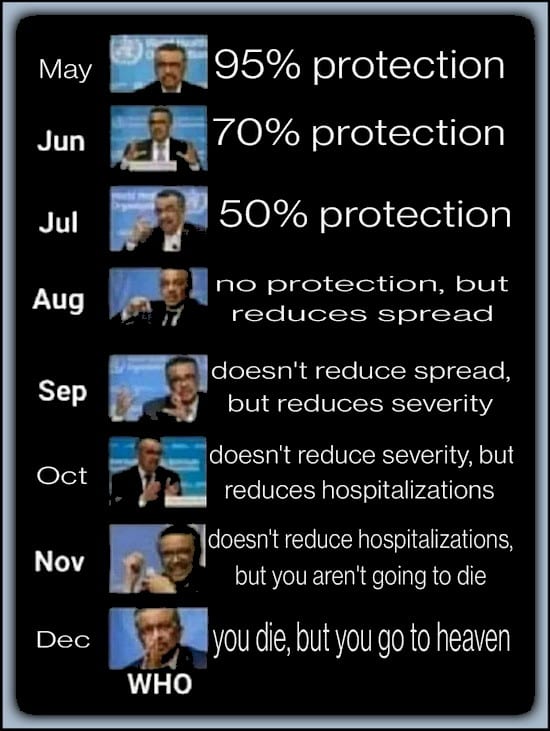 The NEW YORK POST says that the "UK Health Security Agency said people who received three doses of Pfizer's vaccine saw their protection drop from 70 percent to 45 percent within 10 weeks." CNBC notes the fact that:
Albert Bourla (PFIZER'S CEO and veterinarian)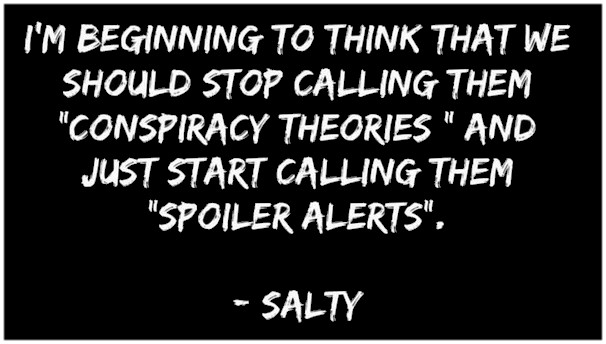 MRNA CHANGES DNA
BLOOMBERG has an article touching on this once "conspiracy" becoming reality. (The full article is HERE):
WITH OR OF COVID
RED STATE brings us this gem:
More and more evidence is showing what was called a conspiracy theory or xenophobia shows to be in fact reality.
COVID ENGINEERED IN LABORATORY 
TECHNO FROG has an excellent post on the matter — of which I will excerpt a portion from, but the ENTIRE article is worth your time:
Rep. Jim Jordan (R-OH)
"If the American people put us back in charge, we are definitely going to do this because we now know without a doubt that Dr. Fauci knew on Jan. 31 and Feb. 1 that this thing [the COVID 19 virus] came from a lab," said Rep. Jordan. (POST MILLENNIAL)
And PROJECT VERITAS had a huge release of what is weightier than The Pentagon Papers.
FEMINIST FATALE, NAOMI WOLF
And GATEWAY PUNDIT covers Steve Bannon's WAR ROOM discussion about this with the old guard feminist Naomi Wolf:
The DAILY WIRE joins the mix as well with an excellent article documenting "Top U.S. and British scientists reportedly thought that SARS-CoV-2, the coronavirus that causes COVID-19, likely escaped from a laboratory in Wuhan, China." Continuing with their article, the reason they kept quite about it was due to international relations: "but some were hesitant to let the debate play out in the media because they were concerned about 'international harmony.'"
THEY KNEW
BABYLON BEE'S PROPHECY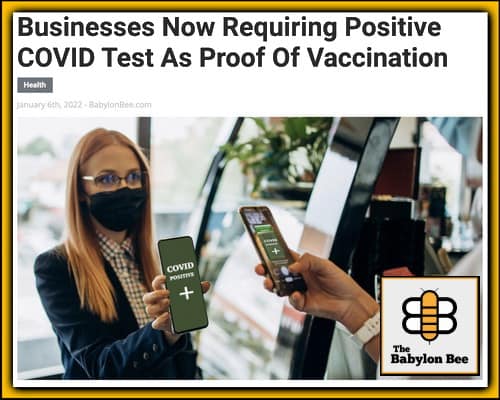 And here is a WEASEL ZIPPER'S story regarding hospital shortages due to laying workers off due to no vaccinations:
See more at: 5 Recent Babylon Bee Headlines That Were Surprisingly Believable
Hospital beds in some of the largest cities have cut beds: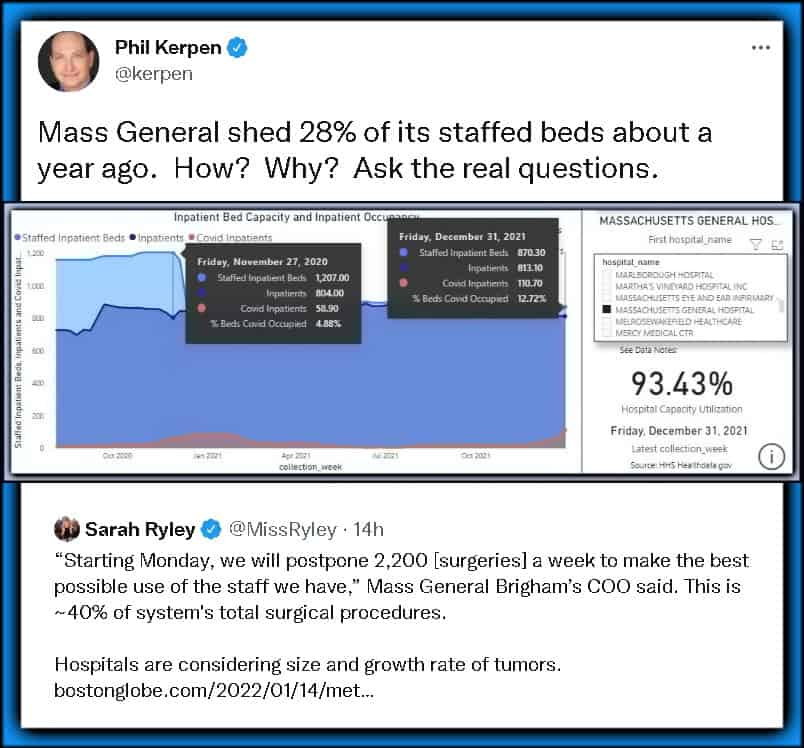 And seemingly another political move to protect Biden, and that is to….
STOPPING REPORTING OF COVID-CASES
The WORLD SOCIALIST WEBSITE has the story:
Another Biden Admin CYA was the hospitalization rates, which I dealt with just last week. ELECTION CENTRAL 
MEDIA BIAS TO PROTECT BIDEN
AMERICAN GREATNESS has an article about the Associate Press ordering "its staff to stop covering the total number of coronavirus cases in the country and around the globe." Saying it is a "dramatic shift in focus… apparently shifting the parameters of what a 'case' truly means." CONTINUING:
LEFTIE MOMS RAGE AGAINST THEIR MACHINE!
This first article is via THE ATLANTIC: Why I Soured on the Democrats: COVID school policies set me adrift from my tribe.
MOM #1
MOM #2
And another Leftie mom wrote about an almost identical experience[s] in POLITICO: How School Closures Made Me Question My Progressive Politics: I've never felt more alienated from the liberal Democratic circles I usually call home.
CNN FAILS THE #SCIENCE TEST