NPR ADMITS IT:
CNN ADMITS IT… FINALLY:
(I added a Facebook conversational response by myself at the bottom — JUMP)
Sebastian Gorka goes through a few items that is evidence against the idea that Trump is a Russian asset.
If you think Russia spent money to get Trump in office, that was the biggest waste of money in history.  Alternatively, if you think Putin has something on Trump, it has failed to dissuade Trump to act in Putin's favor at all… Putin, then, would be the worse con-artist in history then.
---
Bullet Points
---
The United States is flexing its military muscles as a powerful warning to Russia. CNN's Frederik Pleitgen got exclusive access as US warships started their own show of force in the Mediterranean Sea (YOUTUBE).
The Trump administration is taking dramatic steps to revamp the nation's arsenal and prepare for a theoretical nuclear war with Russia in Eastern Europe

….

The Pentagon last week took a major step forward by fielding its first new nuclear warhead in decades

….

Analysts say that is just the first move in a grand long-term nuclear strategy to counter Russia and contend with an ambitious China

… (WASHINGTON TIMES)
---
---
Here is HUGH HEWITT noting some of the above and more:
If Putin paid for Trump, Trump is a smart mother-effer, because he first used Russian interests to get the White House, and then immediately turned on Russia's interests.
Putin, then, is an idiot, and Trump? The smart-as-hell-tactician.
THE FEDERALIST updated this post:
"Just Like Obama, Trump's Russia Policy Speaks Louder Than His Words"
---
Stuff That Didn't Age Well
---
If there was one thing I have learned over the years of attacks against Bush over eight years, and now Trump… the rule of thumb is to wait about a week (or more) for the truth of the situation to come out. This is a prime example. Many who have a visceral hatred for Trump immediately jump on the band wagon [just like BDS, Bush Derangement Syndrome — there is TDS, Trump Derangement Syndrome]… and… the below meme is a prime example.
During conversation with a Facebook friend about a meme posted regarding the Dianne Feinstein with Attorney General Bill Barr, I linked the FULL exchange to the exchange. After some talk, the below meme was posted: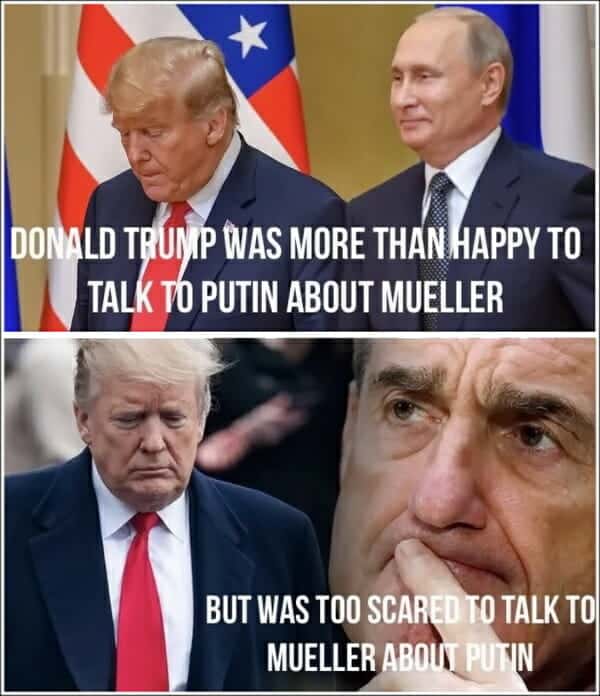 Not a day after he posted the above, a writer I check in with daily had this post, entitled: "NBC NEWS MAKES CORRECTION TO TRUMP-PUTIN STORY." In it she notes:
HILARIOUS. I bet "unnamed sources" are at the center of this story. You can add this to the TRUMP IS CHUMMY WITH PUTIN conspiracy the Left and NeverTrumpers have:
FACEBOOK RESPONSE