(Jump to UPDATE — a quick convo on Facebook)
He takes forever to get to the points… but they are good points. President Trump's critics are using the natural fear of the coronavirus as a political weapon.
CONSERVATIVE TREE-HOUSE was on it! (Feb 2nd):
TREE-HOUSE points out with a link to the January 31st proclamation, that on this date (again, January 31st), the February ban was put into motion.
The NEW YORK POST has a good piece showing all the maligning when Trump got a jump on the virus… and now they are saying he waited too long — WHICH IS IT?
The media and Democrats push false Trump coronavirus narrative.
AMERICAN THINKER runs some good Tweets by Steve Guest (You can find the entire Twitter thread HERE):
MUZZLED?! CUT FUNDING?!
Earlier this week, Michael Bloomberg and Joe Biden were called out by the AP for lying about President Trump cutting funding to the CDC and NIH.

The facts from the Associated Press: Financing has increased to the CDC and the NIH.https://t.co/DZ7549XNL0

— Steve Guest (@SteveGuest) March 1, 2020
When the AP fact-checks Democrats… you know its bad. More from an earlier AMERICAN THINKER article:
---
Facebook Back-N-Forth
---
A "Never Trumper" friend responded to the following post by me:
His response was thus: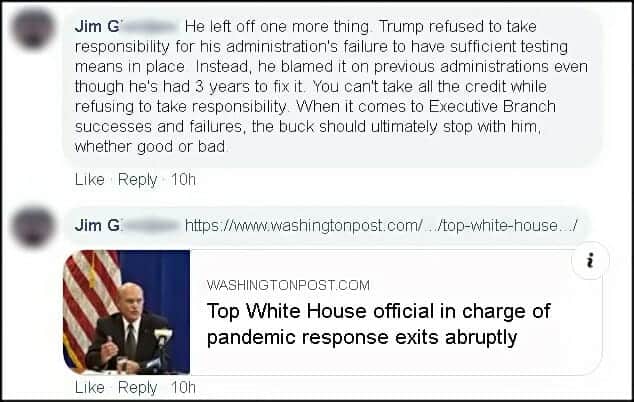 To which I responded thus:
---
A Couple Text Responses
---
This was in response to someone basically saying Trump got in the way of experts, and that he should just keep his mouth shut:
And in another text stream I responded to the idea that South Korea did more tests with a note from a friend via Facebook: