(Jump to UPDATE — a quick convo on Facebook)
He takes forever to get to the points… but they are good points. President Trump's critics are using the natural fear of the coronavirus as a political weapon.
CONSERVATIVE TREE-HOUSE was on it! (Feb 2nd):
In response to an escalating spread of the Coronavirus President Trump initiated a suspension of entry visa's for persons traveling from China: "The entry into the United States, as immigrants or nonimmigrants, of all aliens who were physically present within the People's Republic of China, excluding the Special Autonomous Regions of Hong Kong and Macau, during the 14-day period preceding their entry or attempted entry into the United States is hereby suspended and limited" [link].
The travel restrictions went into effect at 5:00pm today. Essentially President Trump is putting the health of Americans first. However, in an effort to politicize the Coronavirus, presidential candidate Joe Biden says travel entry restrictions are "hysteria, xenophobia and fearmongering":
[…] "We have, right now, a crisis with the coronavirus," Biden said in Iowa Friday. "This is no time for Donald Trump's record of hysteria and xenophobia – hysterical xenophobia – and fearmongering to lead the way instead of science." (more)
…And just like that Democrats become the party of pro-virus….
TREE-HOUSE points out with a link to the January 31st proclamation, that on this date (again, January 31st), the February ban was put into motion.
The NEW YORK POST has a good piece showing all the maligning when Trump got a jump on the virus… and now they are saying he waited too long — WHICH IS IT?
…It's a unique set of characteristics showing that President Trump understood early the need for decisive measures such as travel restrictions on China, which he imposed in January.
Yet for that sensible decision — in defiance of the World Health Organization — he was criticized by Democrats such as Joe Biden as xenophobic, and by China as racist.
"This is no time for Donald Trump's record of hysteria and xenophobia — hysterical xenophobia — and fearmongering," said Biden the day after the travel restrictions were imposed.
CNN ran a story warning that "the US coronavirus travel ban could backfire" and have the effect of "stigmatizing countries and ethnicities."
The Chinese Communist Party's official mouthpiece, the People's Daily, called the ban "racist."
WHO Director-General Tedros Adhanom Ghebreyesus warned it would increase "fear and stigma, with little public health benefit."
[….]
At the press conference with Trump on Saturday, Dr. Anthony Fauci, the highly respected head of the National Institute of Allergy and Infectious Diseases, praised the "original decision that was made by the president … [that] prevented travel from China to the United States.
"If we had not done that, we would have had many, many more cases right here that we would have to be dealing with."
Trump's travel restrictions began on Jan. 31. Australia and Singapore instituted their own travel limits the next day. Trump's move bought valuable time to slow the spread of the virus and ease pressure on the nation's health system before a vaccine is developed — which experts believe is at least 18 months away.
But that hasn't stopped the barrage of fake criticisms, including that Trump had left the nation dangerously unprepared to cope with a pandemic by cutting funding for the Centers for Disease Control and Prevention.
Not true. The CDC's programming budget increased from $7.2 billion in 2019 to nearly $7.7 billion this year, the Associated Press fact-checking unit reported. Trump had proposed a cut, but Congress rejected it.
It's reprehensible for the Democrats to make political hay by blaming Trump for the coronavirus or, as a New York Times op-ed piece called it, "Trumpvirus."
In an editorial Saturday, the Gray Lady also reiterated its debunked claim that Trump has "muzzled" Fauci.
Yet at Saturday's 2 p.m. press conference — hours before the Times' deadline — Fauci emphatically denied the claim.
"I have never been muzzled, ever, and I've been doing this since the administration of Ronald Reagan," Fauci said. "I'm not being muzzled by this administration. That was a real misrepresentation of what happened."
What shoddy journalism to publish such an incendiary, anonymously sourced claim, without at least including Fauci's denial.
The anti-Trump narrative rolled on, with increasingly silly attacks. The Washington Post speculated that the coronavirus could be "Trump's Katrina," referring to Hurricane Katrina, the response to which had been bungled by President George W. Bush.
When Trump announced a coronavirus task force with the most eminent experts in the nation, CNN blasted him for a "lack of diversity."….
The media and Democrats push false Trump coronavirus narrative.
AMERICAN THINKER runs some good Tweets by Steve Guest (You can find the entire Twitter thread HERE):
MUZZLED?! CUT FUNDING?!
Earlier this week, Michael Bloomberg and Joe Biden were called out by the AP for lying about President Trump cutting funding to the CDC and NIH.

The facts from the Associated Press: Financing has increased to the CDC and the NIH.https://t.co/DZ7549XNL0

— Steve Guest (@SteveGuest) March 1, 2020
When the AP fact-checks Democrats… you know its bad. More from an earlier AMERICAN THINKER article:
…To set the stage, here are a few indisputable facts:
On January 31, 2020, as China confirmed that 259 people had died and there were about 100 cases reported outside of China, President Trump ordered that the U.S. would prevent foreign nationals who had recently visited China from entering the country. He also ordered quarantined American travelers who posed a high risk.
Democrats called Trump a racist.
Democrats were worried that Trump's germ phobia would make him issue even more and worse racist orders.
President Trump held a press conference during which (1) he was surrounded by government scientists who explained what was going on (2) he appointed Vice President Pence, a competent, experienced administrator, to be the White House point person on coronavirus efforts.
Democrats called Pence a killer.
Democrats also announced that henceforth they would call coronavirus "TrumpVirus" because Trump had appointed Pence to oversee the administrative end of dealing with coronavirus and because Trump said there was no need for panic.
Nancy Pelosi complained that Trump had waited too long to act, even though when she spoke not a single American had died.
Elizabeth Warren said that she would end the "racist" border wall by taking all wall funds and putting them into coronavirus research (never mind that, since time immemorial, sealing borders has been one of the prime ways in which governments have been able to protect their citizens from epidemic disease).
Trump stated during the rally in South Carolina that the Democrats' unceasing and dishonest attacks against him for his handling of the coronavirus risk were their latest hoax.
The media reported that Trump had declared that coronavirus itself was a hoax, one of the most blatantly dishonest bits of reporting ever to come from the media.
Leftists are actively hoping that coronavirus causes so much economic disruption that it will hurt Trump politically – never mind that it will also hurt ordinary Americans….
---
Facebook Back-N-Forth
---
A "Never Trumper" friend responded to the following post by me:
(hat-tip to JONATHAN SARFATI) President Trump's TV press conference:
State of emergency declared in the US. $50 billion in aid available and states urged to set up emergency centers.

Laws waived to allow greater availability of hospitals and clear beds for urgent cases—i.e. hospitals can move elderly patients from hospitals to nursing homes more quickly.

Partnership with private sector to test for coronavirus more quickly (results within 24–36 hours). But he says only people should only take tests if they actually have cause to think they have it.

In discussion with pharmacies to make drive-through tests available. Google is developing a website to help people determine whether testing is warranted and direct people to the nearest testing location.

Large retailers are partnering with the administration to fight coronavirus by keeping the supply chain as intact as possible.

One said, "We are normally competitors, but today we are all working together to fight this virus."

Student loan interest is waived indefinitely.

Secretary of Energy instructed to buy strategic reserve of crude oil as the price is very low.

Unified decisive action to combat coronavirus is imperative.

Coronavirus is now in 46 out of 50 states. Important to look after senior citizens and those with pre-existing chronic conditions.

Nursing homes restricting all visits except for essential staff and end of life situations.
His response was thus: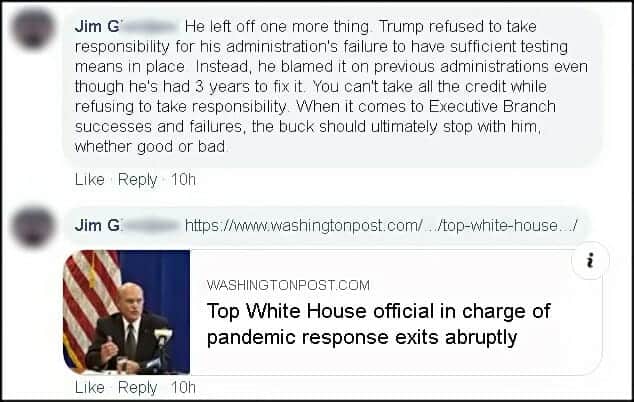 To which I responded thus:
Since I cannot view behind a pay wall. What is the date of that article JIM G? Important information for me to confirm Fact Check rating it half-true. Out of curiosity… what would have been done different with this "official" was there?? (I THEN LINKED TO THIS POST) Three weeks after it was identified Trump slowed the inflow of it drastically? (<< Against the advice of his Cabinet)
This would have been different?
That is the problem with government… once something is put in place, it never is tore down after it (a) fails, or (b) succeeds in its proposed goal. The Trump Admin is different
JIM G. >>>
…In reality, the pandemic expert — Rear Adm. Timothy Ziemer — left the National Security Council (NSC) voluntarily after then-National Security Advisor John Bolton was appointed.
Bolton disbanded the unit that Ziemer was supervising as part of an effort to downsize the bloated NSC staff. The purpose of the unit, which had overseen the global fight against Ebola, had largely been fulfilled.
It is true that Ziemer and his unit have not yet been replaced….
It still should not be put in place, and more of the NSC should be disbanded. And?
---
A Couple Text Responses
---
This was in response to someone basically saying Trump got in the way of experts, and that he should just keep his mouth shut:
Dr. Fauci was interviewed at 3am the other morning [March 24th] (10 minutes of you time:DR. FAUCI INTERVIEWED BY WMAL) and the MSM hasn't referenced his statements once. Also… the quote you are probably referring to is this one: when he was asked if he was worried about this becoming a pandemic:
"No, not at all. We have it totally under control," Trump said. "It's one person coming in from China, and we have it under control. It's going to be just fine." (Jan. 22)
This was essentially three weeks after the first Chinese case was announced, and only 10-days after China shared the genetic information of the virus. (The first American known to have it was January 21st.) So I think you may be wanting something from the President that you wouldn't expect from another. (In contrast to the below excerpted timeline) Trump ordered all flights from China halted January 31st.
By the time he declared a state of emergency (March 13), we had had 49 deaths by that time. It took the previous administration till there were a thousand Americans dead to declare an emergency. I think this is an "orange man bad" scenario. You should listen to Dr. Fauci's wise words.
And in another text stream I responded to the idea that South Korea did more tests with a note from a friend via Facebook:
Trump said the US did more testing in 8 days than South Korea did in 8 weeks. Because this is literally true (we did 360,000 in 8 days to their 350,000 in 8 weeks), Politifact decided that "more testing" meant per capita so they could claim it was false.