(An older two posts somewhat combined with a new Tweet added by Robby Starbuck)
Larry Elder goes through the lies of the media and Democrats saying Trump called the Coronavirus a hoax. Democrat politicians and the Media (and some #NeverTrumpers) continue to spread this untruth, like they did the Charlottesville Lie and the lie that Trump made fun of a man's handicap. The other DOUBLE-STANDARD by the media is that they themselves called the Coronavirus the Chinese Virus or Wuhan Virus themselves. When the "Bad Orange Man" used it they switched gears and said it was racist.
Here are some posts I think are worthy to compliment the audio:
Click on the graphic to open it, then click on the graphic to enlarge it. This comes via Robby Starbuck: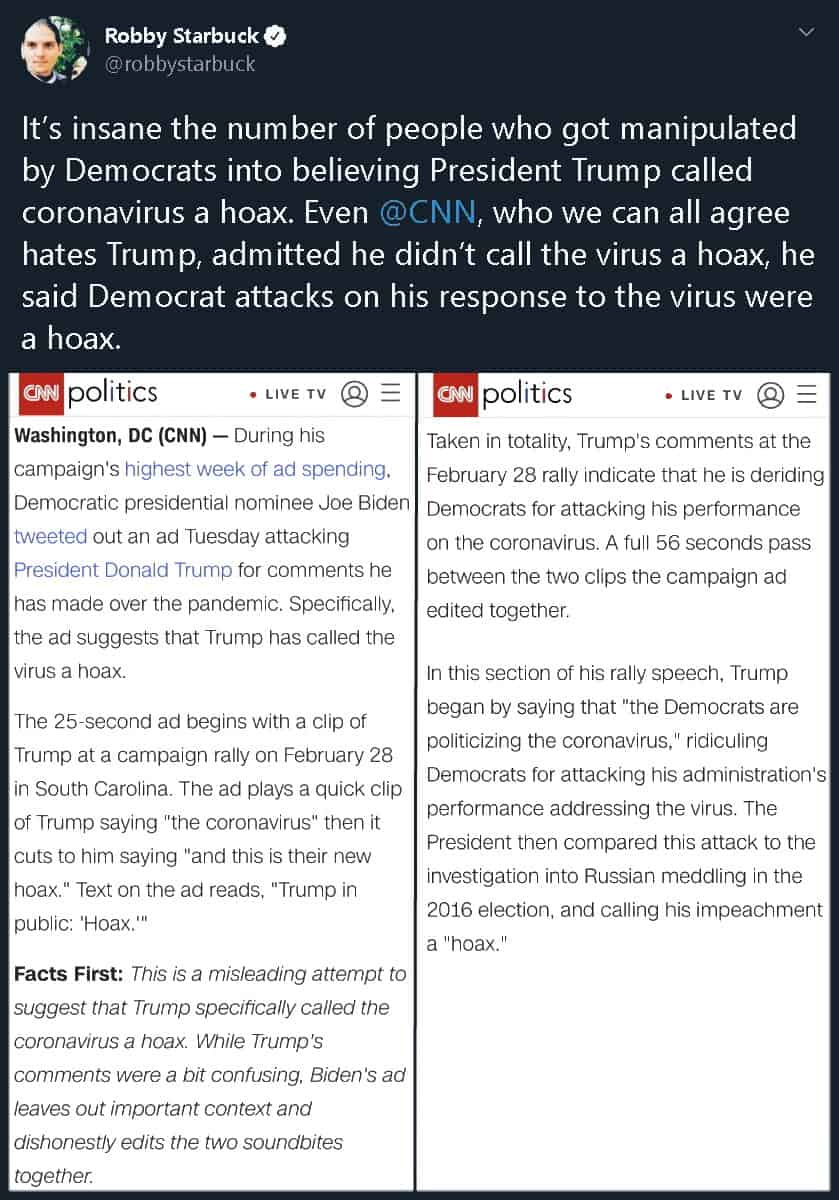 Democrats and the media (and #NeverTrumpers) try to say that the Trump administration refused and slowed test kits for the Wuhan Virus (COVID-19). This just is not the case, as the interview Larry Elder excerpts from between Dr. Anthony Fauci and Hugh Hewitt (YOUTUBE) shows clearly.
---
BONUS
---
The media and Democrats push false Trump coronavirus narrative.
AMERICAN THINKER runs some good Tweets by Steve Guest (You can find the entire Twitter thread HERE):
MUZZLED?! CUT FUNDING?!
Earlier this week, Michael Bloomberg and Joe Biden were called out by the AP for lying about President Trump cutting funding to the CDC and NIH.

The facts from the Associated Press: Financing has increased to the CDC and the NIH.https://t.co/DZ7549XNL0

— Steve Guest (@SteveGuest) March 1, 2020
When the AP fact-checks Democrats… you know its bad. More from an earlier AMERICAN THINKER article: