JUMP TO…
More than half of U.S. deaths are from nursing homes — THE GUARDIAN:
Yale professor describes as 'staggering' research that reveals more than half of all deaths in 14 US states from elderly care facilities
The average age group who dies from "The Rona" is found here in the latest from WORLD O'METER: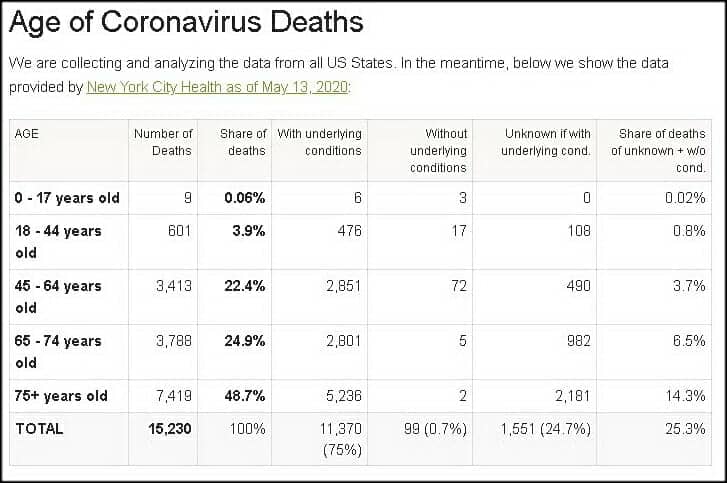 Not only that, but the co-morbidities (just as in flu deaths) are high and in multiples. Some examples:
Of the 22,332 people who died in hospital in England between 31 March and 12 May, 5,873 (26%) suffered from either type 1 or type 2 diabetes, NHS England figures reveal. That was the most common illness found in an analysis of what existing conditions patients had. The other commonest comorbidities were dementia (18%), serious breathing problems (15%) and chronic kidney disease (14%). One in ten (10%) suffered from ischaemic heart disease. (GUARDIAN)
A new study published April 22 in the Journal of the American Medical Association characterizes the symptoms, comorbidities, and clinical outcomes of 5,700 patients hospitalized because of COVID-19 in the New York area. The authors found that 94 percent of the patients had a chronic health problem, and 88 percent had two or more. The three most prevalent conditions were hypertension (56.6 percent), obesity (41.7 percent), and diabetes (33.8 percent). (THE SCIENTIST)
Now, many of these deaths were preventable, but for some reason many of the hardest hit states had a tragic policy of sending elderly patients back to nursing homes to recover. Many of the blue states, where most of the deaths have occurred:
If you live in New Jersey, you are 13 times more likely to die from COVID-19 than if you live in Florida. The Garden State's death rate per million is 895.2, according to the RealClearPolitics coronavirus tracker, compared to only 65.1 deaths per million for Florida. This disparity can't be written off to demography or testing. Florida has a huge elderly population, and it has conducted twice as many tests as New Jersey. (AMERICAN SPECTATOR)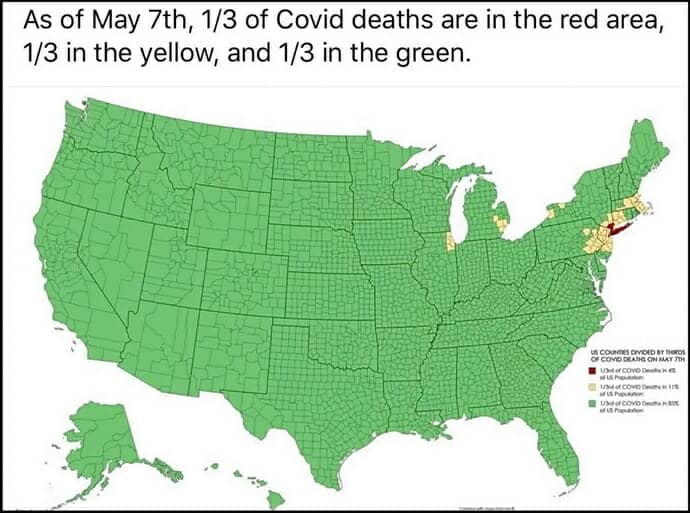 I have a slew of articles regarding this deadly choice by Andrew Cuomo on my site (FULLY reproduced here):
---
Governor Andrew Cuomo's Deadly Decision
---
---
End of Reproduction
---
MAY I ALSO NOTE that I believe the deaths from The Rona are a bit overstated, while Dr. Birx noted that the CDC may be inflating the death toll by 25%, I provide a couple other examples to support my claim. First up, Dr. Birx setting the stage for this with how deaths are coded:
Another example comes from Dr. Ngozi, Director of public health Illinois. She explains how ALL deaths are counted as Covid-19 even if the patient was diagnosed to have die from another disease:
Here is more information from Daniel Horowitz over at CONSERVATIVE REVIEW:
TO WIT… Dennis Prager's guest is Dr. Joel Hay, who is a professor in the department of Pharmaceutical Economics and Policy at the University of Southern California. Both give examples of cancer deaths being coded Covid:
And my third evidence to support my contention a nurse is filmed commenting on the percentages of deaths at NYC hospital. In my posts point #2 (the video still up amazingly) notes that every death cert in NYC-hospital is coded as Rona. In fact, 99% of deaths from that hospital were coded Rona during a period — AN IMPOSSIBLE statistic (https://tinyurl.com/y9awsuor — my site)
A CLEARER PICTURE blog comments on the above indirectly:
However, we are starting to find out that "pure" deaths caused by Covid-19 exclusivelt is low (DAILY WIRE):
Also note that all the anti-body tests are showing a larger infected population than previously considered. REASON.COM previously noted the Stanford study that between "48,000 and 81,000 residents of Santa Clara County, California are likely to have already been infected by the coronavirus that causes COVID-19." Stanford University has revised the numbers to better fit the assumption (via MERCURY NEWS):
---
UPDATES!
---
A friend on FACEBOOK has been a light in the war-torn field of The Rona (Wu Flu) battle of infection rates. Here are two posts of his [combined with a response to a friendly comment from one of his peeps] followed by some recent articles (links to papers will be in graphics):
The original post (OP) on this second strain was a graphic. I will link to the Kent County (Michigan site through it. Here is my FB description of the following: "A person named B.M. wrote on a friends Facebook wall the following regarding "contact tracing." (The original post had to do with hiring government employees to trace citizens with Covid.)"
ALSO, a short bit from Bruce Carrol:
TO WIT…
The SPECTATOR USA has an excellent article backing up the above conversation, entitled, "Stanford Study Suggests Coronavirus Might Not Be As Deadly As Flu: All their estimates for IFR are markedly lower than the figures thrown about a couple of months ago" (This was a SPECTATOR UK original piece –  FYI)
This backs up of course some excellent article by Daniel Horowitz:
A CLEARER PICTURE has a great post about this as well, I suggest if you like what you see you check out that blog weekly.