STANFORD has released a new paper where they look at their own studies as well as "23 studies with a sample size of at least 500 have been published either in the peerreviewed literature or as preprints as of June 7, 2020." In this they find confirmation to strongly say:
MY NUMBERS
Keep in mind in March I noted that the rates would be from 0.03% to 0.25% — not to brag or anything, but I am in the 23-studies lane-lines. I just couldn't differentiate between age groups, but that was assumed as the average age of deaths.
And as states are going over death certificates, they are dropping by at least 25% in deaths by Covid-19. And some independent groups are helping "catch" the inflated number, like Pennsylvania's "Wolf administration was caught this week adding up to 269 fake deaths to the state totals on Tuesday" (CITADELPOLITICS). Or this short example (PJ-MEDIA)
On Thursday, the Washington State Department of Health (DOH) confirmed a report by the Freedom Foundation that they have included those who tested positive for COVID-19 but died of other causes, including gunshot injuries, in their coronavirus death totals. This calls into serious question the state's calculations of residents who have actually died of the CCP pandemic.
Last week, after it was reported that, like Washington, Colorado was counting deaths of all COVID-19 positive persons regardless of cause (which had resulted in the inclusion of deaths from alcohol poisoning), the Colorado Department of Health and Environment began to differentiate between deaths "among people with COVID-19" and "deaths due to COVID-19."
Just one more of the many examples I could share is the New York Times getting 40% wrong of their "died from Covid-19 under 30-years old" front page news story. Mmmm, no, they didn't die of Covid. As states figure this out, the inflated counts (like when Colorado did this — fell by 25%: lots more on this below).
CONTRACTED TWICE?
In a recent conversation two items came up that are worth updating for friends and family. The first deals with if a person can get the WuFlu twice. FORBES has a good article on this:
The second issue was regarding animals being able to contract the virus.
ANIMALS
CNN has a good short response to this:
More "known" examples from the CDC:
A small number of pet cats and dogs have been reported to be infected with the virus in several countries, including the United States. Most of these pets became sick after contact with people with COVID-19.

Several lions and tigersexternal icon at a New York zoo tested positive for SARS-CoV-2 after showing signs of respiratory illness. Public health officials believe these large cats became sick after being exposed to a zoo employee who was infected with SARS-CoV-2. All of these large cats have fully recovered.

SARS-CoV-2 was recently discovered in mink (which are closely related to ferrets) on multiple farms in the Netherlands. The mink showed respiratory and gastrointestinal signs; the farms also experienced an increase in mink deaths. Because some workers on these farms had symptoms of COVID-19, it is likely that infected farm workers were the source of the mink infections. Some farm cats on several mink farms also developed antibodies to this virus, suggesting they had been exposed to the virus at some point. Officials in the Netherlands are investigating the connections between the health of people and animals as well as the environment on these mink farms.
(The below is from June 19th)
COMPARED
MAROON numbers are death rate, and the BLUE numbers are hospitalization rates. Rated by placement as well. This is merely for comparison to decide if $1.1 trillion lost for every month of the economic shutdown and the long-term damage on the U.S. economy, shrinking it by $7.9 trillion over the next decade.
[1] The 1918-19 "Spanish Flu" Pandemic — 675,000 died in the United States, some victims died within mere hours or days of developing symptoms.
[2] The 1957-58 "Asian Flu" Pandemic — 116,000 deaths were in the US. Most of the cases affected young children.
[3] The 1968 "Hong Kong Flu" Pandemic — 100,000 deaths occurred in the United States
[12]

(9)

The 2009 H1N1 Pandemic — About 80% of those deaths are believed to have been people younger than 65 — which is unusual. During typical seasonal influenza epidemics, 70-90% of deaths occur in people over 65. 274,000 hospitalizations, and 12,469 deaths in the United States due to the virus.
[9]

(7)

2010-2011 flu season — 290,000 influenza-related hospitalizations and 37,000 flu-associated deaths
[6](3) 2012-2013 flu season — 56,000 deaths is the CDC estimate. 571,000 influenza-related hospitalizations
[8]

(6)

2013-2014 flu season — 347,000 influenza-related hospitalizations, and 38,000 flu-associated deaths
[7](2) 2014-2015 flu season — 591,000 influenza-related hospitalizations, and 51,000 flu-associated deaths 
[11]

(8)

 2015-2016 flu season — 280,000 influenza-related hospitalizations, and

23,000 flu-associated deaths

[8]

(4)

2016-2017 flu season — 500,000 influenza-related hospitalizations, and

38,000 influenza-associated deaths

[5](1) 2017-2018 flu season — The CDC estimates that between 46,000 and 95,000 Americans died due to influenza during the 2017-18 flu season. This resulted in an estimated 959,000 hospitalizations and a middle-ground of 61,099 deaths.
[10]

(5)

2018-2019 flu season — 490,600 hospitalizations, and 34,200 deaths from influenza 
[4]

(10)

Covid-19 (SARS-CoV-2) — With the adjusted numbers that I believe the flu (a bad influenza season assumed to be novel influenza on untested patients), I would bet we are at about 80,000 or less deaths from The WuFlu. US Coronavirus Hospitalizations is at a current level of 229,212.
---
Steven Crowder takes to the streets of Dallas to have real conversations with real people. In this installment, Steven discusses the COVID19 death count and the fake news surrounding it.
Crowder is posted above as an UPDATE to support my contention below:
(The below is from May 24th, 2020)
Here are some updated numbers, from CONSERVATIVE REVIEW — and I will post a portion of an older post [recently updated] underneath this (also, if the graphics are not linked to ENLARGE, I will link to the Twitter accounts associated with the graphics):

FURTHER TWITTER DEBATE
I wanted to expand the Twitter graphic and link above a bit, I spent some time going through the comments and many of the conversational offshoots. I figured this collection (ending with my comment) sums up the issue in a lot less time:
(Click once to get large graphic, click again to blow it up)

There is a fascinating "official" continuation of this convo with more detail (linked in below Twitter graphic):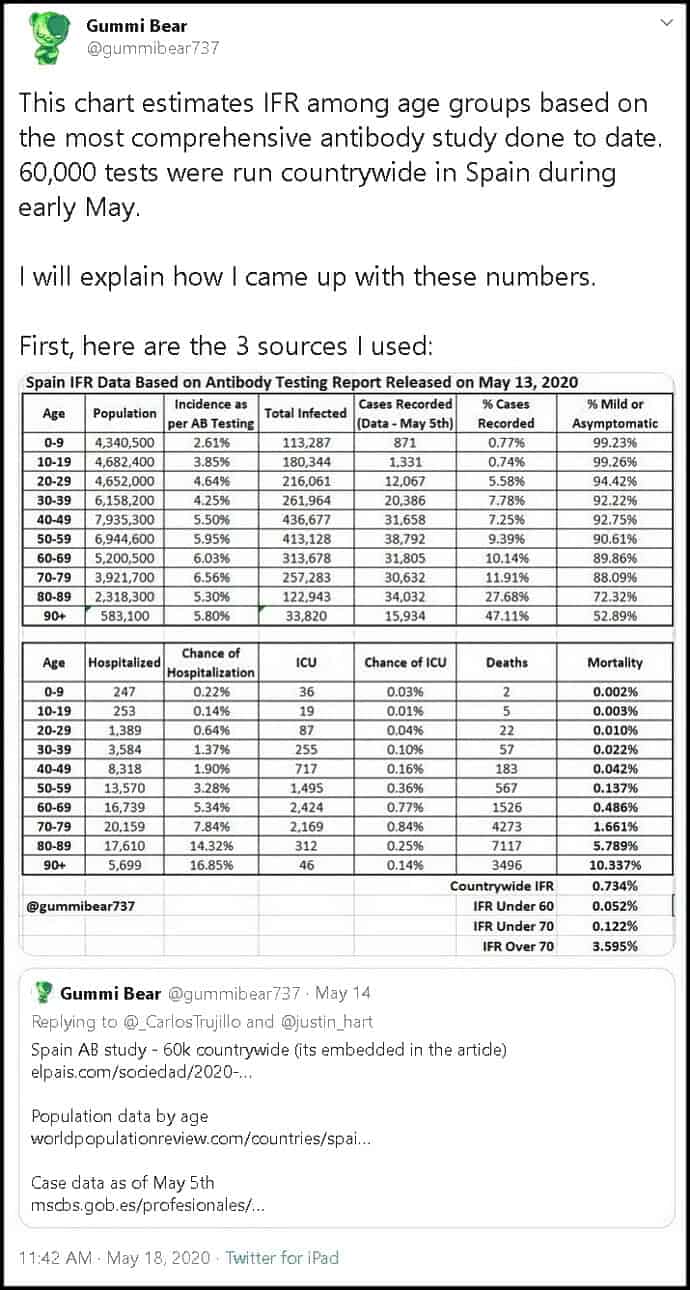 Great, great stuff. All this vindicates my own early numbers,
…all the "anti-body" studies,
…this more recent stuff,
…as well as all the Facebook discussions/debates between myself, friends, family, and complete strangers.
...AND,
…as I show below, this number will get lower upon investigation of common sense assumptions if never investigated.
REASON has their article discussing the issue of IFR and America compared to Europe (see also BLOOMBERG'S article):
IMMUNITIES
Of course there is another twist in the whole story morning glory… even with the vaccine, the virus itself is disappearing naturally as more and more people are naturally getting immune to it through contact (most react with no or minor symptoms), the vaccine will be useless by the time it is produced. (Which is why they will in the end FORCE this on us, to vindicate the monies spent and a need to recoup costs.)
Coronavirus 'disappearing' so fast Oxford vaccine has 'only 50% chance of working' https://t.co/xui1D4MpPL

— Daniel Horowitz (@RMConservative) May 24, 2020
This is because the HERD IMMUNITY rate may be much lower that some have been saying:
Some other posts of mine noting herd immunity:
---
% Asymptomatic Expressions %
---
* I also believe the CDC to be waay off in their assessment of the asymptomatic expressions of this virus. They say it is 35%, I say this is way too low. I would posit the lowest is 50%, whereas the highest is between 80% and 86%. My guess is closer to 80%. Here are some examples to support my statements:
[/color-box]
---
MORE
---
[1] "There are probably 25 to 50 people who have the virus for every one person who is confirmed" — Dr. Marty Makary
Here is my uploaded (truncated) video of Dr. Makary (John Hopkins) being interviewed by YAHOO FINANCE (see their FULL video at YouTube HERE):
[2] 86% of infections went undocumented — Science Journal
Here, the NEW YORK POST (March 17, 2020) notes the journal article by saying:

This information likewise calls into question the "official numbers of deaths" being attributed to the CDC as well as supporting the idea that many more persons have the WU FLU, making the death rate percentages even smaller than being discussed above. I am repeating the below because I think it is crucially important!
Enjoy:
---
other PERTINENT information
---
MAY I ALSO NOTE that I believe the deaths from The Rona are a bit overstated, while Dr. Birx noted that the CDC may be inflating the death toll by 25%, I provide a couple other examples to support my claim.
UPDATED INFO – Real Quick 
First up, Dr. Birx setting the stage for this with how deaths are coded:
Another example comes from Dr. Ngozi, Director of public health Illinois. She explains how ALL deaths are counted as Covid-19 even if the patient was diagnosed to have die from another disease:
Adapted from the above video description is important (via 4 TIMES A YEAR)
Here is more information from Daniel Horowitz over at CONSERVATIVE REVIEW:
TO WIT… Dennis Prager's guest is Dr. Joel Hay, who is a professor in the department of Pharmaceutical Economics and Policy at the University of Southern California. Both give examples of cancer deaths being coded Covid:
And my third evidence to support my contention a nurse is filmed commenting on the percentages of deaths at NYC hospital. In my posts point #2 (the video still up amazingly) notes that every death cert in NYC-hospital is coded as Rona. In fact, 99% of deaths from that hospital were coded Rona during a period — AN IMPOSSIBLE statistic (https://tinyurl.com/y9awsuor — my site)
A CLEARER PICTURE blog comments on the above indirectly:
However, we are starting to find out that "pure" deaths caused by Covid-19 exclusivelt is low (DAILY WIRE):
Also note that all the anti-body tests are showing a larger infected population than previously considered. REASON.COM previously noted the Stanford study that between "48,000 and 81,000 residents of Santa Clara County, California are likely to have already been infected by the coronavirus that causes COVID-19." Stanford University has revised the numbers to better fit the assumption (via MERCURY NEWS):
---
UPDATES!
---
A friend on FACEBOOK has been a light in the war-torn field of The Rona (Wu Flu) battle of infection rates. Here are two posts of his [combined with a response to a friendly comment from one of his peeps] followed by some recent articles (links to papers will be in graphics):
The original post (OP) on this second strain was a graphic. I will link to the Kent County (Michigan site through it. Here is my FB description of the following: "A person named B.M. wrote on a friends Facebook wall the following regarding "contact tracing." (The original post had to do with hiring government employees to trace citizens with Covid.)"
ALSO, a short bit from Bruce Carrol:

TO WIT…
The SPECTATOR USA has an excellent article backing up the above conversation, entitled, "Stanford Study Suggests Coronavirus Might Not Be As Deadly As Flu: All their estimates for IFR are markedly lower than the figures thrown about a couple of months ago" (This was a SPECTATOR UK original piece –  FYI)
This backs up of course some excellent article by Daniel Horowitz:
A CLEARER PICTURE has a great post about this as well, I suggest if you like what you see you check out that blog weekly.