Originally posted here in April of 2011
INTRO/CONTENTS
JUMP TO:
This is a many years update and additional media and pictures added (2023-09-05) to keep this post alive and well. The debate on Tower 7 still rages, and I must say, it is fun to show how awkward the counter position is.
STEVE SPAK
Before starting this "funfest," I will say that one of the best refutations of the truther movement was a video done by fireman and photographer, Steve Spak. I used his mini-documentary for a while, until it was removed from his video account.
I tracked him down and we talked over the phone (many years ago now). I asked him why he would pull such a great resource off the internet. He responded that these nutters would come by his work and interrupt his daily life… so he just didn't want to deal with all the nonsense.
I did track down — finally — an interview with Steve where much of this pertinent information comes out. So this is the first time Steve (God Bless Him) is back on my site in what? Seven years (April 10, 2011) Enjoy:
---
STEVE SPAK was partly in charge of the firefighting efforts around WTC-7, and was one of the main persons involved in the decision to let it burn. I had heard a previous interview years before this one, but Steve pulled it from the internet. His reason? 9/11 Truther crazies would show up at his station and interfear with every day work firefighters do around their station. They would yell at him, call him a liar, etc. He said he had had enough of these nuts and went silent. I believe this interview is after he retired.
---
I am starting to get some truther (e.g., 9/11 conspiracy theorists) traffic so I will post a Tower Seven resource blog for those who wish to come here and see for themselves (or to send a friend).
EDWARD CURRENT 1
---
The last word on the collapse of the original 7 World Trade Center on September 11, 2001. Running down the mainstream engineering explanation, debunking common Truther myths, and answering frequently asked questions. Comments may be intentionally demolished…make your own video if you want to spread misinformation about this engineering disaster, or about anything else.
---
The "truther" would have us believe that the building (WTC 7) received no structural damage. This is just not the case.
FUEL IN WTC-7
Nor do you hear them mention that there was diesel fuel throughout the building: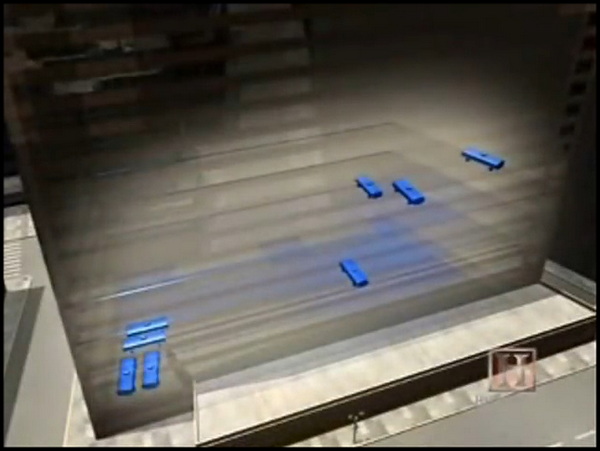 See NCSTAR Report WTC7 pp. 60-63 (104-107) 3.4.2 Diesel Fuel
DAMAGE FROM FALLING DEBRIS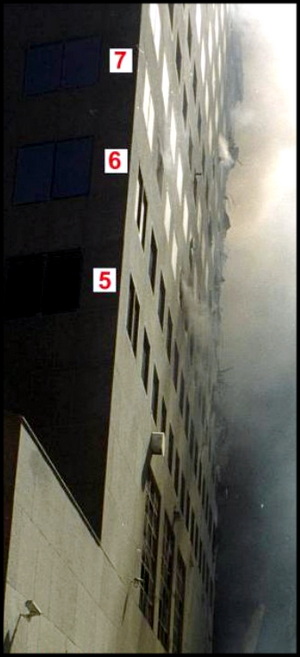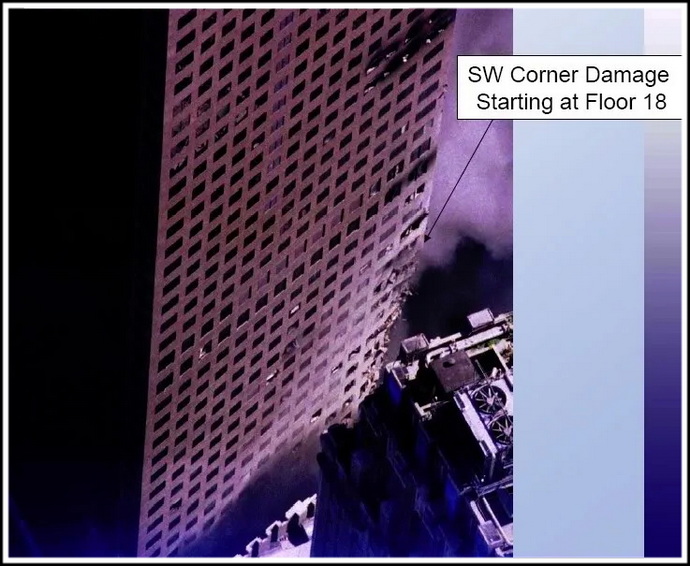 Below are some examples or the damage caused by the collapse of Tower 1 and 2 — that show some of the damage caused by falling debris. What the truthers don't mention either is that the falling debris from the Twin Towers damaged many of the high-pressure water lines the fire department needed to fight the fires in WTC 7. (As already pointed out above by Steve Spak and Edward Current):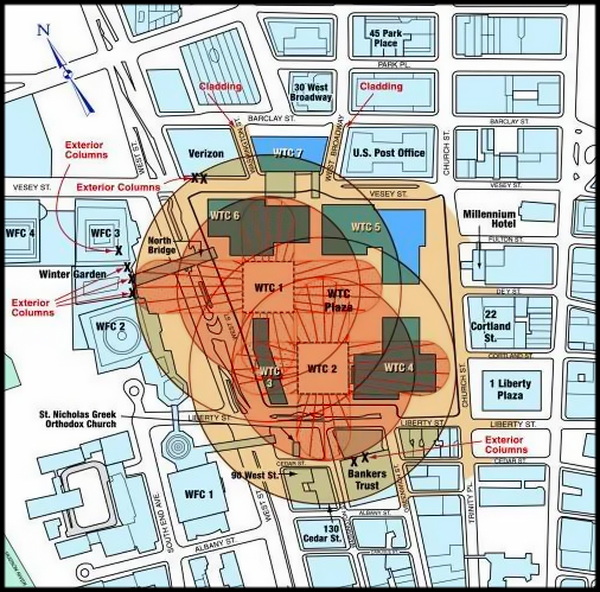 When it was completed in 1973, the World Trade Centre was the tallest building in the world, thanks to many of its revolutionary construction methods. But none of these methods was enough to survive the attacks on September 11th where jet fuel fires led to a weakening of the steel that held the structure together, and ultimately caused both buildings to collapse.
Now I want to show the debris ring and an example (Bankers Trust) of the destruction from the original two towers collapsing: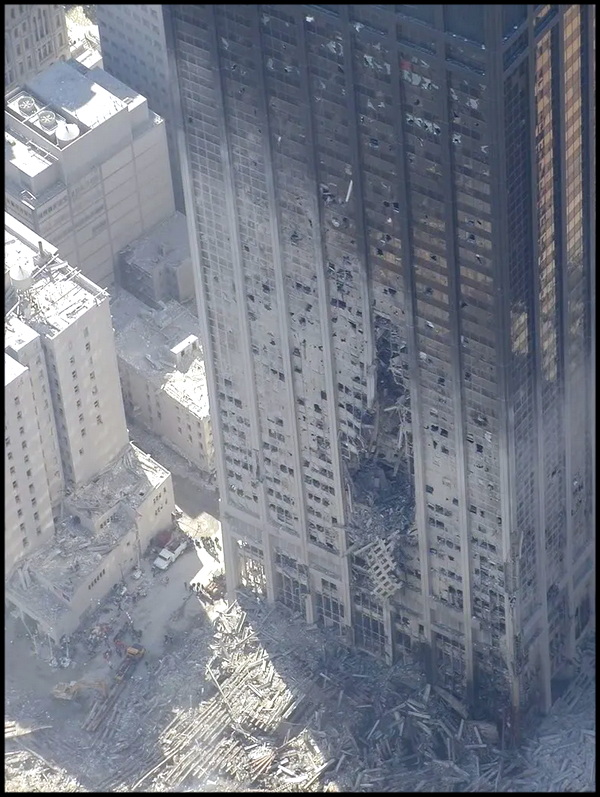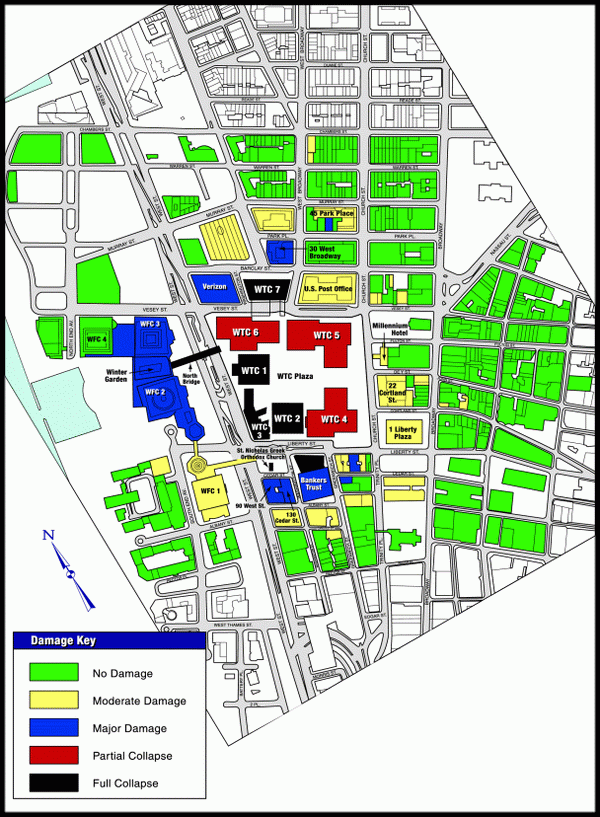 There are also video examples of some of this debris actually hitting WTC 7:
Another lie about WTC 7 is that it took under 7-seconds to collapse… showing a similarity to a controlled demolition.
DEMOLITION? FREE FALL?
As an example of how persistent this idea of "demolition" is of WTC-7, here is a chap on X noting this idea as if it is sound. Think of the power tools (noise and lugging them in and out), the noise, the dust (have you fixed your own drywall at any point?) — all unnoticed: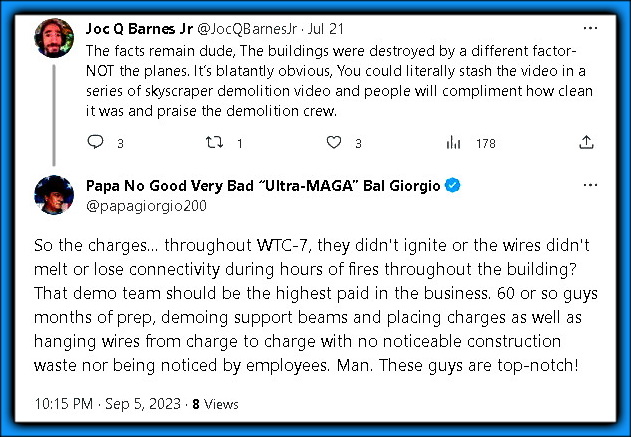 Frankie, below, I think is speaking about the Twin Towers, while I am speaking about Building Seven. The demolition teams required for the Twin Towers would defiantly number 2 teams of 75 people [or more] and take many months of prep with all the associated "mess" noted below — compounded for a larger building and time needed.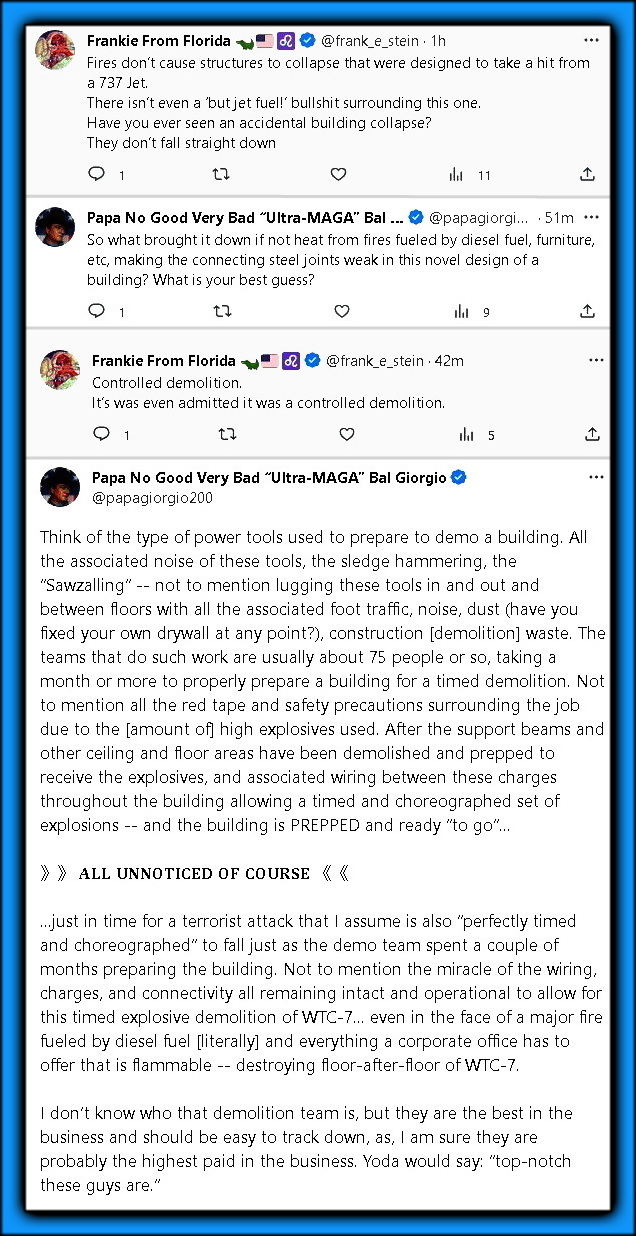 My oldest son commented on the above in a series of texts:
FREE-FALLING
The times that the truthers originally gave to WTC-7 free-falling [in Loose Change and other sources] did not hold up, as this next video clearly shows:
The National Institute of Standards and Technology (NIST) conducted an extensive three-year scientific and technical investigation of the Sept. 11, 2001, collapse of the 47-story World Trade Center building 7 (WTC 7) in New York City. This video describes the results of this study, which concluded that fires on multiple floors in WTC 7–which were uncontrolled but otherwise similar to fires experienced in other tall buildings–caused an extraordinary event. Heating of floor beams and girders caused a critical support column to fail, initiating a fire-induced progressive collapse that brought the building down.
9/11 Debunked: Larry Silverstein's "Pull It" Explained
I love the truth of a matter; it is the truth that shall set you free, not opinion. Be set free truther's, be set free.
FIRES BURNED FOR HOURS!
I want to post some pictures and a video here that will curb some of the wild thoughts that the fire in the WTC-7 was small and contained. Often times this is the photo or scene shown on many of the conspiratorial "documentaries" or sites: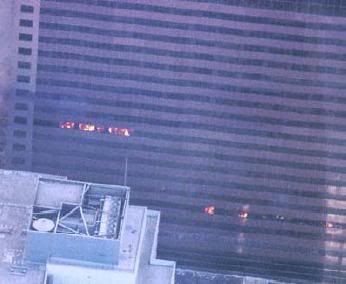 Then the Truther will say something like… "Wow! Such a rager of a fire." HOWEVER, the fire burned for hours, and here are some accompanying pics that should be shared as well: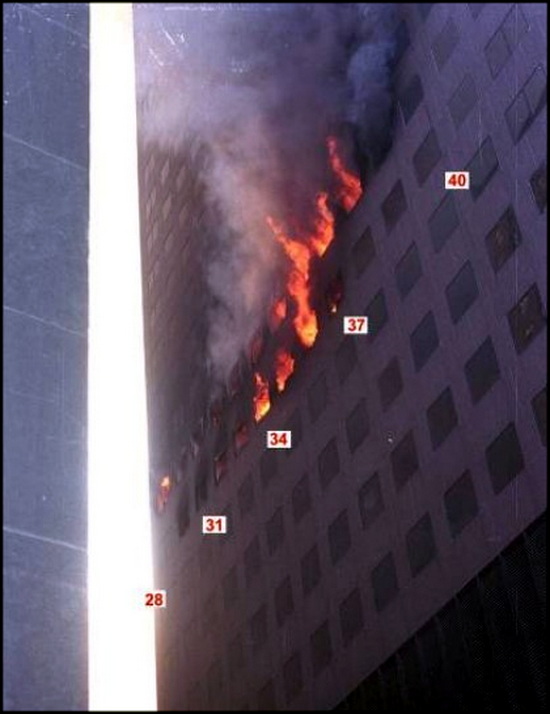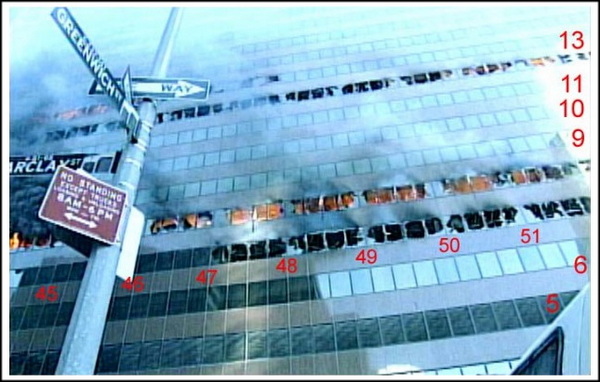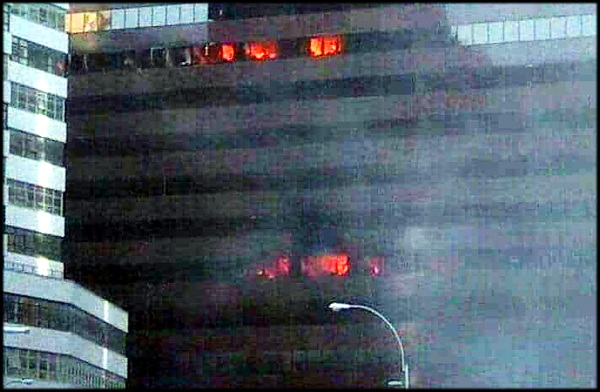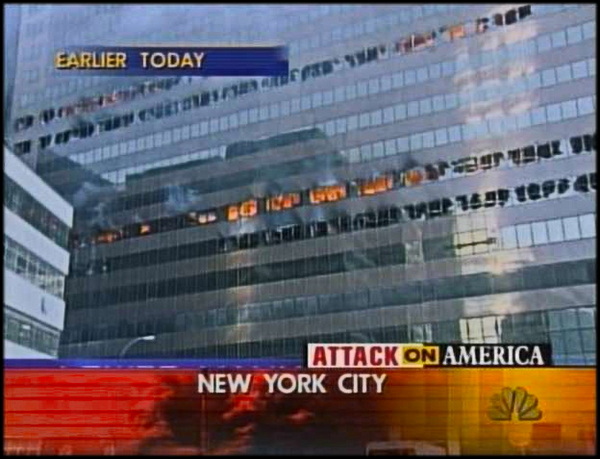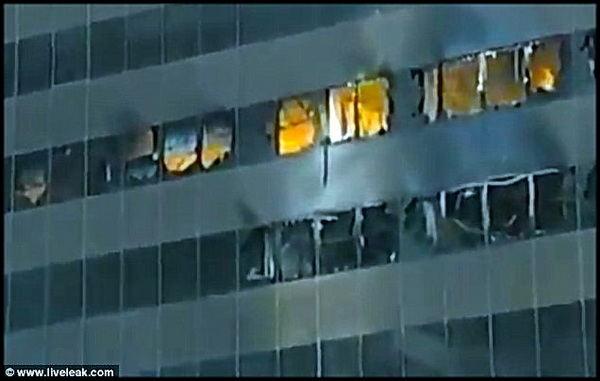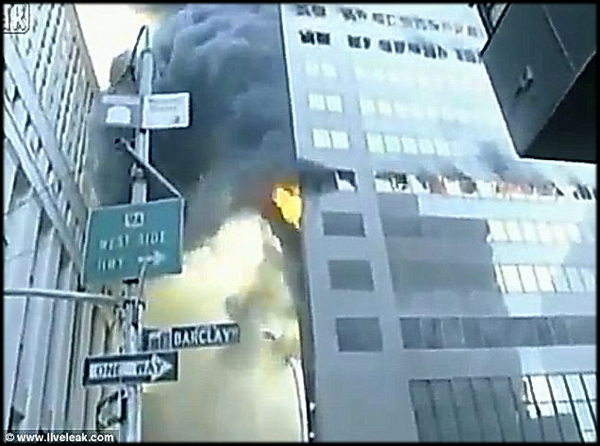 VIDEO OF FIRE – RPT's RUMBLE:
Me hunting the WWW…
All Footage of WTC-7 from Steve Spak's DVD:
"WTC 9-11-01 Day of Disaster"
MORE FOUND AT THE MAIL ONLINE:
It is easy to show the fact that there was a massive fire in WTC-7.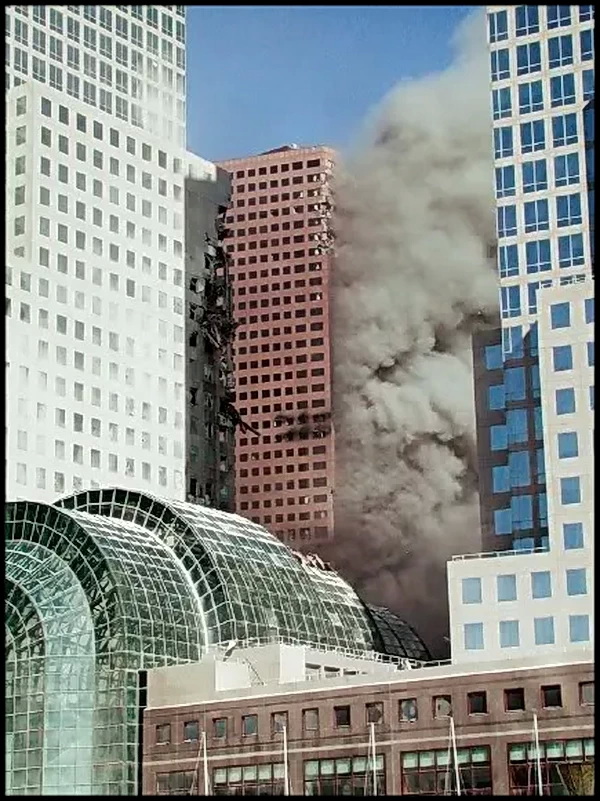 But people cannot be convinced easy… especially if they have thought this to be true for years.
---
MELTING STEEL?
Now I want to switch gears and repost an old blog on "MELTING STEEL," another fallacy of the 9/11 truthers:
FUEL & STEEL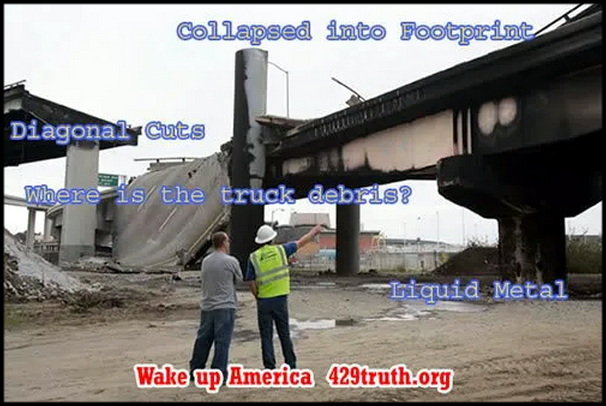 According to the 9/11 Truthers, gasoline doesn't burn hot enough to melt steel. Remember that the type of heat experienced in the Twin Towers weakened the steel by more than 50%. This aside, what you see below is steel melted by gasoline. Apparently this can happen only in steel beams used in the construction of bridges, but not in buildings. (Watch your volume levels – static)

A newer edition to this "heat vs. bridges" is this one from BRETBART:
---
Q & A
---
These are responses, positive and negative to this post. I am sharing a few over the years as they are me responding to some supposed challenges.
BUILDING .. NUMBER .. SEVEN
This was in response to a discussion about the Twin Towers:
POPULAR MECHANICS BOOK (DEBUNKING 9/11 MYTHS) | FUEL
Also note that trusses on the fifth and seventh floors were designed (similarly to WTC 1 and 2) to transfer loads from one set of columns to another.
(The following is added for clarity even though already ): I want the skeptic to look here at the damage caused by debris [let alone the fires] from the falling Twin Tower to building 7: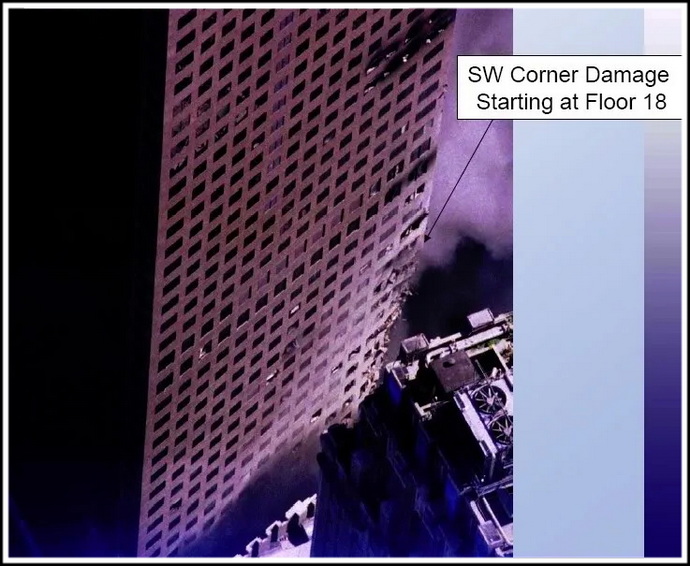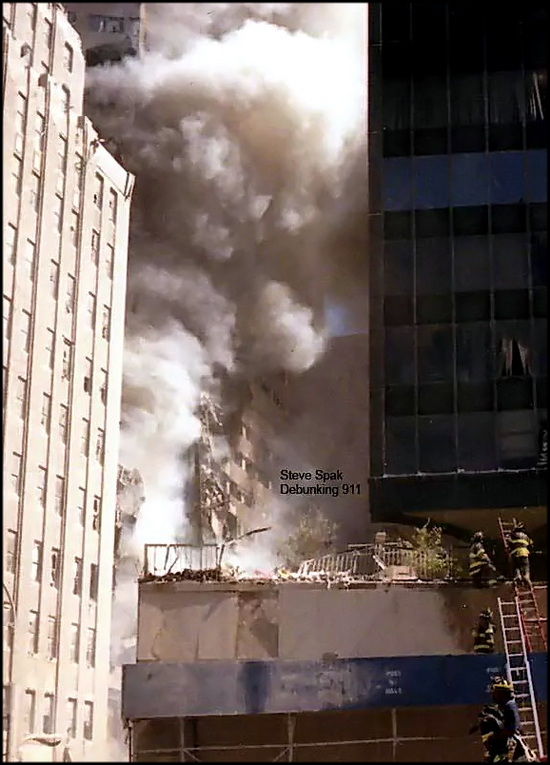 Oooops, I guess the building was damaged after all!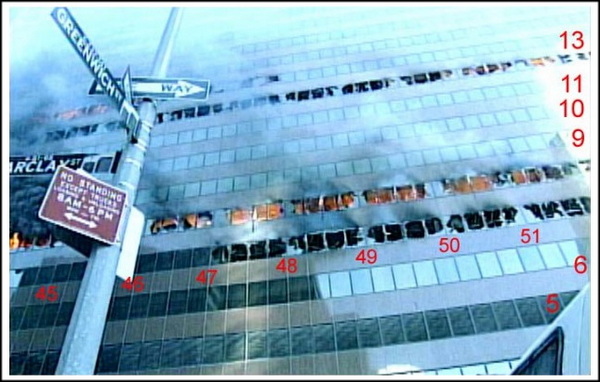 POPULAR MECHANICS BOOK (DEBUNKING 9/11 MYTHS) | BEDFELLOWS
I am including some edited comments I made from another post to make clear some thinking here:
---
A LATER UPDATE
FAKE VIDEO USED AS PROOF
---
UFOs and WTC-7
It's funny because someone just posted this video that Eddie Current made. Here is the video posted on Twitter, with my response:
This video was put together by a well-known Truther on his way out of the movement to make a point. And his point is still being made: https://t.co/LxoKLTVjZW
.

— Papa No Good Very Bad "Ultra-MAGA" Bal Giorgio (@papagiorgio200) July 21, 2023
I guess the guy missed the UFO added as well! LOL:
---
Many 9/11 "Truthers" weren't fooled by my ridiculous fake video of 7 World Trade Center being taken down by controlled demolition. But those who were, well….. gullible people are gullible.
---
A well-known leader in the truther movement, has left the movement — but not before creating a fake video that the 9-11 truthers fell for, hook-line-and-sinker. Here are two videos by him.
HERE IS HIS FIRST VIDEO ABOUT LEAVING THE MOVEMENT:
A semi-comedic — but dead serious — account of my embarrassing brush with the delusional "Truth" movement.
Here is a waaay more in-depth "Pull-It" response.
---
Pull It
---
I can't believe I am revisiting this. At any rate, someone challenged me with the Pull-It "conspiracy," proving [somehw] that the building was brought down by charges/detonation devices. I was asked to watch this:
This is from one of the best sites on this matter, Debunking 9/11's post on Pull-It: