I came across this Tweet and I loved the self introspection of the spiritual "feeling" the Left offers in their myriad of social movements that create a false sense of unified purpose.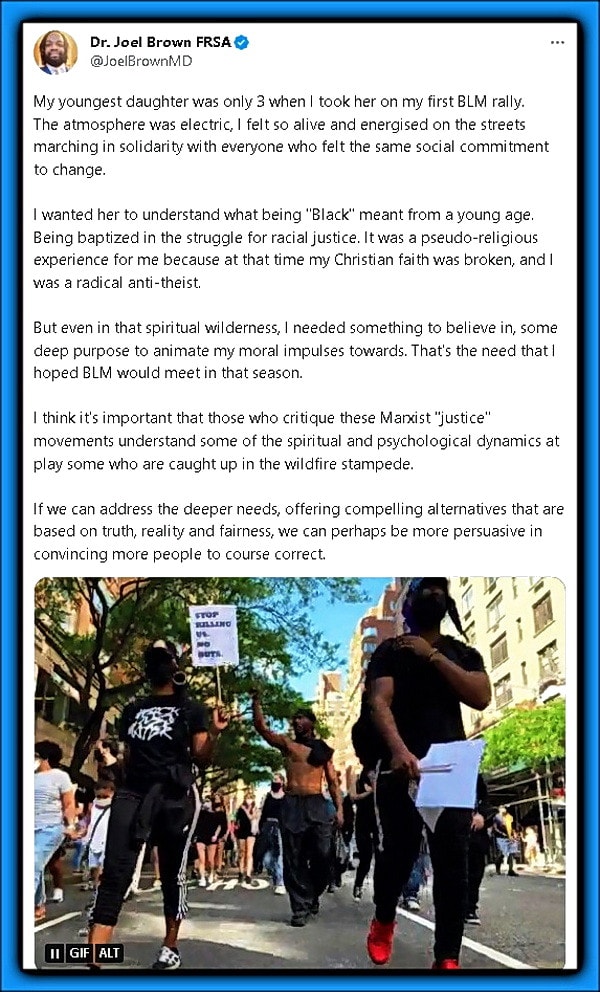 This was Neil Shenvi's response that led  me to a co-authored article that is well worth the read: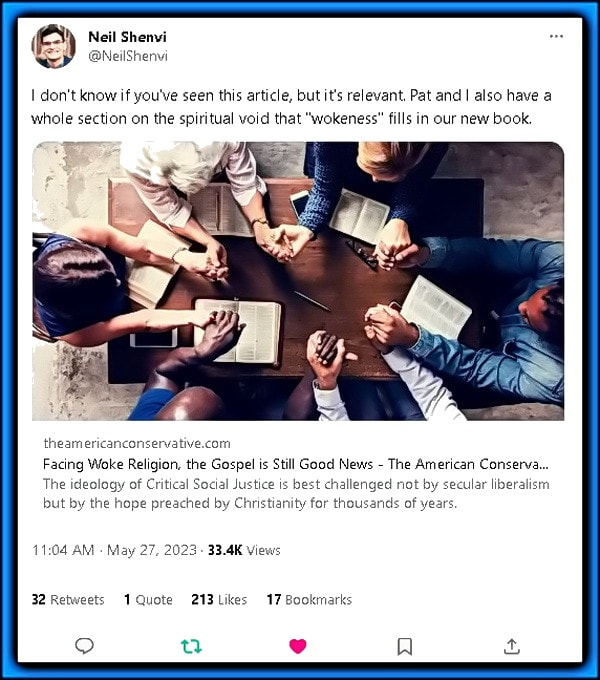 Here are some excerpts, but the entire article is worth your attention — and, if you are a prodigious reader, I suggest marrying it with this book [chapter] chapter (HERE) from Melanie Philipps, book: "THE WORLD TURNED UPSIDE DOWN: THE GLOBAL BATTLE OVER GOD, TRUTH, AND POWER."
Here is their forthcoming book: CRITICAL DILEMMA: THE RISE OF CRITICAL THEORIES AND SOCIAL JUSTICE IDEOLOGY―IMPLICATIONS FOR THE CHURCH AND SOCIETY
More via PRAGER:
Judaism and Christianity hold that people are not basically good. Leftism holds that people are basically good. Therefore, Judaism and Christianity believe evil comes from human nature, and leftism believes evil comes from capitalism, religion, the nation-state (i.e. nationalism), corporations, the patriarchy and virtually every other traditional value.

Judaism and Christianity hold that utopia on Earth is impossible — it will only come in God's good time as a Messianic age or in the afterlife. Leftism holds that utopia is to be created here on Earth — and as soon as possible. That is why leftists find America so contemptible. They do not compare it to other nations but to a utopian ideal — a society with no inequality, no racism, no differences between the sexes (indeed, no sexes) and no greed in which everything important is obtained free.

Judaism and Christianity believe God and the Bible are to instruct us on how to live a good life and how the heart is the last place to look for moral guidance. Leftists have contempt for anyone who is guided by the Bible and its God, and substitute the heart and feelings for divine instruction.
Now for some past posts/uploads of mine… in full….
---
A NEW RELIGION
---
This is a great article via the WALL STREET JOURNAL. I clipped the base of the article as it might not be viewable at WSJ's website. A great and insightful read (h-t to Dennis Prager):
---
the Religion of the Left (David Horowitz)
---