I was put in Facebook Jail fir the following: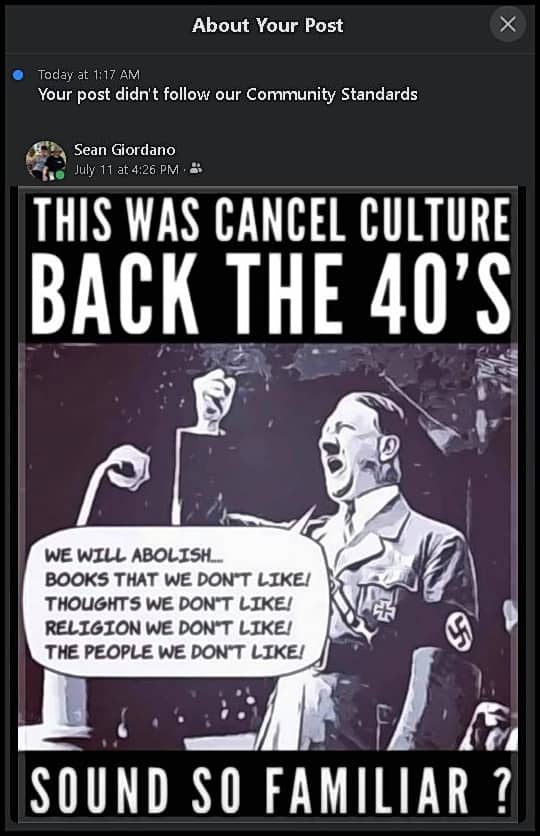 Here are some supporting claims for the record:
POINT 1
Amazon has removed the books of Dr. Joseph Nicolosi, the psychologist whom critics have dubbed "the father of conversion therapy." In other words, for claiming that change is possible for those who experience unwanted same-sex attraction, Dr. Nicolosi's books must be banned… (LIFESITE) [For a better understanding of the issue, read DENNY BURK'S article]
…We still do not know, and may indeed never know, why Amazon has decided to ban Ryan Anderson's book on the transgender controversy. Inquiries from National Review and from Anderson's publisher, Encounter Books, have been met with Bourbon haughtiness: Le marché, c'est moi, says Jeff Bezos. The book, published in 2018, recently has been removed from Amazon, as well as from Amazon subsidiaries Kindle, Audible, and AbeBooks. … (NATIONAL REVIEW)
See also my "HIGH TECH BOOK BURNING"
All the following companies are pushing some type of "woke," politically correct extremism:
News Corporation, owned by Australian-born Rupert Murdoch, includes Avon Books, Broadside Books, Ecco Books, HarperCollins, Harper Business, Harper Perennial, Newmarket Press, and William Morrow, among others.
Hachette Book Group (HBG), which is in turn part of the French conglomerate Lagardère. HBG is home to Center Street, Faith Words, Forever, Grand Central, Little, Brown, and Orbit, among others.
Holtzbrinck, the German multinational, owns Farrar, Straus and Giroux; Henry Holt; Macmillan; Picador; St. Martin's Press; and Tor/Forge—along with many others.
Penguin Random House, itself owned by another German company, Bertelsmann, owns hundreds of imprints and formerly independent publishing houses like Ballantine, Berkley, Broadway, Crown, Dutton, Knopf, Penguin, Putnam, and Random House, to name only a few.
CBS Corporation (formerly Viacom) owns Simon & Schuster, as well as sister companies Atria, Free Press, Gallery Books, Pocket Books, Scribner, Threshold, and Touchstone, as well as the Folger Shakespeare Library.
POINT 2
"He." "She." "They." Have you ever given a moment's thought to your everyday use of these pronouns? It has probably never occurred to you that those words could be misused. Or that doing so could cost you your business or your job – or even your freedom. Journalist Abigail Shrier explains how this happened and why it's become a major free speech issue. (PRAGER U)
Smith College whistleblower hits campus Critical Race Theory indoctrination: "Stop reducing my personhood to a racial category" (LEGAL INSURRECTION)
Meet the Smith College employee whistleblower exposing anti-white racism (THE COLLAGE FIX)
Update: Story of Smith College "Critical Race Theory" Whistleblower Jodi Shaw Goes National (LEGAL INSURRECTION)
---
Later ages are always surprised by the casual brutality of totalitarian regimes. What those innocent ages neglect is the unshakeable (though misguided) conviction of virtue that animates the totalitarians. The historian John Kekes, writing about Robespierre in City Journal some years ago, touched on the essential point. If we understand Robespierre, "we understand that it is utterly useless to appeal to reason and morality in dealing with ideologues. For they are convinced that reason and morality are on their side and that their enemies are irrational and immoral simply because they are enemies." That is the position of conservatives in American culture today. (AMERICAN GREATNESS)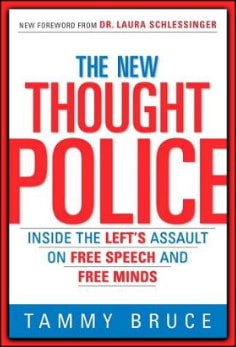 Tammy Bruce's book, "The New Thought Police: Inside the Left's Assault on Free Speech and Free Minds," was an important salvo in all this. Not the first book, but one of the most relevant for it's day. Tammy has noted for years the censorship of the Left, one example is an older post:
The tech companies are just emboldened now. That's all.
POINT 3
Some examples via HERITAGE FOUNDATION
The following examples of cases that the ACLJ has been involved with illustrate this problem:
A New York middle school indefinitely suspended a student for wearing rosary beads for religious reasons in violation of a dress code. The student sued, and after the court issued an injunction, the case was settled, with the school clearing the student's record and paying nearly $25,000 in damages, fees, and costs.

A public school in Hawaii invited parents to include messages to their children in the yearbook but refused to include one parent's encouraging Bible quote. The principal ultimately agreed to include the Bible quote in the yearbook.

The principal of a public school in Indiana withheld permission for a student to pass out religious flyers to other students that contained an e-mail address and website where students could submit prayer requests, although other students had been allowed to pass out flyers with secular content. The superintendent ultimately granted approval for the student to pass out the religious flyers.

A student at a public middle school in New York delivered notes with encouraging Bible verses to a few other students, but the principal told her that, due to complaints from parents, she could not pass out personalized religious notes in the future. After the ACLJ intervened, the student's mother received a letter from the superintendent informing her that her daughter's First Amendment rights would be respected in the future.

A student was told that he could not use the Bible as a historical reference for a writing project on Roman history, although he was eventually permitted to do so.

A student at a public elementary school wrote a short poem in her journal that included the line, "Love is the earth that God made." Her teacher crossed out that line and said that discussion of God was not allowed in class. After the student's father shared a letter from the ACLJ with the teacher, she explained that she had believed that any discussion of religion in a public school classroom was prohibited.

A high school student wanted to drop a music class that required him to sing songs that conflicted with his faith. The principal told the student that he would not allow him to drop the class because he wanted the student to learn "tolerance." The principal ultimately allowed him to drop the class.

The principal of a public school in New York City caused an uproar by refusing to allow kindergarten students to perform "God Bless the USA" at their graduation ceremony. The students had been rehearsing the song for several months, but the principal pulled the song shortly before the event due to a concern about "offending other cultures."
See also this NATIONAL REVIEW article.
POINT 4
The anti-Trump Lincoln Project is building a database of Trump officials and staffers with the intention of holding those people professionally "accountable" for supporting the president, according to Stuart Stevens, a Republican operative who works with the Lincoln Project.
Stuart Stevens revealed in a tweet Saturday that the group is building what appears to be a blacklist. (BREITBART | PJ-MEDIA)
…. if "A"….
…why not "B"…
THE OTHER JOHN MACCAIN has a good post dealing with all this:
See Larry Elder's "Trump's 'Racist' Rhetoric Blamed for Anti-Asian Hate" article for more.