So the lack of cartoonish humor on social media is upsetting. So much so I am going to do a "fact-check" on a "fact-check."

Yes, it is true with the original cartoon I posted on Facebook that 5-year-old's do not get hormone therapy to prepare for sex-transitions, yet, very young children do in fact get hormone blockers and surgery.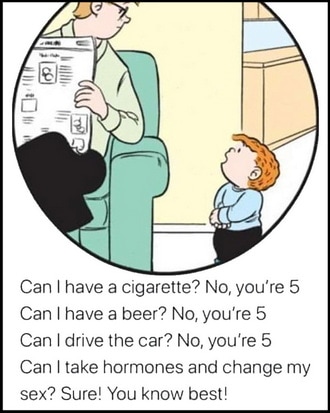 Did I mention VERY YOUNG?
So, I decided to make a cartoon of my own with the current FACTS I know of.
I am curious if I will get "fact-checked" when I upload this to my SSM Facebook page.
Here is what I will post with the cartoon… and a larger version will be available when you click the below cartoon for better reading:
---
NEW FB POST
---
The "fact-checks" are missing the humor of the original cartoon I posted. Both Reuters and PolitiFact would probably say the same if I changed this to an 11-year-old. However, we know that,
A brief report from four doctors at Vanderbilt University, "Gender-Affirming Chest Reconstruction Among Transgender and Gender-Diverse Adolescents in the US From 2016 to 2019" appeared in JAMA Pediatrics earlier this week. It is "the largest investigation to date of gender-affirming chest reconstruction in a pediatric population" to date.

[….]

An estimated 1,130 "top jobs" were performed during those four years on girls as young as 12. [….] According to the data, based on the Nationwide Ambulatory Surgery Sample, the Vanderbilt doctors calculated that 5.5 percent of the children were under 14, 21.5 percent under 15, and 56 percent under 16. I assume if a double mastectomy is done at 12 or 13, a penectomy would be done as well to that age-group? [I assume a penectomy has more health consequences for this age-group, so this may be a later stage surgery.] (See more at RPT)
Typically, hormone therapies/puberty blockers are required a year before surgery, so it is reasonable to assume girls [and boys] as young a 11-years-old have had these "therapies" [child abuse] done to them. I say, "to them" because 11-year-olds cannot consent to such medical procedures and "therapies."