Dennis Prager had on author and historian Paul Kengor regarding his new book entitled, "The Devil and Karl Marx: Communism's Long March of Death, Deception, and Infiltration" (Barnes and Noble | Amazon). The Teen Vogue article Paul Kengor mentions in the interview is here: "Teen Vogue To Teen Girls: Marx Good, Reagan Bad: Trendy Ignorance Never Had It So Good"
I add some larger montages of video near the end to bring home the ideas being spoken of. A shorter version (talking just about the Devil) is here:
I DO WANT TO MENTION one of the sources used for additional video information, and that is this fuller video that I pull a segment from: "The Vortex — BLM Is Anti-Catholic" I use this video in my post here: "BLM Is Anti-Christian"
(Editor's Note: power, or "kingdom," is the goal of Leftism. ALSO, A fascination with ethnicity as well seems to be permanently embedded on the Left as well:
JUST ONE MARX EXAMPLE:
(Click To Enlarge)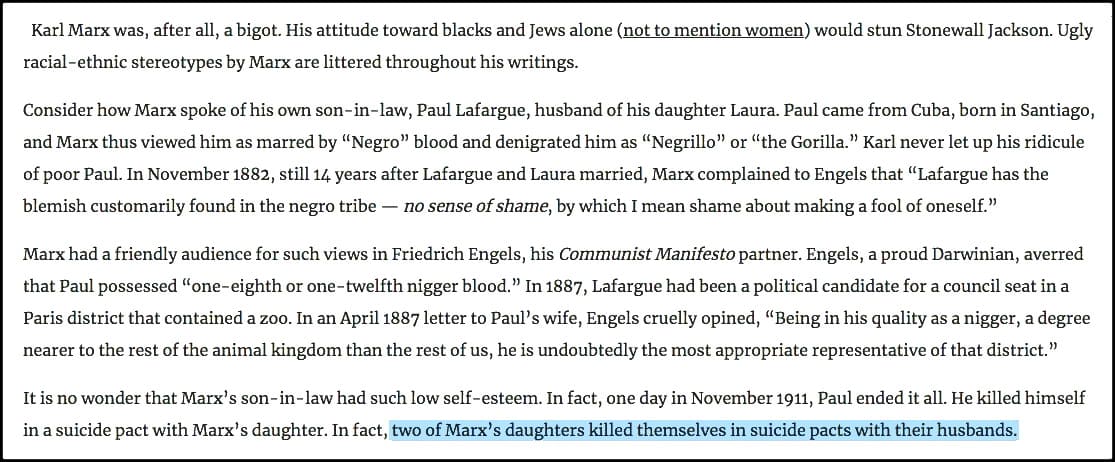 Here are a PLETHORA of racist quotes by Karl Marx.
MODERN EXAMPLE (Dems and MSM)
See also the genocidal claims of Marx and Engels here: "Karl Marx: 1st To Suggest Political Genocide On Massive Order"
Related as well is this post and others linked in it: NAZI Occultism