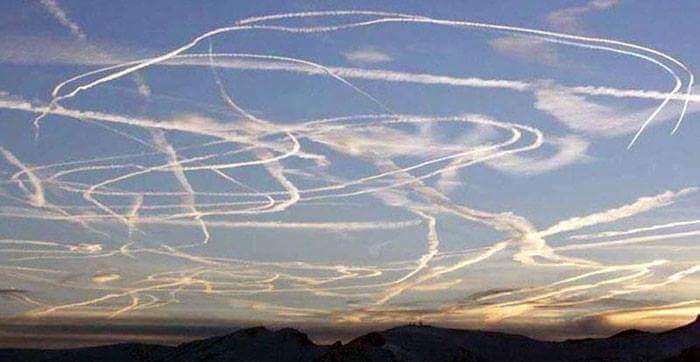 In a recent exchange, a believer in chemtrails posted the above photo and sarcastically asked if these pilots were drunk. Actually [I thought to myself] they looked like military maneuvers via fighter jets… so I got to looking. I eventually found out where this person got it from, Geoengineering Watch:
(click to enlarge)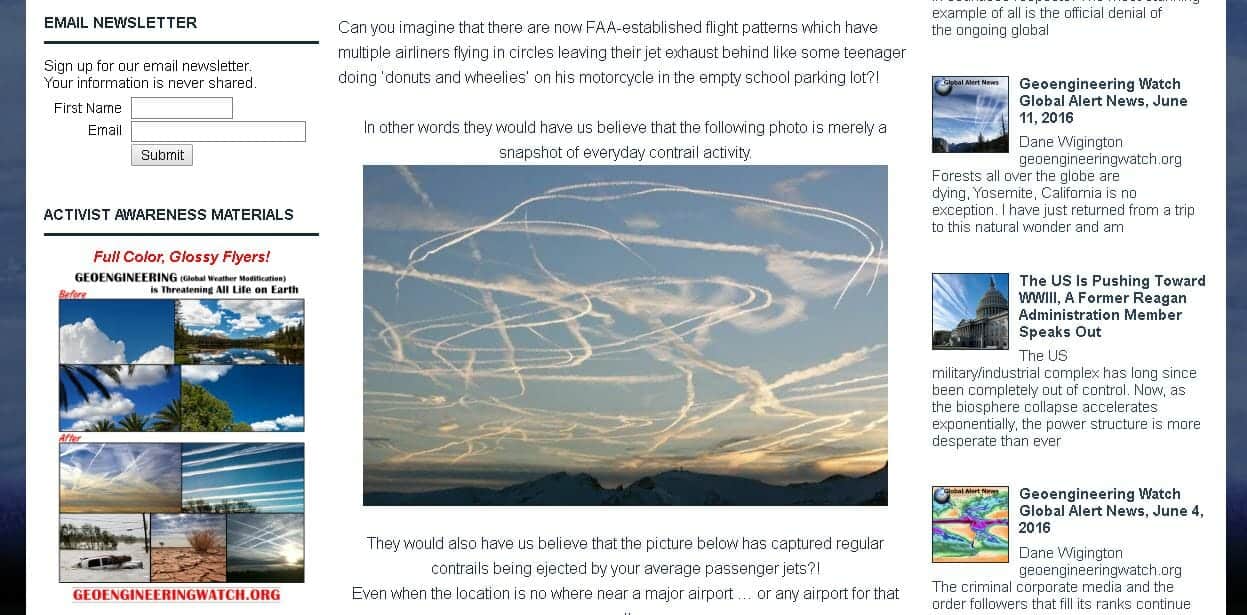 (BTW, just about every photo on that page does not support their premise!)
So I did about 45-minutes of looking and eventually found the source of the photo (thanks to a feature in BING). It is a Chinese media internet channel (see original post here, be sure to have google translate the page if you are still a skeptic). Bingo… military.
Then I found it on METABUNK:
"It's actually from a 2007 photo of contrails left during an exercise of the Chinese air force practicing high altitude dogfights between F-10 and SU-27 fighters"
Yep. Geoengineering Watch caught knowingly lying and misleading people again: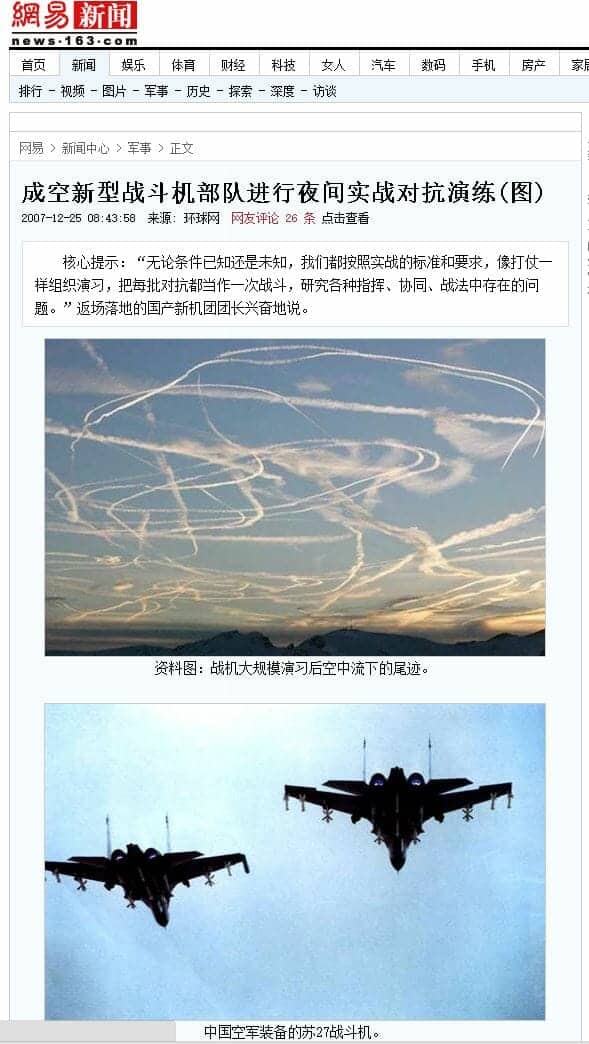 METABUNK is supposedly owned by the evil, nefarious government set to control us through ice-crystals.[/sarcasm]
THIS IS THE MAIN POINT (humor aside) to remember when someone is backed in a corner and they say this type of thing… say, "okay, let us assume you are right… how does that information of a government owned entity negate these counter points and seeing the phenomenon happening since the dawn of flight?"
In-other-words, if the government, or Sasquatch owned the website (which neither do) , that would not impact at all the point made.
The person who posted the original photo keeps telling me to look up in the sky and see for myself… take note I have pointed out this phenomenon has happened all the time, and that all the below picture ARE someone looking up! To wit, here are a couple other pics I thought were very interesting due to their historical connection to WWII. Here is the info on this first picture (via WIKI):
Fighter plane contrails mark the sky over Task Force 58, during the "Great Marianas Turkey Shoot" phase of the battle, 19 June 1944. Photographed from on board USS Birmingham (CL-62). (Battle of the Philippine Sea, June 1944)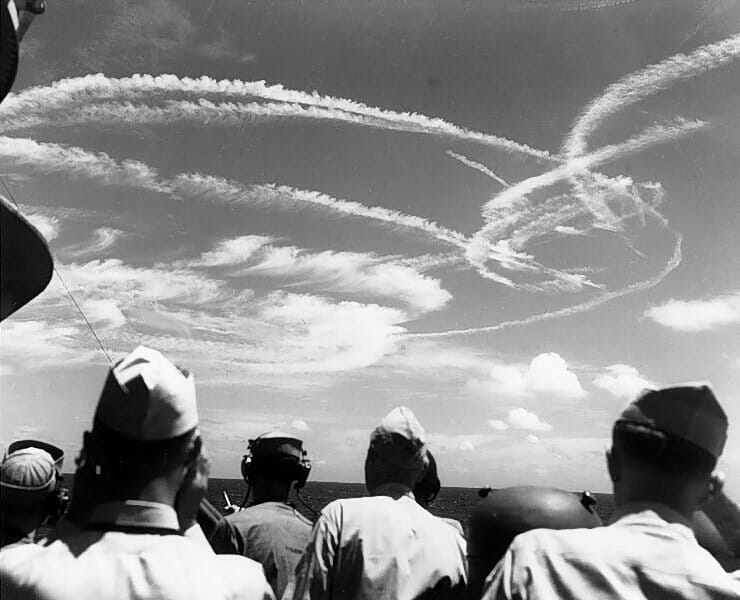 Here is the second historical shot described (I found this one at The Atlantic):
The condensation trails from German and British fighter planes engaged in an aerial battle appear in the sky over Kent, along the southeastern coast of England, on September 3, 1940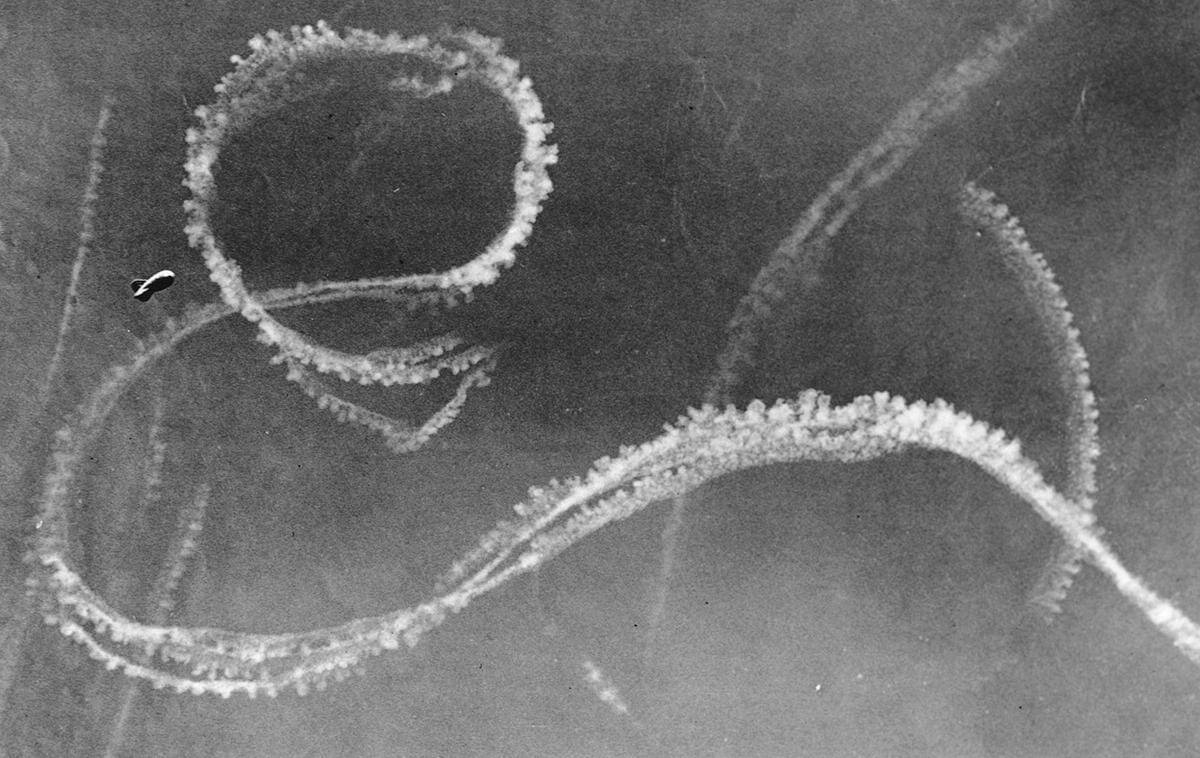 This third one is a Life Magazine shot (many more Life Mag pics can be found here at Contrail Science):
1944 – Allied aircraft vapor trails in skies above (prob.) farmhouse in the Ardennes Forest during last days of the Battle of the Bulge, the final major German offensive of WWII.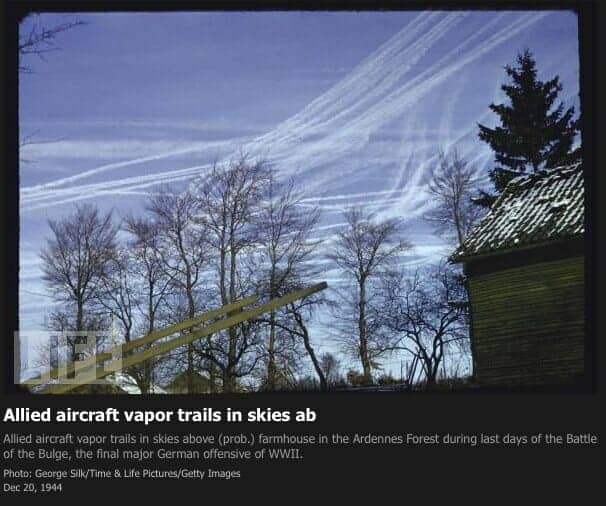 God I love history!