CORRECTION OF OF THIS POST
A Facebook comrade (M.B.) pointed out that the NEW YORK TIMES TWITTER graphic is wrong. Either by a computer generated error or human error. What is not pointed out CLEARLY, which I see now, is that in the twelve days studied there was a benefit, and common sense would say there would be after that 12-days. But that is the only time span studied.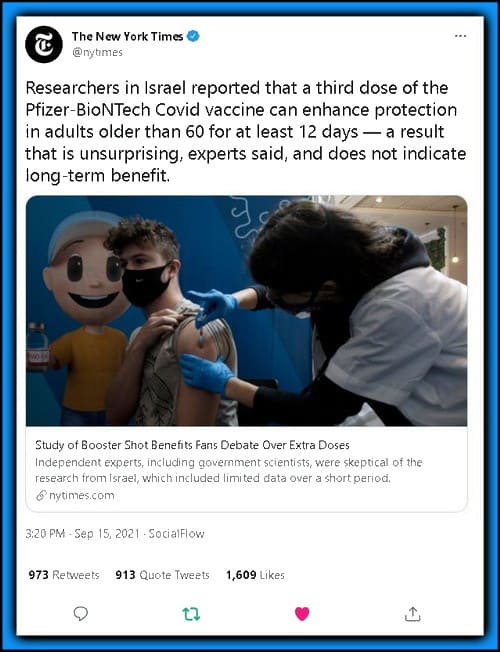 Some interpreted it thus: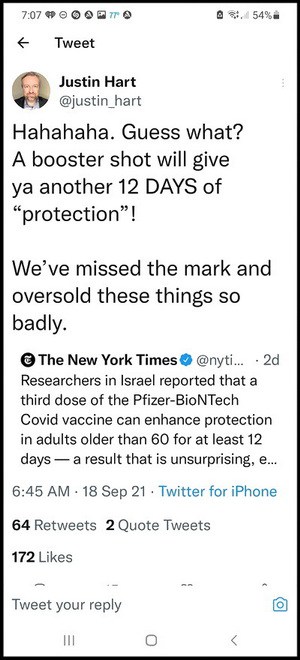 Again, I agree with M.B., this is taken from it's context.
The SEATTLE TIMES  didn't make this too clear either:
Wading into an acrimonious debate over booster doses, researchers in Israel reported Wednesday that a third dose of the Pfizer coronavirus vaccine can prevent both infections and severe illness in adults older than 60 for at least 12 days.
I can see how that is misinterpreted, which I was a party to as well. Here is — for instance — the NYT's quote that seems to prove M.B.'s point:
YAHOO NEWS notes the same: