This is Dr. Dan Stock addressing the Mt. Vernon School Board in Indiana over the futility of mask mandates and Covid-19 protocols in most schools. (Hat-tip to HANCOCK COUNTY PATRIOTS)
so conversation on my Facebook and some early early morning reading is what follows. The first portion is via my RPT FACEBOOK and some honest dialogue follows my descriptor to the above video:
---
Facebook Convo
---
What follows is the same OP but on my personal FB:
S-o-o-o Ditto
---
(MIKE B.) Sean G. [ME] those stats are crazy. Who is checking their accuracy. They say if you are vaccinated you are more likely to have a severe case. That just isn't in the same zip code as truth
---
(ME)  Those stats are out of Israel… who have the highest vaccinations out of almost all countries. And are on their third booster shots. Again:
"95% of the severe patients are vaccinated".
"85-90% of the hospitalizations are in Fully vaccinated people."
---
(MIKE B.) Sean G. I can say locally Florida is on fire. And it is the anti-Vaxxers that are hospitalized. And I agree it is a choice
---
(ME)  Mike Baxter the response to this is similar to Israel… many are the elderly, and many of them have been vaccinated. So whether vaccinated or not, this virus is bad for older people.
Israel's third booster is failing….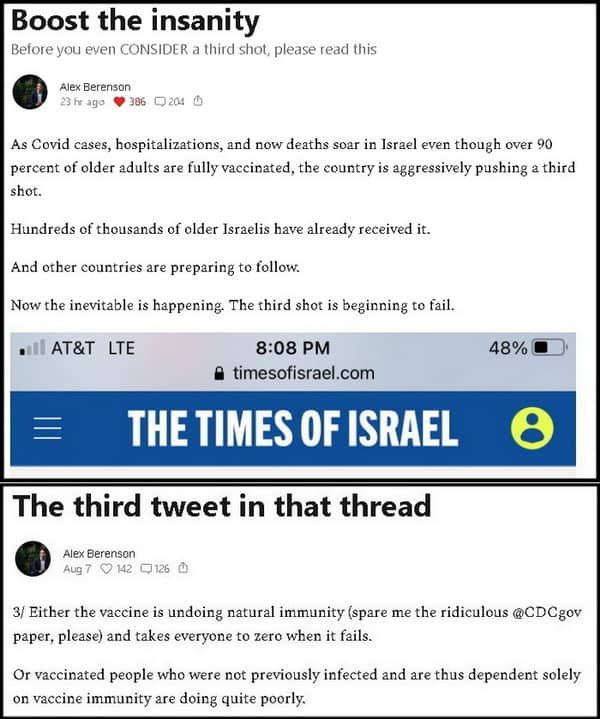 ⁠Same in Florida… HOWEVER, since the normal seasons start in the 9th month (we are in the 2020-2021 season*), the pic of Covid deaths of Florida is probably way less than the flu seasons I speak of (the OP) in Florida, or similar.
(From Florida's Health Dept)

---
* (This was a response on my RPT page to an ally who had a question on the same OP):
So, the Alpha Covid strain was here in September of 2019. So the Covid season "A" was 2019-2020. We are now in a 2020-2021 season. The numbers from this season need to be separated from the previous. I bet we are closer to bad seasons from previous years. And next year will be better. But like other flu strains, we will have Covid with us forever. (Flu shots are a hodgepodge mixture of various strains, and people who get it hope one of the many strains in the shot get close to the actual, and so lessons the symptoms if they get the flu. Same here. These Covid strains may be in a cocktail mix in the future.)
[/stextbox]
---
Articles & More
---
(Click to Enlarge)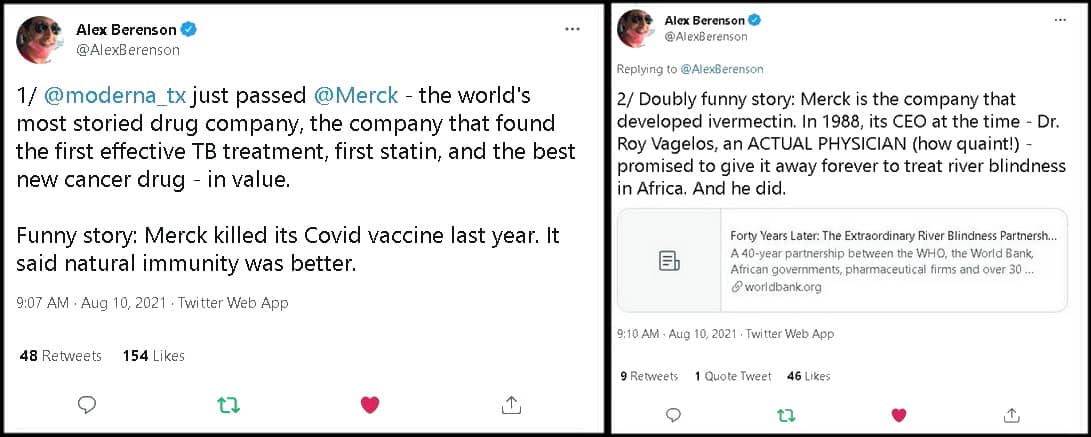 COVID-19 NATURAL IMMUNITY COMPARED TO VACCINE-INDUCED IMMUNITY: THE DEFINITIVE SUMMARY,  By Sharyl Attkisson
THE BEAUTY OF VACCINES AND NATURAL IMMUNITY, By Jay Bhattacharya, Sunetra Gupta, and Martin Kulldorff
BOOST THE INSANITY: Before you even CONSIDER a third shot, please read this, by Alex Berenson
SOME ACTUAL NEWS: About Moderna adverse event reports, by Alex Berenson
(Click to Enlarge)
BIRTHDAY VS. BIKERS: Elites display double standard over Obama bash, motorcycle event, JUST THE NEWS
(Also: Den Rep. Rashida Tlaib Blasts Rand Paul For Resisting Mask Mandate…. Promptly Seen Dancing Maskless At Indoor Wedding…)
Pediatrician: Don't 'Facemask' Your Child: Medical science proves a face mask can be harmful for children, AMERICAN SPECTATOR

Most important in this post is this, WHERE CAN I GET Hydroxychloroquine and Ivermectin? AMERICA'S FRONTLINE DOCTORS has a consultation sign up HERE! See also FLCCC ALLIANCE (Click Pic)