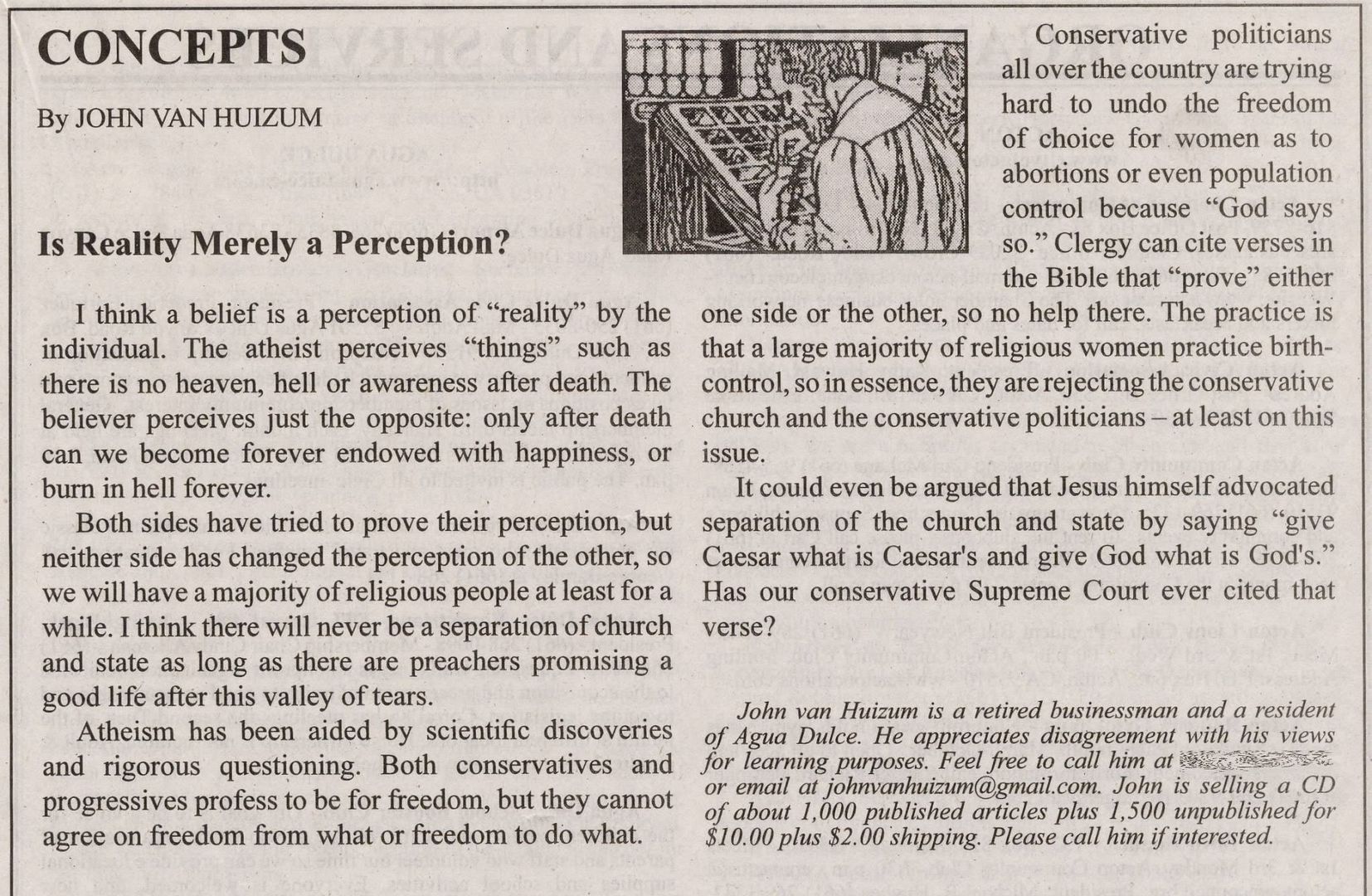 (As usual you can enlarge the article by clicking on it.) I enjoyed this weeks Concepts by John Van Huizum. While he showed the usual lack of deep study and merely expresses opinion as such, he is right about one thing… reality is perception. In Planned Parenthood v. Casey (1996), the 9th District Appeals Court wrote:
 I have a feeling that John would agree with the following statement:
"If relativism signifies contempt for fixed categories and men who claim to be bearers of an objective, immortal truth… From the fact that all ideologies are of equal value, that all ideologies are mere fictions, the modern relativist infers that everybody has the right to create for himself his own reality…"
More on Johns Relativism (cultural relativism/subjectivism, relativism, pluralism) later.
In Christian apologetics, often times the person doing the perceiving is said to have a pair of colored glasses on:
After this mentioning of "perceptions," or, really one's worldview, John starts down his normal rabbit trail of ideas stuck together, his straw-men "set-ups," and the like. For instance, perceptions are often changed… usually when an unprepared youth of faith goes off to college and finds a university teaming with…
…they will typically reject their childhood faith, and not set foot into a church till their thirties/forties. It is said that men stop going to church at 18 when their mom stops dragging them, and start back up when their wife drags em' back (why men hate church).
Typically though, later in life the person in question will start reading some scholarly Christian works, or family harkens them to their childhood faith, someone close dies, life hits em' hard, something happens that draws them back into their faith. Even within someone's faith there are levels of trust in believing. Professor Stokes points out that such doubt is natural to a person,
So people are a bit more complicated than space could allow John to state, or that he cares to ponder. I will also agree with him that this conversation has been going on a very long time.* Cicero is a great example, he was born in 106 BC and died in 43 BC, and said the following in response to the skeptics of his day:
So yes, important topics and questions are new to every generation, but these queries have been asked for a very long time, and should continue to be. Believing that mankind will outgrow their "superstitious" faith is merely someone displaying their metaphysical naturalist presuppositions. Now on to another aspect of a statement by John. He said,
❂ "Atheism has been aided by scientific discoveries and rigorous questioning."
I think this is true if one looks at the situation wrongly. When people do not try on other pairs of glasses, become skeptical of their skepticism, do not use self-refuting propositions (similar to Vincent Bugliosi), or study to see which worldview offers a better explanation, they can become ideologues (religious or secular):
For example, apologist Lee Strobel talks to a philosopher about the evidence that culminated in many atheists rejecting (or wanting to reject) science because of its implications FOR God, or origins [Side note… Einstein introduced the Special Theory of Relativity in 1905, when applied to the universe as a whole in 1915, it became known as the General Theory of Relativity]:
Here are just two (of the many examples I can provide) of an atheist and an agnostic commenting on the above evidence:
✪ "The essential element in the astronomical and biblical accounts of Genesis is the same; the chain of events leading to man commenced suddenly and sharply, at a definite moment in time, in a flash of light and energy…. The Hubble Law is one of the great discoveries in science; it is one of the main supports of the scientific story of Genesis." ~ Robert Jastrow: American astronomer and physicist. Founding director of NASA's Goddard Institute for Space Studies, he is the director of the Mount Wilson Institute and Hale Solar Laboratory. He is also the author of Red Giants and White Dwarfs (1967) and God and the Astronomers (2nd ed., 2000).
✪ "Certainly there was something that set it all off. Certainly, if you are religious, I can't think of a better theory of the origin of the universe to match with Genesis." ~ Robert Wilson: is an American astronomer, 1978 Nobel laureate in physics, who with Arno Allan Penzias discovered in 1964 the cosmic microwave background radiation (CMB)…. While working on a new type of antenna at Bell Labs in Holmdel Township, New Jersey, they found a source of noise in the atmosphere that they could not explain. After removing all potential sources of noise, including pigeon droppings on the antenna, the noise was finally identified as CMB, which served as important corroboration of the Big Bang theory.
So, far from atheism being supported by science, the theistic worldview has been exemplified above all other models of interpretation (perceptions) of reality. Mind you this isn't "proof" how the naturalist wrongly interprets the empirical method (scientific positivism), but it is a probability that exceeds others. (I suggest taking time, about an hour, and listen to this presentation by William Lane Craig on the evidences for theism over other worldviews.) Here John makes one of his signature jumps from one topic to a completely different one. I sometimes feel — shot in the dark again — he does this with the idea that he is saying something "scientific" and that everyone should credit his knowledge in on this particular topic (which is not the case), and then he brings that "trust" into a completely different topic.
Odd, to say the least. At any rate, freedom is something atheism does not account for, determinism is (enjoy the John Cleese video to the right). But that is a subject left for another day.
At this pivot point regarding freedom in one sentence to abortion in the following deserves some attention. Mr. Van Huizum seems to think that those who stand against abortion are doing so because God says. There are many atheists who are pro-life. How do they make their argument then? Science! Oooooh DRAT! Foiled by his own premise. If John had a grave to roll over in, he would. Here, for example, is model Kathy Ireland using the scientific laws to make her point:
Here is one the best presentations detailing some of the above by Scott Klusendorf, a guy who's specialty is the pro-life position in contradistinction to the pro-choice one. [Actually, since one position is "pro-life," the other one is rightfully the "pro-death" position.] (Audio presentation to the right, 30-minutes.) So John Van Huizum's statement that the pro-life position is merely based on "God says so" seems to be — either out of ignorance or bias — a straw-man argument of what the other side truly believes. Again, John seems to cheapen these important issues, not giving the other side its proper due.
Right when you think Mr. Huizum is staying on one topic, he switches again in his last paragraph by quoting a verse about taxes, as if this verse has something to do with a letter from Jefferson to the Danbury Baptists. I dissect this position quite a bit in my paper found here, but this quote from a seminary level text that touches on the idea (separating the religious realm from the secular) John expresses:
So you see that — again — John's understating of theology, culture, philosophy and science is one that is the culmination (I suspect) of a life lived rejecting the other side of the issue as mere opinion… or worse yet, as delusional, without really taking into consideration the best of the opposing views scholarly arguments. All this evidence being shown I suspect that john rejects faith, God, conservative ideals for psychological reasons more than evidential. I will begin to end this critique with a presentation by Dr. Paul C. Vitz, Professor of Psychology at New York University (emeritus?).
Now, I promised to end with more on a quote I used from the 9th District Court that I thought John would agree with. Let's compare a portion from both statements:
1) "At the heart of liberty is the right to define one's own concept of existence, of meaning, of the universe and of the mystery of human life…"
2) "…the modern relativist infers that everybody has the right to create for himself his own reality…"
Whether you're an Atheist, Buddhist, Hindu, Christian or Muslim, agnostic, [Democrat, Republican, Libertarian], it doesn't matter. Your reality is just that… your reality, or opinion, or personal dogma. I want to now complete one of the quotes that I left somewhat edited, not only that, but I want to ask you if you still agree with it after you find out who wrote it.
Ready?
______________________________________________________
*As the link points out, intelligent design is not a recent invention of creationists and their response to "lost" court case. Here is more:
Is intelligent design based on the Bible?

No. The idea that human beings can observe signs of intelligent design in nature reaches back to the foundations of both science and civilization. In the Greco-Roman tradition, Plato and Cicero both espoused early versions of intelligent design. In the history of science, most scientists until the latter part of the nineteenth century accepted some form of intelligent design, including Alfred Russel Wallace, the co-discoverer with Charles Darwin of the theory of evolution by natural selection. In the Judeo-Christian tradition, meanwhile, the idea that design can be discerned in nature can be found not only in the Bible but among Jewish philosophers such as Philo and in the writings of the Early Church Fathers. The scientific community largely rejected design in the early twentieth century after neo-Darwinism claimed to be able to explain the emergence of biological complexity through the unintelligent process of natural selection acting on random mutations. In recent decades, however, new research and discoveries in such fields as physics, cosmology, biochemistry, genetics, and paleontology have caused a growing number of scientists and science theorists to question neo-Darwinism and propose intelligent design as the best explanation for the existence of specified complexity throughout the natural world.