(This was originally posted in May of 2015, updated in Oct of 2022, and  Nov 2023)
This first video is the why the genealogies of Christ in Matthew and Luke are important. It is in Hebrew with English text underneath, so you may need a larger home computer screen for it. If the text moves too fast, there is a tool in the lower right of the YouTube video to slow it down. This helps. But this is a powerful video, a must watch. (Video Description) Is Jesus a descendant of the line of David? Or is His lineage full of contradictions as the Rabbis claim?? (This is my 2022 addition)
2022
This is my original post, I will note the addition I will add to it after.
2015
The "Genealogy" of Jesus
Norman Geisler explains the apparent contradiction between Matthew and Luke's genealogies.
This is one of the more popular examples of a Biblical contradiction that is for the most part brought up by Muslims to show the Bible is a document riddled with problems. However, if one gives this document the same attestation as one gives to any other text of history, say, Livy's History of Rome or Caesar's Gallic Wars, then the alleged contradictions disappear. On this test John Warwick Montgomery writes that literary critics still follow Aristotle's dictum that "the benefit of the doubt is to be given to the document itself, not arrogated by the critic himself." With this in mind, lets see what some have to say about this "contradiction."
---
Matthew 1:1-16 gives the genealogy of Jesus through Joseph, who was himself a descendant of King David. As Joseph's adopted Son, Jesus became his legal heir, so far as his inheritance was concerned. Notice carefully the wording of verse 16: "And Jacob begat Joseph the husband of Mary, of whom was born Jesus, who is called Christ [messiah]" (NASB). This stands in contrast to the format followed in the preceding verses of the succession of Joseph's ancestors: "Abraham begat [egennesen] Isaac, and Isaac begat Jacob, etc." Joseph is not said to have begotten Jesus: rather he is referred to as "the husband of Mary, of whom [Gk. feminine genitive] Jesus was born."
Luke 3:23-38, on the other hand seems to record the genealogical line of Mary herself, carried all the way back beyond the time of Abraham to Adam and the commencement of the human race. This seems to be implied by the wording of verse 23: "Jesus… being (as was supposed) the son of Joseph." This "as was supposed" indicates that Jesus was not really the biological son of Joseph, even though this was commonly assumed by the public. It further calls attention to the mother, Mary, who must of necessity have been the sole human parent through whom Jesus could have descended from a line of ancestors. Her genealogy is thereupon listed, starting with Heli, who was actually Joseph's father-in-law, in contradistinction to Joseph's own father, Jacob:
---
Mary's line of descent came through Nathan, a son of Bathsheba (or "Bathshua," according to 1 Chronicles 3:5), the wife of David. Therefore, Jesus was descended from David naturally through Nathan and legally through Solomon.
The coming Messiah of Israel had to be able to prove this lineage as it was prophesied in the Old Testament that He would in fact be a descendant of David. The Jews kept meticulous records at the temple mount of all the genealogical records of the Hebrew people. This information was "public knowledge," or, verifiable by even the Pharisees. The Romans destroyed these records in A.D. 70. (This is very important – prophetically speaking – because the Orthodox Jews [as opposed to the Messianic Jews] are still awaiting their Messiah, however, he cannot be traced to David or Abraham! A prerequisite for Messiah clearly stated in the Old Testament.) Also of importance is the fact that Luke is very close to Mary, remember that Jesus gave him charge of her while shortly before he died.
Here is Norman Geisler and Thomas Howe in their book, When Critics Ask: A Popular Handbook on Bible Difficulties, explaining the dealio:
Matthew and Luke each record a different Genealogy for the family of Jesus, so is this a Bible contradiction that cannot be resolved? This video addresses this Supposed Bible Contradiction.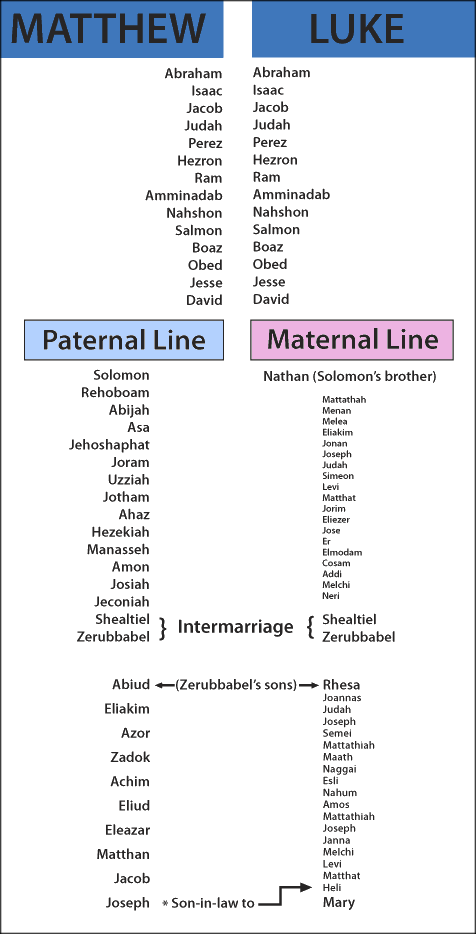 This a a partial excerpt from a great article over
at APOLOGETIC PRESS, enjoy. Click to enlarge:
Here is Dr. Archer getting into the technical aspects of another part of the genealogy lineage:
The above comes from:
RECOMMENDED:
2023
WHAT IS NEW is the information I recently came across by THE BIBLE PROJECT (TBP). Their opening part of their Matthew video is informative in the genealogical aspect as to the deeper meaning.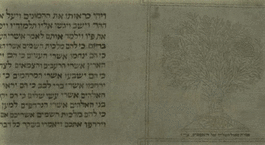 But they got me on to another tangent as well. And it made me think, that to the Jewish mind at the time, it was like a flashing sign in the background of Matthews adept work. Here is a portion of the commentary by TBP:
Let me just break out here and note Ligonier's comment of the number 14 being used. They simply state:
"fourteen" is likely intended as an aid for memorization.
This may be the only reason behind Matthew's use of 14, but, I believe it is a bit more than just that. I tend to side a bit with Hank Hanegraaff's comments being added as "and another reason"…
Matthew employs the practice of gematria and orders the genealogy according to the numerical equivalent of the Hebrew letters in King David's name (4 + 6 + 4 = D + V + D). Matthew highlights the most significant names in the lineage of Jesus, artistically emphasizing Jesus as Messiah, who forever sits upon the throne of David. 
Some Christians may think this is "numerology" in some occultic sense, it is not that at all.
A word of warning however, the Kabbalistic tradition does take this to an occultic level. For instance, Christian Apologetics and Research Ministry (CARM) has this notation to their "Gematria" post:
Though it does seem that there are some very legitimate and interesting Gematria relationships found in the Bible, we can also see that Kabbalists could take the phenomena too far in their esoteric and mystical explanations of Scripture.
 I will "highlight" the portion below in one of the Biblical dictionaries noting this, as well as putting in the APPENDIX more info on Kabbalism.
gematria
Here is Biblical critic, Bart Ehrman talking about this section (yes, I paid the man to open up this section for this post. I donated to an atheist critic, lol). The second theory here is the one I think is in Matthews wheelhouse:
Okay, time to bring that big word Bart used, gematria, into the Biblical definition arena… many do not know the extent of the use of this was in Matthews day. Games were even played using it.
And I wish to note, my wife, who is an accountant/finance person, loves playing what game? Sudoku. You don't think Matthew was a numbers guy? First a shorter Biblical dictionary definition then a more in-depth one. In this Tyndale Bible Dictionary excerpt, I include their commentary partial explanation to the significance of the number fourteen.
Here is The HarperCollins Bible Dictionary description which delves a little deeper on the subject of gematria for the studious researcher with limited resources:
How can we start to dissect what Matthew was writing? By looking at the time he wrote it, to whom he was writing to, the culture and practices we know of from that time and people group, etc:
Who was the writer?

To whom were they writing?

Is the choice of words, wording, or word order significant in this particular passage?

What is the cultural, historical context?

What was the author's original intended meaning?

How did the author's contemporaries understand him?

Why did he say it that way?
The above in the 2023 section goes a long way — I believe — to add more context to the issue of Matthews 14/14/14. So, all this to say that Matthew was throwing in that "flashing Neon Sign" that was saying three times:
David – David – David
---
APPENDIX
---
KABBALISM
This section is not important to the above… I am place carding this here as my first dealing with the topi/issue of Kabbalism. The WATCHMEN FELLOWSHIP has a good short definition of it:
Kabbalah: (Various spellings) Mystical Jewish teachings intermingled with teachings of gnosticism, Neoplatonism, magic and the occult. The word Kabbalah means secret oral tradition and was coined by an eleventh century Spanish philosopher, Ibn Gabirol. The philosophy developed in Babylon during the middle ages from earlier Hebrew speculation and numerology. An early Kabbalist, Moses de Leon, developed and systematized the philosophy in his thirteenth century work, The Book of Zolar (sometimes spelled Zohar meaning "Splendor").
Here is the most accessible post on Kabbalism for the layman via GOT QUESTIONS:
They have a lot in common with Gnostics I doodled this explanation of "emanations" during a very long conversation with actor Michael Berryman in discussion about [among other things] another modern day Gnostic religion, Freemasons: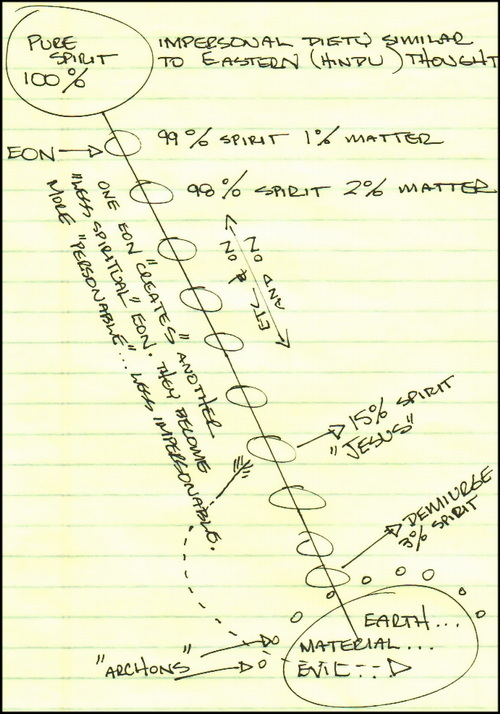 Like Gnostics and Freemason and followers of the other New Age religions, Jesus is not Divine, God. Madonna is one of the more famous celebrities to "dabble" in it's practices.
There is a pretty good 1920 definition of this esoteric, "New" Age occultic tradition by Lewis Spence in his Encyclopedia of Occultism. He is not a Christian source FYI. (I PDF'ed It) It does get into the weeds a bit, and is dated.
The Christian Research Institute tackles it a bi in their article "What Is Kabbalah?"
Christian Apologetics and Research Ministry (CARM) has quite a few articles to dissect Kabbalism.
A decent covering of the topic:
The Messianic Movement is a broad term to refer to Jewish believers in Jesus. There are many Messianic movements today such as Jews for Jesus and others. However, within the Messianic Movement there are also some who teach heretical doctrines like the cults. Among some of these heretical doctrines is a denial of God's compound unity (God is Father, Son, and Holy Spirit). Dr. Tony Costa interviews Dr. Igal German in a series of questions related to the Messianic Movement. Dr. Igal German is a Jewish believer in Jesus.