The "Genealogy" of Jesus
This is one of the more popular examples of a Biblical contradiction that is for the most part brought up by Muslims to show the Bible is a document riddled with problems. However, if one gives this document the same attestation as one gives to any other text of history, say, Livy's History of Rome or Caesar's Gallic Wars, then the alleged contradictions disappear. On this test John Warwick Montgomery writes that literary critics still follow Aristotle's dictum that "the benefit of the doubt is to be given to the document itself, not arrogated by the critic himself." With this in mind, lets see what some have to say about this "contradiction."
---
Matthew 1:1-16 gives the genealogy of Jesus through Joseph, who was himself a descendant of King David. As Joseph's adopted Son, Jesus became his legal heir, so far as his inheritance was concerned. Notice carefully the wording of verse 16: "And Jacob begat Joseph the husband of Mary, of whom was born Jesus, who is called Christ [messiah]" (NASB). This stands in contrast to the format followed in the preceding verses of the succession of Joseph's ancestors: "Abraham begat [egennesen] Isaac, and Isaac begat Jacob, etc." Joseph is not said to have begotten Jesus: rather he is referred to as "the husband of Mary, of whom [Gk. feminine genitive] Jesus was born."
Luke 3:23-38, on the other hand seems to record the genealogical line of Mary herself, carried all the way back beyond the time of Abraham to Adam and the commencement of the human race. This seems to be implied by the wording of verse 23: "Jesus… being (as was supposed) the son of Joseph." This "as was supposed" indicates that Jesus was not really the biological son of Joseph, even though this was commonly assumed by the public. It further calls attention to the mother, Mary, who must of necessity have been the sole human parent through whom Jesus could have descended from a line of ancestors. Her genealogy is thereupon listed, starting with Heli, who was actually Joseph's father-in-law, in contradistinction to Joseph's own father, Jacob:
---
Mary's line of descent came through Nathan, a son of Bathsheba (or "Bathshua," according to 1 Chronicles 3:5), the wife of David. Therefore, Jesus was descended from David naturally through Nathan and legally through Solomon.
The coming Messiah of Israel had to be able to prove this lineage as it was prophesied in the Old Testament that He would in fact be a descendant of David. The Jews kept meticulous records at the temple mount of all the genealogical records of the Hebrew people. This information was "public knowledge," or, verifiable by even the Pharisees. The Romans destroyed these records in A.D. 70. (This is very important – prophetically speaking – because the Orthodox Jews [as opposed to the Messianic Jews] are still awaiting their Messiah, however, he cannot be traced to David or Abraham! A prerequisite for Messiah clearly stated in the Old Testament.) Also of importance is the fact that Luke is very close to Mary, remember that Jesus gave him charge of her while shortly before he died.
Here is another commentator on this "error" in Luke 3:23
The two genealogies can be summarized as follows: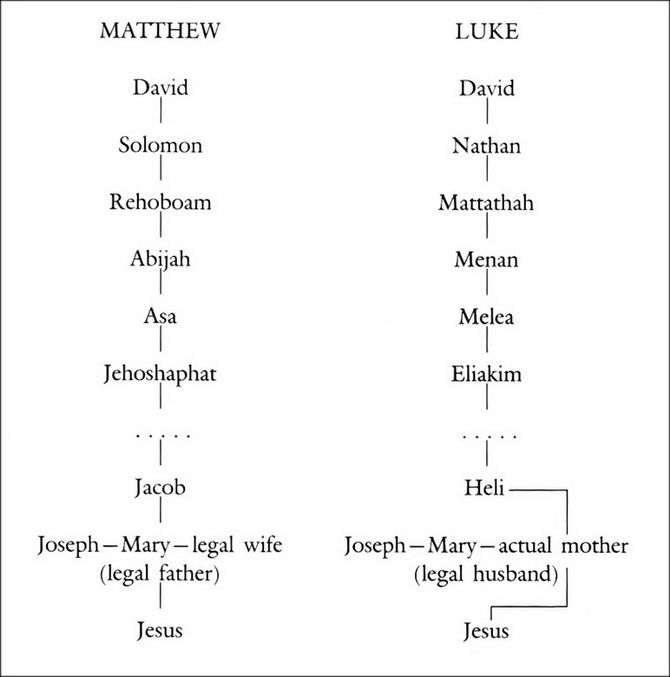 (Click for Fuller Graphic)
The above comes from:
Norman Geisler and Thomas Howe, When Critics Ask: A Popular Handbook On Biblical Difficulties (Wheaton, IL: Victor Books, 1992), 385-386;
Josh McDowell, The New Evidence That Demands a Verdict (Nashville, TN: Thomas Nelson, 1999), 45.
Gleason Archer, Encyclopedia of Bible Difficulties (Grand Rapids, MI: Zondervan, 1982), 316-317.
This a a partial excerpt from a great article over at Apologetic Press, enjoy:
Here is Dr. Archer getting into the technical aspects of another part of the genealogy lineage: