I think the below is applicable to many things. Like masks, mandatory vaccines for colds. etc. But I can also see how the below will be used to counter life and the freedom the Founding Documents of this nation afford. This is to say I like the quote, but can see it being misused as well.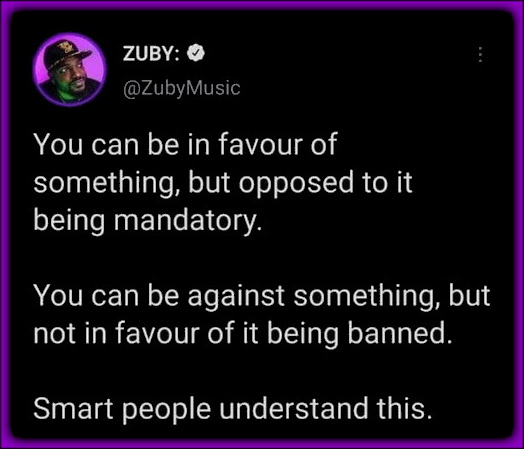 That is the reason for the post — just to counter what I can see others using it for.
So, how does this play out with the Left? [Or, strict Libertarians.] Below I will use some personal experience as well as some legal interpretation and thought experiments – with a dash of religious philosophy to get us started.
WORLDVIEWS IN THE MIX
Before we begin, many who know the site know that I speak with informed knowledge in my Judeo-Christian [theistic] worldview to those of other adopted worldviews [known or unknown] to change hearts and minds. Often people do not know what a worldview is or if they hold one, or that knowing of it even has purpose. Nor do they know that higher education just a couple generations ago thought it educations purpose to instill it. A quote I came across in seminary that I kept discusses this:
I wish to highlight the "a meaningful philosophy of life." This is known as a worldview, or, tools to dissect life and define reality. So the question becomes, what then is a worldview? Why do we need a coherent one?
WORLDVIEW: People have presuppositions, and they will live more consistently based on these presuppositions than even they themselves may realize.  By "presuppositions" we mean the basic way an individual looks at life, his basic worldview, the grid through which he sees the world.  Presuppositions rest upon that which a person considers to be the truth of what exists.  People's presuppositions lay a grid for all they bring forth into the external world.  Their presuppositions also provide the basis for their values and therefore the basis for their decisions.  "As a man thinketh, so he is," is profound.  An individual is not just the product of the forces around him.  He has a mind, an inner world.  Then, having thought, a person can bring forth actions into the external world and thus influence it.  People are apt to look at the outer theater of action, forgetting the actor who "lives in the mind" and who therefore is the true actor in the external world.  The inner thought world determines the outward action.  Most people catch their presuppositions from their family and surrounding society the way a child catches measles.  But people with more understanding realize that their presuppositions should be chosen after careful consideration of what worldview is true.  When all is done, when all the alternatives have been explored, "not many men are in the room" — that is, although worldviews have many variations, there are not many basic worldviews or presuppositions.
— Francis A. Schaeffer, How Should We Then Live? The Rise and Decline of Western Thought and Culture (Wheaton: Crossway Books, 1976), 19-20.
So, even if one isn't necessarily aware they have a worldview, they operate as if they do — borrowing from what they perceive as truths but are often a patchwork of interpretations that if questioned on, the self-refuting nature of these personally held beliefs are easy to dissect and show the person is living incoherently. The American Heritage Dictionary defines "worldview" this way:
1) The overall perspective from which one sees and interprets the world; 2) A collection of beliefs about life and the universe held by an individual or a group." 
What are these self-refuting aspects people find themselves moving in-between? What are the worldviews? Here are some listed, and really, that first list of seven is it. That is as broad as one can expand the worldview list:
Knowing what "rose-colored-glasses" you are wearing and if you are being internally coherent in your dissecting of reality is important because of the cacophony of what is being offered: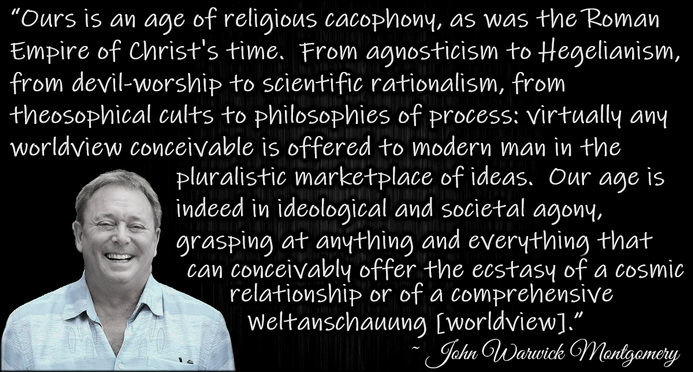 Faith Founded on Fact: Essays in Evidential Apologetics (Newburgh, IN: Trinity Press, 1978), 152-153.
Joseph R. Farinaccio, author of "Faith with Reason: Why Christianity is True," starts out his excellent book pointing a way to this truth that a well-informed public should know some of:
This is a book about worldviews. Everybody has one, but most individuals never really pay much attention to their own personal philosophy of life. This is a tragedy because there is no state of awareness so fundamental to living life. — (Pennsville, NJ: BookSpecs Publishing, 2002), 10 (emphasis added).

"A worldview is a commitment, a fundamental orientation of the heart, that can be expressed as a story or in a set of presuppositions (assumptions which may be true, partially true or entirely false) which we hold (consciously or subconsciously, consistently or inconsistently) about the basic constitution of reality, and that provides the foundation on which we live and move and have our well being." — James W. Sire, Naming the Elephant: Worldview as a Concept (Downers Grove, IL: IVP, 2004), 122 (emphasis added).
Is this part of the reason so many today, especially young people, do not have "well-being"?
(More on worldviews can be found in my first chapter of my book titled: "INTRODUCTION: TECHNOLOGY JUNKIES" — PDF | As well as my WORLDVIEW POST on the matter)
The Law of Non Contradiction
I bet many reading this will have used the phrases or ideas below without realizing it was incoherent at best. I link to my chapter above, but here is an excerpt from it to better explain why a person's worldview should be internally sound:
This is part of a larger audio piece on Relativism:
Okay, that should get us all prepped for the next section…
….which is slightly more historical.
THEISM & AMERICA'S FOUNDING
Theism was the basis for our Founding Documents that undergirded our nations birth. For instance the phrase in the Declaration of Independence, "Law of Nature and Nature's God." AMERICAN HERITAGE EDUCATION FOUNDATION discusses this phrase a bit, of which I excerpta portion of:
The researcher may benefit from my "The Two Books of Faith – Nature and Revelatory"
I also wish to commend to you an article by James N. Anderson (Professor of Theology and Philosophy, at Reformed Theological Seminary, Charlotte) in the Reformed Faith & Practice Journal (Volume 4 Issue 1, May 2019).
Abraham Williams preached a sermon where he drilled down on the idea at an "election day sermon" in Boston Massachusetts's, New-England, May 26. 1762.
"The law of nature (or those rules of behavior which the Nature God has given men,

…

fit and necessary to the welfare of mankind) is the law and will of the God of nature, which all men are obliged to obey

….

The law of nature, which is the Constitution of the God of nature, is universally obliging. It varies not with men's humors or interests, but is immutable as the relations of things." 
Amen pastor.
A good resource for resources on this topic is my bibliography in a paper for my class on Reformation Church History in seminary — and I steered the topic to the Reformations influence on America. The paper is titled, "REFORMING AMERICA" (PDF), the bibliography is from pages 16-19. I commend to the serious reader Mark Noll's book, "America's God: From Jonathan Edwards to Abraham Lincoln."
Moving on from the "do you even worldview bro?" section to the application process.
One area I see the Left saying YES! to Zuby is on Same-Sex Marriage (SSM).
SAME-SEX MARRIAGE
SSM, I argue, flouts Natural Law in many respects, and becomes an utennable special right.
The "potentials" in the male-female union becoming a separate organism is not found in the male-male or female-female sexual union. Nor is this non-potentiality able to be the foundation [pre-exist] for society ("Is Marriage Hetero?"). The ideal environment – whether from Nature or Nature's God – to rear children, sorry Hillary. Etc. Or religious: "No Religious or Ethical Leader in History Supported SSM" (does wisdom from the past matter?). [I would add until very, very recently.] Even gay men and women oppose SSM being normalized LIKE hetero-marriage: "Another Gay Man That Opposes Same-Sex Marriage #SSM".
Another Example via Personal Experience.
Many Gays Reject Court Forced Same-Sex Marriage
However, I also live in a Constitutional Republic — even if by a thread. So, items not clearly enumerated in the Constitution are reverted to the States to hash out. So, I get an opportunity to vote on items or influence state legislatures to come down on, say, marriage being between a man and a woman. So, as a Conservatarian, what I call a "paleo-liberal," I get to force my morals on others for lack of a better term. (See my "Where Do Ethics Come From? Atheist Convo | Bonus Material" | and Norman Geisler and Frank Turek's book, "Legislating Morality: Is It Wise? Is It Legal? Is It Possible?")
What those freedom loving gay men and women and I have in common is the rejection of Judicial Activism. We all agreed that in California, the H8 bill passed by a slight majority of Californians should have been law defining marriage as between male and female. Why? Because this is what the Constitution in the 10th Amendment clearly stated:
The powers not delegated to the United States by the Constitution, nor prohibited by it to the States, are reserved to the States respectively, or to the people.
And that like Roe v. Wade, the courts interfering with the body politic hashing these things out on the state level. This Court interference created more division and lawfare down the road. As well as bad law. Some examples of this rather than just my statement:
Abortion and Gays… Why Manny Are Pro-Life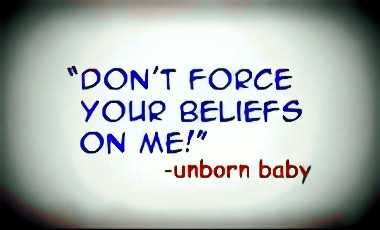 Some gay men and women oppose abortion for religious reasons. Other view this as a life issue. Here is an example of what I am thinking of:
THE BLAZE has a flashback of Ann Coulter saying pretty much the same thing: "The gays have got to be pro-life. As soon as they find the gay gene, guess who the liberal yuppies are gonna start aborting" — yep
"All Gays Should Be Republican" | Ann Coulter Flashback
The rule of nature in this situation would be to always promote and protect innocent life. Once you start deviating from that rule that is the foundation of our Constitution found in the Declaration:
We hold these Truths to be self-evident, that all Men are created equal, that they are endowed by their Creator with certain unalienable Rights, that among these are Life, Liberty, and the Pursuit of Happiness
You start to create "special rights," and these "special rights" are then put under the jurisdiction of politicians and special interest groups. And we all know what happens to the integrity of an issue or topic when that happens. Here is one example:
Feminists, Gays, Abortion and Gendercide | Ezra Levant Flashback
So as much as the quote by Zuby at the outset is a good one in a universe governed by reason and natural law and Nature's God…. the progressive Left will always destroy what it touches… life and family being two issues exemplified above. So to adopt a quote wrongly is on the easier side of the Left ruining an idea.
From the Boy Scouts to literature, from the arts to universities: the left ruins everything it touches. Dennis Prager explains.
An example of the BOY SCOUTS via PRAGER: