JUMP TO:
Did the Founding Fathers want American society to be religious or secular? Joshua Charles, author of Liberty's Secrets, explains.
What did the Founding Fathers believe about religion? Were they Christians, or just deists? Did they believe in secularism, or did they want Americans to be religious? Joshua Charles, New York Times bestselling author and researcher at the Museum of the Bible, explains.
---
UPDATED w/ Combined Posts
---
A Facebook friend posts a lot of stuff from the Left. And while I could spend all day refuting in similar fashion much of it (like the below), this topic caught my eye. Here is the FB graphic she posted on her wall: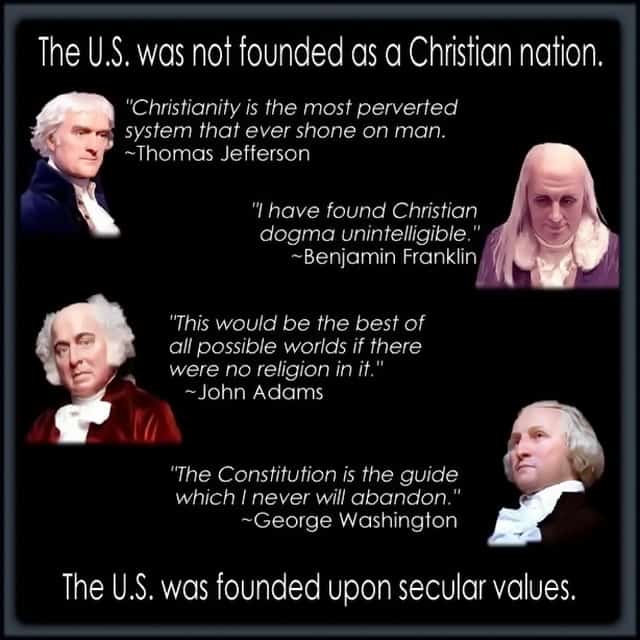 So, let's deal with these in order, shall we?
THOMAS JEFFERSON
This is the headline at THE JEFFERSON MONTICELLO site: "Christianity is the most perverted system that ever shone on man (Spurious Quotation)" — spurious indeed. They follow this with the fuller quote:
There are other useful links at MONTICELLO'S link to this topic. Even CHECK YOUR FACT has this regarding the Jefferson quote:
Did Thomas Jefferson dislike religion? Ben Shapiro speaks with author and Wallbuilders founder David Barton about Jefferson and his version of the Bible.
But history is more complex than your meme.
BENJAMIN FRANKLIN
The fuller quote reads… and note, many say this about their youth as well. I say similar things — as I stayed out of the church as a youth when I could.
"I have found Christian dogma unintelligible. Early in life I absented myself from Christian assemblies."
Later in life however, Franklin (and I would say myself) wrestled with religious matters well, and came out on the theistic end of life. Here, for example, is a letter from Benjamin Franklin to the "atheist" Thomas Paine:
Other interesting items of Mr. Franklin's faith in God can be found here: "Benjamin Franklin Was Not A Secularist"
I start out this upload with a call into the show this week… after a little back-n-forth it ends. BUT, I include a bit of the show Dennis Prager speaks about during the call. That is from late February. A great topic covered well. Here is the creed spoken of:
✦ I believe in one God, the creator of the universe.
✦ That he governs by his providence.
✦ That he ought to be worshipped.
✦ That the most acceptable service we render to him is doing good to his other children.
✦ That the soul of man is immortal, and will be treated with justice in another life respecting its conduct in this.
For a very good discussion of the influence of the Calvinistic tradition on the thinking of Benjamin, see:
John Eidsmoe, Christianity and the Constitution: The Faith of Our Founding Fathers (Grand Rapids: Baker Book House, 1987), 191-213.
JOHN ADAMS
The fuller quote from Adam's sheds some light on Calvinism' influence on the founders. The quote was taken out of context from a letter from John Adams to Thomas Jefferson, 19 April 1817 (entire letter):
Twenty times, in the course of my late Reading, have I been upon the point of breaking out, "This would be the best of all possible Worlds, if there were no Religion in it"!!! But in this exclamati[on] I Should have been as fanatical as Bryant or Cleverly. Without Religion this World would be Something not fit to be mentioned in polite Company, I mean Hell. So far from believing in the total and universal depravity on human Nature; I believe there is no Individual totally depraved. 
A slightly more English friendly version is this:
Adam's was using the quote as a hyperbolic analogy to make a larger point. The opposite point as displayed in the meme. And the point was the depravity of mankind in a VERY Calvinistic structure. Here, as a way to drive the point home that this topic — that is, religious influences on the founding of America — is a topic I have for seminary studied well. Here is a bibliography of books used for a class. Books that sit on my shelves, I will highlight one in particular I recommend:
Later in life, Adams wrote:
"I love and revere the memories of Huss, Wickliff, Luther, Calvin, Zwingli, Melancton, and all the other Reformers, how muchsoever I may differ from them all in many theological metaphysical & philosophical points. As you justly observe, without their great exertions & severe sufferings, the USA had never existed." — John Adams to F. C. Schaeffer, November 25, 1821, in James Hutson, ed., The Founders on Religion: A Book of Quotations (Princeton: Princeton University Press, 2005), 15–16.
GEORGE WASHINGTON
The quote by our first official President does not even hint at secular thought? The entire letter in fact does not. An excellent site recording the non-secular events surrounding the Constitution, also note the following — to use just one example from the many via Is the Constitution a "Secular Document?"
More on Washington can be found HERE.

In recent conversation a similar meme was sent to me that added Thomas Pain. So here is a quick dealing with this that should add more context to Mr. Pain's complexity that is not represented in the "out of context" thoughts in full he had about the subject.
THOMAS PAIN UPDATE
Many posit that Thomas Pain was a deist. The problem is that Pain had issues with God, yes, but "deism" represented in thought of the 1700's is a bit different than what the 21st century mind posits. Obviously he is no Evangelical Christian, but neither is he "anti-God."  For instance:
I wrote a post defining deism through a debate I had in the very early 2000s, here is a snippet of thought from that POST:
Author Joshua Charles also succinctly catalogued Thomas Pain's complexity of thought on the matter:
Here is some more in-depth study of God and shows that what is ripped out of a lifetime does not do justice to the topic but merely reinforces presuppositions. First, a definition for the below:
theophilanthropist:

a member of a deistic society established in Paris during the period of the Directory aiming to institute in place of Christianity
In a great synopsis of how complex people change over time, Pain's pro-God arguments happened during the American Revolution and independence. Only later did he become more secular and defended atrocities like those in France. CHRISTIAN HERITAGE FELLOWSHIP opines well (the entire article is worth reading as well as following up with the footnotes):
So the meme is lacking context, obviously.

JAMES MADISON UPDATE
Another new portion of a meme I hadn't seen before dealt with a portrayal of Madison and the "separation of religion and state." You wanna talk about "ripped out of context"? Hoo boy.
"There is no principle in all of Madison's wide range of private opinions and long public career," writes biographer Ralph Ketcham, "to which he held with greater vigor and tenacity than this one of religious liberty." (HERITAGE FOUNDATION)
While Madison fought against anti-Catholic sentiments and inserting the word "Jesus Christ" in an amended preamble of Virginia's Bill for Religious Liberty, he was not for separation of church n state as progressives see it. For instance,  in a letter of Madison to William Bradford (September 25, 1773), Madison spoke of the desire that all public officials – including Bradford – would declare
openly and publicly their Christian beliefs and testimony:
I have sometimes thought there could not be a stronger testimony in favor of religion or against temporal enjoyments, even the most rational and manly, than for men who occupy the most honorable and gainful departments and [who] are rising in reputation and wealth, publicly to declare their unsatisfactoriness by becoming fervent advocates in the cause of Christ; and I wish you may give in your evidence in this way.
James Madison is the author of how we view "conscience" in our public life. To wit:
Expanding a bit on this is my post from years back, SEPARATION OF CHURCH AND STATE:
Madison was intimately involved in those iterations. Remember as well that Madison was a member of the committee that authored the 1776 Virginia Bill of Rights and approved of its clause declaring that:
It is the mutual duty of all to practice Christian forbearance, love, and charity toward each other.
In 1789, Madison served on the Congressional committee which authorized, approved, and selected paid Congressional chaplains. in 1812, President Madison signed a federal bill which economically aided a Bible Society in its goal of the mass distribution of the Bible. Throughout his Presidency (1809-1816), Madison endorsed public and official religious expressions by issuing several proclamations for national days of prayer, fasting, and thanksgiving. (Much more can be found at WALLBUILDERS)