I posted a response to the above video on YouTube and have a bit of engagement going on. The first conversation was with a layman. The second is with a person who says he is a degreed biologist. He has a Google account, Prototype Atheist. I have yet to see a degree (what level of a degree) Prototype Atheist has, but, I have engaged with doctoral holding professors of biology in the past. (And may I say, there are similarities to how these two wish to co-opt language.) So, below will be the "evolving" engagement from this post. Enjoy real conversation:
Here is my original post regarding the video:
Here is the response TO ME by RoflMcCopter:
(You will note the "strong armed patriotic guy" will always stand for me) I respond:
This is where Prototype Atheist hops into the conversation. The "A" with the swirl is kinda the universal [one of them] symbol for atheism:
(To skip this aside, press here)
---
Extended Aside…
---
Here is the definition I used for the GTC above. I will dig out Kerkut's book when I have the time to put into context HIS definition [here is Kerkut's quote if you wish]:
A couple other definitions to support my use:
I just wish to note that American Heritage Science Dictionary defines macroevolution as "evolution that results in the formation of a new taxonomic group above the level of a species." Philip Kitcher notes evolutionary bilogist's, Stephen J. Gould, rejection of micromutational changes stacking up to equal a macro-change. (Side-note: knowing Dr. Gould's worldview (Marxism), one can attribute a Hegelian dialectic involved in his metaphysical view of origins. Thus, this is another hint at how assumptions interpret the evidence.):
To better define Dr. Gould's and other views on this gradual versus large leaps in evolution that lead to new taxonomic groups, here is the Oxford Dictionary of Biology's definition of punctuated equilibrium:
---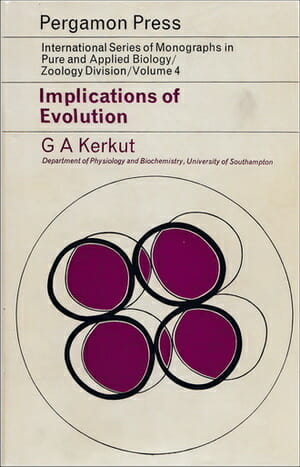 This is an issue, macro versus micro, species versus genus or order, and the like… are mixed up by some of the smartest people. For instance, Michael Shermer in his Why Darwin Matters: The Case Against Intelligent Design, he notes as an example of macroevolutoin an inter-species adaptation that was already innate in the E. Coli baterium already (pp. 75-76). In fact, the founding scientist of this program at the University of Michigan grew so frustrated with the idea that he was getting nowhere, he turned to a computer simulation to get his desired data:
According to biology professor Dr Scott Minnich, the evolutionist researcher Dr Richard Lenski bred bacteria for more than 20,000 generations with all sorts of selective environments in the hope of getting a spontaneous increase in complexity—i.e. real evolution in the lab. He showed that they adapted to their environment, but the experiment failed to demonstrate the emergence of true novelty or spontaneous complexity. The bacteria were not only still bacteria, they were the same types of bacteria. So, says Minnich, he decided to work on digital organisms instead—computer simulations, which gave him the result he wanted in 15,000 generations. The lesson is clear: the real world of biology is very different from the carefully set up and manipulated world of electronic on-screen simulations. (Blast from the Past)
Similarly, in my discussion with Dr. Melendy, he as well mixes up this distinction. Early in the discussion Dr. Melendy says macroevolution is observable in the laboratory. I ask multiple times to give me an example: "@TomMelendy, I missed the observation MACRO evolutionary proof. Please explain what this observation has been. Is there a peer reviewed article you can refer me to." Here is the portion that triggered my interest in this strain (I will emphasize what caught my eye):
Tom Melendy Gravity is called a law and can be and has been observed. Macro-Evolution has never been observed…
Dr. Melendy responds, and I will emphasize the point that concerned me:
After pressing the point, I prodded him some more…
I didn't take kind to this obfuscation of the conversation. I continued:
After disagreeing with my point, he mentioned that, "Macroevolution does NOT require an "increase in the gene pool" – the gene pool of the horse and donkey are virtually identical, yet they are separate species (yet closely related enough to produce sterile offspring). The reason they are different species is due to the cytogenetic changes (note that does NOT involve additional genetic material or a greater gene pool)."
To which I again respond: 

Dr. Melendy walks back his previous statements a bit, as well as FINALLY giving the fish's name in the discussion leading up to this point (I will note by emphasis some items that caught my eye. The most egregious being the admitted "bait-and-switch" of definitions regarding "macroevolution"):
I will jump to my response to the Baccacio rockfish example, via a creationist site:
What you have here is similar to what Leftist do in politics, what anthropogenic global warming advocates do, as well as evolutionists. That is, co-opt language and offer an alternative definition to obfuscate the issue. Just fair warning to my fellow apologists. See my post Evolutionary Illusions for an in-depth look at how terminology is being misused.
…continuing with my aside.
---
…Aside Over
---
Simple enough. Continuing now with Prototype.
I try to narrow the conversation:
This intro was geared at Prototype Atheist: This postscript comes from a previous debate I had — and you can see a bit of it in the above). I have written over 6,000 responses to items of politics, religion, science, history, philosophy, economics, and the like for a time-period expanding about 20-years. My home library includes many texts that are pro as well as con to all my views [well over 5,000 books and 600DVD documentary style subjects similar to the above list of topics… but much more formal debates at universities are in this DVD collection]. For my bio, you are welcome to see it here.
I wish to note he doesn't respond with a) evidence, and b) with appeals to authority, as well as a response that has c) nothing to do with modern science… which is the drive of the conversation.
Remember, I am talking about modern science and not a mythological position from the Bronze Age. I wish to note as well that Prototype Atheist has his history woefully wrong. I will quote Building Old School Churches in regards to a response:
And for the more serious apologist, here is an excellent summation of two overlooked verses that SMACK of foundational apologetics (h/t to Poached Egg):
 After all this, Prototype Atheist Tweeted this about lil'~ol'~me: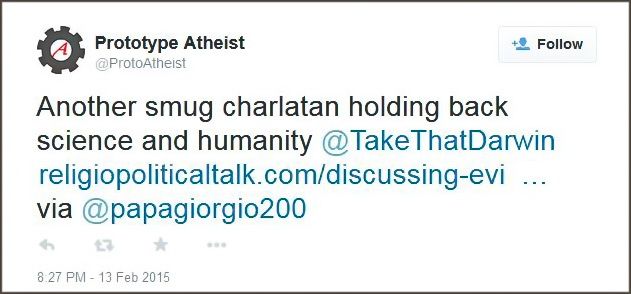 I am flattered. To think, me, sitting in a two bedroom condo… SeanG (AKA Papa Giorgio), has such an influence as to "hold back science" as well as "humanity." Or.. Prototype Atheist (call me when the production model is shipped) got bested in an area where he has a degree in. In his Tweet he tries to make this a moral issue by saying I am holding back humanity. Who would want to even talk with such a person that is "holding back science and humanity… it is akin to the labels thrown around in the political world: sexist, intolerant, xenophobic, homophobic, Islamophobic, racist, bigoted (S.I.X.H.I.R.B.). Going to ad hominem attacks and mislabeling LARGE swaths of history (the Bronze Age thingy). That's what he is really good at, that is, lashing out on via Twitter account.