"We do not want word to get out that we want
to exterminate the Negro population."
-Sanger's letter to Dr. Clarence Gamble, Dec. 19, 1939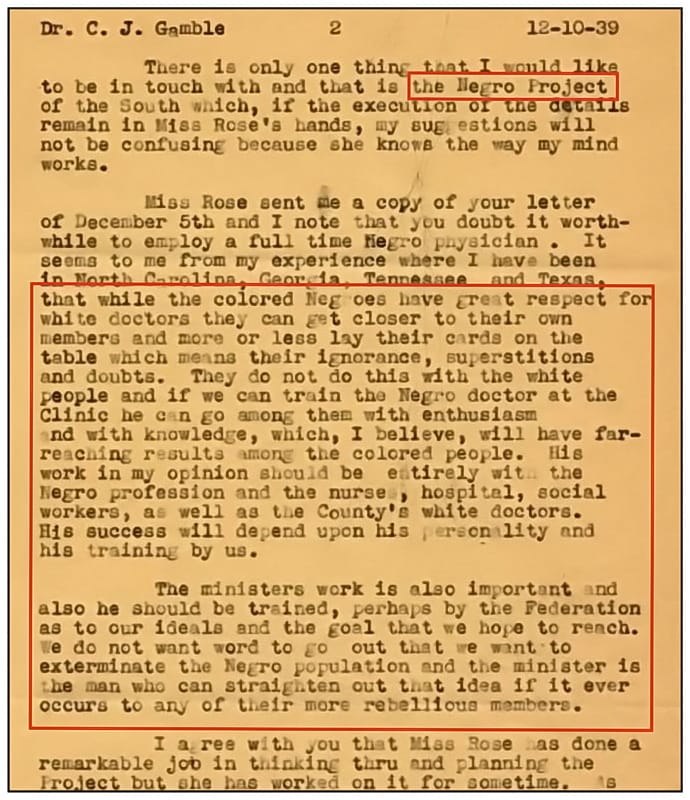 To wit, 78% of their clinics are in minority communities. Blacks make up 12% of the population, but 35% of the abortions in America.
Before we start this topic, I must say that this treatise is not taking into account the emotional strain that many women encounter before and after an abortion. This is a political, philosophical, and historical dealing with the founding of Planned Parenthood, specifically, Margaret Sanger. I would be remiss and foolish however not to think once this hits "cyber-space" that a confused or hurting young woman might happen to come across this blog. To her I wish to leave behind some links where she can get information or counseling whether in question to "should I get an abortion," or to look for help for the emotional pain of losing a child to choice. So here are some links to organizations that will help either before or after this "choice" is made:
Through a few conversations and blogs that argued the peripheral of this subject (even the human trafficking aspect of it), I want to finally expand a bit on what I always reference. That is, the original goals of Planned Parenthood Founder, Margaret Sanger, and the provable continuation of this goal by the statistics of actual abortions and sterilizations. Her saying that "[w]e don't want the word out that we want to exterminate the Negro population" is often times not enough to convince the liberal Democrats that they are truly not for the minority person outside of their political agenda. What was Planned Parenthoods goals? Did they have aims and agendas they wished to complete? Is Planned Parenthood following in those footsteps today? If so, would we be able to tell by looking at their outcomes based on their stated goals?
This picture of Sanger at a Klan Rally was part of a Contest Marking the 80th Anniversary of Margaret Sanger Speech at Ku Klux Klan Rally
Many of the current and past presidents of the organization have mentioned that they are following in the footsteps of their founder, following the aims and goals of Margaret Sanger, their liberal heroin and founder. To make this point (and others), I will rely on two well written books, the first is Liberal Fascism: The Secret History of the American Left, From Mussolini to the Politics of Change, by Jonah Goldberg. I think – however – before I mention the next book, I should allow the reader a chance to have that seemingly self-refuting term ("liberal fascism") explained and defined. Jonah Goldberg documents that the term was the invention of H.G. Wells:
It will be noted more in-depth later, but I must now point out that Margaret Sanger was the mistress to H.G. Wells. There was no conflict of ideals betwixt these two "enlightened Nazis." The other book is just an expose of Planned Parenthood (unlike Jonah Goldberg's book which deals with a panoply of topics), it is entitled Grand Illusions: The Legacy of Planned Parenthood, by George Grant. This book is the best I have found yet on this topic. Each chapter ends with a Biblical critique as well, so if you are non-religious person this book is set up so you can skip entirely any theology if wished. If one cannot consider any "religion" on a topic however, one must ask if they are "theophobic" (a term I like to think I coined in my post entitled, "Defending the Faith Over a Syrah"). These two books (Jonah's chapter entitled, "Liberal Racism: The Eugenbic Ghost in the Fascist Machine," and George Grants book) will give any amateur historian or studier of movements enough fodder to turn the tables on those who profess equality at all costs.
A third book that is worth a mention is by Edwin Black, entitled, War Against the Weak: Eugenics and America's Campaign to Create a Master Race. A thick history of how the eugenic movement that spurned the Third Reich in their "master race" found its scientific basis in the American Left. The theological roots for it are not the topic here, but they are rooted in the occultism found in Madam Blavatsky's book The Secret Doctrine.
The question remains however, do recent Planned Parenthood (PP from here on out) leaders want what Sanger wanted? Some history and input on this is in order:
George Grant opines in on this as well:
Now that we know these PP leaders are "walking in Margaret's footsteps," let us see where these imprints lead us in history. Edwin Black makes it known that Maragret Sanger was no "saint."
To follow through with this idea that charitable organizations were detrimental to her cause, George Grant (Grand Illusions, p. 40) quotes from Sanger's book, The Pivot of Civilization:
You may be asking how someone could think in terms like the above? Well, the simple answer is, radicalism. Political, and moral:
This is similar to Hitler saying the following:
George Grant runs down a quick list of whom Margaret "hung" with:
Isn't Sanger a hero of the Left though? How could she truly believe the above… isn't there some kind of mistake? I wish there was. Here we start to go deeper into her relationships (personal and business) and views on race relations. Dinesh D'Souza points out in his wonderful book, The End of Racism: Principles for a Multiracial Society, that Sanger coined the term, "More children from the fit, less from the unfit," used by the Third Reich.
The Negro Project?! Maybe this is why you will find groups of Black Americans banding together on sites like BlackGenocide.org/L.E.A.R.N.
Not only did she "widen the appeal" of eugenic thinking, she was in the mix of the whole movement, and even gave page space to Nazi monsters in her news letter. For instance, in the following excerpts, we see some very disturbing relationships. In her autobiography, for instance, she said that "[o]ur living-room, be­came a gathering place where liberals, anarchists, Socialists and I.W.W.'s [Industrial Workers of the World, a socialist organization] could meet." Jonah Goldberg continues:
I must let Jonah continue (pp. 272-273) with his referencing the history and aims of the organization, it is jaw dropping:
The question is this, how can a graduate student make it through a 4-year university and not know about this history. They can denounce, after this four-year indoctrination, how the settlers mistreated the Native-American's, but will lift up a racist Nazi as a hero? The logic with this thinking baffles the mind. Even the history of the Democrats and their continual choice to be on the wrong side of history is seemingly forgot.
This radical movement and its continual harming of history, minorities, and women does not fly on blogs like this. Feminism has turned for the worse because of it (at least modern, New Left feminism). The following excerpted from a post/paper I did entitled, "Gnostic Feminism: Empowered to Fail:"
George Grant documents this radicalism, where, like Goldberg, he points out some of these connections Sanger had with racists and eugenists. PP's founding aims and its founder's radicalism is all too commonly ignored or swept under the carpet of history's tide. Let us pick up from Grand Illusions (pp. 41-42), some of which was already pointed out by Goldberg:
Okay, the proof of the racist goals and ideals of PP from its inception has been shown. Can this early start be shown to still be in operation? Here I want to defer to the site, BlackGenocide.org (see video below), and Abort73.com (attached article below). I think their work shows ample proof of this racist underpinning.
The following is an excerpt from an article entitled "Abortion and Race: For decades, abortion has disproportionately targeted minority babies."
I would be remiss if I didn't include the sterilization stats as well… which, with the culmination of what we have see already is a nail in the PP coffin. This comes from pages 117-188 of Grand Illusions. Just a side-note, in just the part below, in the book there are 11-footnotes that one would have to get the book to follow up on themselves to be more methodical.
Some have tried to compare Luther's anti-Semitism to the problem presented here. I have been told that since Luther had racist views doesn't that mean that the Lutheran church is a racists organization (using my logic). Here I will get somewhat technical, however, quickly, there are two worldviews at work here. A secular worldview (Sanger's and PP) versus a Christian-theistic worldview. I will point out some of the failings of the secular view that excludes the Judeo-Christian worldview. The person seems to be saying, "anti-Semitism is most definitely an immoral viewpoint." If they aren't saying this then their position is vacuous. They are attempting to show that by using one moral position, the other is shown to be false, or at least contradictory, if the proposed logic doesn't follow equally in both cases… because we all know that Lutherans are not anti-Semites! (Although the people this usually comes from think all Republicans are generally racists, which I just showed above in this post and links that the evidence weighs heavily on the other-side.) I will post an excerpt from a longer debate I had with a secular history teacher at a winery:
Hang in here with me… here comes the philosophical part of my argument/critique.
So the founder and subsequent directors are doing what? Living out their worldview, the Lutheran's are not living and being corrected by a Lutheran worldview. They are living and being corrected when they get off course by a Judeo-Christian. There is nothing inherent to Sanger's worldview or those that adhere to its founding philosophy that can say anti-Semitism is wrong, morally, it is just currently taboo by our culture's temporary mores — by the edict of the majority. It likens the abortion and Semitism question to the level of one saying they like vanilla ice-cream over chocolate. If our cultures temporary mores were, by an edict from the majority, to wade into the ice-cream debate. That would be just as moral as the life and racism question… according to the secular worldview followed to its logical end. Here is a question asked by a Harvard student of Ravi Zacharias during the Q&A, he asked it in order to trip up Ravi… which isn't so easy:
Here we go, further down the worldview "hole." Here I would point the reader to my critiques of two atheists, one article is entitled, "Responding to Christopher Hitchens and a Friend: Explaining the Failings of a Worldview," and, "Hugh Hewitt Interviews Evangelical Turned Atheist, William Lobdell, for 2-Hours." From these two topics one can see that Darwinian views make this Mein Kampf quote just as moral as that of Sanger's quotes, or the fact that someone may prefer chocolate over vanilla:
In other words, do Objective Morals truly exist without God?
Let us start this [extended] jolly good time with a most interesting thought from Stephen Hawkings (who holds the Lucasian Professor of Mathematics, Isaac Newton's chair) at a lecture given to a university crowd in England entitled "Determinism – Is Man a Slave or the Master of His Fate." He discussed whether we are the random products of chance, and hence, not free, or whether God had designed these laws within which we are free. In other words, do we have the ability to make choices, or do we simply follow a chemical reaction induced by millions of mutational collisions of free atoms?
Fyodor Dostoyevsky's maxim rings just as true today as it did in his day, "If there is no God, all things are permissible." Without an absolute ethical norm, morality is reduced to mere preference and the world is a jungle where might makes right. This same strain of thought caused Mussolini to comment,
Notice that Mussolini agrees that might makes right. There was another bad boy on the block in those days, his name was Hitler, who agreed when he said, "I freed Germany from the stupid and degrading fallacies of conscience and morality… we will train young people before whom the world will tremble. I want young people capable of violence – imperious, relentless and cruel." Again, the rejection of moral absolutes creates what? Young people who will scare the bejesus out of the world. (Take note of the rise in youth violence in our school system.)
But what is this "absolute" that Mussolini referred to as "the immortal truth?" What is the "stupid and degrading fallacies of conscience and morality" that Hitler removed in order to created a nation of hate mongers? Heidegger, In Being and Time, discussed the problems facing men living in a post-Enlightenment secular society – a world without God in other words. Heidegger called this situation "the dark night of the world," a world which the light of God had been eclipsed and in which men were left to grope around as best they could, searching in the darkness for any scraps of meaning that might be found. This man of course, Heidegger, backed the National Socialists (Nazis) for most of the 1930's.
The third article in the Humanist Manifesto begins:
"We affirm that moral values derive their source from human experience. Ethics is autonomous and situational, needing no theological or ideological sanction. Ethics stems from human need and interest."
For the secular person, man himself is the only standard by which his own behavior is to be assessed, "man is the measure of all things." Man is to be the sole arbiter in all matters of justice and law, right and wrong. In the words of the Encyclopedia Americana, "Since there is no God, man is the creator of his own values." The British author John Hick bluntly asserts, "There is no God; therefore no absolute values and no absolute laws." Joseph Lewis in, The Bible Unmasked, say, "There is in reality no absolute standard by which we can judge… In the final analysis our guide in moral affairs should be what gives to the individual the greatest possible happiness."
Anthony Freeman comes to the same conclusion: "Not only the absolute existing-out-there God has gone. So have the absolute existing-out-there values such as peace, joy, goodness, beauty, love, etc…." Friedrich Nietzsche agreed: "…the advantage of our times, nothing is true, everything is permitted." The American scholar David Wells says of our nation, "This is the first time that civilization has existed that, to a significant extent, does not believe in objective right and wrong. We are traveling blind, stripped of our own moral compass." Paul Kurtz believes that, "The moral principles that govern our behavior are rooted in habit and custom, feeling and fashion," how can anything be commended as being right, or condemned as being wrong?
Bertrand Russell vehemently opposed war, yet denounced restrictions on sexual freedom. In a letter to the Observer in 1957, Bertrand admitted that he could not live as though ethical values were a matter of personal taste, that he therefore found his own views "incredible" (because he espoused moral relativism) and that "I do not know the solution." C. S. Lewis talked about this "privatized morality" and showed some of its weaknesses, two of which he identified with his usual clarity:
Allan Bloom, in his book, The Closing of the American Mind, said that, "There is one thing a professor can be certain of. Almost every student entering the university believes, or says he believes, that truth is relative." How did the college student get this way? Let us allow the Father of modern educational philosophy answer that, John Dewey: "There is no God and no soul. Hence, there are no needs for props of traditional religion. With dogma and creed excluded, then immutable [i.e. unchangeable] truth is also dead and buried. There is no room for fixed, natural law or permanent moral absolutes."
In light of all this, I find it funny when an atheist says that he is so because there is evil in this world (innocent children die, and the such). Again, C. S. Lewis makes my point for me when he was an atheist:
Lewis hit the nail on the head. In the absence of transcendent values, we are left floundering about as best we can… or, as Heidegger put it, "searching in the darkness for any scraps of meaning that might be found." Ravi Zacharius rightly concludes, if atheism is true, "Thinking atoms discussing morality is absurd." All this leads to what Jean-Paul Sartre called a "baseless base of values." In other words, the person who takes this route finds himself in a world with particulars but no universals, relatives but no absolutes, valuations but no values.
So from Cristina Odone (Melrose Place) saying in the June 97' Daily Telegraph that, "What's right is what you feel," to Ernest Hemingway's creed: "What is moral is what you feel good after, and what is immoral is what you feel bad after," all this does as a philosophy of evolutionary naturalism is create people who will try to enforce their "will and way" above others.
This is why the "Hitlers" and "Stalins" will always exist! When the moral imperatives of God are thrown to the wayside, it creates a power vacuum. This is why the atheist has no real way to say what is good or bad for any individual besides himself – objectively. This, I believe, drove Bertrand Russell to a solemn grave, and Nietzsche insane. In fact, it was Nietzsche who said that the consequences of the death of God would penetrate every avenue of life, and that this, in-and-of-itself, would be unbearable. Nietzsche went on to say, because God had died in the nineteenth century, there would be two direct results in the twentieth century. First, he prognosticated that the twentieth century would become the bloodiest century in history; and second, that a universal madness would break out.
He has been right on both counts. More people have been killed because of ideological differences, and destroyed on the battlefields of geo-political maneuvering in the name of naturalism and might in this century than the previous nineteen centuries before it. Did you catch that; non-God movements have killed more people in one century than religion did in the first nineteen. Unfortunately we see this madness seeping into other areas of our society as well:
Although these crimes were attributed to either a moral failure (personal or social) or to some form of mental pathology, Steven Pinker had a different explanation. Steven Pinker, professor of psychology at the Massachusetts Institute of Psychology and a leading popularizer of evolutionary psychology, says it is a genetic imperative. Writing in the New York Times, Pinker argued that what he termed neonaticide is not attributable to mental illness because "it has been practiced and acceptable in most cultures throughout history." Rather, he went on to say, a capacity for neonaticide is hard-wired into the maternal genes by our evolutionary history.
AHHhh! Naturalistic morals (relativism) have struck again! And the only individual to strike at the core of these horrors that materialists have inflicted on the twentieth century is the theist (the Jew and Christian). This is why the non-theist will always have the "Hitlers," "Stalins," and "Maos" in their worldview as acceptable to their moral theorizing. They cannot assert objectively – beyond themselves – that those persons are wrong, it would only be their personal preference speaking. Sorta' like chocolate or vanilla ice cream, or, brownies with or without nuts, Hitler… or Mother Teresa. They (the relativist) are neutered in the political and moral spectrum, or, if they do choose to take a value-laden stance, they are doing so in direct violation of their own doctrines and dogmas, thus, self-refuting their own claims.
(to see a response and answer to this post, see: "Objective Morals Without God???")
One last item to point out before I call it quits, and then I will let the reader's enjoy this small book of a post, this is from a debate that I and a graduate student had that went to California State University, San Francisco. If the secular view is the correct one, then the following must be a correct summation of the moral authority of such a view:
Society As the "Whole"
(Excerpted from the book, Relativism: Feet Planted Firmly In Mid-Air)
If Society, the will of all or the will of the majority [society says], is the final measure of morality, then all its judgments are moral by definition. Such a concept is an oxymoron – a contradiction in terms. An attorney once called a radio talk show with a challenge. "When are you going to accept the fact that abortion is the law of the land?" she asked. "You may not like it, but it's the law." Her point was simple. The Supreme Court has spoken, so there is nothing left to discuss. Since there is no higher law, there are no further grounds for rebuttal. This lawyer's tacit acceptance of conventionalism suffers because it confuses what is right with what is legal.
When reflecting on any law, it seems sensible to ask, "it's legal, but is it moral? It's law , but is the law good; is it just?" There appears to be a difference between what a person has the liberty to do under the law and what a person should do. Conventionalism renders this distinction meaningless. There is no "majority of one" to take the higher moral ground. As Pojman puts it, "Truth is with the crowd and error with the individual" (much like Rousseau). This is tyranny of the majority.
When any human court is the highest authority, then morality is reduced to mere power – either power of the government or power of the majority. If the courts and laws define what is moral, then neither laws nor governments can ever be immoral, even in principle.
Another absurd consequence follows from the society says line of thought. This view makes it impossible to reform the morals of a society. There are actually two problems here; the first is called the reformer's dilemma. Moral reformers typically judge society from the inside. They challenge their culture's standard of behavior and then campaign for change. But when morality is defined by the present society's standard, then challenging the standard would be an act of immorality. Social reformers would be made moral outcasts precisely because they oppose the status quo.
Corrie ten Boom and other "righteous gentiles" risked their own lives to save Jews during the Holocaust. William Wilberforce sought the abolition of slavery in the late eighteenth century in the United Kingdom. Martin Luther King Jr. fought for civil rights in the United States in the 50's and 60's. in Germany during World War II, Martin Niemoller and Dietrich Bonhoeffer challenged Christians to oppose Hitler.
We count these people as moral heroes precisely because they had the courage to fight for freedom. According to Society Says thought, however, they are the worst kind of moral criminals because they challenged the moral consensus of their own society. This view faces another difficulty with moral improvement of society. If society's laws and cultural values are the ultimate standards of behavior, then the notion of moral improvement on a legal or cultural level is nonsense. A social code can never be improved; it can only be changed.
Think of what it means to improve something. Improvement means an increase in excellence by raising to a better quality or condition. How do we know if we have increased the quality of something? Only by noting that some change has brought it closer to an external standard of improvement. A bowler improves when she raises her average closer to 300, the perfect game. A baseball pitcher increases his skill by decreasing the number of batters he allows on base. If he strikes out every batter, he's attained perfection. In either case, an outside standard is used as the measure of improvement.
To improve a society's moral code means that the society changes its laws and values to more closely approximate an external moral ideal. If no such standard exists, if cultural values are the highest possible law, then there is no way for those standards to be better than what they are at any given moment. They can only be different. A society can abolish apartheid in favor of equality. It can adopt policies of habeas corpus protecting citizens against unjustified imprisonment; it can guarantee freedom of speech and the press. But according to this view, no one could ever claim that these are moral improvements but only that society changed its tastes. There is no moral ideal to emulate. Moral change is possible, but not moral improvement. Improvement means getting better, and there's nothing better – in this view – than any society's current assessment of morality. And moral reformers actually turn out to be unethical.