"We do not want word to get out that we want
to exterminate the Negro population."
-Sanger's letter to Dr. Clarence Gamble, Dec. 19, 1939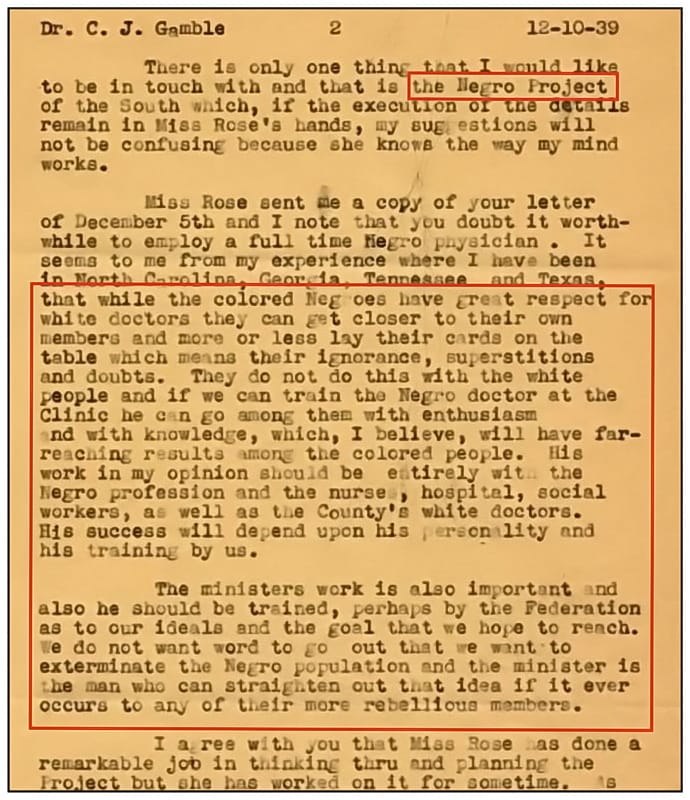 To wit, 78% of their clinics are in minority communities. Blacks make up 12% of the population, but 35% of the abortions in America.
---
Sanger's Own Words
---
In this clip below I am more interested in her first statement that Margaret Sanger made, which is:
I think the greatest sin in the world is bringing children into the world that have disease from their parents, that have no chance to be a human being, practically. Delinquents, prisoners, all sorts of things just marked when they're born. That to me is the greatest sin – that people can – can commit.
She is talking about minorities here…. as the quote from GRAND ILLUSIONS gives context to.
A 2012 study found that 79% of Planned Parenthood's surgical abortion facilities were located within walking distance of a Black or Hispanic neighborhood.

Using 2010 Census data, this study documented the racial demographics of each census tract (similar to a neighborhood)… pic.twitter.com/tYm9GakZ7O

— The Redheaded libertarian (@TRHLofficial) May 27, 2023
From my VERY LONG post on Sanger:
---
…TO WIT…
---
Let us pick up from Grand Illusions (pp. 41-42), some of which was already pointed out by Goldberg: