I am posting this because I wanted in one place some information on the classroom size, or, teacher-to-pupil-ration throughout some of our recent history. As well as compared to the world. Also, part of the reasoning for this post other than I have debated/discussed this matter over the years is a recent article I have seen on a couple friends Facebook walls, entitled: "Betsy DeVos Wants Larger Class Sizes and Fewer Teachers." So I wanted to have the reasoning and history of the other side… BUT FIRST…
Let me say… that classrooms in our history were filled with children — even in the public schools — that came from deeply religious backgrounds. So that the student was acting in the sight of God. Not only that, but ost families remained intact, either through devotion to faith or the impracticality of divorce. There are other reasons as well, but this list of teacher complaints from the 1940's has been for years in my history bank of memory (via NATIONAL PARENTS ORGANIZATION):
So, really, teachers can never have a classroom small enough to fix students from backgrounds like these, or our culture. Which is a great spot for Larry Elder, who quotes Barack Obama:
RELATED:
Okay, the above reasons (there are more obviously [sex-ed has played a big roll as well, so has quick divorce laws, etc], but those are biggies: religion, discipline, family intact) notes some of the acting out by our culture which is becoming more secular as I type. Even in secular countries we see discipline as holding together the fabric of the classroom, more on this later.
Here is an article from the ORANGE COUNTY REGISTER that introduces us to some of the issues of classroom size (I will add a graphic from another article to help the point):
The above graphic comparing historical class sizes comes from an article at THE HERITAGE FOUNDATION, to wit is a section I wish to highlight:
In other words… where is the beef. In fact, *Dr. Wilda V. Heard…
* Dr. Wilda V. Heard, or "Dr. Wilda," has a J.D. from Yale Law School and a doctorate in education leadership from Seattle University. She has been a volunteer at Legal Voice, formerly the Northwest Women's Law Center. 
…quotes Bob Nave saying: "It's fairly common sense that smaller classes should result in improved student performance…. The problem is the research just doesn't back that up."
Here are some graphs to help visualize this topic. The first is noting that classroom sizes are pretty close to a historical low: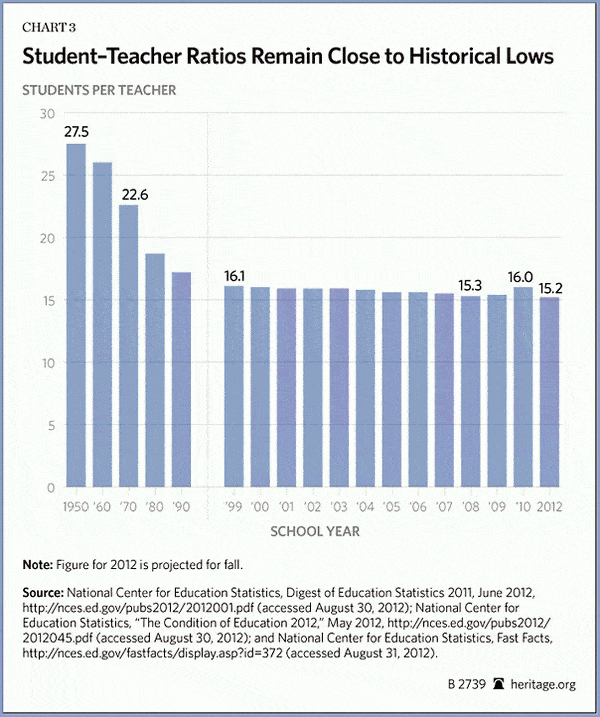 Here are primary averages compared to the world: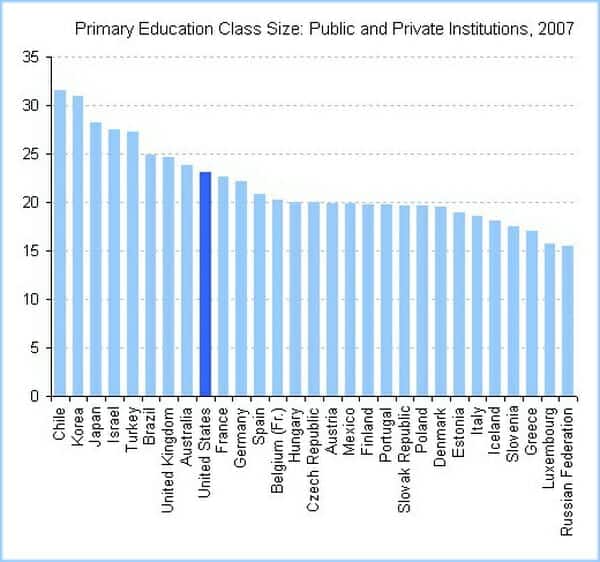 Of course China has the the largest classrooms (students to teacher ratio)… BUT… #2 is…
In other words… class size is not the issue. It is what you are teaching and the culture of learning. Instead, the public schools are centered not around teaching classical education, but making sure that what is taught is separating us as a body-politic. A good example of this comes from the ST. PAUL STAR TRIBUNE:
Dennis Prager discusses some cultural Marxist ideals being fomented and allowed in our public school system. This "disuniting" of people is happening everywhere in culture. "E Pluribus Unum" no more, it is "E Pluribus Pluribus." Race, class, gender. Whole books are forced upon college persons wanting to get an education degree.
I would want sashes then to display straight pride, #MAGA, the Grand Ol' Party… if this is allowed "white pride " then would be something kids would naturally gravitate towards if not having the schools unite them in what it means to be American.
But as long as alternative curriculum is allowed from Kindergarten on… our