NBC NEWS mocked the following with this headline: "Former NFL player claims Trump never called white nationalist rallygoers 'very fine people'." Jack Brewer (below) is right-chya-know:
I made the following short clips not because I haven't heard versions of this before, but these two versions clearly show that Trump didn't say it the way the media or politicians mean he said it. He didn't call on the one hand Nazi/KKK affiliated persons "fine people" — JUST LIKE HE DIDN'T call anyone from Antifa "fine people." He was speaking about the normal Democrat and Republican (libertarian, independent, non-voter, etc) who came to express their support of tearing down a Confederate monument or for not supporting the destruction of our past (good or bad). Very rarely would a person find an article or video by Steve Cortes to see what the other side of the issue is.
However, these nets support the rhetoric because in the end they wish to defeat Trump, truth be damned. Here — for instance — is People magazine printing the issue:
When people say the above (friends, family, MSM, politicians) they are "meaning" this often times: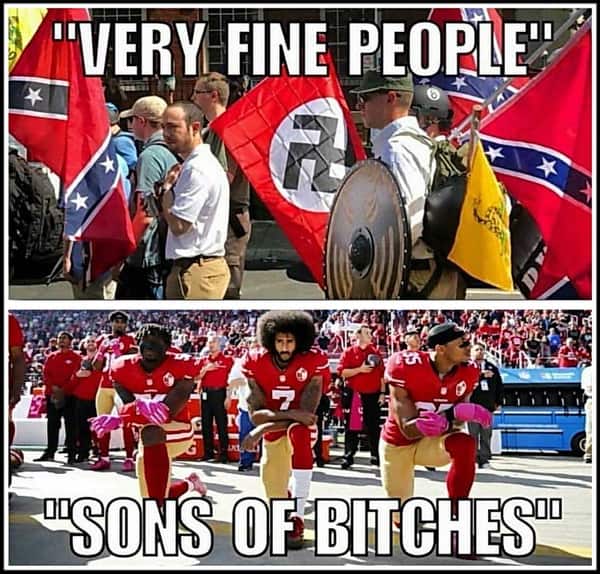 However, Trump never said that… or meant what many attribute to him saying (in context… remember "context is king").
TAPPER EDITION:
In an often misused comment (ripped from its context) Trump actually denounced Nazi's in this press conference. I add some prophetic statues predictions coming true as well as Dennis Prager commenting on an evidence this was misconstrued. (See more at my post HERE)
BIDEN EDITION:
Smerconish EDITION:
Michael Smerconish doing what real reporters and media persons should do… that is… track down the real story [the truth of the matter] ("The Michael Smerconish Program" — March 27th, 2019: https://tinyurl.com/y6g4dnhy). The article mentioned by Michael Smerconish's guest, Steve Cortes, can be found here:
Steve also did Prager University video, "The Charlottesville Lie":
Wheeler Edition
The Left is obsessed with this Lie?! Ted was hitting home-runs with the bumper sticker mantras. From making fun of a handicapped guy, to many others Lefty Lies. (A quick answer to two of his mishaps can be found in the first two sections here: Some Trump Sized Mantras). Ted Wheeler is a putz.
LARRY ELDER'S EDITION
Larry Elder recaps one of the biggest lies by the media and Democratic Presidential nominee… Joseph Robinette Biden Jr. (e.g., Good Ol' Joe). I include video "The Sage" had audio for, as well as extending some other audio – like Michael Smerconish doing what real reporters and media persons should do… that is… track down the real story [the truth of the matter] (March 27th, 2019). This is Larry at his best, I only tried to embolden his points [hopefully I did]. I will be making a smaller truncated version to accent my just uploaded video, HERE: https://youtu.be/aXvxgjumk2s