Earlier today, a large group of people were seen approaching our North Belt patrol station on foot. Our officers didn't know what to expect when the group arrived in their parking lot. The group wasn't there to protest, riot, or loot – they were there to pray. #HoustonStrong pic.twitter.com/yAV2FQBMc8

— Houston Police Officers' Union (@HPOUTX) May 30, 2020

The original source can be found HERE with a fuller description. Here is a partial description: "At one point in the video you see a Riverside Deputy Sheriff Deanna Myers console and hug a young female during the midst of the protest. The pictures and video of the hug have started to go viral."
I will contrast some positive and organized riot stuff. First up, we need more of this:
We need more rational beautiful souls like this man right now. Riots must end. pic.twitter.com/WJn31yQgZn

— Robby Starbuck (@robbystarbuck) May 31, 2020
But the real story is the planning of violence by mainly out of state Fascists (Antifa, anrcho-Leftists types). Here are some examples:
Caught…paying for the riots. Still think these riots are a spontaneous response to Mr. Floyd's murder? This has planned coordination and Funding. This is very likely backed with money from Soros, China and the Democrat elites raging for control. https://t.co/g0oUbN6hiZ

— Maxine GrayMare⭐️⭐️⭐️ (@MGraymare) May 31, 2020
This lady is it. ?? pic.twitter.com/TJNrmH2aU8

— Nicole Arbour (@NicoleArbour) June 2, 2020
Now, let's get back to some positive aspects of this whole thing:
EVERYONE MUST SEE THIS

Black men protecting an officer during the #GeorgeFloydProtests / Riot

The mainstream media will not show this kind of unity so please RT pic.twitter.com/OKR3HQFQDf

— Terrence K. Williams (@w_terrence) May 31, 2020
Some protestors in Brooklyn calling to loot the Target, but organizers are rushing in front of the store to stop them, keep things non-violent #nycprotest pic.twitter.com/6x70cpcjep

— Andrew Solender (@AndrewSolender) May 31, 2020
Just minutes ago, a protester was seen giving hugs and shaking hands with Colorado Springs Police.

MORE: https://t.co/bxcpD4it8I pic.twitter.com/bcxdfOIUSC

— KOAA News5 (@KOAA) June 1, 2020
Sweet moment between a #Baltimore City Police Officer and a young girl. She walked over to the officers in riot gear and waved and them before exchanging a few hugs @wjz @BaltimorePolice @CJAldersonWJZ pic.twitter.com/b4pJiTy2h4

— Kelsey Kushner (@KelseyKushnerTV) June 2, 2020
People are hurting.

This lady — visibly upset — went in for the hug on this Louisville, Kentucky police officer.

He accepted.

It lasted nearly a minute.?❤️ pic.twitter.com/myalWZpNEJ

— Rex Chapman?? (@RexChapman) June 1, 2020
A 100% FEDUP has this from Lil Wayne:
Obviously Lil Wayne's views are not as cut-n-dry as this… but he is adding to the positive aspects of our relations.
So I decided to go to the Capitol today in Denver. Black protester telling antifa member that he needs to stop defacing statues. #copolitics #JusticeForGeorge pic.twitter.com/hN9Bgxhkbl

— Brandon Bowser (@brandonBowser10) May 30, 2020
And we know people who are Democrats accept the ideals of Antifa and other anarcho-Leftists, here is one example:
Given that this guy glorifying the Antifa handbook is Minnesota Attorney General Keith Ellison I doubt he's going to be telling the truth about Antifa's involvement any time soon pic.twitter.com/6zqBhtfkm4

— Matt Wolking (Text TRUMP to 88022) (@MattWolking) May 30, 2020
And here is a portion of an updated post of mine relaying racist acceptance of their base:
---
EXCERPT
---
About Time. We know from a long-time aid to the racist UFO black nationalist anti-Semitic cop killing cult leader that Obama and Farrakhan were close. And we have photos of Michelle Obama with this racist UFO black nationalist cop killing cult leader's wife.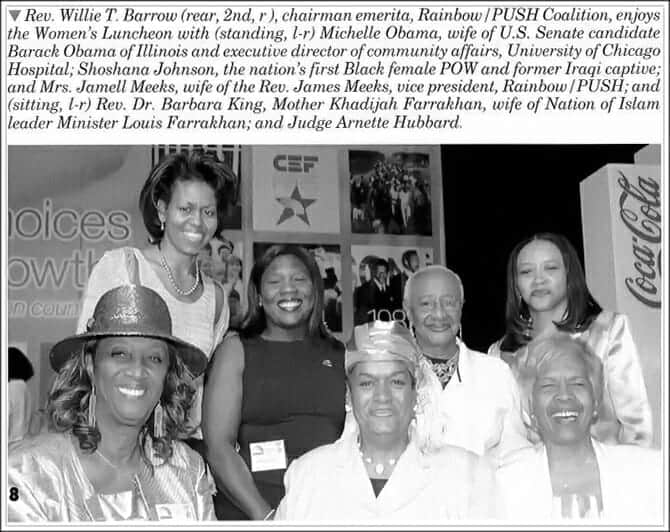 And we know this racist UFO black nationalist cop killing cult leader was brought into Obama's church for an award one Sunday, and we also know that this racist UFO black nationalist cop killing cult leader's personage was placed on Obama's church's magazine cover not once, but three times. We also know that some of this racist UFO black nationalist cop killing cult leader's sermons/speeches were sold in Obama's church's book store during his tenure, as well as these outright racist books:
A Black Theology of Liberation;

Black Theology & Black Power
(I purchased these and other books myself from Trinity United Church of Christ's book store online, which was called – Akiba Bookstore)
[….]
ALAN DERSHOWITZ is correct when he says "that any Democrat who meets with the 'bigot' Louis Farrakhan should resign from office, and said there should be no tolerance for any association with the Nation of Islam leader." Continuing he notes,
See much more here:
[AS ABOVE]