(This post has been updated today) Take note that when the Reverend Wright left Trinity United Church of Christ, the book store was redone. Many of the questionable books were removed… but I was able to grab some "WAYBACK MACHINE" pics when I realized this many years later.
THE POINT IS THIS, that when Obama attended the church, the below thinking was prevalent
(This section was updated 11-17-2018, see below the links for the update)
The churches bookstore has been sanitized since this was written. I managed to grab a couple of cached pages. Not nearly what it was, but the few I could find are here: PAGE 1, PAGE 2, PAGE 3. On page three for instance there are some resources for women, one of the books, "Feminist Theologies: Legacy and Prospect" ~ by Rosemary Radford Ruether, has this review: "it is a collection of academic papers and perspectives from a feminist conference…. Some essays are clearly stronger than others – particularly on Islam." Strong on Islam? This author has written books on Gaia and God, pro Palestinian (anti-Israel) books, and books on "Goddesses and the Divine," as well as radically left leaning feminist theology.
E.g., not a Christian book or author[s] at all. More Marxist and Islamic in reality.
Here are my two posts detailing the racial radicalism surrounding Obama's views  with an example/analogy (Taken from my THE DEMOCRATS LURCH MORE ANTISEMITIC):
Here is the "not"-analogy of Obama:
ALAN DERSHOWITZ is correct when he says "that any Democrat who meets with the 'bigot' Louis Farrakhan should resign from office, and said there should be no tolerance for any association with the Nation of Islam leader." Continuing he notes,
See much more here: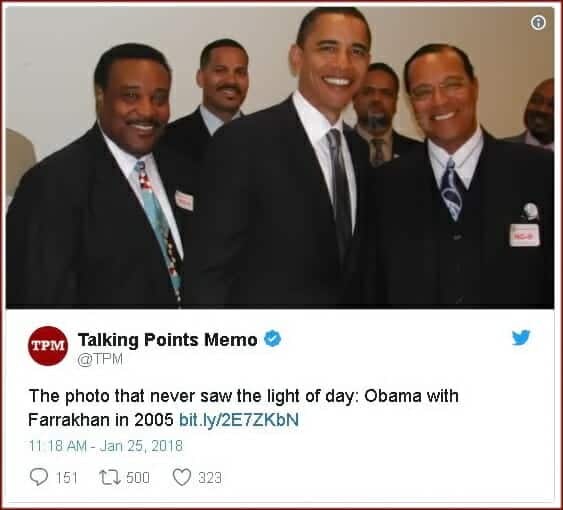 About Time. We know from a long-time aid to the racist UFO black nationalist anti-Semitic cop killing cult leader that Obama and Farrakhan were close. And we have photos of Michelle Obama with this racist UFO black nationalist cop killing cult leader's wife.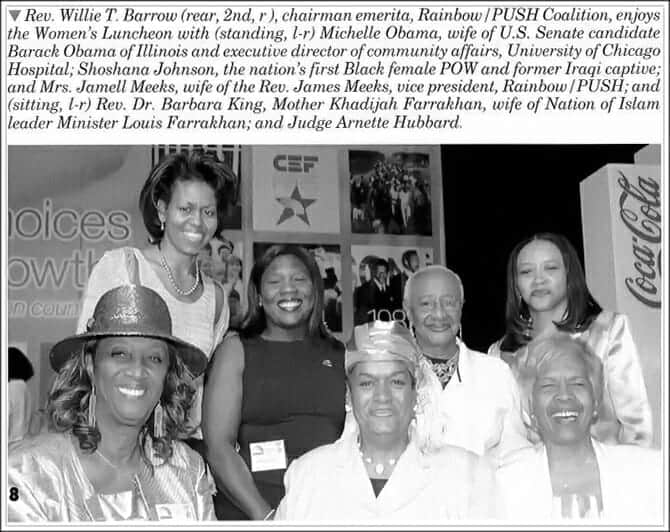 And we know this racist UFO black nationalist cop killing cult leader was brought into Obama's church for an award one Sunday, and we also know that this racist UFO black nationalist cop killing cult leader's personage was placed on Obama's church's magazine cover not once, but three times. We also know that some of this racist UFO black nationalist cop killing cult leader's sermons/speeches were sold in Obama's church's book store during his tenure, as well as these outright racist books:
A Black Theology of Liberation;

Black Theology & Black Power
(I purchased these and other books myself from Trinity United Church of Christ's book store online, which was called – Akiba Bookstore)
Here is Farrakhan's (one of them) UFO sermon where black "god's" come back and kill white people:
---
QUOTES
from book purchased via
AKIBA BOOKSTORE
---
Below are quotes from James H. Cone, "A Black Theology of Liberation" — a book sold in Obama's church's bookstore the entire 20-years he attended.
---
---
"It is dangerous because the true prophet of the gospel of God must become both 'anti-Christian' and 'unpatriotic.' (55) …. Because whiteness by its very nature is against blackness, the black prophet is a prophet of national doom. He proclaims the end of the 'American Way…'" (56)
---
"But this does not mean that religion is irrelevant altogether; it only means that religion unrelated to black liberation is irrelevant." (58-59)
---
"… it is that whites are incapable of making any valid judgment about human existence. The goal of black theology is the destruction of everything white, so that blacks can be liberated from alien gods. The God of black liberation will not be confused with a blood' thirsty white idol. Black theology must show that the black God has nothing to do with the God worshiped in white churches whose primary purpose is to sanctify the racism of whites and to daub the wounds of blacks. Putting new wine in new wineskins means that the black theology view of God has nothing in common with those who prayed for an American victory in Vietnam or who pray for a "cool" summer in the ghetto…. There is no place in black theology for a colorless God in a society where human beings suffer precisely because of their color. The black theologian must reject any conception of God which stifles black self-determination by picturing God as a God of all peoples. Either God is identified with the oppressed to the point that their experience becomes God's experience, or God is a God of racism…. Because God has made the goal of blacks God's own goal, black theology believes that it is not only appropriate but necessary to begin the doctrine of God with an insistence on God's blackness." (62-63)
---
"White religionists are not capable of perceiving the blackness of God, because their satanic whiteness is a denial of the very essence of divinity. That is why whites are finding and will continue to find the black experience a disturbing reality." (64)
---
"In contrast to this racist view of God, black theology proclaims God's blackness. Those who want to know who God is and what God is doing must know who black persons are and what they are doing. " (65)
---
"God comes to us in God's blackness, which is wholly unlike white¬ness. To receive God's revelation is to become black with God by joining God in the work of liberation…. Becoming one of God's disciples means rejecting whiteness and accepting themselves as they are in all their physical blackness." (66)
---
"Black theology cannot accept a view of God which does not represent God as being for oppressed blacks and thus against white oppressors. Living in a world of white oppressors, blacks have no time for a neutral God. The brutalities are too great and the pain too severe, and this means we must know where God is and what God is doing in the revolution…. What we need is the divine love as expressed in black power, which is the power of blacks to destroy their oppressors, here and now, by any means at their disposal. Unless God is participating in this holy activity, we must reject God's love." (70)
---
"God is black because God loves us; and God loves us because we are black. Righteousness is that side of God which expresses itself through black liberation. God makes black what humans have made white…. Love is a refusal to accept whiteness." (73-74)
---
"If creation 'involves a bringing into existence of something that did not exist before,' then to say God is creator means that my being finds its source in God. I am black because God is black! God as creator is the ground of my blackness (being), the point of reference for meaning and purpose in the universe…. Rather it is incumbent upon me by the freedom granted by the creator to deny whiteness and affirm blackness as the essence of God. That is why it is necessary to speak of the black revolution rather than reformation. The idea of reformation suggests that there is still something 'good' in the system itself, which needs only to be cleaned up a bit. This is a false perception of reality. The system is based on whiteness, and what is necessary is a replacement of whiteness with blackness." (75-76)
---
"Being white excludes them from the black community and thus whatever concern they have for blacks will invariably work against black freedom…. Certainly if whites expect to be able to say anything relevant to the self-determination of the black community, it will be necessary for them to destroy their whiteness by becoming members of an oppressed community. Whites will be free only when they become new persons—when their white being has passed away and they are created anew in black being. When this happens, they are no longer white but free, and thus capable of making decisions about the destiny of the black community." (97)