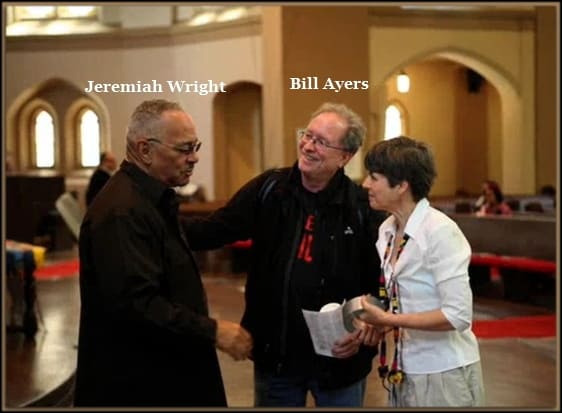 A recent story by the Blaze brings to mind some older posts that I will partially import from my old blog to this newer post… combining it with the newer information. The Blaze (video and more at their site) bullet points some of Rev. Wrights new rants, which causes me to import some older posts to this site:
♆ Rev. Jeremiah Wright delivered three fiery sermons about faith, race and politics at Metropolitan Baptist Church in S.C.
♆ Wright said Supreme Court Justice Clarence Thomas worships "some other God" outside of "Allah and Yahweh" (who are the "same" he says)
♆ Obama's former pastor called Thomas Jefferson "a pedophile"
♆ He sees "white supremacy" driving "world policy"
♆ Wright condemned the U.S. military, saying, "fighting for peace is like raping for virginity."
Obama's Pastor went to Libya with Farrakhan to meet Islamisists! Yet, other are the extremist, not his view of theology and God. Hannity and Colmes years ago had the Reverend Jeremiah Wright on their show, and this is how the reverend defended himself:
"How many books of Cones have you read!?"
(Money quote from the interview above with Obama's pastor.)
Take note the Rev. Wright camps out on the point of reading James Cone's books, books that were sold in his churches book store the entirety of Obama's time at Trinity United Church of Christ.
(This section was updated 12-4-2014, see below the links for the update)
❂ Link to Africentric Theology at Trinity United Church of Christ;
❂ Also the Akiba Bookstore main page.
The churches bookstore has been sanitized since this was written. I managed to grab a couple of cached pages. Not nearly what it was, but the few I could find are here: Page 1, page 2, page 3. On page three for instance there are some resources for women, one of the books, "Feminist Theologies: Legacy and Prospect" ~ by Rosemary Radford Ruether, has this review: "it is a collection of academic papers and perspectives from a feminist conference…. Some essays are clearly stronger than others – particularly on Islam." Strong on Islam? This author has written books on Gaia and God, pro Palestinian (anti-Israel) books, and books on "Goddesses and the Divine," as well as radically left leaning feminist theology.
E.g., not a Christian book or author at all. More Marxist and Islamic in reality.
So got on Trinities website and bought Dr. Cones' books, and read them. This lead me to make an early "documentary" (Sept of 2008) called Obama-Con. In it I mention some of the following ideas that Obama's church paralleled:
But remember, the reverend says "I'm not divisive, the media is divisive," which merely redefines anti-Semitic/racist statements as non-divisive:
While reading these books cover-to-cover and doing some looking around, I also noted that Louise Farrakhan was given a lifetime achievement award at Obama's church. Not only that though, but Farrakhan was given three cover spreads on the church's magazine, the Trumpet. One of those his face shot put alongside Obama as well as Elijah Muhammad, the second leader of the Nation of Islam. His [Elijah Muhammad's] many books are sold by the Nation of Islam not Old Testament mention being taught by Louise Farrakhan as theological doctrine. Since Obama's church gave such a prestigious award to the current leader of the Nation of Islam, whom Obama's pastor was a part of in his younger years, let us see what some of these books they tout say as well:
According to Elijah Muhammad, Jesus was a black African and only a mortal man like the Prophet Muhammad of Islam. He also taught that Jesus was the product of sexual intercourse between Mary and Allah (who is a black man). Louis Farrakhan said this of the second leader of the Nation of Islam:
"The Honorable Elijah Muhammad, I am here to declare, is risen. The Jesus you have been seeking and waiting for His return has been in your midst for 40 years, but you knew not who He was. A Holy One was working among us, and It is only now, after He is gone, that we realize who He was." ~ Louis Farrakhan
Again, for clarity:
"If you understand the Bible right, you will agree with me that the whole caucasion race is a race of devils. They have proved to be devils in the Garden of Paradise and were condemned … by Jesus." ~ Elijah Muhammad, Message to the Blackman In America, p. 23-24.
"Christianity is the Devil's religion created to mislead black people." ~ Elijah Muhammad, Message to the Blackman In America, p. 11.
Louis Farrakhan, the guy who was given an award by Wright, knew personally that Elijah Muhammad had risen because…
So you can see that there are some very occultic beliefs tied to Rev. Wright. Which may explain why the Reverend Wright believes Allah and YHWH are the same God, something you would never hear a Christian minister say. One reason is the Rev. Wright use to be a part of the Nation of Islam, and often times Black Panthers and Nation of Islam adherents would sit in on these "Christian" services. But remember, it isn't the Rev. Wright that is divisive, it is the media:
An Apologetic "Aside"
What are some of the differences between Yahweh and Allah?
How do the Democrats let this type of stuff slide… year after year? One reason is that the Democratic party has become more-and-more leftist every year:
What are the numbers today of those Democrats calling themselves, voluntarily, anti-American?
Radical does as radical is! Some quotes from James Cone's book, A Black Theology of Liberation (A book sold in Obama's church the entire 20-years he attended).