MODERN GHANA notes a bit of the history referenced in the video:
Gadhafi's unbridled urge in modern times to enlarge Arabia inside Africa, is a continuation of the Arab war against Africans and the Arabization of African lands that started in the 7th century CE. Arabs have since settled on one-third of Africa, pushing continuously southwards towards the Atlantic Ocean. Arabs' racial war against Black Africa started with their occupation and colonization of Egypt between 637 and 642 CE, decimating the Coptic or Black population. Between 642 and 670 CE, more Arab invaders poured into Africa and occupied areas known today as Tunisa, Libya, Algeria and Morocco, where they physically eliminated most of the native (Berber) inhabitants. The Berbers that escaped death ran westwards and southwards towards the Sahara.
It is interesting that as Rev. Stephen Schumacher (a priest with the St. Louis Archdiocese) is attempting to provide a history lesson on King Louis IX, h is being shouted at with Afrocentrist history (taught by black racist cults like The Nation of Islam and the Five Percenters).
THE DAILY WIRE has a good post on this:
….Rev. Schumacher, in a video which can be viewed below, attempted to inform protesters about King Louis IX.
"St. Louis was a man who had authority thrust upon him, he didn't do anything to earn it. You're right, he didn't do anything to earn it," started the priest. "What did he do with that authority? Do you know what he did? Go down to the St. Louis Cathedral, and you'll see some of the history that St. Louis did."
One of the protesters shouted, "Eventually we're taking that, too, though," referencing the cathedral.
"St. Louis was a man who willed to use his kingship to do good for his people," Rev. Schumacher said, triggering angered shouts from protesters.
"He died in Tunisia," one of the protesters shouted, drawing an alleged connection to Africans.
"St. Louis had nothing to do with Africans, okay," the Catholic leader responded to protesters.
"Do you know who lived in Tunisia in the 1100s?" he posed, "Arabs. … and the Arabs had killed all the Africans in Tunisia in the 700s."
"In the 700s, Arab Muslims conquered the Holy Land," Rev. Schumacher continued, "Christians did not fight back against that. … the Crusades happened beginning in 1095, after the Turks conquered the Holy Land."
During the same intense face-off, some protesters marked the statue with chalk, calling for its destruction, reported Currier.
[….]
"The history of the statue of St. Louis, the King is one founded in piety and reverence before God, and for non-believers, respect for one's neighbor," the statement said. "The reforms that St. Louis implemented in French government focused on impartial justice, protecting the rights of his subjects, steep penalties for royal officials abusing power, and a series of initiatives to help the poor."
"King Louis IX's renowned work in charity helped elevate him to Sainthood," the St. Louis Archdiocese continued. "His daily suppers were shared with numerous beggars, whom he invited to the royal table. On many evenings, he would not let them leave before he washed their feet. He personally paid to feed more than 100 poor Parisians every day. His care for the sick was equally moving; St. Louis frequently ministered to lepers. He also created a number of hospitals, including one for the blind and another for ex-prostitutes."….
---
Some Anti-Semitism Via Twitter
---
Take note my handle is Deplorable Pony Soldier, and I provide some context for the retards.
I will post the main Tweet, followed by mine and the Jewish conspiracy people: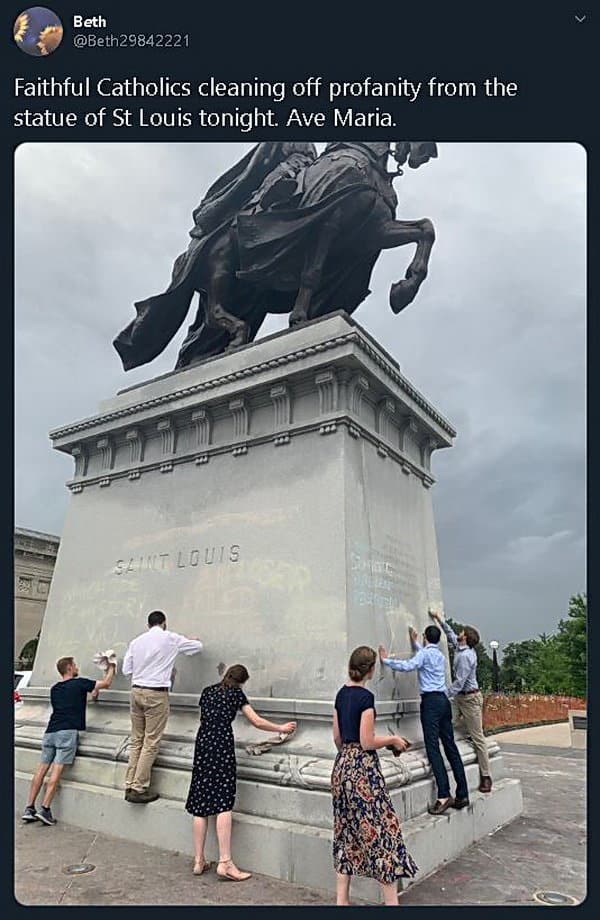 ---